Mauro Sebaste: A Piedmont Gem
Reading Time: [est_time] Hello! Welcome to As Drunk by Exotic Wine Travel, a weekly column where we feature interesting wines that we encourage you to seek out. The reviews featured in this series may be written by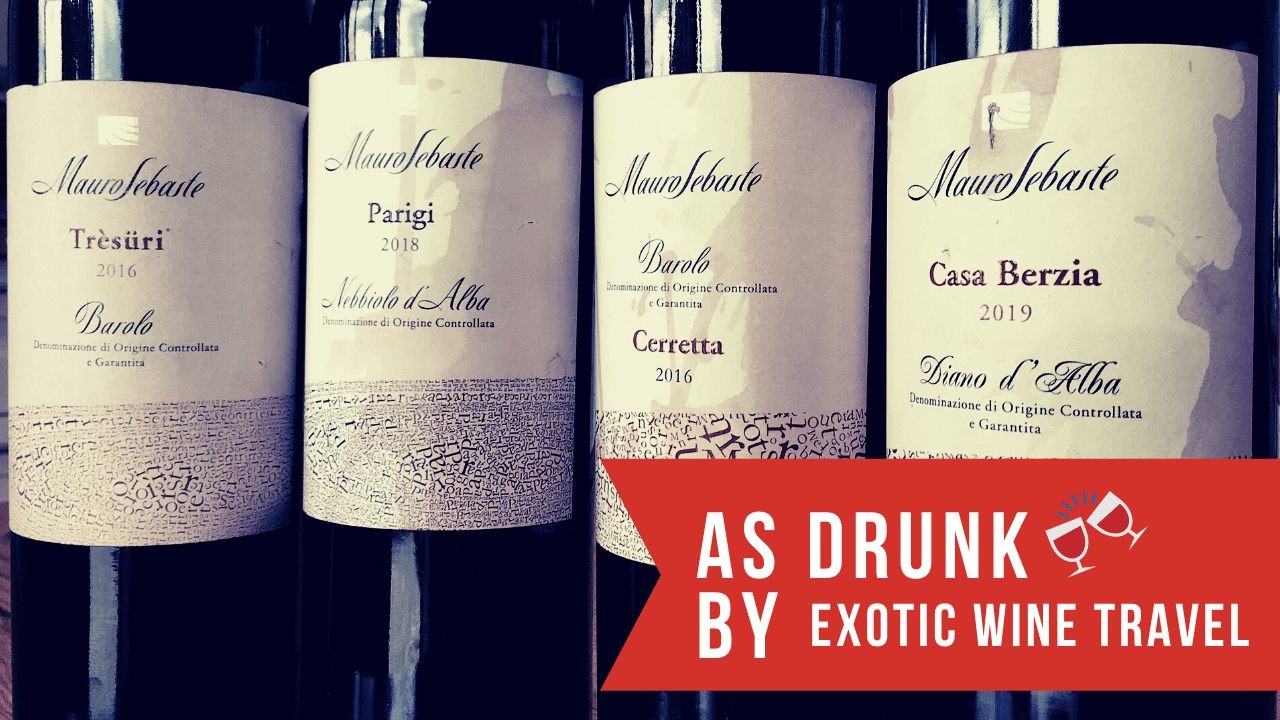 Reading Time: 2 minutes
Hello! Welcome to As Drunk by Exotic Wine Travel, a weekly column where we feature interesting wines that we encourage you to seek out. The reviews featured in this series may be written by either one or the both of us. The featured wines can be from obscure or well-known wine regions. We hope that these wine recommendations will keep you gastronomically curious and your palate invigorated.
Mauro Sebaste
Barolo is one of Italy's and the world's greatest wines. The prices of these wines have risen considerably in the past decade. Some classic Barolos have gone through the roof in price. Is it still possible to find value in the region? Enter Mauro Sebaste.
If you talk to hardcore fans of Piedmontese wines, they can recall the wines of Mauro Sebaste. However, due to property disputes and other obstacles, the wines fell into obscurity. In recent years, Mauro Sebaste has been working hard to restore their name and once again climb to the top of the quality ladder.
The recent set vintages prove that Mauro Sebaste is on the right track. All of the wines I taste are very good with one being outstanding. All of the wines are focused on elegance and pleasure, not extraction and wood. If you've been searching for an under-the-radar producer in the region, look no further.
Wine Recommendations:
Mauro Sebaste, 'Casa Berzia' Diano d'Alba 2019
"This is the first Dolcetto I've wanted multiple glasses of!"
Charine's enthusiasm is a true testament to the lovely Mauro Sebaste, 'Casa Berzia' Diano d'Alba 2019. This is 100% Dolcetto. It's a more delicate style of this grape. Notes of blueberry, cranberry, incense, and a touch of hazelnut. It's plush and fruity up front with chewy tannins on the backend. It's more complex than your average Dolcetto. Score: 88/100
Mauro Sebaste, 'Centobricchi' Barbera d'Alba Superiore 2017
The Mauro Sebaste, 'Centobricchi' Barbarea d'Alba Superiore is a single-vineyard Barbera aged in wood. This is bigger and denser at 15.5% ABV. There are notes of cherry, mocha, leather, peat, and a touch of tangerine peel. It's a fantastic, fruity red with plenty of complexity. There's ripe fruit, crunchy acidity, and a touch of tannins. Long finish. Score: 90/100
Mauro Sebaste, 'Costemonhisio' Nizza 2017
The Mauro Sebaste, 'Costemonhisio' Nizza is 100% Barbera. Pretty nose of violet, cranberry, cherry, and earth. There's plenty of fruit here on the front with the structure to hold it together on the back end. There are some big-time tannins here and the acidity is high. Nizzas age really well, This is young and not close to showing its full potential. Score: 91/100
Mauro Sebaste, 'Parigi' Nebbiolo d'Alba 2018
Mauro Sebaste, 'Parigi' Nebbiolo d'Alba has notes of cranberry, sour cherry, smoke, and crushed roses. Round on the palate with very bright, citrusy acidity. The red fruit stands out here with a touch of earthiness on the palate. Small, grippy tannins. It's a 'Baby Barolo' that offers tremendous value for money. Score: 90+/100
Mauro Sebaste, 'Trèsüri' Barolo 2016
The Mauro Sebaste, 'Trèsüri' Barolo is a blend of three vineyards, with most of the fruit coming from La Morra. This 100% Nebbiolo is elegant and nuanced. Notes of rose petal, perfume, sour cherry, cranberry, and a hint of leather. This is a Barolo that is drinking fine right out of the gate. There's a sensual feel on the palate and the tannins hit hard on the back end. Great length for an entry-level Barolo. Score: 92/100
Mauro Sebaste, 'Cerretta' Barolo 2016
The Mauro Sebaste, 'Cerretta' Barolo is from this magical vineyard in the commune of Serralunga d'Alba. Usually, the Barolos from this commune are rich and structured, requiring a lot of bottle age to soften the tannins. This is different. It's elegant and ready to go right from the bottle. There are notes of leather, smoke, sour cherry, perfume, and rose petal. It's more of an elegant Barolo, not a monster like typical Serralunga d'Albas. Ripe tannins and a long, spicy finish. It's everything you could want in a classic Barolo. Score: 94+/100
Do you like our content?
If you like our articles and videos, we'd love for you to be a part of our community on Patreon. The support from Patreon helps keep the content coming and you access to behind the scenes content. It also gives us the chance to get to know you better. Check out the Exotic Wine Travel Patreon page by clicking the photo below.

---
Thanks to Mauro Sebaste for the wines. The opinions expressed in this article are unsolicited and have not been paid for in any way by governmental bodies, enterprises, or individuals. We do not sell editorial content as that would destroy the legitimacy of our reviews and the trust between Exotic Wine Travel and its readers. On occasion, we extend the option of purchasing the wines we review or/and the products we spotlight. Some of these product links are set up through affiliate programs, which means Exotic Wine Travel gets referral credits if you choose to purchase these items via the links we provide.