Orange Wine Festival 2018: Here To Stay
Reading Time: [est_time] Are they orange wines or are they amber wines? Are these wines the real deal or are they just a fad? Whatever you want to call these wines, we love them and don't get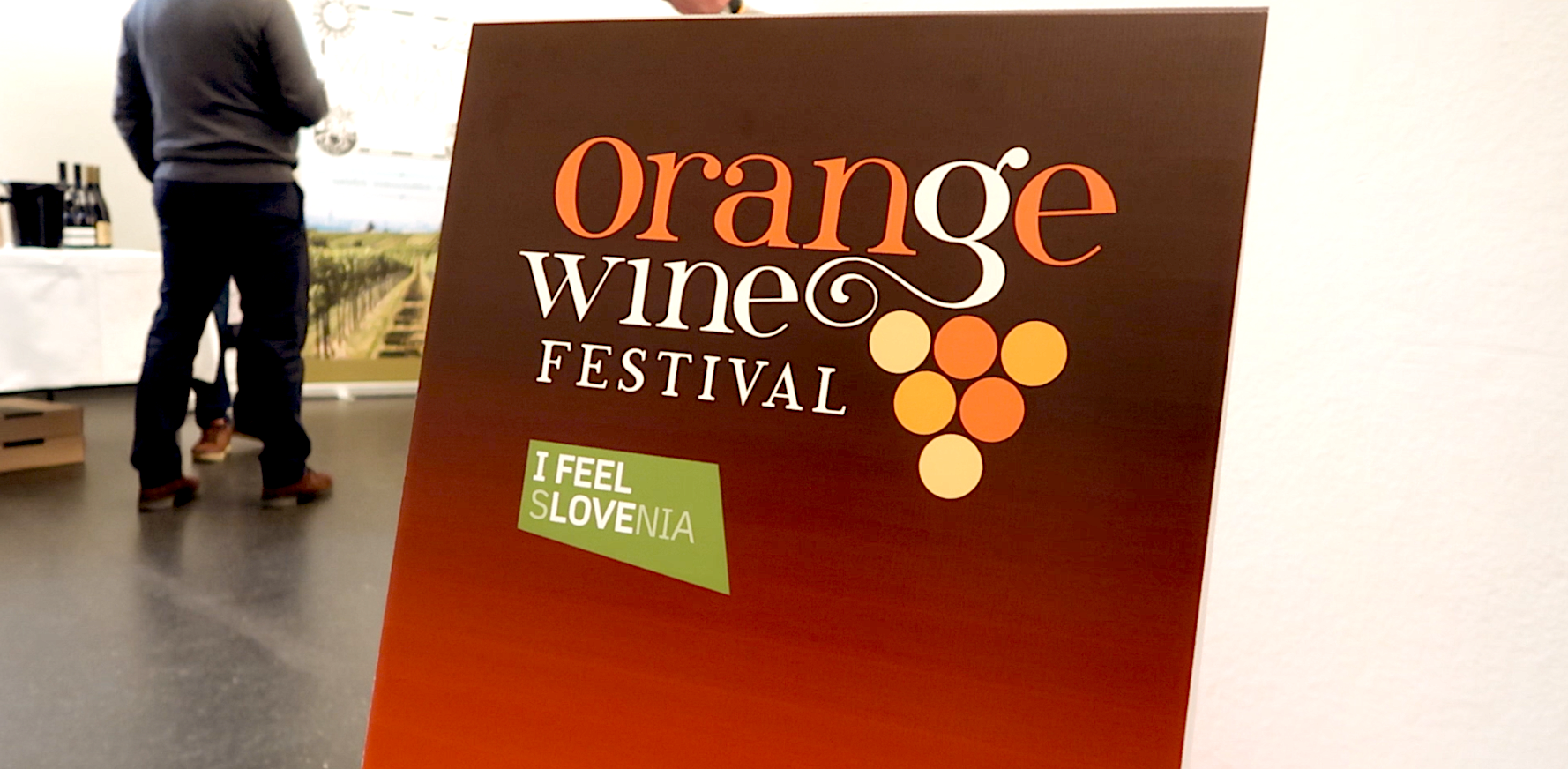 Reading Time: 4 minutes
Are they orange wines or are they amber wines? Are these wines the real deal or are they just a fad?
Whatever you want to call these wines, we love them and don't get sick of them. That's why we chose to attend the Orange Wine Festival in Vienna for the second year in a row. The 2018 rendition of the Orange Wine Festival saw 68 producers pour over 200 orange wines (and a few reds) over six and a half hours. The event was again held at the Museums Quartier in downtown Vienna, Austria.
The Orange Wine Festival was full again this year. Producers from Slovenia showed strong again. The western parts of Slovenia (Vipava Valley and Goriška Brda) are the epicenter of orange wine production outside of Georgia. There were also a number of excellent wines present from Austria and Italy in addition to more exotic countries like Croatia, Slovakia, Hungary, and Serbia.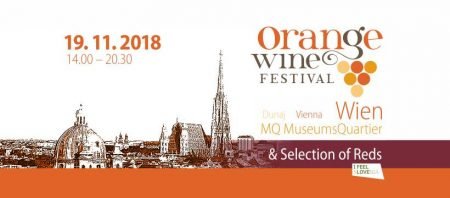 Are Orange Wines A Fad?
Orange wines receive their fair share of criticism. Wine writers like the famous Hugh Johnson previously stating that they "are a sideshow and waste of time." Ian D'Agata who is the author of Native Wine Grapes Of Italy and contributor to Vinous has also lamented these "white wines treated like reds."
With big names in the industry attacking these wines, who will stand for them?
Simon Woolf has recently authored the book Amber Revolution, a deep dive into the world of orange wines. Woolf believes that orange wines aren't some new crazy fad and states, "It fascinates me – the deeper I go into it the more examples I find where these techniques were really the backbone of white winemaking in so many parts of the world."
We come across a lot of orange wines throughout the year. Especially in Central and Eastern Europe. It seems like everyone is giving a go at producing an orange wine, which can be a good or bad thing depending on their competency. Regardless, it's a telling sign of customer demand.
Whether you call them orange wines or amber wines, whether you love them or loathe them, it looks as if they are here to stay. If you're curious to see what's happening in this world of wine, the Orange Wine Festival is a must-visit. We tasted from the start to the finish of the Orange Wine Festival 2018 – here are some of our favorites.
Exotic Wine Travel's Picks
My favorite wines were the Clai Sv. Jakov Malvazija 2016 from Istria, Croatia (95/100), Marjan Simčič Rebula Opoka 2016 from Goriška Brda, Slovenia (94/100), and the Batič Zaria 2016 from Vipava, Slovenia (94/100) but we've written about them extensively in the past. We would proudly shoe these three wines to any palate.
Mentioned wines are available for purchase at wineandmore.com.
These are fantastic wines but instead of writing about these producers again, we've highlighted other wines below.
Schiefer, Weisser Schiefer 2013 – Burgenland, Austria 
Predominantly Welschriesling, Grüner Veltliner with Pinot Blanc. Austrian orange wines tend to be clean and precise, the Schiefer Weiser Schiefer is no different. It's rich and opulent with dried yellow fruit, fall leaves, and dandelion flavors. The ripe fruit flavors are accompanied with soft tannins guiding the long finish. Score: 92/100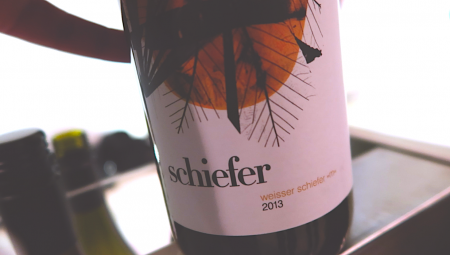 OUO, Rebula Ivanka 2016 – Vipava, Slovenia
Charine adored this producer when we first tasted the wines during our Vipava Valley trip in August. This time around, I finally got the drift. The OUO Rebula Ivanka is concentrated with apricot, ripe peach, and fall leaves. It's full bodied without overly hard tannins that can come with Ribolla Gialla. It's full-bodied and tangy but the alcohol shows through pretty strong – which is the only detractor.  Score: 91/100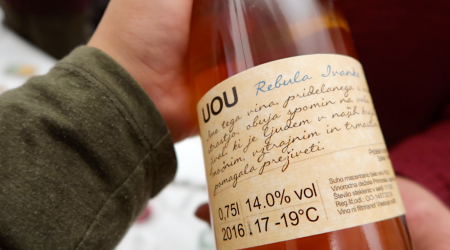 Hager Matthias, Hager Weiss Gemischter Satz 2006 – Lower Austria, Austria
The Hager Matthias Hager Weiss Gemischter Satz really impressed both of us. Gemischter Satz means "field blend" and this example is aging beautifully. Flavors include forest floor, dried apricot, mushroom, and almond. The wine spent two weeks on the skins. It's medium bodied with racy acidity and a long finish. Score: 92/100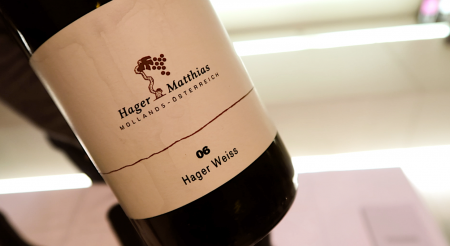 Quantum, Enigma 2017 – Lower Austria, Austria
The funky labels of Quantum winery grabbed my attention while the wine kept it. The Quantum Enigma is made from Pinot Blanc and is only 10.5% alcohol. It's chewy, ripe, and concentrated for such a low alcohol wine. Full of pineapple, apricot, nuts, and fall leaves flavors – you can really feel the Pinot Blanc standing out. This wine is raw and has a beautiful finish with rich texture on the palate. Score: 90/100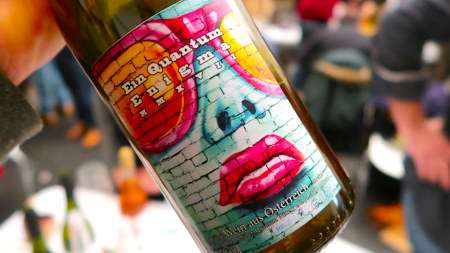 Valdisole, Arké 2015 – Piedmont, Italy
The Valdisole Arké is concentrated and flat out delicious. It is made from the grape Arneis. The wine is earthy with apricot, lemon, soil, and ginger notes. Rich and full-bodied, this feels weighty on the palate but never awkward thanks to the acidity. Long finish and soft tannins. 93/100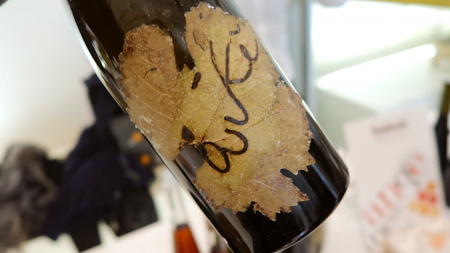 Jure Štekar, Moros 2017 – Goriška Brda, Slovenia
The Jure Štekar Moros is a beauty made from the grape Friulano. Charine puts it best the post below. 
Score: 92/100
Tombacco, Origine 2014 – Sicily, Italy
Made from Grillo and Zibbibo (Muscat of Alexandria), the Tombacco Origine has a sherry-like nuttiness to it. The wine was aged in Marsala casks. Full of dried yellow fruit, almond, apricot, and lime flavors. It's full-bodied and slightly sweet with 12 g/L of RS.  This unique wine was quite divisive at the show – it's a love it or not type of wine. Score: 92/100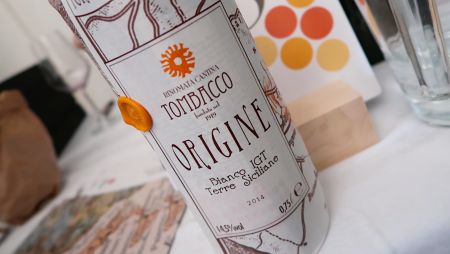 Ražman, Malvazija Antiqua 2016
The Ražman Malvazija Antiqua 2016 recently won a platinum medal the Decanter World Wine Awards – it's well deserved. It has notes of sweet peaches, dandelion, and citrus. It's lighter bodied for a macerated Malvazija Istarska (Malvasia Istriana). The wine has a tanginess that is sometimes missing from the grape. Soft tannins guide the long finish. Score: 93/100
Maurer 1880 Kadarka 2016 – Subotica, Serbia
Producers at the 2018 Orange Wine Festival were allowed to bring a few red wines from their portfolio. Oskar Maurer works with a lot of unique grapes in Northern Serbia (on the border with Hungary). This wine is made from ungrafted vines of Kadarka that were first planted in the year 1880 in sandy soil. The Maurer 1880 Kadarka is full of strawberry, rhubarb, cherry, and mineral notes. The wine is soft and medium bodied with juicy acidity and easy tannins. I often describe Kadarka as tasting like a lower alcohol version of Grenache. Score: 90/100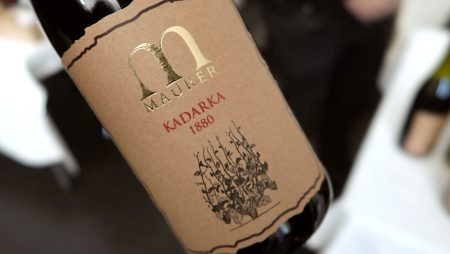 You can find out more about our scoring system on the WINE RATING page.
The finest selection of
wines available at:

Shipping is available EU-wide and to the UK.
************
    Do you want to try Slovenian wines?    
If you're looking to savor the exquisite flavor of Slovenian wines, look no further than wineandmore.com. With an abundance of options from different winemakers, it's easy to find exactly what your palate desires. Not sure which bottle is best for you? Try out one of their curated wine cases and discover the perfect vintage for any occasion!
************
Want to learn more about wine?
Are you ready to discover the wonderful world of wines? Come join us at wineandmore.com and let's explore the incredible selection of delicious wines together! We can't wait to share our passion for wine with you!
---
Thanks to Orange Wine Festival for providing transport and passes to the event. Please note that the opinions expressed are our own and have not been paid for in any way. We do not sell editorial content as that would destroy the legitimacy of our reviews and the trust between Exotic Wine Travel and its readers. On occasion, we extend the option of purchasing the wines we review or/and the products we spotlight. Some of these product links are set up through affiliate programs, which means Exotic Wine Travel gets referral credits if you choose to purchase these items via the links we provide.