Rebula: Slovenian Wine's Flagship Variety?
Reading Time: [est_time] Is it Slovenian, is it Italian? Ribolla Gialla or Rebula? The answer might not be so clear cut. Ribolla Gialla is commonly accepted as an Italian variety but Slovenia isn't willing to throw in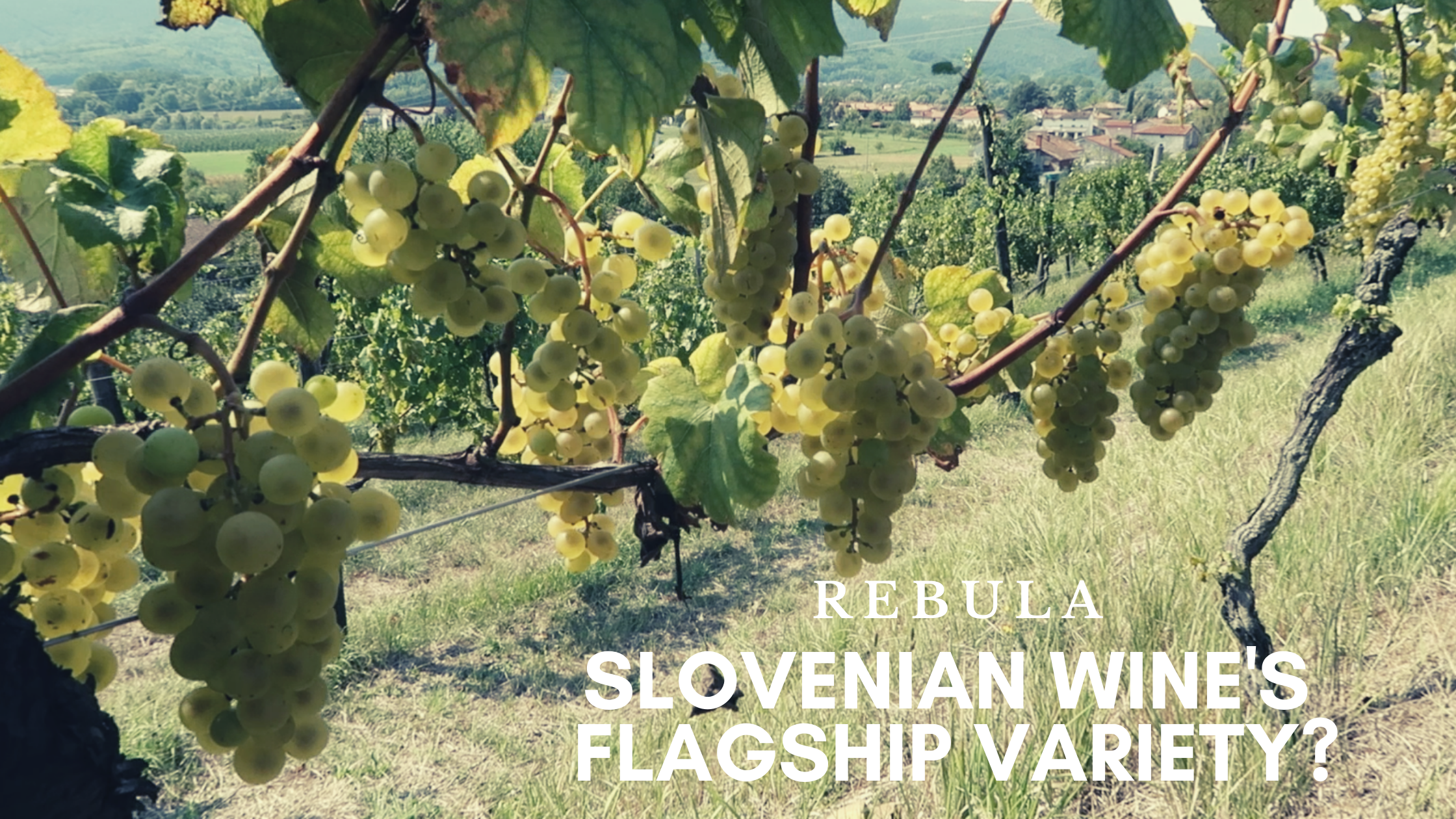 Reading Time: 7 minutes
Is it Slovenian, is it Italian? Ribolla Gialla or Rebula?
The answer might not be so clear cut. Ribolla Gialla is commonly accepted as an Italian variety but Slovenia isn't willing to throw in the towel just yet. There are approximately 700 hectares of Rebula in Western Slovenia and about 400 in Northeastern Italy. This slice of Central Europe could even be considered one region, as there are no major geographical boundaries. In fact, many producers have vineyards on both sides of the border.
Ribolla Gialla / Rebula is a high-acid white grape that is capable of giving off floral notes when made into wine. In Italy, producers like Gravner and Radikon have done their part to put Ribolla Gialla on the wine map. As thrilling as these wines are, there are equally exciting wines in neighboring Slovenia.
Rebula & Maceration: To Be or Not To Be?
Western Slovenia, along with Georgia, has become an epicenter in the amber wine (orange wine) movement. Many of the 'white' wines produced here are macerated (fermented and soaked with the skins). In Vipava and Goriška Brda, you'll find many examples of this style of Rebula.
Not everyone is convinced that Rebula needs skin contact. Jakob Simčič of Edi Simčič winery says, "I am sure that Rebula can make great wine without maceration." He continues, "non-macerated Rebulas offer a fascinating expression of our region and offer incredible depth without being too heavy or aromatic."
Klemen Mlečnik produces one of Slovenia's iconic macerated Rebulas with his father at Mlečnik Winery. Klemen sits in the other camp. "It (classically styled Rebula) can eventually reach a certain level of quality by reducing quantity (yields) in the vineyard," he says. "But I feel that nothing compared to what Rebula can give you with the right amount of maceration. Not one, but two dimensions more."
Slovenian Rebula: My Thoughts
Macerated or not? When it comes down to Slovenian Rebula, it's all about what style you prefer. While not everyone can agree on how the grape should be handled, there are excellent wines in both styles.
When Rebula is made into a fresh white wine, it can be acidic and neutral. Under the hands of skilled producers, Rebula can become a fine white wine with barrel fermentation and lees contact. The subtle white flower notes come through and compliment the yogurty notes well. Unfortunately, great examples are few and far between.
However, I believe that Rebula really shines when macerated. When done with skin contact and bottle age, Rebula can resemble a red wine. Just be aware that the grape has plenty of small tannins that be similar to those from Nebbiolo. If you're trying these wines for the first time, use bigger glasses, serve them at room temperature, and have food nearby.
Slovenian Wine Recommendations:
Discover great Slovenian wines at wineansdmore.com
Classically Styled Rebula
The Edi Simčič, Rebula fermented and aged Rebula. The wood shows up here but is under control. Notes of white peach, pear, flint, white pepper, white flower, and a touch of toast show up. Full-bodied, this wine covers the palate. The wood integration here is stellar, it adds to the structure and body while adding just a touch of flavoring. Good length. Score: 91/100
Jakončič, Carolina Rebula 2017
The Jakončič, Carolina Rebula is a barrel-fermented Rebula. The wine opens with plenty of yogurt notes, which suggest plenty of lees contact. Flavors also include asian pear, white peach, flint, and a touch of white pepper. It was fermented and aged in new oak but that doesn't come through. The variety still shines with its laser-like acidity. Long, lemony and mineral finish. Score: 92/100
The Ščurek, Rebula Up is a reserve wine from this estate. Up means 'hope' in Slovenian. This sees just a touch of skin contact and is fermented in oak. Notes of orange peel, white flower, peach, spice cake, a touch of slate. Complicated and rich white wine. It doesn't show a lot of bottle age yet. For a full-bodied wine, it's oily and uplifting. The oak is laid down pretty heavy now but this should age exceptionally well. Complex and long finish. More of a Meursault style (Burgundy) of white. Score: 94/100
Macerated Rebula (Orange Wine/Amber Wine)
The Movia, Lunar 8 is 100% Ribolla Gialla macerated, fermented, and aged in barriques for 8 months. Make sure to stand this up for a few days and decant off the sediment. This vintage is brilliant. Vibrant orange in color. Notes of orange peel, sweet peach, apricot, and white tea. It also has a vibrant scent of flowers in bloom during the spring. It's a vibrant orange wine with chewy tannins. This is still very young and should become even great with time. When Lunar 8 is good, it's great. Score: 93/100
The Movia, Rebula is macerated for two weeks and in the barrel for 18 months. Notes of white flower, tangerine peel, apricot, and sweet cherry fruits. There is a lot of complexity here and plenty of layers of flavor. This has a nice bite and chewy tannins. This is a full-flavored orange wine with plenty of texture. Even our friend, Master of Wine Jo Ahearne loved it. Score: 91+/100
The JNK, Rebula drinks like an aged red. It's almost brown in color thanks to the age. Macerated Rebula (Ribolla Gialla). Notes of leather, tobacco, fall leaves, apricot, dried peach, and a touch of dried flowers. Because of the color and initial nose, you might think it's tired and oxidized but the palate still is fresh. Lively and tangy on the palate with a citrusy acidity on the finish. Chewy tannins. Score: 93/100
Guerila, Rebula Extreme 2016
The Guerila, Rebula Extreme is 100% Ribolla Gialla with 45 days of skin contact and two years of cask aging. This is noticeably more complex and complete than the Rebula Selection. Explosive nose of dandelion, baked apple, sweet peach, fall leaves, and white pepper. The palate is surprisingly more mineral in flavor than the nose. Time has softened the tannins. This is delicious now and could unfold into something greater with time. Score: 91+/100
Guerila, Amphora Extreme 2018
The Guerila, Amphora Extreme is Rebula that spend six months in amphora and another year aging in amphora before being bottled. Plenty of sediment here. The nose is impressive with plenty of young white flowers, pineapple, orange & lemon peel, pine, and crushed rock. It's very complex on both the nose and palate. The unique citrus acidity dances in the mouth. There aren't big tannins here for a wine that saw so much skin contact but that doesn't matter. Long and complex finish. Bravo on another beautiful vintage of this wine. Score: 92/100
Marjan Simčič, 'Opoka' Rebula 2017
The Marjan Simčič, 'Opoka' Rebula is fermented in concrete egg and kept on the skins for 16 days, where some of the cuvée is aged while the other part is aged in oak. It's a nice middle ground between an orange wine and classic white. It has a deeper color with notes of dried mango, ripe apricot, chalk, and yellow flower. This wine is serious stuff. Plenty of texture and a long sinewy finish with ripe tannins. It's a crossover bottle for fans of classical white wines to get into orange wine. Score: 93+/100
The Štekar, Filip Belo is Rebula that is macerated for six months. This is still surprisingly young and doesn't show a ton of bottle age at this stage. Complex nose with notes of cumin, yellow peach, dried mango, pepper, and earth. The palate has a nice melody of fruit, acid, and tannins. Long finish. This is still a baby and will improve more and should gain complexity with bottle age. Score: 90+/100
The Štekar, Rebula is Ribolla Gialla that is macerated and spends eight months in acacia. It's had some time to develop, which has served it well. Notes of honey, apple, dried peach, and white flower. Round on the palate, this Rebula tastes great and has some big, chewy tannins. It would be interesting to hold onto this a bit longer and see it put on even more weight. The acidity is bright and the wine should shine with fish and even chicken. Score: 90/100
The Emeran Reya, Rebula is Ribolla Gialla macerated for five days and aged in wood for ten months. This is a delicate, finessed style of orange wine. It really smells like a combination of peach cobbler, baked apple pie, and white flowers. All the fruit in this wine sits in the front of the palate. The mid-palate and finish are all about crushed rocks and chalk. A mouthful of chewy tannins closes out the wine. It has the structure to develop with more time in the bottle. Score: 90/100
Patrick Simčič, 'Moja' Rebula Selection 2019
The Patrick Simčič, 'Moja' Rebula is macerated for 25 days and aged in concrete. Really well done orange wine. Delicate and complex nose of apple blossom, dried peach, bubblegum, fall leaves, and a touch of hand oil. The palate is equally complex and round. Wines like these are what makes the genre so interesting. It has the nose of a complex red with the mouthfeel and tannin like Nebbiolo. Firm tannins. Score: 89/100
The Mlečnik, Rebula is macerated for four days and aged in large casks for two years. Gorgeous nose of apricot, tobacco, white flower, tangerine, and fall leaves. Full-bodied and already incredibly complex at this young age. It starts out round and full on the palate with loads of fruit before becoming chewy and finishing like a red. This wine has an extremely good history of aging and this vintage should be no different. Intense, floral, fruity, and complex all in one package. Score: 94/100
Svetlik, Rebula Selekcija 2017
The Svetlik, Rebula Selekcija is 100% Rebula that is macerated and aged in oak. It is the reserve wine of the estate and made in tiny quantities. A very complex nose with fall leaves, apricot, dried mango, white pepper, and a touch of white flower. Full in body, there's a lot of fruit intensity here. There's a rush of citrusy acidity and small, biting tannins. This wine has a history of aging well in the medium term and this should do the same. Score: 93/100
The Svetlik, Rebula is the flagship wine of the estate. It is 100% Rebula macerated and aged in wood. Bright orange in color with notes of apricot, tangerine, and a touch of apple blossom. The nose is nice but I like a little more complexity from macerated Rebula. Full in body, the palate brings more fruit and intensity than the nose. A rush of lemon and sour orange acidity runs through the palate. There are small, Nebbiolo-like tannins here that stretch the finish. Score: 90/100
Klet Brda, 'Motnik' Rebula 2014
The Klet Brda, 'Motnik' Rebula is a special edition, macerated & barrel-aged Rebula. It has a gorgeous nose of white flower, flint, chalk, white peach, and white pear. It has intensity on the palate. The wood is seamlessly integrated here. Full-bodied and complex, this tastes a lot younger than the age suggests. The tannins are very light, it drinks more like a big white than an orange wine. It has a long finish with a slightly salty note. This can develop and improve more with bottle age. Fine wine from this historical cooperative. Score: 92/100
The Klinec, Rebula was macerated and aged in wood. The aromas are a little shyer here than the other current releases but this is still gorgeous. Notes of dried apricot, dried flowers, peach, and even a hint of meat. This is rich and full-bodied, it's creamy in the mouth at first before the tannins hit hard on the back end – almost like Nebbiolo. Earthy notes and other complexities emerge as the wine goes down and it's all guided by lemony acidity. It's a brilliant orange wine from this producer who owns a charming restaurant and guesthouse. Score: 93+/100
You can learn more about our scoring system on the wine rating page.
The finest selection of
wines available at:

Shipping is available EU-wide and to the UK.
************
    Do you want to try Slovenian wines?    
If you want to savor the exquisite flavor of Slovenian wines, look no further than wineandmore.com. With many options from different winemakers, it's easy to find exactly what your palate desires. Not sure which bottle is best for you? Try out one of their curated wine cases and discover the perfect vintage for any occasion!
************
Want to learn more about wine?
Are you ready to discover the wonderful world of wines? Come join us at wineandmore.com, and let's explore the incredible selection of delicious wines together! We can't wait to share our passion for wine with you!
You might also enjoy:
Slovenian Wine: Rebula from Vipava Valley
---
Thanks to all of the producers for providing tasting samples. The opinions expressed in this article are unsolicited and have not been paid for in any way by governmental bodies, enterprises, or individuals. We do not sell editorial content as that would destroy the legitimacy of our reviews and the trust between Exotic Wine Travel and its readers. On occasion, we extend the option of purchasing the wines we review or/and the products we spotlight. Some of these product links are set up through affiliate programs, which means Exotic Wine Travel gets referral credits if you choose to purchase these items via the links we provide.