Santa Barbara County: Appellations and Wine Region's Layout
Reading Time: [est_time] Check out our wine travel guide to Santa Barbara Wine Country.  Located on the southern end of the Central Coast appellation, Santa Barbara County is about 90 miles northwest of Los Angeles, California. The history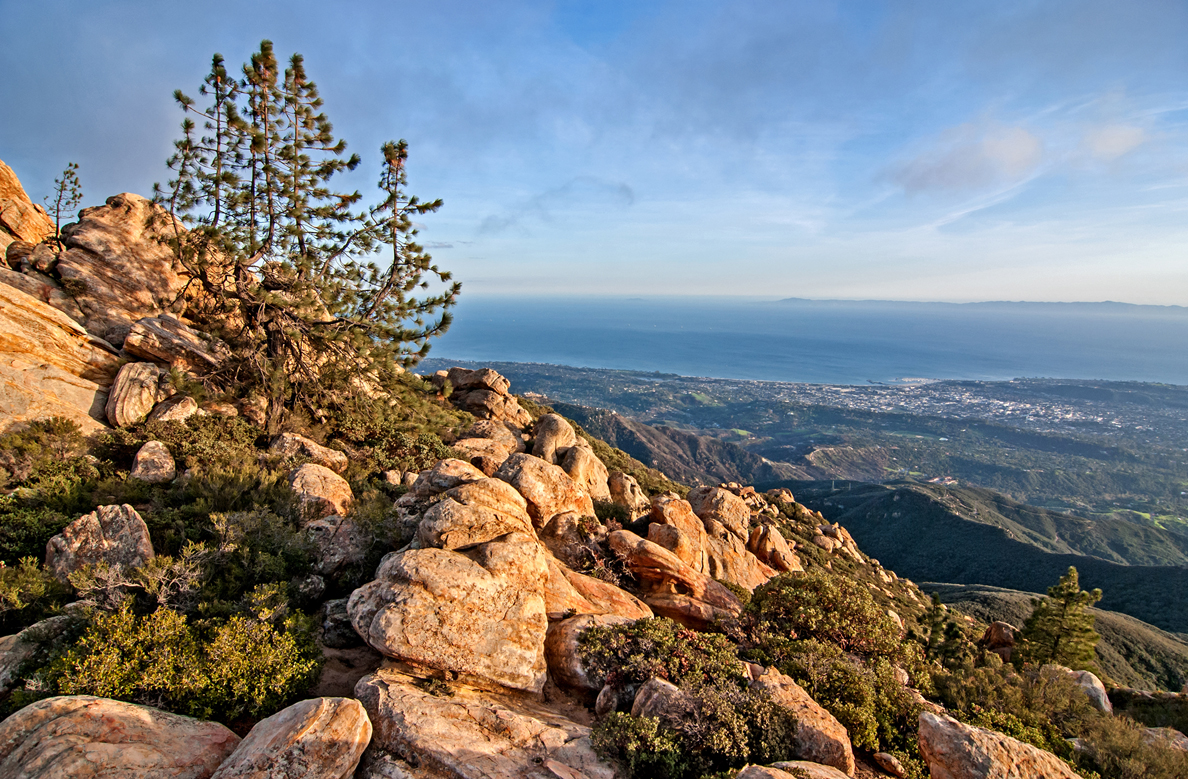 Reading Time: 6 minutes
Check out our wine travel guide to Santa Barbara Wine Country. 
Located on the southern end of the Central Coast appellation, Santa Barbara County is about 90 miles northwest of Los Angeles, California. The history of this wine country can be traced back to five million years ago: tectonic activity thrust up a huge part of the land, rotated it, and created a geologic anomaly. As a result, the mountain ranges in Santa Barbara County are transverse and run east to west—unlike the rest of California where the mountains are parallel to the coastline, positioned in a north-south direction. This topographical feature creates wind tunnels, which enable cool air to flow from the Pacific Ocean into the valleys of Santa Barbara County, keeping the temperatures moderate during the day and cool at night. The Pacific Ocean also creates morning fog that cools and protects the grapes in the vineyards. All in all, Santa Barbara County is characterized by little to no rainfall especially during the harvest period, a lot of sunshine, and extremely long growing seasons.
These climatic and geographical features have helped Santa Barbara County become a sublime spot for viticulture. The multitude of microclimates and soil types provide a perfect place for a wide variety of grapes. In fact, Santa Barbara is one of the oldest wine-producing areas in California, with the first wine grapes planted by the missionaries in the late 1700s. The modern commercial production as we know it today came about in 1960 when the first commercial vineyard was planted in Tepusquet in Santa Maria Valley.
Despite all the attention, Santa Barbara County remains somewhat alternative, especially in comparison to the other California's wine regions.
Initially, most of the fruit produced was shipped out of the county to be vinified. Then, in 1962, Santa Barbara Winery, the first post-prohibition commercial winery in the county was established. In 1975, Firestone became the first estate winery to make wine using its own locally grown grapes.
The biggest revolution happened in the early 1980s when Santa Barbara became known for its independent winemakers with larger-than-life personalities. Among the first generation of winemakers that arrived in the county included Bill Wathen (Foxen Vineyard & Winery), Bob Lindquist (Qupé), Bryan Babcock (Babcock Winery & Vineyards), Chris Whitcraft (Whitcraft Winery), Jim Clendenen (Au Bon Climat), Ken Brown (Ken Brown Wines), Lane Tanner (now Lumen Wines), Richard Sanford (now Alma Rosa Winery), and Rick Longoria (Longoria Wines).
The spirit of innovation and quality permeated this wine country. Loads of delicious wines were coming out of Santa Barbara that could have built the area's reputation single-handedly. Then, in 2004, the critically acclaimed film Sideways was released. Most of the movie was shot and set there; the film's popularity and the protagonist's affinity for Pinot Noir further enhanced the wine country's shining reputation.
Today, the Santa Barbara County's wine industry is said to generate around $1.7 billion of annual revenue and account for more than 9,000 full-time jobs. There are about 200 wineries in the region and more than 27,000 acres of vines.
Despite all the attention, Santa Barbara County remains somewhat alternative, especially in comparison to the other California's wine regions. There is electricity in the air as an abundance of veteran experience and young talent keep the wine scene fresh.
Wine Growing Areas
At around 3,730 square miles in size, Santa Barbara Wine Country offers unique topography and climatic diversity that give birth to six official AVAs (American Viticultural Areas). The distance between the grape-growing area and the cooling effects of the Pacific Ocean is a key factor that shapes the characteristics of each AVA. The western areas are cooler, while the eastern reaches are warmer. The grapes also show considerable vineyard-to-vineyard variation within each AVA. The highest vineyard sits on a plateau at over 3,000 feet above sea level.
Santa Maria Valley AVA
Established in 1981, Santa Maria Valley is the northernmost and oldest AVA of the region and the third oldest in the United States. It sees direct access to the cool ocean breezes but without the topography that creates a natural wind tunnel. The vines are mostly planted on the slopes of rolling hillsides with well-drained sandy loam and clay-loam soils, at elevations between 300 and 800 feet.
There are several varieties grown here—including Albariño, Pinot Gris, Riesling, Sauvignon Blanc, and Viognier—but the flagships are Chardonnay, Pinot Blanc, Pinot Noir, and Syrah. Chardonnays from this appellation can range from lean with crisp acidity to full-bodied with a floral tone. Noted for its slightly spicy and earthy characteristics, the Pinot Noir here can taste vastly different from the ones in Sta. Rita Hills. Overall, the wines from the Santa Maria Valley AVA tend to have a nice acidic backbone, high drinkability, yet not shy on complexity.
Total Area: Around 98,000 acres in southern San Luis Obispo County and northern Santa Barbara County
Planted Area: ~7,500 acres
Notable Vineyards: Bien Nacido, Cambria, Foxen, Nielson, Sierra Madre, and Tepusquet
Santa Ynez Valley AVA
A long east-west corridor with varying temperature: the west side of the valley is cooler as it is closer to the Pacific breeze while the east side and further inland are significantly warmer. The Santa Ynez Valley AVA has the largest concentration of wineries and the most varied grape varieties. The climatic diversity here enables the cultivation of Chardonnay, Pinot Noir, and varieties of Bordeaux and Rhône—including Cabernet Sauvignon, Merlot, Grenache, Marsanne, Mourvèdre, Roussanne, Syrah, and Viognier. Small amounts of Arneis, Gewürztraminer, and Riesling can also be found here.
The Santa Ynez Valley AVA boasts various soil types, ranging from sand to gravel, loam, and diatomaceous earth (i.e. deposits of fossilized marine life that are high in Calcium Silicate). All of these soil types provide excellent drainage and are highly suitable for viticulture.
Please note that four other AVAs are nestled within Santa Ynez Valley; they are Sta. Rita Hills, Happy Canyon, Ballard Canyon, and Los Olivos District.
Total Area

: ~182,000 acres
Planted Area
: ~5,000 acres
Notable Vineyard: Firestone, Purisima, Zaca Mesa
Sta. Rita Hills AVA
Created in 2001, this AVA was known as Santa Rita Hills up until 2006, when the name was changed to Sta. Rita Hills because a Chilean wine producer called Viña Santa Rita objected to the original spelling. This is the westernmost AVA and has direct access to the cool ocean breeze. The hills act as narrow corridors and the breeze blows through them, creating a cool climate in this wine-growing area.
There are about 20 cool-climate wine grapes planted here. The majority of the plantings are Pinot Noir and a good portion is Chardonnay. The sites in Sta. Rita Hills make a distinct difference in the flavor profiles of these two grapes. In Chardonnay, expect mineral, smoke, or flint characteristic. For Pinot Noir wines, most are rich and concentrated with red fruit accent. There tends to be more stem inclusion used in the vinification of Pinot Noir here, which can lend interesting flavors and tannins to the wines. Pinot Noirs, especially the single-vineyard bottlings, that bear the Sta. Rita Hills AVA are said to perform better after five years of barrel and bottle aging.
Total Area: Over 30,000 acres
Planted Area: ~2,700 acres
Notable Vineyards: Acin, Ampelos, Babcock, Cargasacchi, Clos Pepe, El Jabali, Fe Ciega, Fiddlestix, Hapgood, John Sebastiano, Kessler-Haak, La Encantada, La Rinconada, Lafond, Machado, Melville, Mt. Carmel, Rita's Crown, Sanford and Benedict, Sea Smoke, Sweeney Canyon, Zotovich
In this video, sommelier-turned-winemaker Rajat Parr describes the soil types in Sta. Rita Hills and how they affect Chardonnay and Pinot Noir.
Happy Canyon AVA
This is the most inland AVA and because of that, it is significantly warmer than the other AVAs. It is at the far eastern edge of the Santa Ynez Valley AVA and has shown promise with Bordeaux varieties such as Cabernet Franc, Cabernet Sauvignon, Malbec, Merlot, Petit Verdot, and Sauvignon Blanc. Syrah is also planted here. The wines from the Happy Canyon AVA can be exciting, especially the Cabernet Sauvignon blends which tend to express ripe fruit notes without being overbearing. The soil types are made up of a mixture of loam and clay loam with red and yellow chert and serpentine cobbles.
Total Area: ~24,000 acres
Planted Area: ~500 acres
Notable Vineyards: Grassini, Happy Canyon, Star Lane, Vogelzang
Ballard Canyon AVA
Located near the town of Buellton, this is the smallest AVA of the region. The Ballard Canyon AVA is known for producing Rhône-style wines. The majority of the plantings here are Syrah. Other varieties planted include Grenache, Sangiovese, Roussanne, Viognier, Sauvignon Blanc, Petite Sirah, and small amounts of Chardonnay. The vines are planted in clay or sand. In the northern part of the AVA, limestone substrate lies under clay topsoil. The reds from this area tend to be aromatic, fruit-forward, rich, and slightly earthy, with approachable tannins.
Total Area: ~7,700 acres
Planted Area: ~300 acres
Notable Vineyards: Beckmen, Harrison Clarke, Jonata, Larner, Stolpman, Tierra Alta
Los Olivos District AVA
Established in January 2016, this is the newest AVA of the county. It sits within a triangle created by the towns of Solvang, Santa Ynez, and Los Olivos. From a geological perspective, it is fairly uniform and produces a handful of interesting wines from Bordeaux and Rhône varieties. Italian and Spanish varieties can also be found here. The soils consist of moderate to well-drained sandy loam and clay loam. The terrain slopes gently from north to south towards the water. As the Los Olivos District AVA is largely flat, machines and other automated support can be used here, as opposed to the neighboring wine-growing areas with steep, rugged terrains.
Total Area: 22,820 acres
Planted Area: 1,121 acres
Notable Vineyards: Baehner Fournier, Sunstone, Tensley
************
Planning a trip to Santa Barbara County?
Want to learn more about the wines of Santa Barbara?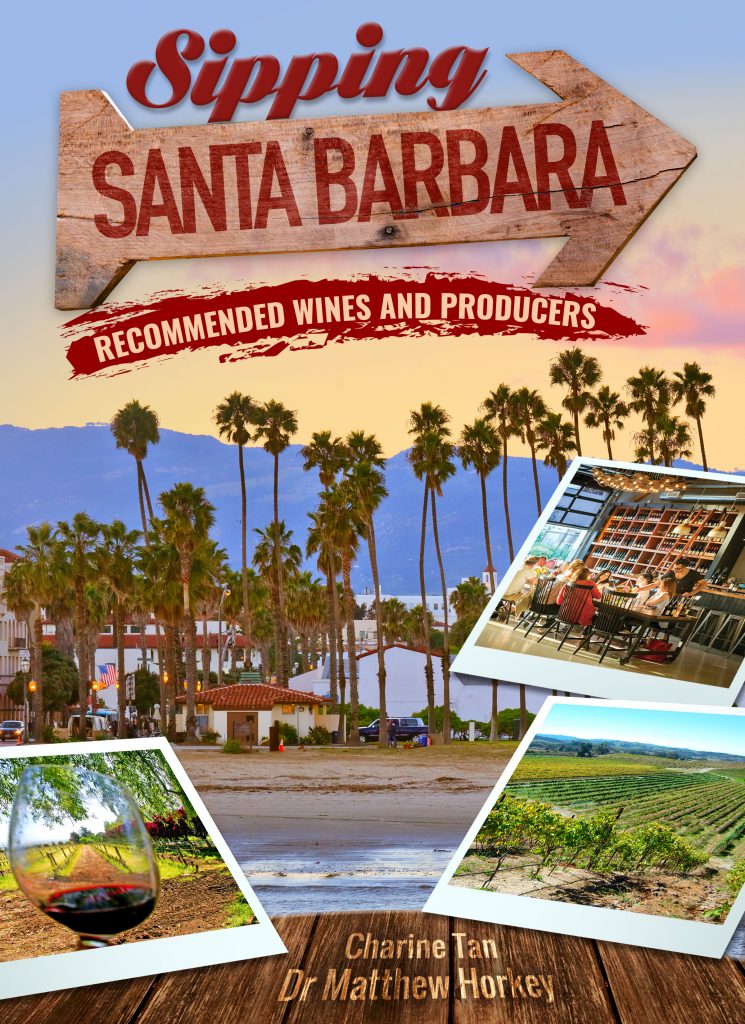 Our visitor-friendly guide to the wines and tasting rooms of Santa Barbara is available now!
Check out Sipping Santa Barbara: Recommended Wines and Producers for more information.
[sp_testimonials_slider category="1048″]
---
Check the availability of Santa Barbara County wines globally at Wine Searcher.
You May Also Enjoy:
– Cover image by Mark Weber: Sunset at The Rock Garden and White Mountain high in the Santa Ynez Mountains above the city of Santa Barbara in southern California.
-We have referenced data from sources believed to be the most reliable or up to date. However, data can quickly become outdated. It is recommended that careful attention is paid to the usage or reference of any data in this article.
– The opinions expressed in this article are unsolicited and have not been paid for in any way by governmental bodies, enterprises, or individuals. We do not sell editorial content as that would destroy the legitimacy of our reviews and the trust between Exotic Wine Travel and its readers. On occasion, we extend the option of purchasing the wines we review or/and the products we spotlight. Some of these product links are set up through affiliate programs, which means Exotic Wine Travel gets referral credits if you choose to purchase these items via the links we provide.