Sepp Moser Zweigelt Reserve 2015
Reading Time: [est_time] Hello! Welcome to As Drunk by Exotic Wine Travel, a weekly column where we feature interesting wines that we encourage you to seek out. The reviews featured in this series may be written by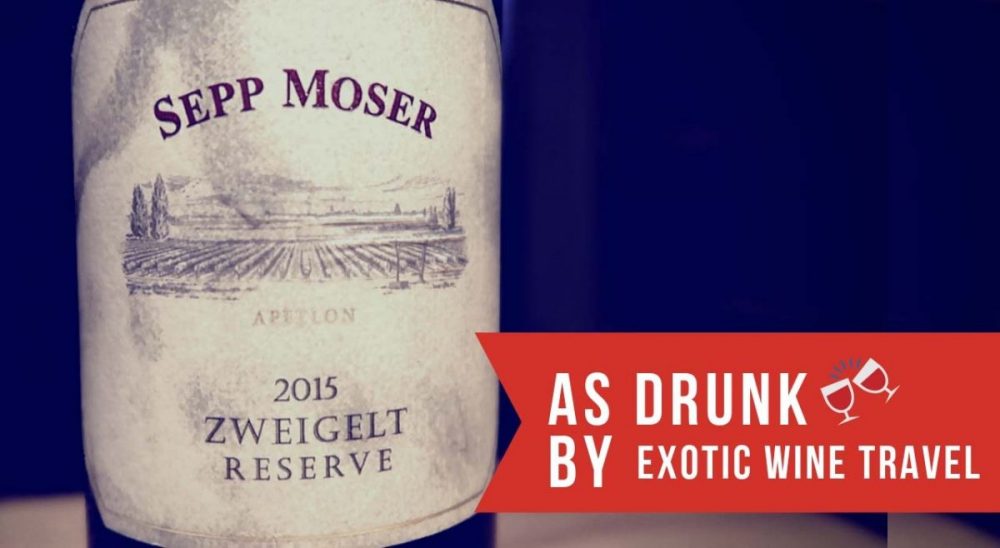 Reading Time: 1 minute
Hello! Welcome to As Drunk by Exotic Wine Travel, a weekly column where we feature interesting wines that we encourage you to seek out. The reviews featured in this series may be written by either one or the both of us. The featured wines can be from obscure or well-known wine regions. We hope that these wine recommendations will keep you gastronomically curious and your palate invigorated!
Sepp Moser Zweigelt Reserve 2015
We welcome wines that catch us by surprise and the Sepp Moser Zweigelt Reserve 2015 is one of those examples. During a hot summer day at U Adama Wine Bar in Bratislava, Charine and I were patiently drinking through the 2015 vintage of natural wines from Morava (Czech Republic) and Slovakia. We were sweating through our shirts but enjoyed the refreshing white and orange (amber) wines that were served.
There were 12 wines on the list plus a bonus wine. It was so hot that we were relieved upon reaching the twelfth wine. We closed our notebooks and stepped outside to get some fresh air. When we reentered the bar, our host said, "I've got a surprise for you."
The bottle was revealed. We recognized the name but the grape didn't excite us. Because of the heat, we were hardly interested in drinking a red wine. On top of that, most Zweigelt (a cross between St. Laurent and Blaufränkisch) we've tasted are simple, light, and unremarkable wines. Our job is to put preconceptions aside when it comes to wine, so we took a sip. My interest was piqued immediately.
The wine was a little tannic at first for the grape, which surprised me. I let it sit in the glass for a few minutes before going in for another taste. This process repeated itself until over half the bottle was gone. The wine became better and better as we slowly finished the bottle.
The Sepp Moser Zweigelt Reserve 2015 is a refreshing red that is dangerously easy to drink.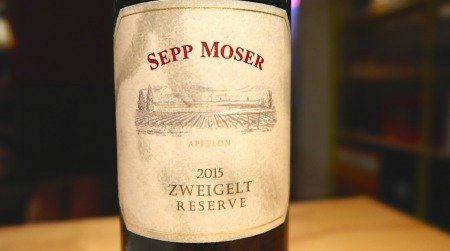 Sepp Moser Zweigelt Reserve 2015 is aged for 20 months in used barriques (225L) and 300L barrels. It's an outstanding Zweigelt, scratch that, it's an outstanding medium-bodied red wine. It's full of sour cherry, strawberry, cedar, and a fall leaf undertone. A touch of tannin from the barrel while feeling silky smooth on the palate with juicy acidity. It's a fun wine to drink and a perfect companion with food.