See You in Serbia #Winelover Trip
Reading Time: [est_time] We had a fantastic time at the (Facebook) #winelover's See You In Serbia trip. Having spent nearly six months in the country, we consider ourselves rather familiar with Serbian wines. Because of that, we oscillated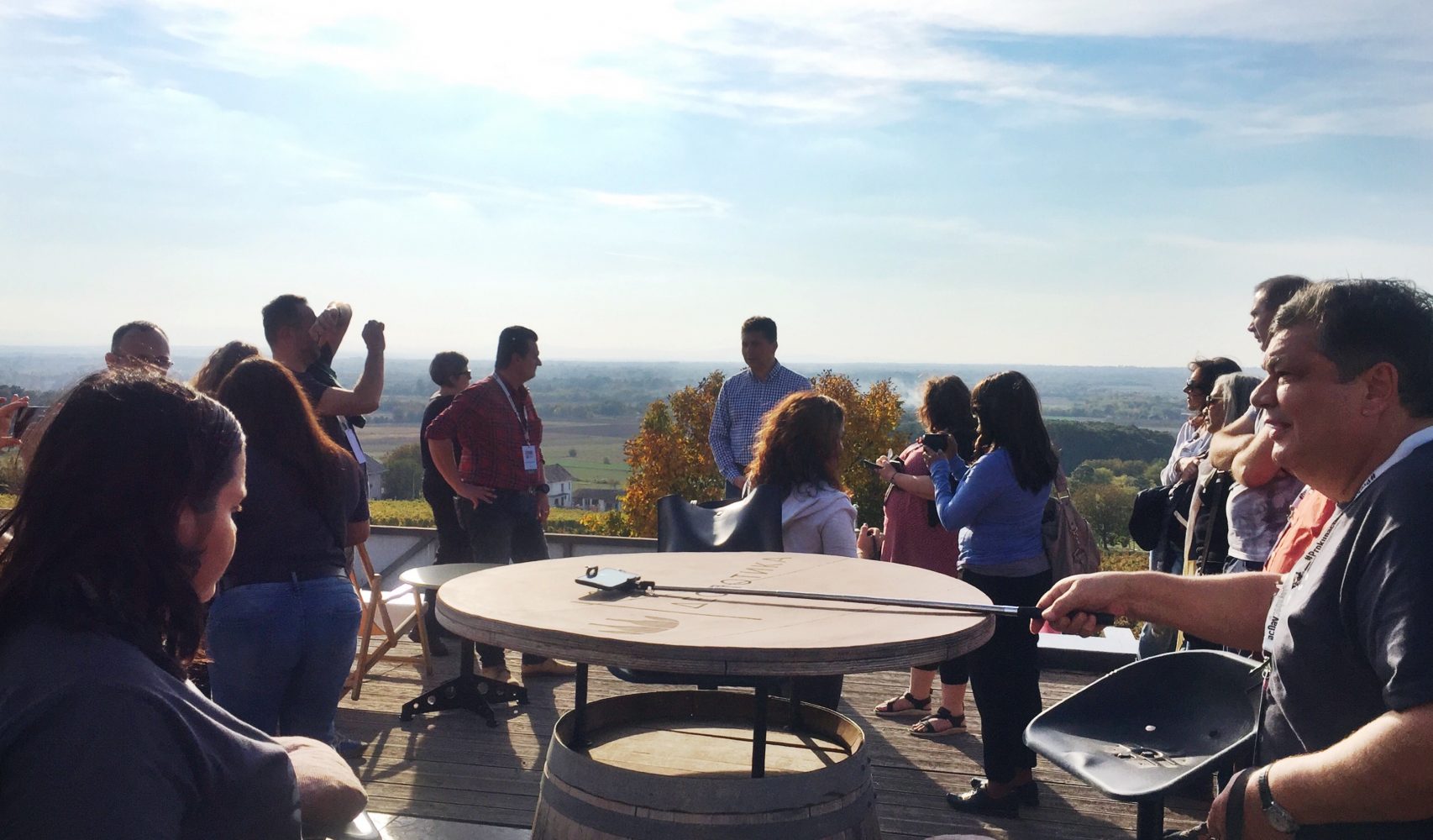 Reading Time: 8 minutes
We had a fantastic time at the (Facebook) #winelover's See You In Serbia trip. Having spent nearly six months in the country, we consider ourselves rather familiar with Serbian wines. Because of that, we oscillated between "Let's go. I'm excited!" and "Meh. I'm not sure if we will see, taste, or learn anything new." In the end, we committed to the trip because "Of course there's always something new to learn and experience." But the ultimate determinant was the friendships: to show support for an initiative that our friends work so hard for and take the opportunity to know the #winelover community.  And we're glad we participated as we were rewarded in more ways than one.
Tomislav Ivanović, Mirjana Maksimović, Igor Luković, and Dušan Jelić did a remarkable job of organizing the trip for a large group of discerning wine lovers. Over the course of five days, #winelovers from all around the world got to taste Serbian wines from nearly 50 producers.
 
BYOB Dinner
All #winelover trips usually start off with a BYOB dinner, and this trip was no exception. The dinner was held at Steak & Wine with Dejan Živkoski, President of SERSA – Serbian Sommelier Association, as the host. All attendees brought at least one bottle of wine to the dinner. For us, it was almost a civic responsibility to share Croatian wines. We chose a Tomac Amfora 2008 and a Križ Plavac Mali 2015 to share with the group.
There were many outstanding wines that night, but the highlights were the many bottles of Hungarian Furmint and Tokaj wines that Daniel Ercsey, Koltai Piroska and Sue Tolson from WineSofa shared with us. And the "wine of the night" for us was a Paolo Bea Sagrantino from Montefalco Secco Pagliaro 2009 that Rowena Dumlao Giardina from Apron and Sneakers brought (photo below).
Negotin Region
East Serbia is home to what we believe is  Serbia's best area for red wine. The journey to Negotin from Belgrade is tediously long. We started the day in Belgrade at 7:30 AM and came back at 1:30 AM. While many people grumbled about the long bus ride—having been to the region—we felt it was vital for the group to visit Negotin.
You can mouse over the picture below and play the video.
 

On the Aquastar Maxim ferry that took us through the Iron Gates gorge on the Danube River. Romania on one side, Serbia on the other, and wine lovers from all over the world on board.
The day started with a cruise ride through The Iron Gates, a gorge on the Danube River. The Iron Gates acts as a border between Romania and Serbia. At 2,860 meters, the Danube River is Europe's second longest river and flows through 10 countries. During the ride, we passed through the narrowest point of the river. Here's a look at that point.
The gorge is also home to a sculpture of Decebalus. As the last king of Dacia, he fought against the Roman emperors to preserve the kingdom's independence. At over 40 meters in height, the sculpture is the tallest rock sculpture in Europe.
After the boat ride, we arrived at Matalj Winery. The proprietor Nikola Mladenović Matalj hosted 10 wineries from East and Southeast Serbia at his winery. The #winelover attendees all had their list of favorites, and many from the group walked away impressed with the quality, if not potential, of Serbian wines. We took personal delight in the fact that the Matalj Kremen Kamen impressed many wine lovers.
 

Excellent example of Vranac and a common favorite among the #winelover people at the tasting. Lots of oak influence but well integrated into the wine: it was fruit first, then secondary profile, and only a sign of tertiary notes in this 6-year-old wine. With its high acidity and tannins, this is a candidate for longer aging. Even with 15% alcohol, it has enough fruit and extract to go some distance.
Our surprise of the day was the fresh Chardonnay by Bukovo Monastery; the wine had a floral-accented profile along with fruit power. Their wines are made by superstar-winemaker Radovan Djordjević (owner of Podrum Čokot). Many people from the group also enjoyed the Vinarija Raj Game (Gamay) and the Aleksić Armanet (Vranac).
The night ended with a trek up to the old cellars of Rajac. While not everyone appreciated the one-kilometer, uphill hike, we got a chance to taste some romača (homemade) rakija and wine, which softened the four-hour bus ride back to Belgrade.
Prokupac Day
September 14 is International Prokupac Day. Our trip included passes to the annual Prokupac Conference organized by Wine Identity. The conference consisted of four workshops that were delivered at a breakneck, yet efficient manner. The conference was headlined by Master of Wine Caroline Gilby.
The class on the aging potential of Prokupac by Tomislav Ivanović caused a stir among the crowd. Tomislav presented several labels and vintages from Vino Budimir, including Budimir Triada, Budimir Svb Rosa, and Budimir Boje Lila. As the workshop showed, while there might not be examples of Prokupac (yet) that show enough fruit power to undergo decades of aging, those wines can definitely develop well in the short and medium term.
Two wines that also impressed us were the Čokot Radovan 100% Prokupac 2015 and the latest 2015 vintage of Ivanović No 1/2 (50% Prokupac, 25% Cabernet Sauvignon, and 25% Merlot). It's no surprise since these two producers, along with Budimir, are among the top wineries in the Župa Valley—the spiritual home of Prokupac.
One example that caught our attention was a white wine made from Prokupac. The Milanov Vinarija Prokupac Belo (White) showed that this grape might be capable of making pleasant Blanc de Noirs wine. Other new producers of red Prokupac that stood out to us included Vinarija Grabak and Vinarija Yotta.
The Exotic Wine Travel team has always been fond of Prokupac, and we believe that it has the potential to shine on the international platform; so it was exciting to witness the reactions from the #winelover group. The remarks were mostly positive. However, there was a clear divide between people who think that Prokupac wines should be blended with international grapes and others who like it as a varietal wine. Regardless, many concurred that the grape is capable of making good wines.
Wines From Šumadija and Vojvodina
The third day included a field trip to Šumadija, a wine region in Central Serbia. The first stop was Aleksandrović Winery, one of the first three privatized wineries that appeared in Serbia after the Soviet period and also one of the biggest producers in Serbia.  The rest of the afternoon saw us making stops at The Kings Cellar in Oplenac and Despotika Winery.
We enjoyed tasting with the #winelover group, which consisted of wine professionals, winemakers, wine importers,  writers, bloggers, and staunch wine lovers. It's always eye-opening and humbling to taste wine with people with extensive and varied experience. Here's a snap of the group at Aleksandrović. Thank you Sharon Parsons from Spaswinefood for the photo.
Our stop at The King's Cellar provided a look at the history and lives of King Alexander and Queen Maria. While we've never found pleasure in drinking their wine, the visit offered a brief look into the history of Yugoslavia and the Šumadija region. We followed up with a visit to Despotika Winery, where eight wineries from Central Serbia presented their wines.
 

The Church of Saint George in Oplenac offers a stunning interior of 3500-square-meter mosaics. The Jesus on the ceiling is the largest piece.
Many people found the wines from Virtus agreeable with their palates; the newest vintage of its Marselan was a popular favorite with its full body, deep color, high level of extract, and excellent price-quality ratio. Several of the whites from Despotika also impressed the group, including an off-dry Morava with piercing acidity. The Janko Zavet Stari (Bordeaux Blend) and Radovanović Cabernet Sauvignon Reserve also received a fair share of votes. While there were many excellent producers present, we were disappointed that the wines from Cilić weren't there.
Here's a shot of Despotika's vineyards at sunset.
The group headed back to Belgrade and we concluded the day with a gala dinner at The Square in downtown Belgrade. The restaurant is located in Square 9 Hotel, and it's often touted to be one of the best dining spots in the city. The wines of Vojvodina (North Serbia) were showcased, and the Bijelica Saga 2016 stood out to many people. Indeed, we think this blend of Sauvignon Blanc and Semillon is perhaps the best fresh white wine in Serbia right now.
Biodynamic and Orange Serbian Wines
We finished the trip with a morning tasting of biodynamic and amber wine / orange wine from Serbia. Even though the modern wine industry is fairly young in Serbia, there is a progressive movement for minimal-intervention wine. There were five producers present at the tasting Bikicki, Dukay-Sagmeister, Imperator, Kovačevic, and Maurer.
Several people enjoyed this tasting the most out of all the ones in our program.
Oskar Maurer is probably Serbia's most well-known producer as his wines are available at at least 10 Michelin-starred restaurants in the world.
Oskar also helps make the wine at Bikicki, a new producer that crafts a light and delicious macerated Pinot Grigio and a late-harvest Traminer among others.
The newest vintage of Riesling from Imperator drew many positive responses as well.
Dukay-Sagmeister stole the show that morning. The dry Furmint received rave reviews in addition to his elegant red made from Kadarka. Many people bought several bottles of Dukay-Sagmeister's wines.
Kovačevic was somewhat neglected at the tasting. Perhaps it was because there was no one from the winery to represent their wines, or maybe it was because their wines do not follow minimal-intervention farming.
 

Furmintis because it's botrytis Furmint. 😂😂😂 Absolutely stunning Serbian dry Furmint and the best discovery from last night's Wine Jam event. The noble rot flavors, such as honey and cotton candy, are present on the palate and show only the slightest presence on the nose. What's stunning is those flavors are mere 'afterthoughts'–so light-footed that they, in fact, highlight the varietal characteristics: the Furmint's primary flavors and acidity march out straight from the textbook. Overall, it's a really nuanced wine. We have to re-taste and probably enjoy a whole bottle to fully comprehend this wine. Yea, thankfully, we managed to buy a bottle!
The People of #Winelover
Romania was never high up on our priority list of "exotic wine places" to explore because of the lack of an active motivation or an experiential hook. Recently, one of my best friends had a swindler-related, near-violent experience there. The limited Romanian wines we tasted also failed to impress us (although we are certain that there are excellent Romanian wines).
More than 10 Romanians attended the #winelover trip, and they offered us a window into a place that we were unfamiliar with. They were warm, funny, and enthusiastic, and we bonded during the five-day trip. Now it looks like we might have to make a trip to Romania in 2018!
Special thanks to Alexandra Sabotnicu Serban, Silviu Serban, Serban Sincai, and Simona Sincai for making us love Romania even before we've met it.
 

Today marks the end of the #winelover trip in Belgrade. We are so lucky to meet so many new friends during this trip, and some of them have left us hooks to visit their countries.
Another wonderful person we met was Manuella Webber-Witt, a Brazilian making wine in Germany. On the last day, we got the chance to taste her Riesling from Pfalz. It's a Qualitätswein with brilliant acidity and crystalline fruit flavors. All the best to Manuela as she works on making her wine a commercial product!
Everyone else on the trip touched us in one way or the other. There were a lot of laughs on this trip including Giannas Krassaki who overslept and missed the entire first day of the trip (he is not in our group photo below). Thanks to everyone who made this trip so special for us. The enthusiasm and passion that the #winelover group displayed are what make these trips so special. Thank you Luiz Alberto of The Wine Hub for the photo below.
We look forward to meeting all of you, current and future members of #winelovers, on the next trip!
The finest selection of
available at:

Shipping is available EU-wide and to the UK.
************
    Do you want to try Serbian wines?    
If you're looking to savor the exquisite flavor of Serbian wines, look no further than wineandmore.com. With an abundance of options from different winemakers, it's easy to find exactly what your palate desires. Not sure which bottle is best for you? Try out one of their curated wine cases and discover the perfect vintage for any occasion!
************
Want to learn more about wine?
Are you ready to discover the wonderful world of wines? Come join us at wineandmore.com and let's explore the incredible selection of delicious wines together! We can't wait to share our passion for wine with you!
 
 
You May Also Enjoy
Articles: Serbian Wine
Videos: Serbian Wine – YouTube Playlist
More photos and updates about the #winelover trip in Serbia can be found on our Facebook and Instagram.
Check Out the Websites of Our #Winelover Members
Carol Lopez-Bethel's Swirl Wine Consulting
Christina Portz's Just the Bottle
Dušan Jelić's Wines of Balkans
Mirjana Maksimović's Žena i Vino (in Serbian)
Piroska Koltai's Wine a'More Travel
Razvan Stoenescu's Povești cu vin (in Romanian)
Sarah May Grunwald's Taste Georgia
Tomislav Ivanović's Vinopedia
---
The ideas expressed in this article are personal opinions and are not associated with any sponsors or business promotions.