Slovenian White Wine Part 1
Reading Time: [est_time] Thank goodness for Slovenian white wine. This tiny country located is located on the north coast of the Adriatic Sea. What it lacks in size, it makes up for in wine quality. Around 70%
Reading Time: 9 minutes
Thank goodness for Slovenian white wine.
This tiny country located is located on the north coast of the Adriatic Sea. What it lacks in size, it makes up for in wine quality. Around 70% of Slovenia's production is white wine.
I use the term white wine loosely because Slovenia (especially Western Slovenia) has made a name for itself as an epicenter of the minimal intervention, orange wine (amber wine) movement. Many of Slovenia's most exciting white wines see various amounts of skin contact, anywhere from a few days to a few months.
Slovenian White Wine
For a breakdown of Slovenian wine regions, see my previous article on Slovenian red wine. White wine grapes are found throughout the country. In the eastern regions of Posavje and Podravje, you'll find cool-climate grapes like Sauvignon Blanc, Renski Rizling (Riesling), Laški Rizling (Welschriesling/Graševina), Šipon (Furmint), Gewürtztraminer, Rumeni Muškat (Yellow Muscat), and Chardonnay. Generally speaking, most of the whites here are fresh, crisp, and clean although there are more barrel-fermented and macerated wines to be found.
Primorska (Primorje) is located in Western Slovenia and is broken into the wine districts of Slovene Istra, Kras, Vipava, and Goriška Brda. This has become the heartland of the Slovenian natural wine and orange wine (amber wine) movement. You'll find a number of unique white grapes like Rebula (Ribolla Gialla), Malvazija Istarska, Sauvignonasse (Friulano/Jakot), Pinela, Zelen, and Vitovska in addition to French grapes like Sauvignon Blanc and Chardonnay.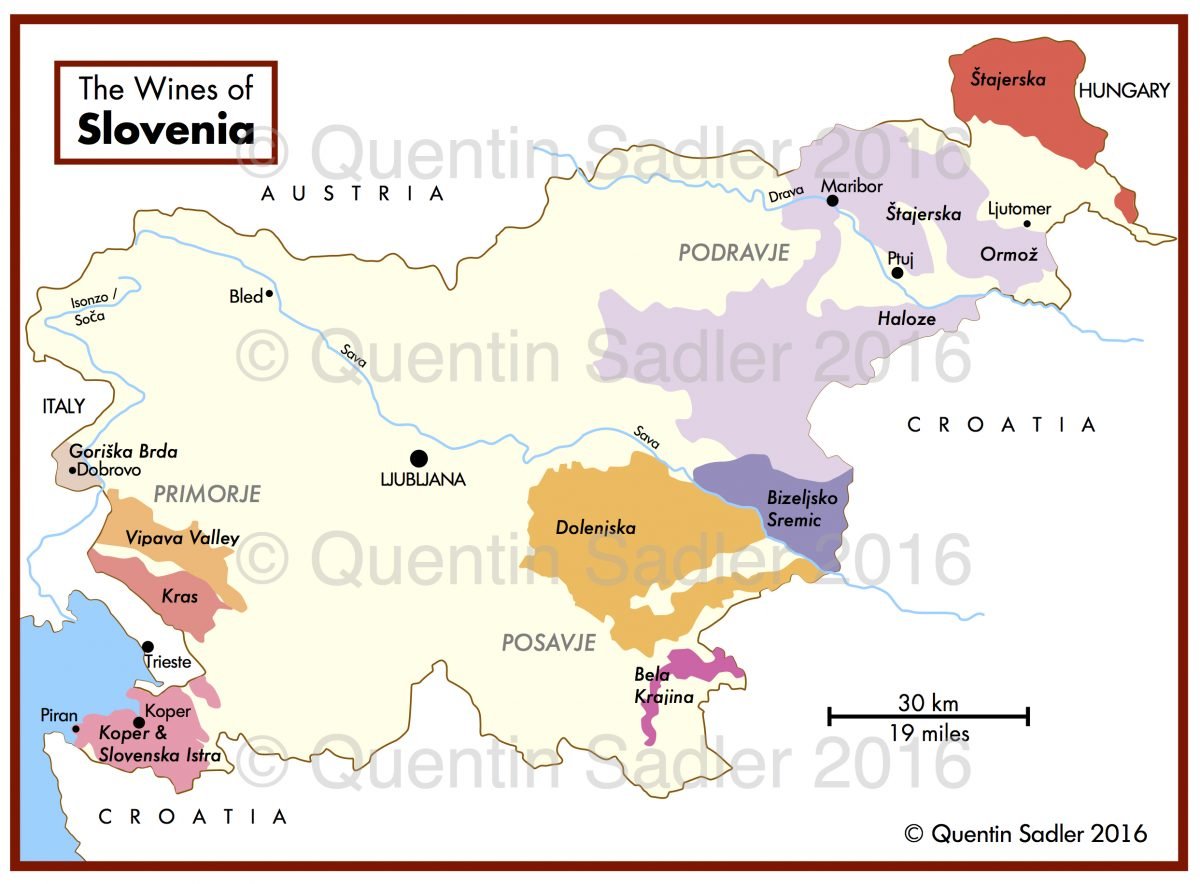 The Quality
Primorska is generally regarded as Slovenia's top wine region in terms of fine wine. In Posavje and Podravje, the whites are generally fresh and crisp, making them great summer sippers. It's an area that I'd love to explore in even greater depth (unfortunately there were not a lot of samples submitted from these two regions). Over the years, I've noticed more macerated and full-bodied whites coming out of the regions. At their best, these wines can absolutely stand toe-to-toe with those from Primorska.
The majority of wines in this article are from the districts of Slovene Istra & Vipava (Goriška Brda will be covered in a separate article). Both of these subregions in addition to Kras are overshadowed by Goriška Brda but they should not be dismissed.
A small sliver of Istria falls within Slovenia's borders, it's here that producers make magic with Malvazija Istarska. I prefer to drink Malvazija Istarska that has been macerated. The skins offer a sweet, floral flavor and ripe tannins. The region is home to Slovenia's largest producer, Vina Koper, but there are many small, boutique wineries doing excellent work.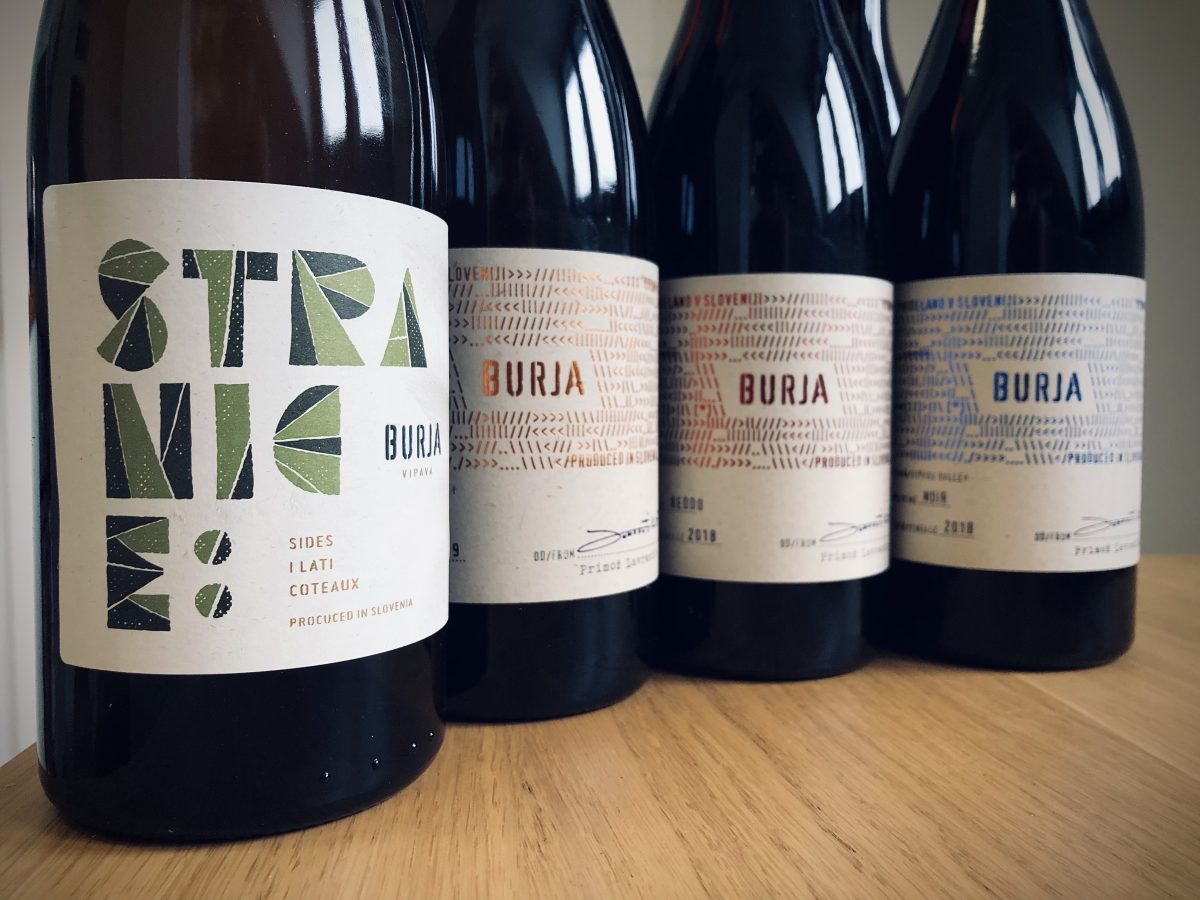 Vipava and Kras are located on the border of Italy and offer some of the most exciting Slovenian white wines. Vipava is the second-largest wine district in Slovenia in terms of vine coverage. This spectacular valley acts as a corridor from Western to Central Europe. It's a sub-Mediterranean region that is aided by the cooling influences of the Burja (wine gusts that rip through the valley). In both subregions, you can find classically styled and macerated whites made from grapes like Rebula, Malvazija Istarska, Laški Rizling, Sauvignon Blanc, and Chardonnay in addition to local specialties like Vitovska, Pinela, and Zelen. The best producers craft wines that will impress even the most critical of palates.
Stay tuned in the coming weeks for part 2 of the article.
Slovenian Wine Recommendations:
Discover great Slovenian white wine at wineandmore.com
Štajerska
Vino Kupljen, Sirius 2018
The Vino Kupljen, Sirius is a barrel-fermented Chardonnay aged for 18 months. This is a big step up from the previous vintage. Ripe, barrel-aged Chardonnay. Notes of limestone, guava, white peach, melon, and a perfect touch of oak. Full-bodied with many layers of texture and a salty, gritty mouthfeel thanks to the oak. A longer finish would propel this into epic levels. Give this five years in the bottle to unlock even more! Score: 90+/100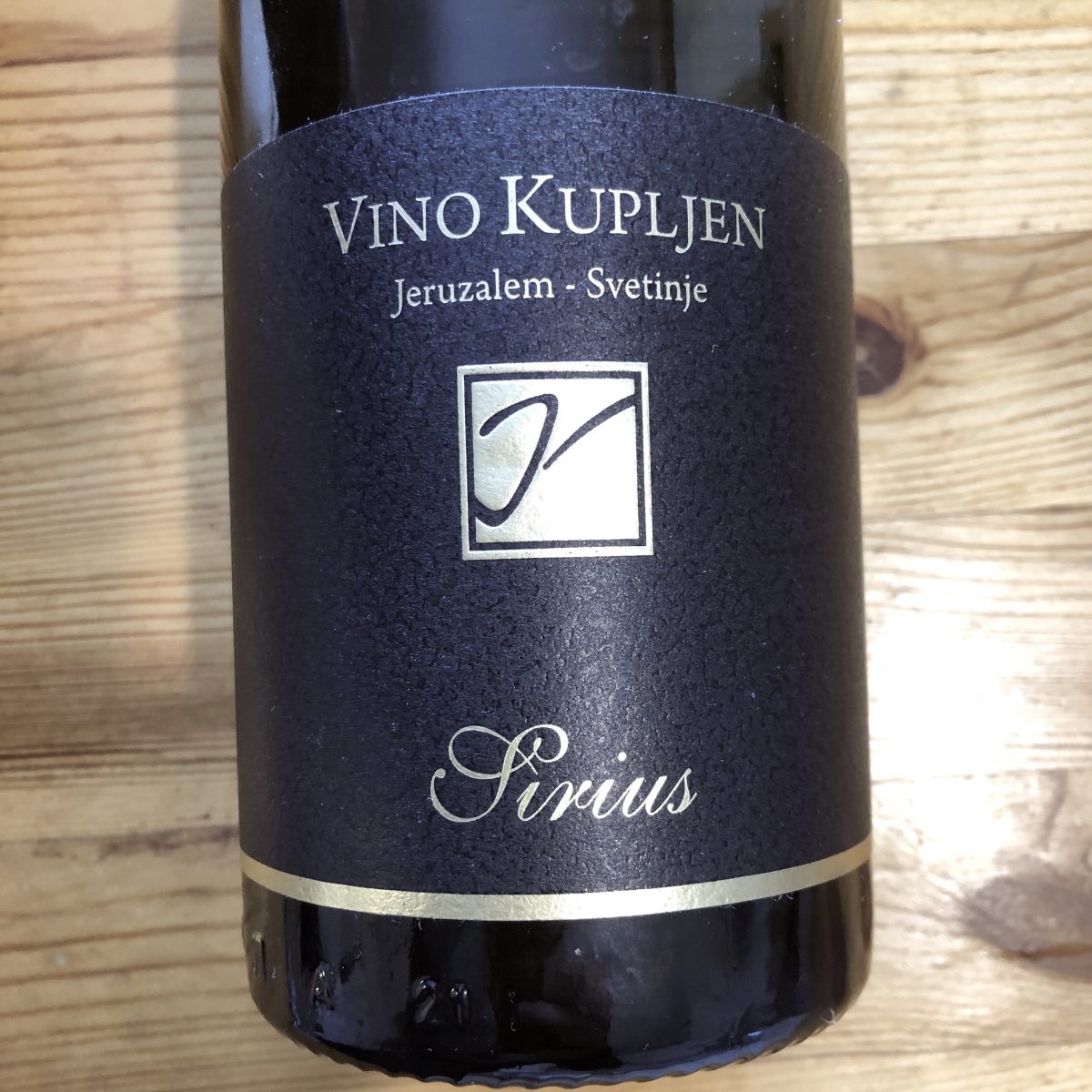 Vino Kupljen, White Star 2019
The Vino Kupljen, White Star is a barrel-aged blend of Chardonnay, Riesling, and Pinot Grigio. Notes of jasmine, melon, white pineapple, and a touch of white pepper. The barrel integration is fantastic here. It's a white wine built to age. Fruity, minerally, and full on the palate, it's reminiscent of Friulian whites. Score: 90+/100
Matic, Marl Grown Chardonnay 2017
The Matic, Marl Grown Chardonnay is left on the skins for two days and aged in oak casks. Notes of banana chips, dried peach, mineral, and yogurt. Full and rich in body. This doesn't explode with fresh stone fruits like a standard, fresh Chardonnay. This is more savory with hints of dried fruit flavors. There's a lot of texture and structure here. It's delicious now but really needs a few years in the bottle to come together. Score: 90/100
Kobal, White Reserve 2016
The Kobal, White Reserve is Chardonnay and Traminer (Gewürtztraminer) macerated for 72 hours and aged in wood. An impressive and unique nose of lemon meringue pie, melon, yellow flower, and a touch of yogurt. Full-bodied. The wood dominates on the palate but with time, this may melt into the wine. There are plenty of flavors here, it's fruity, woody, spicy, and floral all at once. This is a high-quality white but the flavors may be too unique for many palates. I do really enjoy it. Score: 90/100 
The Kobal, Sauvignon is a wine that over-delivers in its modest price point. It is macerated for 72 hours. It has a pure Sauvignon Blanc nose of kiwi fruit, green herbs, grass, and white pepper. This is zingy and electric on the palate. There are no tannins from the maceration but there is plenty of texture here. It's more than just a generic, simple white wine. Serve this fresh white on a hot summer day. Score: 89/100
*I also highly recommend the Kobal, Šipon (Furmint) 2020
Bela Krajina
This Šuklje, Belo 140 is a cool blend of Kerner and Riesling. The Kerner is aged in Acacia wood. An attractive nose of apple, fresh honey, white pear, and flint. Kerner makes up 80% of the blend and all of it is aged in Acacia but the wood doesn't dominate the nose here but it does show up on the palate. Medium-bodied and crispy, this is a unique white that should capture attention. Mineral-driven finish and lemony acidity. Score: 89/100
Slovene Istra
Korenika & Moškon, Elepard 2008
The Korenika & Moškon, Elepard is a crazy cool wine. Pinot Blanc and Sauvignon Blanc macerated for 60 days and aged for a whopping 120 months in the barrel. This is in between a hardcore orange wine and an Amontillado sherry. Aromas of mixed nuts, dried figs, fall leaves, orange peel, saffron, and sweet peach. Crazy complex nose. For such a high alcohol wine (15%) this has impeccable elegance on the palate. Long, salty finish. No sulfur added. Score: 94/100
Korenika & Moškon, Sulne 2011 
The Korenika & Moškon, Sulne is a macerated blend of Malvazija Istarska, Pinot Gris, and Chardonnay. Dark amber color, it actually looks like an amber gemstone. Complex nose of dried apricot, spring water, forest floor, and dried mango. The palate is full of flavor, explosiveness, and complexity. Sandy texture with a lemon and butterscotch finish with ripe tannins. For an orange wine, it's all about balance, balance, balance. Score: 93/100
Zaro, 'Pivol' Malvazija 2018
The Zarl, 'Pivol' Malvazija is macerated and is a selection of the best grapes. Pivol is the name of the village where it's grown. It's on the skins for just over a week then fermented and matured in large cask. Golden in color. This has the beautiful notes that macerated Malvazija is capable of. Notes of white pepper, sweet peach, apricot, yellow dandelion, and chalk. Very complex and thought-provoking nose. The palate is very elegant for a macerated white wine. Full of yellow fruit flavors and subtle mineral notes. The tannins and sweet and supple. Score: 92+/100
Vina Koper, 'Capris' Malvazija 2018
This is a value-for-money wine from Slovenia's biggest producer. It's a fresh white wine showing well after a year in the bottle. Notes of sweet peach, minerals, yogurt, and a touch of sage. Rich in texture and body for a wine that only saw stainless steel. In Slovenia, this wine can be had for around 5 Euros. Score: 89/100
Ražman, Malvazija Petrea 2018
The Ražman, Malvazija Petrea is macerated for two days and aged in wood for a year before release. It's a beautiful, floral Malvazija. Notes of sweet peach, yellow flower, pepper, and a touch of lemon peel. This has all the flavors of Malvazija Istarska without the heavy orange wine flavors. Low level of tannins and nice texture. Slightly spicy finish. Score: 90/100
Ražman, Malvazija Antiqua 2017
Ražman, Malvazija Antiqua is the reserver white of the estate. It's Malvazija Istarska macerated for 15 days and aged for two years in oak. I've thoroughly enjoyed the prior two vintages of this wine. This is more aromatic than the Malvazija Petrea. The nose explodes with dandelion, yellow peach, red berry, mineral, and white pepper notes. If you closed your eyes, you might think this is a medium-bodied red. This is a unique wine because it's chewy, full, and elegant at the same time. The tannins are gorgeous and add just a little grip. Long finish. Score: 92/100 
Vipava
The JNK, Malvazija is Malvazija Istarska that saw three days of skin contact. Notes of apricot, lemon, yellow flower, and a touch of thyme. This is a gorgeous vintage of this wine. There's a lot of fruit here and plenty of texture and layers. For an orange wine, there is a lot of tension here. Grippy tannins and a long finish. This is electric and exciting with a lemony finish. Score: 92+/100
The Guerila, Retro Belo is a blend of Zelen, Pinela, Rebula, and Malvazija aged in large casks for a year. Beautiful notes of tobacco, apricot, sweet peach, and a touch of white pepper. Incredibly complex and full-bodied. It has real texture. I am shocked by this wine, I found their wines quite tight in the past but this vintage is really singing. It is almost Gravner in style. Not too big and brooding, just fun to drink. Score: 91/100
The Cultus, White is a blend of Pinot Blanc Malvazija Istarska and Zelen. The wine sees three days on the skins and is a combination of barrel and stainless steel fermented. This is a barrel-fermented white done right. Notes of Asian pear, white peach, chalk, and a kiss of yogurt from the barrel and lees. It's mouth-coating on the palate with a slightly lemony finish. It's not an overly fruity white, nor is it mineral-driven. Balance is the key here. I suspect it may improve with time in the cellar. Score: 90/100
Tilia Estate, Pinot Gris 2020
The Tilia Estate, Pinot Gris is first wine I've had from the 2020 vintage thus far. This is the wine that is produced in the largest quantities by Tilia Estate. For a fresh white wine, this is gorgeous. Notes of pineapple, tropical fruit, flint, and a touch of grassiness. Explosive and full of flavor. Fruity, fresh, and crisp. This is a wine that nobody will push off the table. Score: 89/100
Tilia Estate, Nostra 2018
The Tilia Estate, Nostra is a partially barrel fermented and aged blend of Pinot Gris, Sauvignon Blanc, and Chardonnay. I think this wine is one of the best from this estate vintage after vintage. Notes of pineapple, melon, banana, and roasted chestnuts. The oak integration is very good here. The wine is full-bodied with plenty of fruitiness upfront. It finishes with a tangy, tangerine-like flavor. This is not the most complex barrel-aged white in the world but it's a lot of fun to drink and has enough weight to keep many happy. Score: 90/100 
Batič, Angel Selekcija Belo 2018
The Batič, Angel Selekcija Belo is a barrel-fermented blend of Chardonnay, Sauvignon Blanc, Pinot Gris, and Welschriesling. Matured in barrel for 20 months. Gorgeous nose with notes of yellow peach, quince, fresh-cut apricot, mineral, and just a kiss of vanilla from the wood. The oak integration is perfect here, the wood adds just a touch of sweetness without it overpowering the wine. Everything is in balance here, almost French-esque in execution. This wine has a history of aging well, this should be no exception. Score: 94/100
Batič, Angel Rezerva Belo 2014
Out of 15,000 vines, only 600 bottles of the Batič, Angel Rezerva Belo are produced. A blend of Pinela, Zelen, and Vitovska matured for two years in wood and bottled without sulfur. Deep orange color. It has a refined nose of sage, thyme, lilacs, and dried yellow stone fruits. The palate is explosive. It's a lot more fruit-driven than the nose would suggest. Intense saltiness and a low amount of tannins for a skin-contact white. Long, tangerine peel-like finish with plenty of electricity. Score: 94+/100
The Burja, Bela is a field blend of Rebula, Laški Rizling, Malvazija Istarska, and small amounts of various varieties. It's macerated and aged for 10 months in concrete and wood. I like this wine in every vintage. Notes of yellow flowers, melon, lemon, cut grass, and a touch of crushed rocks. This is a raw, natural wine but a complex one at that. The palate brings equal complexity with a nice interplay between lemony acidity and flinty flavors. Long finish and easy-going tannins. Score: 92/100
The Burja, Stranice is a field blend of Malvazija Istarska, Rebula, and Laški Rizling that's macerated for 12 days and aged in concrete. The vineyard is only 0.9 hectares. Intense notes of lemon, grapefruit, sweet peach, seawater, and citrus peel. Compared to the Burja Bela, this has much more concentrated fruit flavors. The mid-palate and the finish have the flavors of a fresh fruit salad. The tannins are easy-going and the finish is long. I usually prefer the standard Bela to this wine but in these latest releases, the Stranice takes the cake. For fans of this style, this wine is a real winner. Score: 93/100
Vipava 1894, 'Terase' Chardonnay 2018
The Vipava 1894, 'Terase' Chardonnay is barrel-fermented Chardonnay. A part of this cuvée was kept on the skins for one week. Golden in color, it has the typical Chardonnay nose of melon and white peach with great oak integration and a touch of flinty notes. It's full-bodied and rich with a creamy texture. The wood never gets in the way of the wine here. There's a little bit of grip on the back end. Overall, this is a very good effort at this price. A longer finish would push the score to higher levels. Score: 90+/100
You can learn more about our scoring system on the wine rating page.
The finest selection of
wines available at:

Shipping is available EU-wide and to the UK.
************
    Do you want to try Slovenian wines?    
If you want to savor the exquisite flavor of Slovenian wines, look no further than wineandmore.com. With many options from different winemakers, it's easy to find exactly what your palate desires. Not sure which bottle is best for you? Try out one of their curated wine cases and discover the perfect vintage for any occasion!
************
Want to learn more about wine?
Are you ready to discover the wonderful world of wines? Come join us at wineandmore.com, and let's explore the incredible selection of delicious wines together! We can't wait to share our passion for wine with you!
You Might Also Enjoy:
---
Thanks to all of the producers for providing tasting samples. The opinions expressed in this article are unsolicited and have not been paid for in any way by governmental bodies, enterprises, or individuals. We do not sell editorial content as that would destroy the legitimacy of our reviews and the trust between Exotic Wine Travel and its readers. On occasion, we extend the option of purchasing the wines we review or/and the products we spotlight. Some of these product links are set up through affiliate programs, which means Exotic Wine Travel gets referral credits if you choose to purchase these items via the links we provide.