The Return of Modri les Noirs
Reading Time: [est_time] The Pinot Noir landscape is varied and hyper-global. Touted as 'the heartbreak grape', many winemakers around the world feel inspired to take on Pinot Noir's demanding and finicky nature. And when a variety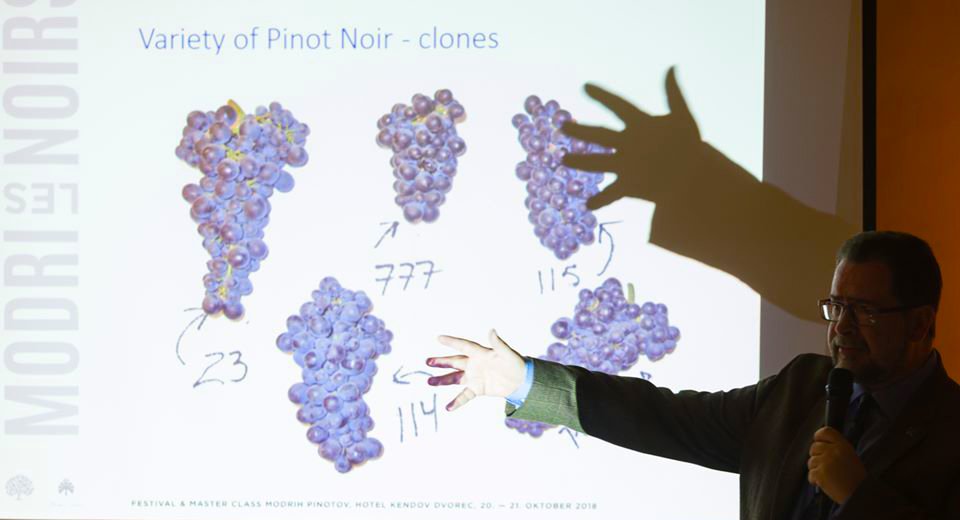 Reading Time: 5 minutes
The Pinot Noir landscape is varied and hyper-global. Touted as 'the heartbreak grape', many winemakers around the world feel inspired to take on Pinot Noir's demanding and finicky nature. And when a variety is grown in so many drastically different viticultural places, the question of varietal typicity becomes an open-ended question. Whether intentional or not: at Modri les Noirs, the question about Pinot Noir's typicity was put on center stage.
THE SECOND EDITION OF MODRI LES NOIRS
Held at Hotel Kendov Dvorec (a member of Relais & Châteaux) in Idrija, Slovenia, Modri les Noirs is an annual wine festival dedicated to spotlighting Pinot Noir producers from Central and Eastern Europe. With only two editions under its belt, the second year of the event saw a healthy increase in exhibitors: from 15 to 32 producers from Slovenia, Croatia, Hungary, Italy, Poland, Serbia, and Switzerland.
EMERGING REGIONS FOR PINOT NOIR
When it comes to Pinot Noir, Slovenia and the Croatian Uplands—especially the Plešivica sub-region—are beginning to build favorable reputations, particularly for drinkers who prefer Pinot Noirs that are approachable on release. In Poland and Hungary's Etyek wine region, cooler weathers yield markedly different Pinot Noirs that express dominant herbaceous notes and light to ultralight body. Some examples from Switzerland and Italy's Alto Adige show softly spiced, fruit-led expressions. Then, there are also a few severely awkward examples that seem adamant about proving that Pinot Noir is anything but elegant.
Generally, Pinot Noir clones used in Slovenia, Serbia, Poland, Hungary, and Croatia are not unusual: predominantly Dijon and Italian clones with the occasional Swiss Mariafeld and German clones. These countries plus other lesser-known wine regions are beginning to make remarkable Pinot Noirs with a character all their own. Sure, Burgundy still produces some of the finest Pinot Noirs, but it's no longer the only wine region that can tame the 'heartbreak grape'. The dynamism in this part of the world is sure to motivate people to think beyond the Burgundian blockbusters and challenge the prevailing opinions on what Pinot Noir should be or can be. Here are the noteworthy wines at the show.
WINE RECOMMENDATIONS
Pinot Noir's synonyms: Modri Pinot (Slovenia), Pinot Crni (Croatia), Pinot Nero (Italy)
Korak, Pinot Crni Selekcija 2017 – The Uplands, Croatia
MH: 92+ points Korak Winery is one of the names to know for Pinot Noir in Croatia. The Korak Pinot Crni Selekcija 2017 is a beautiful darker Pinot Noir with black raspberry, oak, perfume, red plum, and pepper. Full-bodied and complex, this has nuances and layers on the palate. Firm tannins and a long finish.
Tilia, Pinot Noir (White Label) 2017 – Vipava, Slovenia
MH: 92+ points The Pinot Noirs from Tilia are always earthy and savory. The 2017 Tilia Pinot Noir White Label has earth, mushroom, black raspberry, and red plum notes. Round and medium-bodied at first with a core of dark fruit. Like many of the Tilia reds wines, the tannins are big, so put this in the cellar for a few years.
Castelfeder, Pinot Nero Riserva Burgum Novum 2016 – Alto Adige, Italy
MH: 92+/100 This is the first vintage of Castelfeder Pinot Nero Riserva Burgum Novum that is partially fermented with whole cluster. This is shyer than previous vintages at first but opens with air. There are notes of mountain berry, pepper, and perfume. This has juicy acidity and a certain Italian flair to it. Rich texture and tart red fruit with firm tannins and a long finish.
Heap's Good Winery, Modri Pinot 2015 – Stajerska, Slovenia
MH: 92 points The latest vintage from this Kiwi transplant in Slovenia is delicious. It's light in color and very Southern Hemisphere in style with notes of mineral, hay, strawberry, raspberry, and white pepper. Silky smooth mid-palate and tannins with a long finish.
Jakončič, Carolina Noir 2016 – Goriška Brda, Slovenia
CT: 91 points The 2016 vintage of Jakončič Carolina Noir shows notable improvement from 2015. This wine drinks well right out of the gate. Umani, smoky, salty, spicy, plus a bit rose, with all that underlined by candied fruit notes. The ripeness here reminds me of Pinot Noir from Santa Maria Valley in Santa Barbara County, California. Generous in density and intensity on the palate, leading to an appetizingly salty and sweet finish.
Pasji Rep, Pinot Noir 2017 – Vipava, Slovenia
MH: 91 points Pasji Rep is a small organic producer located in the Vipava Valley. The Pasji Rep Pinot Noir 2017 is done in a friendly, fruity style. Notes of sour cherry and red raspberry. This has a round palate with silky tannins. The wine starts out fruity but develops a savory note and a peppery finish. It also has a history of aging well. A classic good example of Pinot Noir
Etyeki Kúria, Pinot Noir Válogatás 2015 – Etyek, Hungary
MH: 90 points Etekyi Kúria is a new producer with a winery near Budapest. They are known in Hungary for making some of the best Pinot Noirs in the country. The Eteyki Kúria Pinot Noir Válogatás (vineyard selection) has notes of red raspberry, cherry, violet, and fall leaf. Silky and juicy with a low level of tannins. This is much better than their standard Pinot Noir.
Sontacchi, Pinot Noir 2017 – Slavonia, Croatia
MH: 90 points Sontacchi is a small family winery located in the heart of Slavonia, and their Pinot Noir is a local favorite in Croatia. This vintage is a winner with delicate color and flavors. There are notes of raspberry, fall leaf, pepper, and a slight savory note. It's real soft and silky on the palate with a touch of tannins. This vintage is silky and balanced with good length on the finish.
Franz Haas, Pinot Nero 2017 – Alto Adige, Italy
CT: 88 points A spice-first-then-fruit kind of Pinot Noir, which I appreciate. Good intensity and textural depth on the palate. Vibrantly expressive and ready to drink.
Hiša Joannes Protner Modri Pinot 2015 – Maribor, Slovenia
CT: 87+ points Undoubtedly the most 'quintessential cool-weather Pinot Noir' style at the show. Undoubtedly still not ready for consumption now. This ultra-linear, lightly-handed Pinot Noir might surprise acid freaks in a couple of years.
Jamšek 1887, Modri Pinot 2015 – Vipava, Slovenia
CT: 87 points Beyond the typical fruit notes, there are spicy and floral hints of lavender, licorice, and ginger. Intriguing and complex aromatics. On the palate, the finish shows a bit of bitterness and oxidation. An exciting wine although untypical as a Pinot Noir.
NEW WORLD PINOT NOIR
Besides the walkaround tasting, there was also a masterclass about New World Pinot Noir, led by Quentin Sadler. 
Hamilton Russell Vineyards, Pinot Noir 2018 – Walker Bay, South Africa
MH: 93+ points The Hamilton Russell Vineyards Pinot Noir is my favorite wine of this entire festival. This South African beauty has notes of raspberry, cherry, strawberry, and white pepper. Perfumed and nuanced with a lovely texture. Dancing acidity and a long finish.
Marimar Estate, Mas Cavalls Pinot Noir 2014 – Sonoma Coast, California
MH: 93 points The Marimar Estate Mas Cavalls is Sonoma County Pinot Noir to a tee. IT has notes of sweet raspberry, cool whip, pepper, and a touch of strawberry. There are sweet tannins and a long finish. The high ripeness from the fruit and oak took many of the crowd by surprise, and the wine was distinctly different than the others at the show.
Seresin Estate 2014 "Rachel" Pinot Noir – Marlborough, New Zealand
CT: 92 points Proprietor Michael Seresin is a renowned cinematographer responsible for Harry Potter and the Prisoner of Azkaban, Planet of the Apes, and more. He founded Seresin in 1992 and soon after became known in the winemaking circuit as one of the first few in the country to embrace organic viticulture. The Seresin Estate Rachel Pinot Noir is a blend of three vineyards that are 200 meters in elevation, on clay-gravel soil types. The grapes receive a cold soak before fermentation. After fermentation, the wine is aged for 12 months in barriques
An intense and moderately complex bouquet with dominant aromas of black pepper, earth, and leaf piles—all that before the fruit. Soft on the palate yet it is packed with textural density and flavor intensity. Silky but persistent tannins marked by notes of redcurrant and cherry. Crunchy acidity leads the flavors but does not act like a lonewolf at any point. Note: The 2013 vintage of this wine is listed in Matthew Horkey's Pinot Palooza: Pinot Noir from Australia and New Zealand article.
---
Cover image: facebook.com/modrilesnoirs 
You May Also Enjoy:
The finest wine selection available at

📦 Shipping is available
EU-wide and to the UK.
************
    Do you want to try Croatian wines?    
If you want to savor the exquisite flavor of Croatian wines, look no further than wineandmore.com. With many options from different winemakers, it's easy to find exactly what your palate desires. Not sure which bottle is best for you? Try out one of their curated wine cases and discover the perfect vintage for any occasion!
************
Want to learn more about wine?
Are you ready to discover the wonderful world of wines? Come join us at wineandmore.com, and let's explore the incredible selection of delicious wines together! We can't wait to share our passion for wine with you!
---
The organizers of Modri les Noirs covered our travel and accommodation expenses during the show. However, please note that the opinions expressed in this article are unsolicited and have not been paid for in any way by governmental bodies, enterprises, or individuals. We do not sell editorial content as that would destroy the legitimacy of our reviews and the trust between Exotic Wine Travel and its readers. On occasion, we extend the option of purchasing the wines we review or/and the products we spotlight. Some of these product links are set up through affiliate programs, which means Exotic Wine Travel gets referral credits if you choose to purchase these items via the links we provide.