Takler, Szenta-hegyi 2016
Reading Time: [est_time] Hello! Welcome to As Drunk by Exotic Wine Travel, a weekly column where we feature interesting wines that we encourage you to seek out. The reviews featured in this series may be written by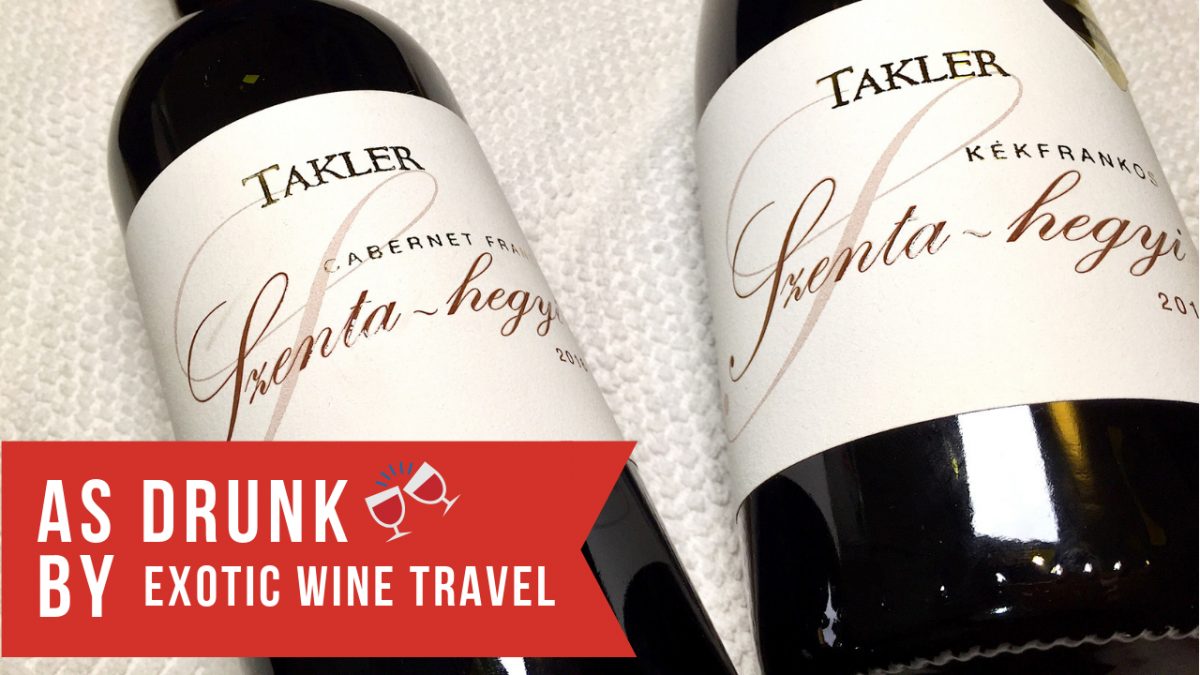 Reading Time: 1 minute
Hello! Welcome to As Drunk by Exotic Wine Travel, a weekly column where we feature interesting wines that we encourage you to seek out. The reviews featured in this series may be written by either one or the both of us. The featured wines can be from obscure or well-known wine regions. We hope that these wine recommendations will keep you gastronomically curious and your palate invigorated!
Takler, Szenta-hegyi Cabernet Franc & Kékfrankos 2016
Takler is located in Szekszárd and is one of the leading producers of red Hungarian wine. Takler produces high-quality red wines at all price points. Charine and I visited the Takler estate a few years ago and have been strong supporters of their wines ever since.
Szekszárd is one of the three most famous regions in Hungary for red wines (Egér and Villány are the other two). The rolling hills and hot air from the Great Plains of Hungary provide a perfect microclimate for all types of red varieties. In recent years, Szekszárd is working hard towards creating a vineyard classification system.
One potential Grand Cru is the 100-hectare Szenta-hegyi (Holy Mountain). It's a site that is coveted and farmed by several producers. Takler owns 12 hectares in Szenta-Hegyi, their plots are planted with Kékfrankos, Cabernet Franc, Syrah, and Merlot.
Takler, 'Szenta-hegyi' Kékfrankos 2016
The Takler 'Szenta-hegyi' Kékfrankos wine won a gold medal in the recent Hungarian National Competition. This is a darker and more robust example of Kékfrankos (Blaufränkisch). There are notes of black raspberry, black cherry, tobacco, and black pepper. It's full-bodied and mouth-filling with round tannins. This is a crowd-pleasing Hungarian red that just screams for meat.
Score: 90/100
Find or buy on Wine-Searcher.
Takler, 'Szenta-hegyi' Cabernet Franc 2016
The Takler 'Szenta-hegyi' Cabernet Franc shows how well this grape does in Southern Hungary. It's dark in color with notes of black olive, capsicum, black cherry, and mocha. It smells dark and dense but the palate surprises you with its medium weight. It has a good mix of fruit and the leafy greens that I want with Cabernet Franc. Tangy acidity and soft tannins make this wholly enjoyable.
Score: 91/100
You can find out more about our scoring system on the WINE RATING page.
---
You might also enjoy:
Exotic Wine Travel in Szekszárd & Somló (VIDEO)
Hungarian Wine: Spicy Red Wines From Szekszárd (VIDEO)
Thanks to Takler for providing these samples. Please note that the opinions expressed in this article are unsolicited and have not been paid for in any way by governmental bodies, enterprises, or individuals. We do not sell editorial content as that would destroy the legitimacy of our reviews and the trust between Exotic Wine Travel and its readers. On occasion, we extend the option of purchasing the wines we review or/and the products we spotlight. Some of these product links are set up through affiliate programs, which means Exotic Wine Travel gets referral credits if you choose to purchase these items via the links we provide.