Tomac Amfora: New Releases
Reading Time: [est_time] Hello! Welcome to As Drunk by Exotic Wine Travel, a weekly column where we feature interesting wines that we encourage you to seek out. The reviews featured in this series may be written by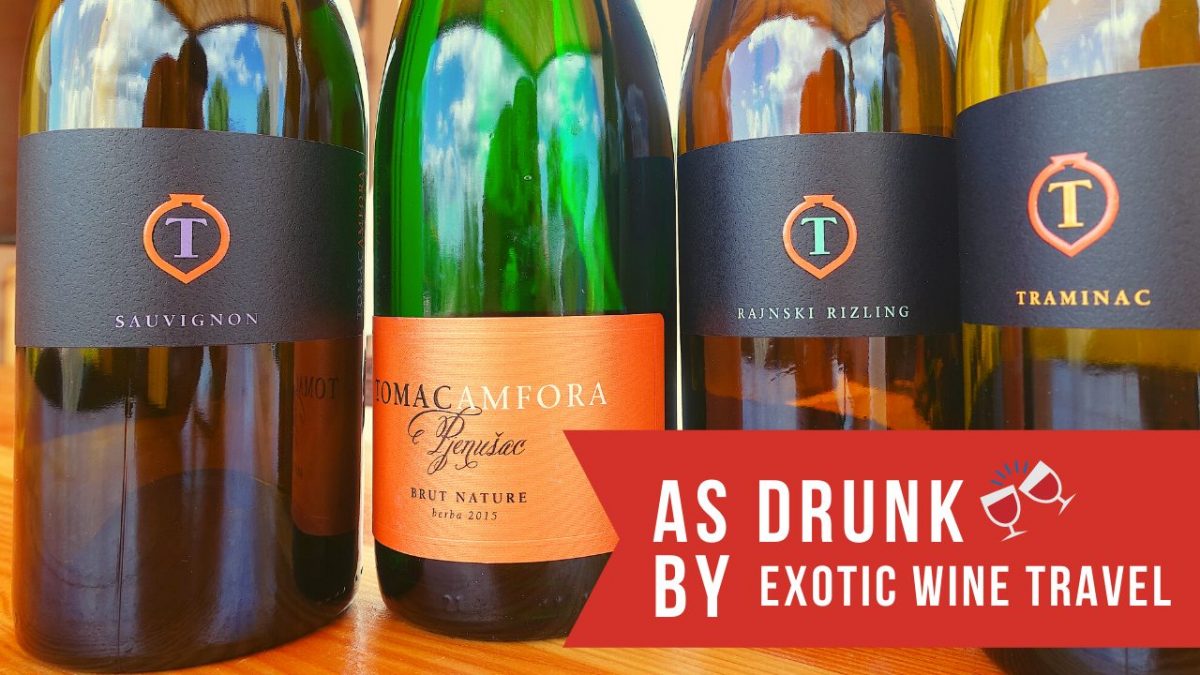 Reading Time: 3 minutes
Hello! Welcome to As Drunk by Exotic Wine Travel, a weekly column where we feature interesting wines that we encourage you to seek out. The reviews featured in this series may be written by either one or the both of us. The featured wines can be from obscure or well-known wine regions. We hope that these wine recommendations will keep you gastronomically curious and your palate invigorated.
Tomac Amfora
Just a 35-minute drive west of Zagreb, is one of Croatia's top producers. Tomac winery is located in the steep hills of Plešivica. They are known as one of the premier wineries for sparkling wine, which makes up over half of their production. While their sparkling wines are indeed delicious, Tomac Winery also produces fine still wines.
Georgia is famous for its qvevri (amphora) wines and Joško Gravner of Italy is often credited for making amphora wines vogue in the modern wine world. Joško influenced his friend Tomislav Tomac to purchase a few qvevris to experiment. Tomac released their first 'Amfora' wine in 2008 and their 2010 'Amfora' Pjenušac Brut Nature (sparkling wine) made the list of "75 Stellar Buys of 2016" in Decanter Magazine.
Tomislav Tomac doesn't make his 'Amfora' wines every vintage. He chooses only the best grapes from the best varieties. "The amphora isn't a magic box", he says. "If you use subpar grapes, the wine will be a disaster."
          View this post on Instagram                  

Post-lockdown first visit: @tomacwinery, one of our favorite wine producers in Croatia. ——— Located in the Plešivica, the closest wine region to Croatia's capital city Zagreb, Tomac is a leading sparkling wine and Pinot Noir producer in Croatia. They are best known for being one of the first (perhaps the first) in the world to make traditional-method sparkling wine with maceration and amphora. ——— Want to learn more about this producer and the region of Plešivica? Check out the link in our bio. We did a travel video about the region!
All of the Tomac 'Amfora' wines are fermented and aged in amphora for approximately six months. After that, they are pumped out and aged in large oak casks for at least two years. These wines are made in tiny quantities and you'll have to travel to Croatia to try them. We think that the most diligent will be pleased with the latest releases.
Tomac, 'Amfora' Pjenušac Brut Nature 2015
This is only the second vintage of the Tomac, 'Amfora' Pjenušac Brut Nature. I may like the 2010 a tad more but this is still wonderful. The base wine is fermented and macerated in amphora. Notes of tangerine, apricot, and lemon peel. It hasn't developed a lot of tertiary notes yet. Chewy texture and a fine bead of bubbles. Modeled after an oxidative style, vintage Champagne, flat out classy stuff. Score: 92+/100
Tomac, 'Amfora' Traminac 2017
The Tomac, 'Amfora' Traminac is 100% Gewürtztraminer macerated for six months in amphora and aged 13 months in cask. It's the first vintage of this wine from Tomac. Bright yellow in color. Notes of honey, sweet peach, dandelion flower, and grass. Although it spends a long time on the skins, it really retains the flavors of the grape. It feels more like a richer, dry white than an orange wine. Floral and musky finish with just a touch of bitterness. Score: 92/100
Tomac, 'Amfora' Sauvignon 2017
The Tomac, 'Amfora' Sauvignon Blanc macerated for six months in amphora and aged in a large cask. This is the first vintage of Sauvignon Blanc done in amphora. It's shy at first and needs air to show the best. It has the perfect blend of Sauvignon Blanc character in an orange wine. Subtle notes of dried kiwi, dried yellow peach, grass, and a touch of chestnut. Full and fluid on the palate with subtle tannins. Vibrant acidity. Score: 91/100
Tomac, 'Amfora' Rajnski Rizling 2016
There have been several vintages of the Tomac, 'Amfora' Rajnski Rizling at the latest edition is wonderful. It's macerated for six months in amphora and aged in large oak casks. This is another fine edition of this wine. There's plenty of orange peel, fresh apricot, chestnut, and earth flavors. The wine is full-bodied and the tannins are round. Generous acidity thanks to the grape. Score: 91/100
You can find out more about our scoring system on the WINE RATING page.
The finest selection of
Tomac wines available at:

Shipping is available EU-wide and to the UK.
************
    Do you want to try Croatian wines?    
If you want to savor the exquisite flavor of Croatian wines, look no further than wineandmore.com. With many options from different winemakers, it's easy to find exactly what your palate desires. Not sure which bottle is best for you? Try out one of their curated wine cases and discover the perfect vintage for any occasion!
************
Want to learn more about wine?
Are you ready to discover the wonderful world of wines? Come join us at wineandmore.com, and let's explore the incredible selection of delicious wines together! We can't wait to share our passion for wine with you!
---
---
Please note that the opinions expressed are our own and have not been paid for in any way. We do not sell editorial content as that would destroy the legitimacy of our reviews and the trust between Exotic Wine Travel and its readers. On occasion, we extend the option of purchasing the wines we review or/and the products we spotlight. Some of these product links are set up through affiliate programs, which means Exotic Wine Travel gets referral credits if you choose to purchase these items via the links we provide.