Tonković Kadarka Fantazija 2011
Reading Time: [est_time] Hello! Welcome to As Drunk By Exotic Wine Travel, a weekly column where we feature wines that are worth noting. The reviews featured in this series may be written by either one or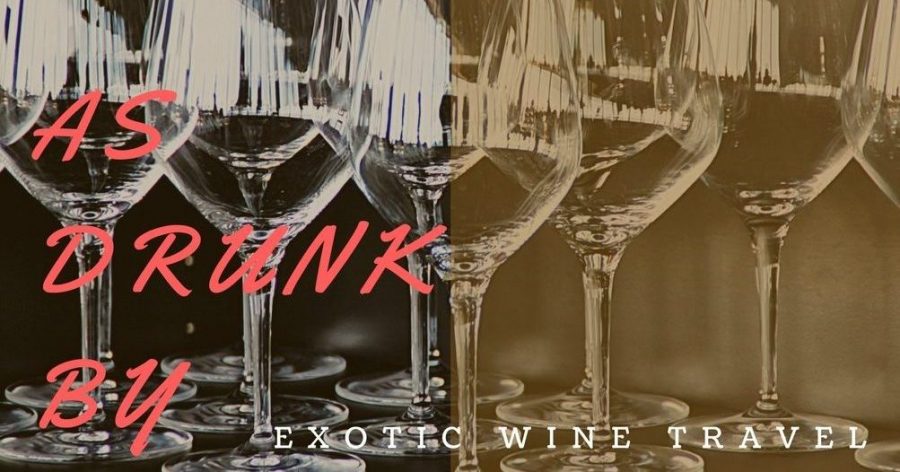 Reading Time: 2 minutes
Hello! Welcome to As Drunk By Exotic Wine Travel, a weekly column where we feature wines that are worth noting. The reviews featured in this series may be written by either one or the both of us. The featured wines can be from obscure or well-known wine regions. We hope that these wine recommendations will keep you gastronomically curious and your palate invigorated!
Tonković Kadarka Fantazija 2011
€12.99 | Shop Here
In northern Serbia, a producer is bent on restoring glory to an ancient grape variety. Tonković is the producer and Kadarka is the grape. The winery was established in 2006 and works exclusively with Kadarka.
According to Wine Grapes, some evidence suggests that Kadarka was brought to Hungary by Serbians from the Lake Skadar area (Lake Skadar is split between present-day Montenegro and Albania). Today, Kadarka is widely grown in Hungary. The grape also makes notable wines in Bulgaria, where it is known as Gamza and is thought to be indigenous. In nearby Romania, it is known as Cadarcă Neagră. Despite its possible roots in Serbia, Kadarka is almost non-existent in its speculated birthplace.
During our recent trip to Serbia, we managed to find a Serbian Kadarka wine. The majority of Serbian red wine production revolves around Bordeaux blends and the local grape Prokupac. So it was a refreshing for us to taste something that is rare in Serbia and new to us.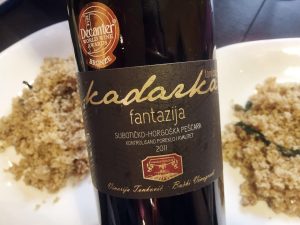 The Kadarka Fantazija is the entry-level bottling of Tonković Winery. The 2011 vintage received a bronze medal at a Decanter World Wine Awards competition. The winery currently makes this wine, a rosé, and a reserve wine named Kadarka Rhapsodija. Kadarka is mostly noted for producing fresh and fruity reds, but serious and age-worthy wines can also be born from this variety. That said, we prefer this entry-level effort to the reserve wine.
The Tonković Kadarka Fantazija 2011 is the epitome of coalescence; there's so much harmony in how the flavors melt together. The gentle bouquet is dominated by floral, vegetal, and aged notes. The palate expression is of bright red fruit and white pepper, with juicy acidity and a long finish. A balanced, medium-bodied red wine with soft tannins and high drinkability. It's like Grenache without the high alcohol.
The Tonković Kadarka Fantazija 2011 is immediately approachable and goes great with food. It pairs well with our homemade black pepper chicken quinoa. Subtle, balanced, and food-friendly wine like this deserves to be lauded more frequently. It's like the chips and french fries of wine—popular, go with everything, fit into every occasion, casually slip onto the table, and so delicious that you would easily overindulge if without the extra determination and intention.
The Tonković Kadarka Fantazija is available at wineandmore.com
4.1/5  (You can find out more about our scoring system on the START HERE page.)
The finest selection of
available at:

Shipping is available EU-wide and to the UK.
************
    Do you want to try Serbian wines?    
If you're looking to savor the exquisite flavor of Serbian wines, look no further than wineandmore.com. With an abundance of options from different winemakers, it's easy to find exactly what your palate desires. Not sure which bottle is best for you? Try out one of their curated wine cases and discover the perfect vintage for any occasion!
************
Want to learn more about wine?
Are you ready to discover the wonderful world of wines? Come join us at wineandmore.com and let's explore the incredible selection of delicious wines together! We can't wait to share our passion for wine with you!
---
You May Also Enjoy
Kadarka, Cadarca, Gamza by Elizabeth Gabay MW
Disclosure:
Please note that the opinions expressed in this article are unsolicited and have not been paid for in any way by governmental bodies, enterprises, or individuals. We do not sell editorial content as that would destroy the legitimacy of our reviews and the trust between Exotic Wine Travel and its readers. On occasion, we extend the option of purchasing the wines we review or/and the products we spotlight. Some of these product links are set up through affiliate programs, which means Exotic Wine Travel gets referral credits if you choose to purchase these items via the links we provide.