A Journey Through Moldova in 15 Wines
Reading Time: [est_time] Here's an article that's long overdue. It's a recap of a weeklong sprint through Moldova back in 2019. It was one of my favorite memories of that year and gives me hope that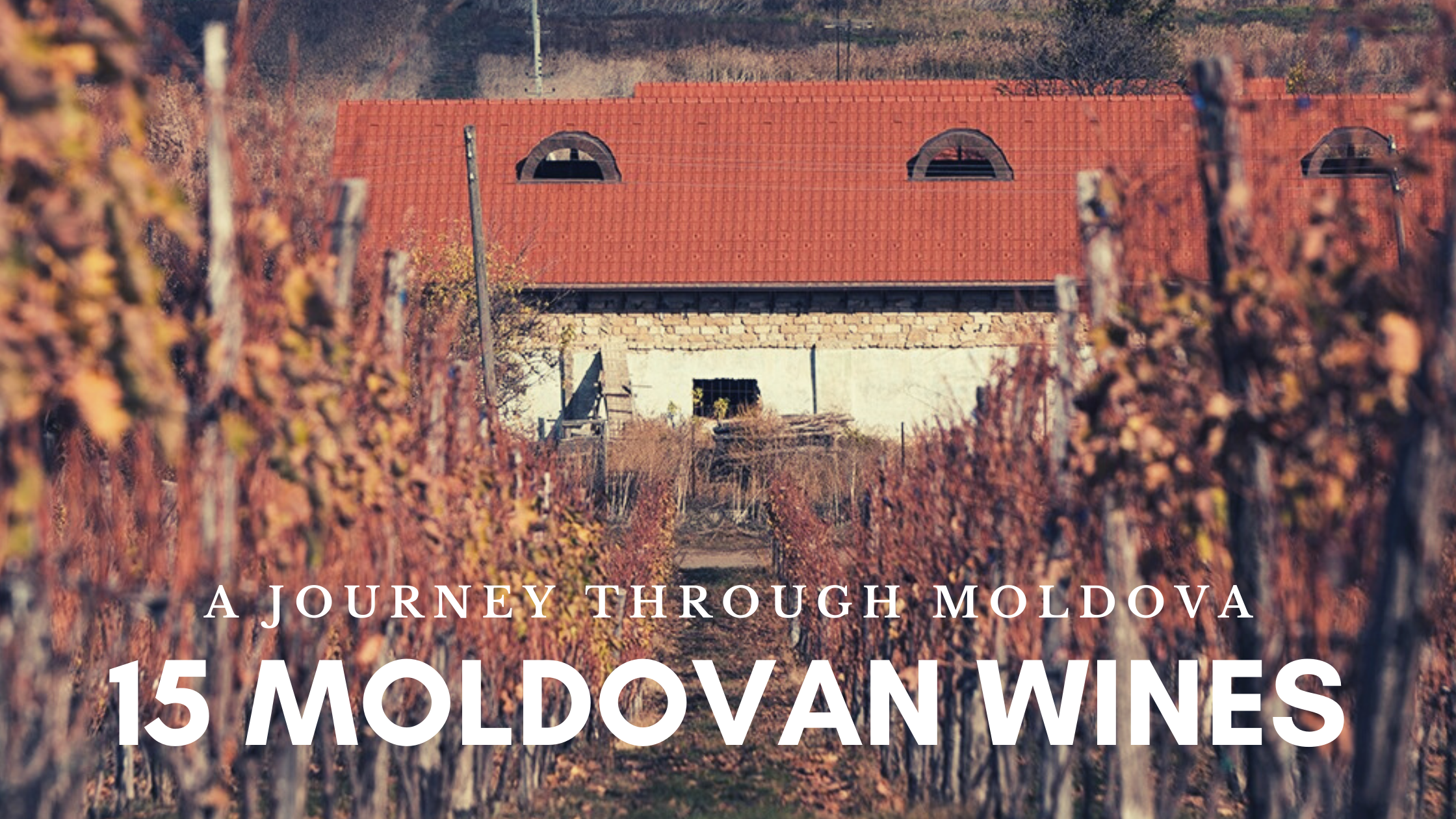 Reading Time: 9 minutes
Here's an article that's long overdue. It's a recap of a weeklong sprint through Moldova back in 2019. It was one of my favorite memories of that year and gives me hope that travel opens up again this year. Here's a journey through Moldova in 15 wines.
Moldovan Wine? Moldovan Wine!
Charine and I got the chance to experiences the wines of Moldova up close and personal in the Spring of 2019 – our expectations were shattered. During our one week sprint through Moldova, we tasted several hundred wines and personally visited over twenty cellars. After the trip, it was crystal clear that this small, dynamic wine-producing country has immense potential.
The landscapes of Moldova vary considerably from sweeping steppes in the east, forested hills in the center, to the vast Bugeac Plain in the south. Moldova is characterized by a moderate climate with short, cold winters and long summers. Thanks to the different landscapes coupled with a long growing season, wine grapes ripen slowly and retain their natural acidity.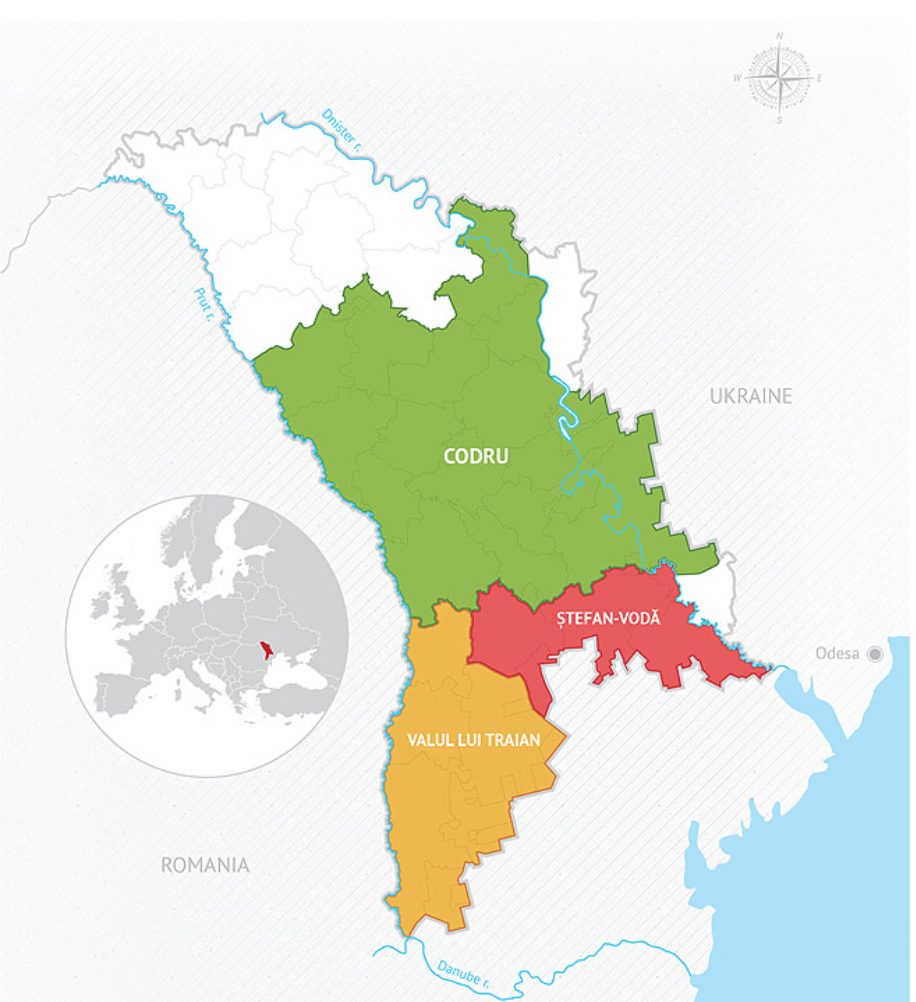 When Moldova was part of the USSR, it produced most of the federation's wine (along with Georgia). After independence, the main market for Moldovan wine was Russia. After Russia enforced embargos on Moldovan wine in 2006 and 2013, the country had to reinvent its wine industry (also similar to Georgia). For more on this, check out Charine's in-depth article about Moldovan wine.
Making Comparisons
Traveling through the country, I couldn't help but make parallels to another small country, North Macedonia. Both countries have small economies, with wine production being essential. Like Moldova, North Macedonia belonged to a bigger nation, producing a large majority of the wine – Yugoslavia. Moldova and North Macedonia also produce significant quantities of bulk wine and are attempting face-lifts of their wine industries.
Unlike North Macedonia, small producers are embraced in Moldova. These small producers add a little pizazz to the wine industry. I definitely felt this personal touch during the visit. While many of the large producers in Moldova create delicious (even great) wine, I felt that most of my favorite Moldovan wines were from small producers.
Moldovan wine is poised to make a big splash. With high quality and great prices to boot, it's only a matter of time before these wines are embraced. I'm hoping to make it back there soon, the journey through Moldova was one of my favorite memories of 2019. Here's that journey through Moldovan wine in 15 bottles.
15 Moldovan Wines to Try
Minis Terrios, Negru Împărat 2016
Find or buy on Wine-Searcher.
One of the first Moldovan wines I ever tasted was the Minis Terrios Roșu Împărat, which is a blend of Fetească Neagră, Rară Neagră, and Cabernet Sauvignon. Charine and I first encountered the wine at the 2018 IWCB in Romania. Just a few months later, we encountered its big brother the Negru Împărat during our first evening in Moldova. This is a small producer that isn't exported widely but is worth keeping your eye on.
The Minis Terrios Negru Împărat is a Bordeaux-style blend of Merlot and Cabernet Sauvignon aged in new French barriques for 12 months. It's a rich, powerful red wine. This has tremendous potential to improve in the bottle. There are notes of black fruit, red fruit, capsicum, cedar, and pepper. The wine has a lot of wood but the fruit is ripe enough underneath. Elegant and powerful at the same time with fine tannins. Score: 91/100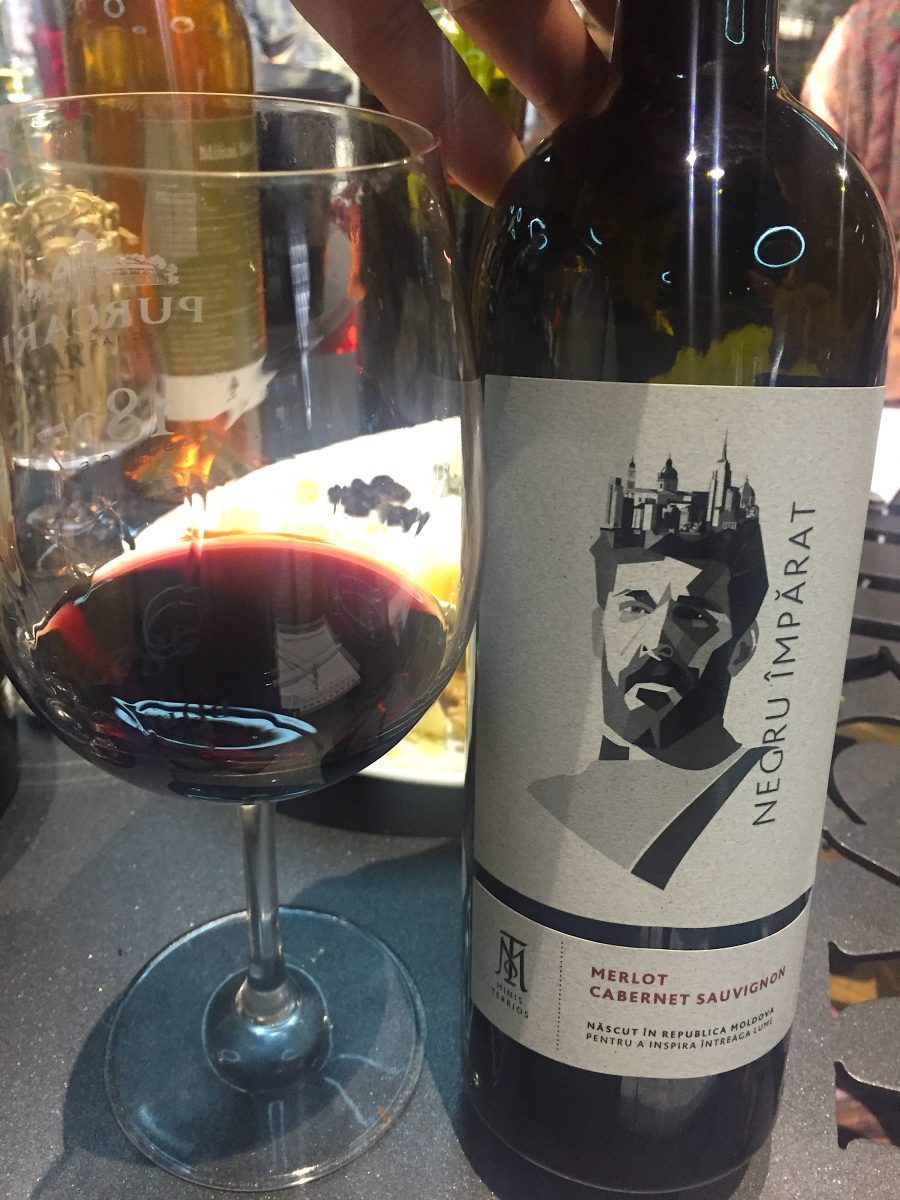 Carpe Diem, Bad Boys 2016
Find or buy on Wine-Searcher.
Carpe Diem was the first modern wine bar in Chișinău, Moldova. It's also a boutique wine producer. Proprietor, Ion Luca took over his family winery, breathing new life into it. We spent our first evening in Moldova at the Carpe Diem wine bar and they kindly opened their magnum opus, the Carpe Diem, Bad Boys. This vintage of Bad Boys won a "Best of Show" trophy at Mundus Vini and I can see why.
The Carpe Diem Bady Boys is a blend of Fetească Neagră and Saperavi aged in new oak. All we can say is, holy smokes this acts a lot like a Côte Rôtie. It's big and bold without being overripe. There are notes of dark berry, bacon fat, incense, violets, and pepper. The wine is full and plush on the palate with round tannins. The long finish is guided by the right amount of acidity.
This is the finest red wine we had in Moldova. Score: 92/100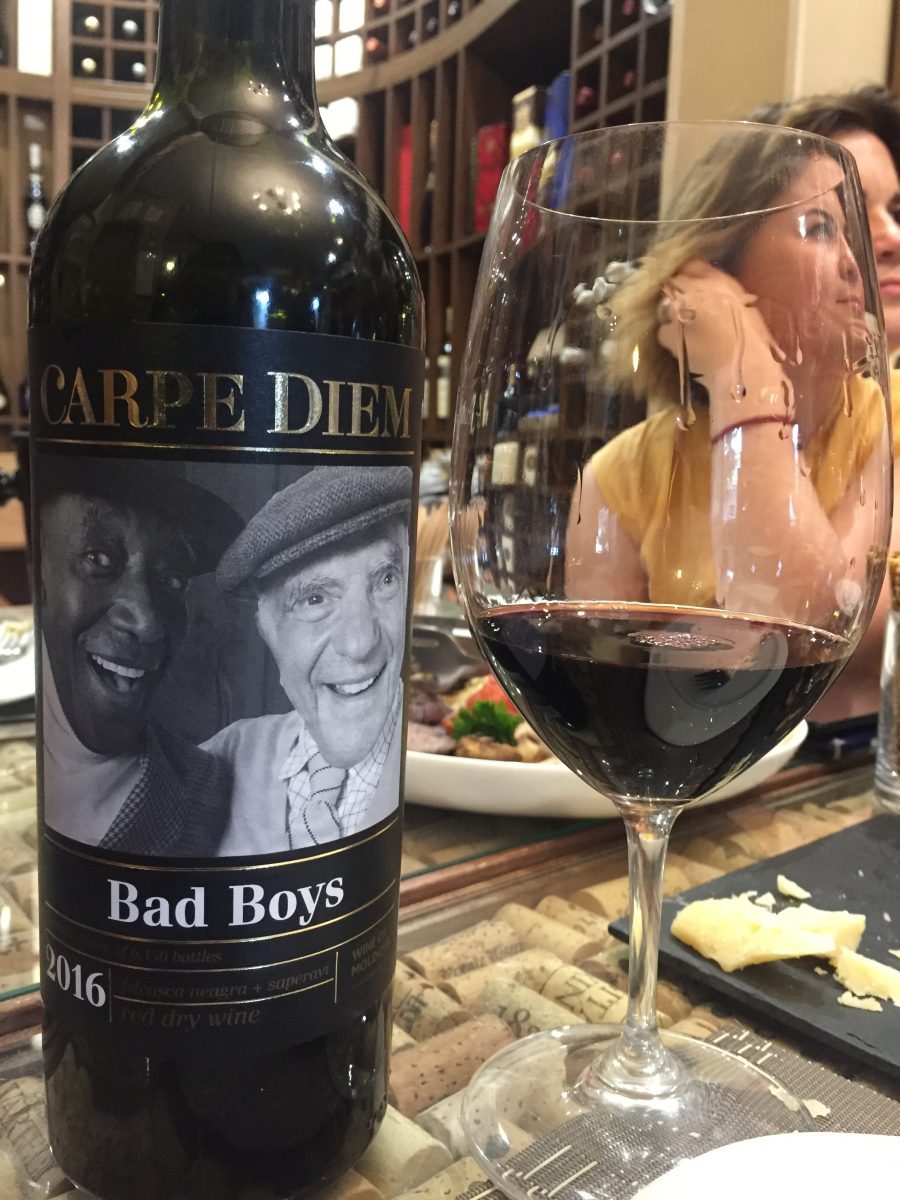 Vinăria Nobilă, Fetească Neagră 2014
Find or buy on Wine-Searcher.
During that first evening in the Carpe Diem wine bar, our hosts opened up a few wines from the small producer Vinăria Nobilă. It's a project headed up by Oleg Boboc, who happens to be the winemaker of Moldova's famous Castel Mimi. We tasted his Cabernet Sauvignon and Fetească Neagră, both of which are outstanding.
Oleg Boboc founded this winery. Worked in California and Oregon before returning to Moldova. His vineyards are located in the Stefan Voda region. The annual production of Vinăria Nobilă is less than 10,000 bottles per year.
The Vinaria Nobila, Fetească Neagră spent two years in the barrel. It smells like an aged Bordeaux blend. There are notes of cherry, plum, cedar, pepper, and tobacco. It's more medium-bodied on the palate despite the 15% abv. Soft and developed tannins. This might not have a lot of life left in the cellar but it's delicious now. Score: 91/100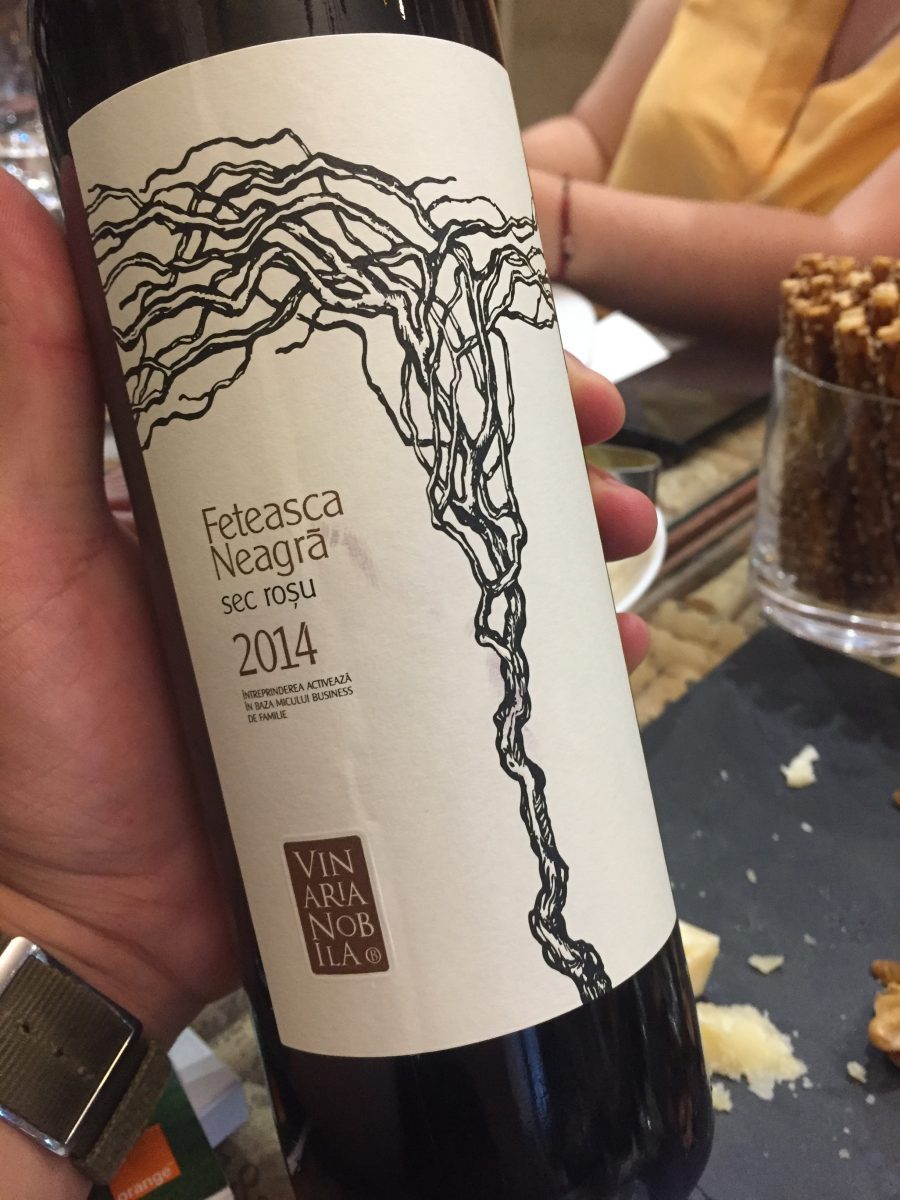 Find or buy on Wine-Searcher.
Our first winery visit in Moldova was to ATÚ winery. It's located on the outskirts of the capital, Chișinău. ATÚ is owned by a young couple that aims to bring fun and excitement to the world of wine. Their winery is colorful and located in an abandoned warehouse.
ATÚ launched its wine on the market in 2017. Positioned as the first Moldovan urban winery in Chisinau. They've made waves locally for their fun tasting room and beautiful labels.
The ATÚ, Viorica is a varietal wine. The grape Viorica is grown widely in Moldova, producing fresh, easy-going whites. The wine smells like a dry Muscat with yellow flower, white peach, and snap green pea flavors. The body is significant for a fresh white, while finishing clean and crisp. Score: 87/100
Asconi Rosé Icewine Cabernet Sauvignon 2017
Find or buy on Wine-Searcher.
Asconi Winery is a producer with plenty of foresight. They are located just outside Chișinău and the winery is complete with accommodation and two on-site restaurants. They produce a wide range of wines that go from casual and fruity, to complex and serious.
The Asconi, Rosé Icewine Cabernet Sauvignon has 180 g/L of residual sugar. It has an orange/salmon color. There are notes of strawberry jam, white pepper, and a touch of vine-ripened tomato. It's rich and complex on the palate with energetic acidity. The finish has a tangerine peel note. A longer finish might push this even higher but it's phenomenal ice wine for the price. It received a gold medal at Mundus Vini, Mondial du Rosé, and a silver medal at the Internationa Wine and Spirits Competition. Score: 89/100
Castel Mimi, Cabernet Sauvignon Reserve 2012 
Find or buy on Wine-Searcher.
Castel Mimi is one of the biggest tourist attractions in Moldova. This castle is a sight to behold and is the largest private architectural restoration project in Moldova. My jaw dropped when I first entered the property.
Castel Mimi was founded in 1893 by the last governor of Bessarabia, Constantin Mimi, a notorious public figure and a remarkable winemaker. The original building with a series of underground galleries has been maintained until today. Castel Mimi was acquired and reopened in 2016 after a massive restoration.
The Castel Mimi, Cabernet Sauvignon Reserve is aged 36 months in oak. It is the top dry wine of the estate. There are notes of chocolate, cedar, cherry, cassis, and tobacco. This wine has a zesty Italian-tanginess to it. The aging has rounded out the palate but a little more fruit would push this score even higher. Score: 90/100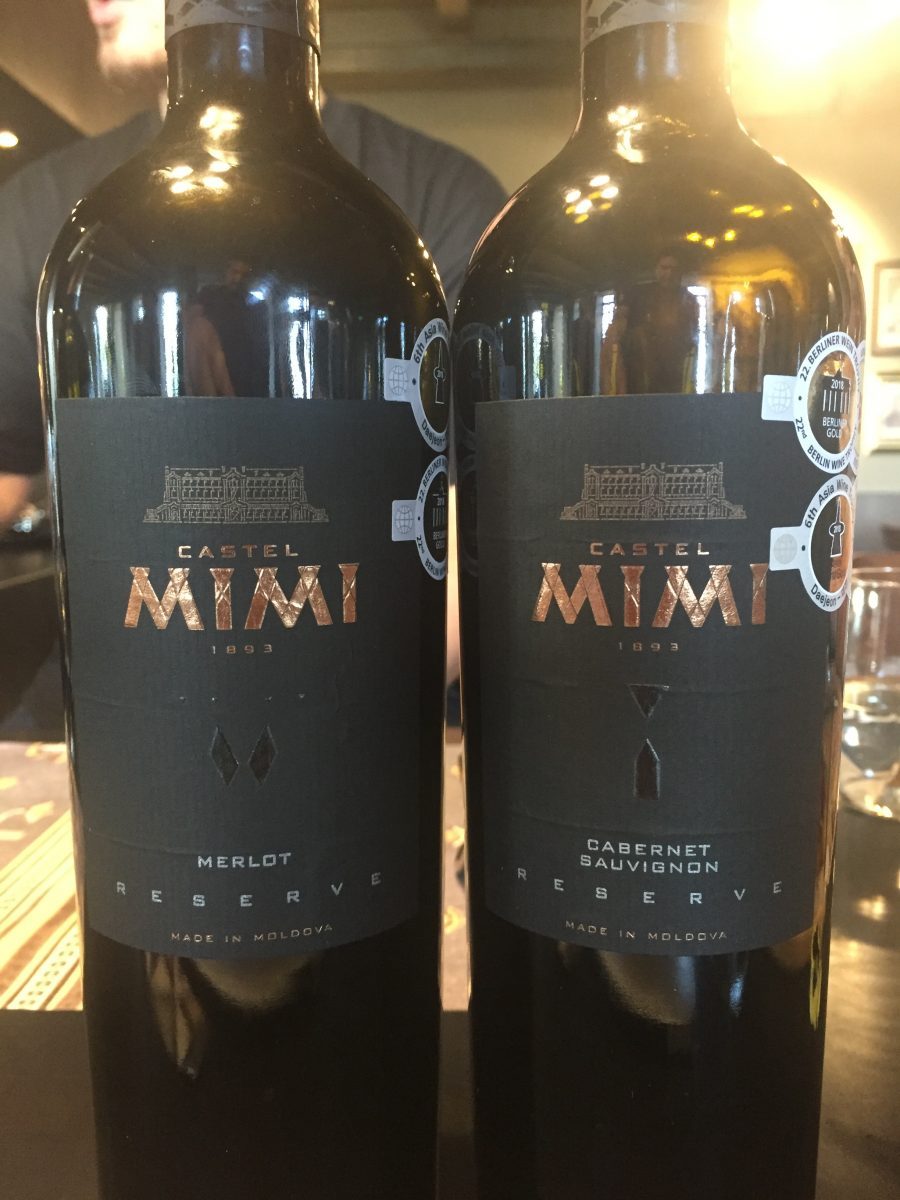 Find or buy on Wine-Searcher.
Cricova is a state-owned company and the largest producer of sparkling wine in Moldova. The sparklers from Cricova were well renowned throughout the Soviet empire. The cellars are a 20-minute drive from Chișinău, which makes it a popular tourist attraction. Cricova has over 600 hectares of vineyard in the central and southern parts of the country. Cricova wines are iconic among locals and the winery was declared by Moldova as a National Cultural Heritage.
When Moldova was part of the Soviet Union, it's estimated that one out of every six bottles consumed in the USSR was from Cricova.
The Cricova, Crisseco NV is a Charmat method (think Prosecco) sparkler made with Fetească Albă and Muscat. It's floral with notes of white pear, apple blossom, and lemon peel. This has lots of white fruit with a subtle sweetness on the finish. For a fresh sparkler, this is delicious and offers great value for money. Score: 87/100
Château Vartely, 'Invidio' Saperavi 2017
Find or buy on Wine-Searcher.
The Château Vartely, Taraboste Roșu was one of the first Moldovan wines that impressed me. I previously tasted a number of Château Vartely wines prior to visiting the country and none of them disappointed. During our visit to the cellar, Château Vartely opened a number of new wines including their 'Individo' Rară Neagră and Saperavi.
The Château Vartely, 'Individo' Saperavi is aged in the barrel for 12 months. Notes of wild berry, pepper, meat, and a touch of oak. Full-bodied, dark and inky like a Douro red. This has big time, chewy tannins. Put this away for another ten years. It's another example that Saperavi's second home may well be Moldova. Score: 90/100
*This is an impressive producer and we recommend their entire portfolio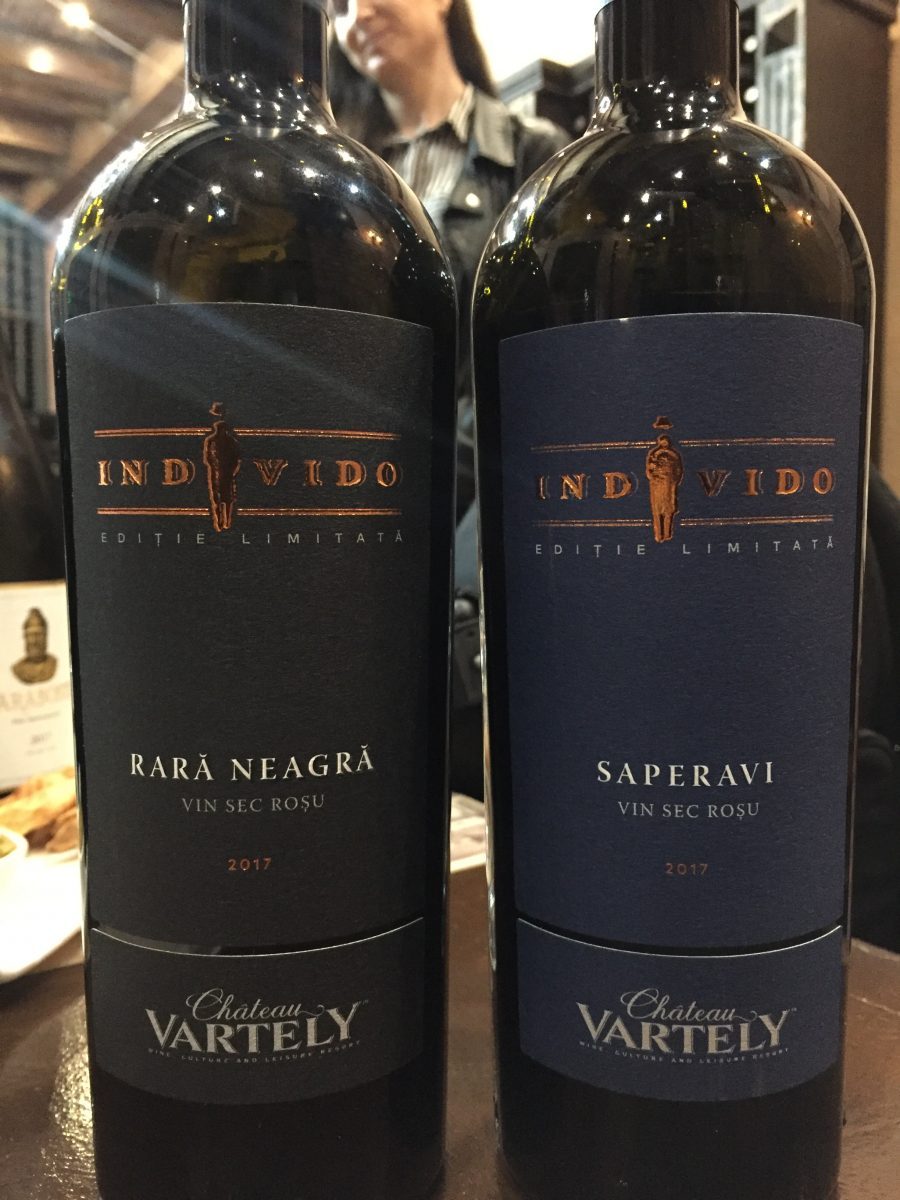 Mileștii Mici, Codru 2009 
Find or buy on Wine-Searcher.
Mileștii Mici is famous for having the longest cellars and biggest wine collection in the world (according to the Guinness Book of World Records). Riding through their tunnels in your own car is quite the experience. Mileștii Mici is a state-owned company and while their branding needs a little facelift, the wines speak for themselves. Their portfolio includes several aged labels, which will make fans of the 'Old World' happy.
The Mileștii Mici, Codru is a blend of Cabernet Sauvignon and Merlot aged in oak for ten years. This was bottled in May 2019. There are notes of wax, leather, dried cherry, capsicum, and cedar. This is medium-bodied for a Bordeaux blend with lively acidity. The wine is surprisingly round and not tired, it has more life ahead of it. The grippy tannin and medium length make it a pleasure to drink. Score: 89/100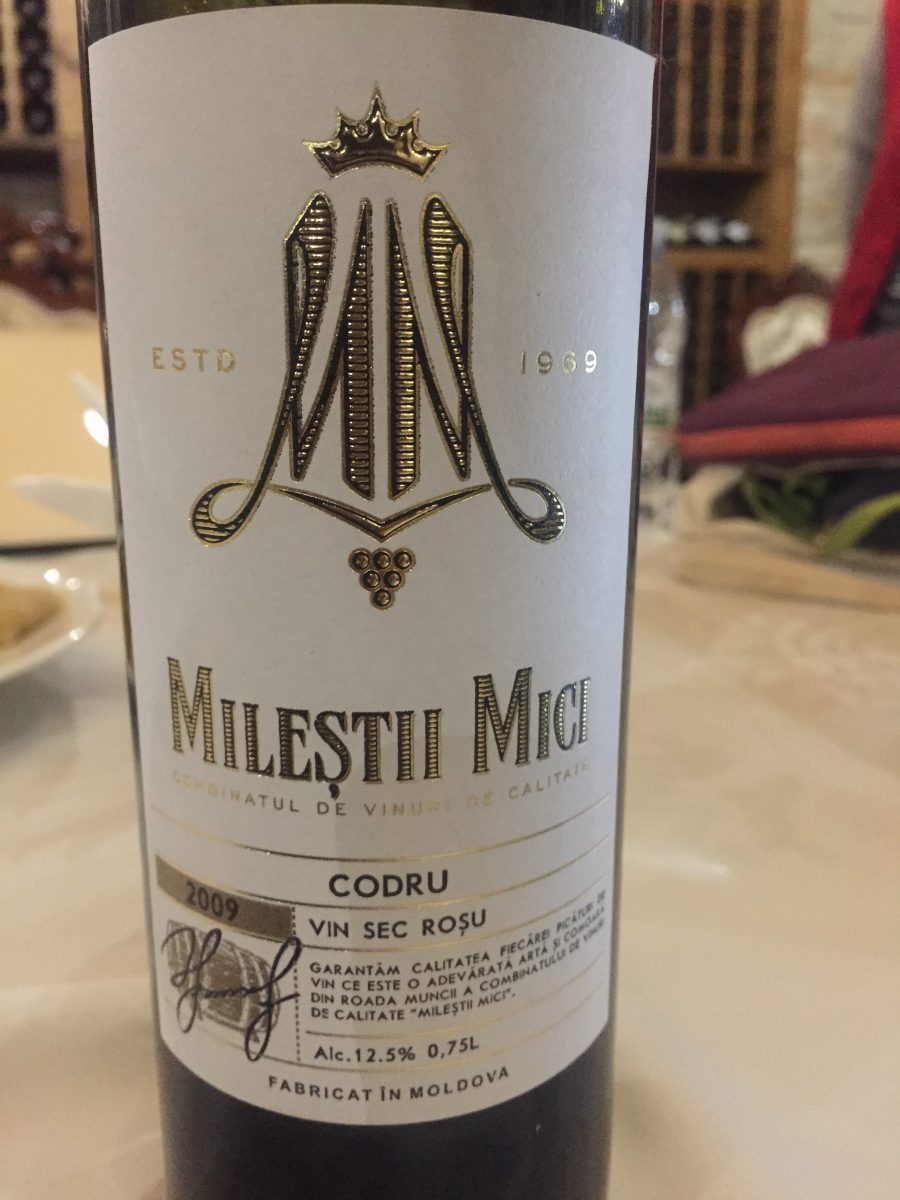 Mihai Sava, Merlot Rosé Sec 2018
Mihai Sava resides in the tiny village of Costești. He consistently won awards for his wine in the local village competition and was encouraged to start bottling wine commercially. After a push from the locals and some funds from USAID, he started producing quality wines.
Mihai's cellar is underneath his home and he welcomed us with a smile and a table full of homemade food. After lunch and the tasting, he took us along for his daily stroll through the nearby forest. He's one of the most genuine winemakers that I've ever met. While I am not a patriotic person, it made me feel proud that funds from the USA helped give Mihai the resources he needs. He's a man with vitality and passion, I look forward to seeing his progression.
The Mihai Sava Merlot Rosé has notes of strawberry, watermelon, and mineral water. This has a lot of fruit and is weighty on the palate. The finish is juicy and a tad spicy. There's a touch of complexity here, it's not just a poolside sipper. Score: 87/100
Salcuta, 'Winemaker's Way' Fetească Neagră 2017
There are many producers in Moldova attempting to make the shift from bulk wine to high-quality bottled wine. It's a difficult path but it's one that Salcuta is willing to take. The winery is located in the south of Moldova, they produce clean wines that express the local varieties well.
The Salcuta, 'Winemaker's Way' Fetească Neagră is aged for nine months in French oak. It has soft notes of plum, baking spice, and pepper. The wine is juicy with a touch of oak and chewy tannins. For an inexpensive red wine, this offers a lot of character for an indigenous variety. This is exactly the type of wine that should be produced to introduce a new variety to consumers. Score: 88/100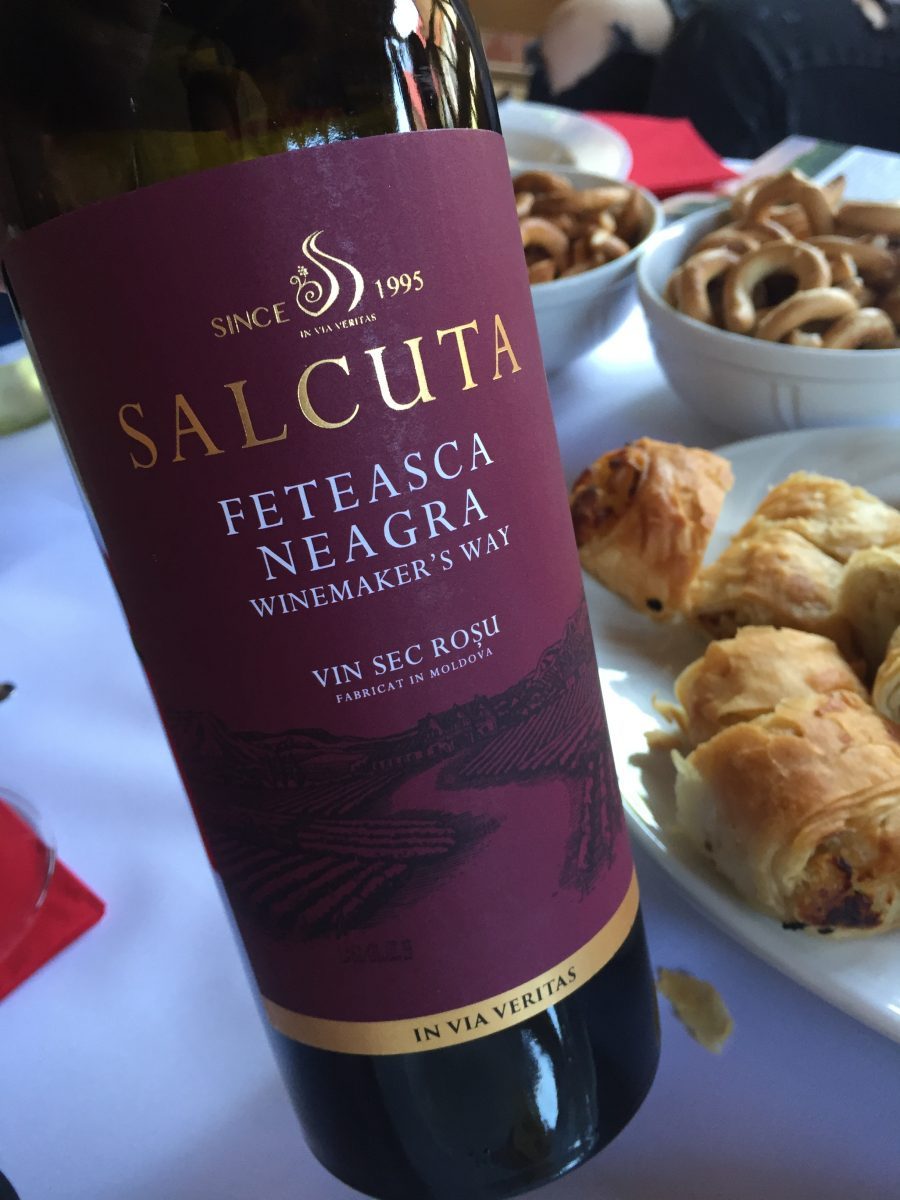 Château Purcari, Grande Cuvée de Purcari Extra Brut 2016
Château Purcari is one of Moldova's historic wineries. It became privately owned in 2003, which gave the brand a shot in the arm. This is perhaps Moldova's most famous winery abroad. They have resurrected the historical red wine appellations of Roșu de Purcari and Negru de Purcari. Both are good reds but I was more excited about their reserve sparkler.
We visited the estate and tasted through much of Château Purcari's portfolio. Once we got back to the capital Chișinău, we visited their wine bar aptly named Purcari Wine Bar. There is where I got to taste the Château Purcari, Grande Cuvée de Purcari Extru Brut.
The Château Purcari, Grande Cuvée de Purcari Extra Bru is a méthode traditonelle sparkling wine. It's a blend of Chardonnay, Pinot Noir, and Pinot Blanc aged on the lees for 18 months. There are ripe tropical fruit, yogurt, and biscuit notes with fine bubbles. The fruit flavors are similar to a good Franciacorta (Italy). Score: 90/100
Fautor, 'Illustro' Chardonnay Sauvignon Blanc Rhein Riesling 2016
Fautor is the most awarded winery in Moldova. Their wines have even caught the attention of Robert Parker's The Wine Advocate, which gave the Fautor, Fumé Blanc 2016 a score of 90 points. We didn't get the chance to visit the estate but we did taste through their portfolio at the WineMD bar in Chișinău. Proprietor Ruxandra Lipcan ran us through the portfolio over an evening.
The Fautor, 'Illustro' Chardonnay Sauvignon Blanc Riesling is an exciting white blend. Part of this cuvée was barrel fermented. There are notes of tropical fruit, yellow peach, lemon, and a perfect seasoning from the barrel. The wine has bite from the fruit and the addition of Riesling gives it mouthwatering acidity. It's truly fine white wine. Score: 91/100
Fautor is the most awarded Moldovan winery and the quality is high across their entire portfolio.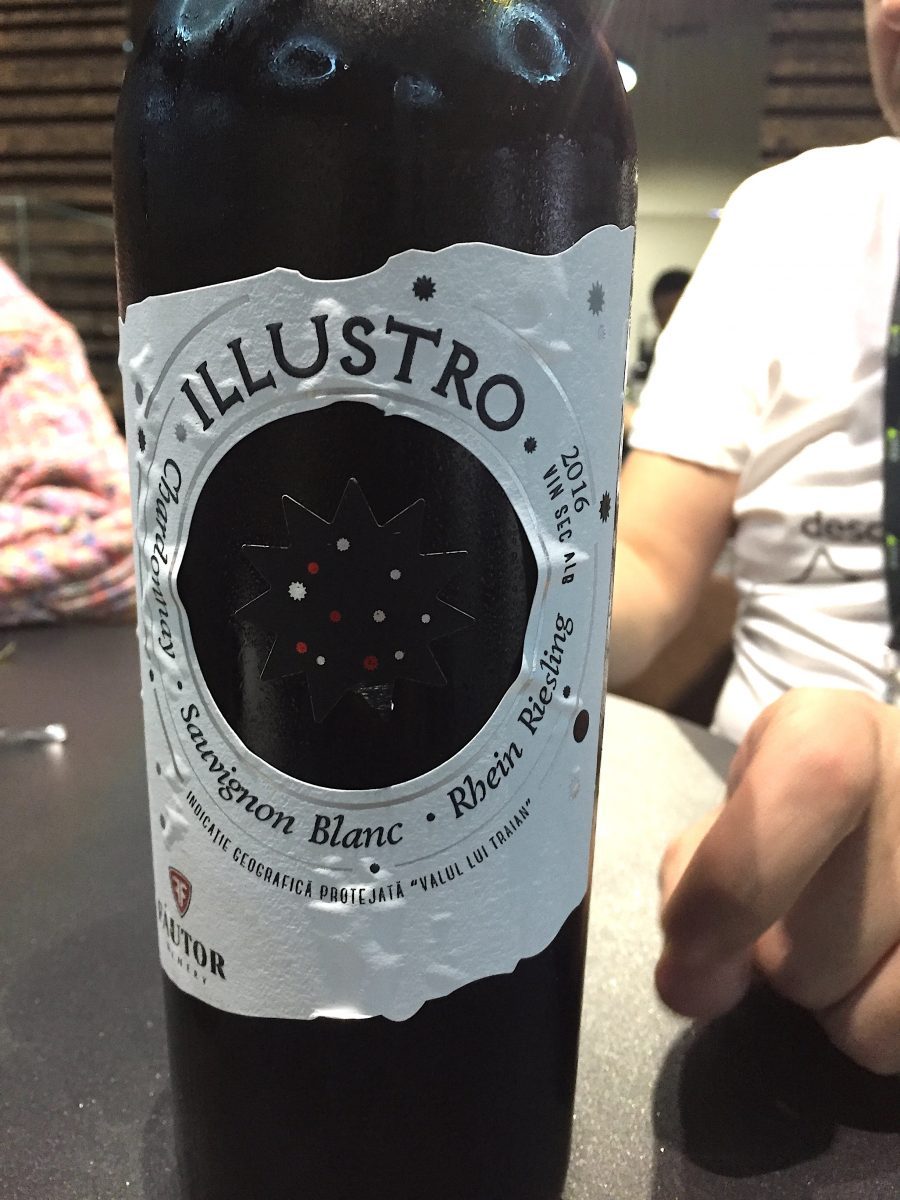 Find or buy on Wine-Searcher.
We were slated to visit Gogu but a schedule conflict came up at the last minute. All was not lost though, during the last evening of our trip, we managed to track down a bottle of their top red at the Château Purcari Wine Bar in Chișinău.
The Gogu Metafora red is a blend of Cabernet Sauvignon, Merlot, and Saperavi aged in oak for 16 months. It has notes of red berry, wild berry, pepper, and tobacco. It's inky and dark like a Douro red. The wine is full-bodied with suave tannins and a tangerine peel-like finish. Score: 89/100
Et Cetera, Serendipity 2015
Find or buy on Wine-Searcher.
We were so enamored with the Carpe Diem, Bad Boys that we had to track down this wine – which is made from the same grapes. Et Cetera also produces one of the best Merlots in the country. We didn't get the chance to visit Et Cetera but there's always next time.
The Et Cetera Serendipity is a blend of Fetească Neagră and Saperavi. There are notes of blackberry, pepper, meat, and mahogany. It's full-bodied and rich with high acidity and fine-grained tannins. It's not as complex as the Carpe Diem, Bad Boys but has a similar flavor profile. Score: 88/100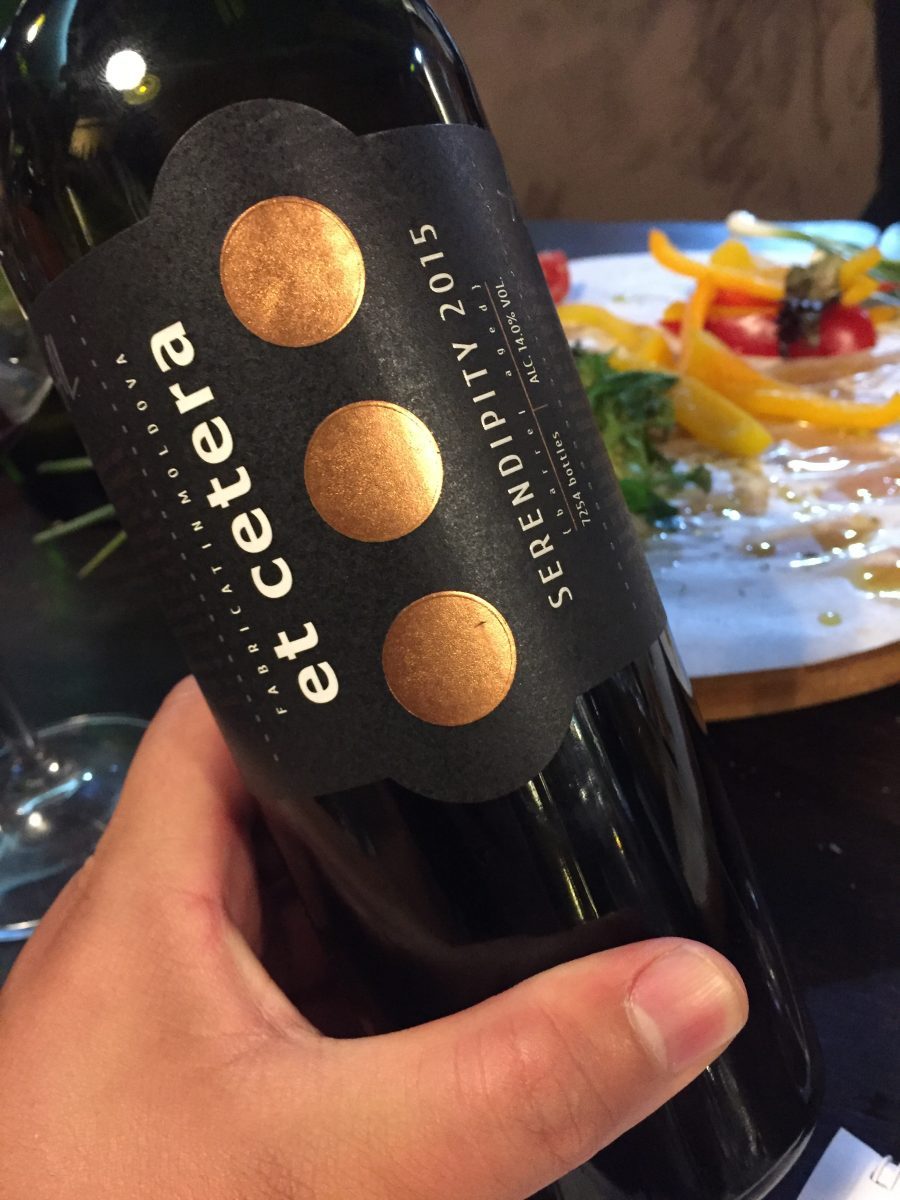 You Might Also Enjoy:
Article: Moldovan Wine: Why It Matters and Why You Should Drink It
Do you like our content?
If you like our articles and videos, we'd love for you to be a part of our community on Patreon. The support from Patreon helps keep the content coming and you access to behind the scenes content. It also gives us the chance to get to know you better. Check out the Exotic Wine Travel Patreon page by clicking the photo below.

---
We were on a press trip organized by the Moldova Competitiveness Project, funded by USAID and Sweden, in collaboration with Wine of Moldova. Our travel, meals, and accommodation were covered by the organizers. Cover photo courtesy of Wine of Moldova. However, please note that the opinions expressed in this article are unsolicited and have not been paid for in any way. We do not sell editorial content as that would destroy the legitimacy of our reviews and the trust between Exotic Wine Travel and its readers. On occasion, we extend the option of purchasing the wines we review or/and the products we spotlight. Some of these product links are set up through affiliate programs, which means Exotic Wine Travel gets referral credits if you choose to purchase these items via the links we provide.