Zinfandel, Tribidrag, and Crljenak Kaštelanski: Same Grape, Different Name
Reading Time: [est_time] In 2001, a team of researchers---led by Dr Carole Meredith from UC Davis and Dr Edi Maletić and Dr Ivan Pejić from the University of Zagreb---found nine remaining vines of Crljenak Kaštelanski (pronounce Tserl-yee-ehnak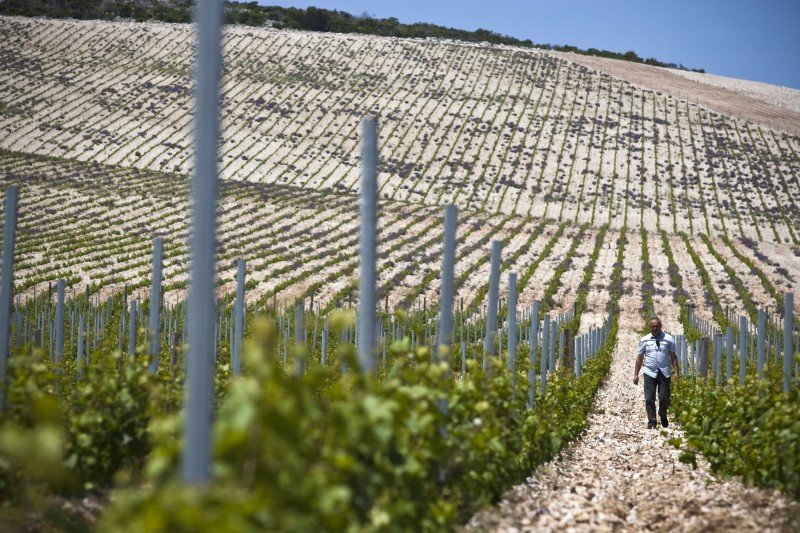 Reading Time: 4 minutes
In 2001, a team of researchers—led by Dr Carole Meredith from UC Davis and Dr Edi Maletić and Dr Ivan Pejić from the University of Zagreb—found nine remaining vines of Crljenak Kaštelanski (pronounce Tserl-yee-ehnak Kashh-tell-ann-skee) in a Croatian town called Kaštel Novi, near Split. The name Crljenak Kaštelanski aptly translates to "the red from Kaštela". The variety was later confirmed to be 'The Original Zinfandel'. In 2002, additional vines known locally as Pribidrag, which bore the same DNA as Crljenak Kaštelanski and Zinfandel, were found in another Dalmatian coastal town called Omiš. These discoveries marked the end of a four-year study on Zinfandel's origins, an undertaking that was nicknamed "The Zinquest".
One Grape, Many Names
As we live in a heterogeneous world where people employ different languages and subscribe to various peregrinations, along with many viticulture's clonal mysteries, this one grape goes by several names: Zinfandel, Crljenak Kaštelanski, and Pribidrag are also known as Tribidrag in southern Dalmatia, Primitivo in southern Italy, and Kratošija in Montenegro and Macedonia.
So how does one approach this nomenclature issue? Especially when nitpicking over nomenclature can often be a fruitless effort that delays the progress of a wine region's brand identity (or catapult it if one can prove that it is the birthplace of a pedigreed grape).
* See Graševina Without Borders for another example of viticulture's nomenclature issue.*
As written in Wine Grapes:
"According to the rule of anteriority, whereby the oldest name takes precedence, Tribidrag is adopted here as the prime name for this variety."
Mentioned as early as the fifteenth century, the name Tribidrag indeed predates the other names. And from the perspective of a consumer or marketer, Tribidrag is definitely easier to pronounce and remember than Crljenak Kaštelanski.
Tribidrag: When Zinfandel Goes Home
Tribidrag is considered one of the "founder crops" as it is the ancestor of many other grapes including Grk, Plavac Mali, Plavina, and Vranac—all of which can be found in Croatia.
The Tribidrag wines tend to be fruit-forward with hints of herbal and spicy flavors. Due to the warm climate in Dalmatia and the grape's propensity for uneven ripening pattern (a single bunch may contain both overripe grapes and unripened grapes), many also express dried fruit or raisin flavors.
Depending on the quality of the grapes, vineyard management, and the vineyard's location and topography, Tribidrag can take many forms—as can be seen from the off-dry rosé (better known as White Zinfandel) examples from California, the bold and structured red from Mexico (recommendation: VinTango's Zinfandel and Torres Alegre y Familia's Cru Garage Zinfandel), the age-worthy reds from Ridge Vineyards, and the Zinfandel dessert wine from Dashe Cellars (Dry Creek Valley, Sonoma County).
Even though Croatia is the birthplace of Tribidrag, the Croatian producers are still in the embryonic stage of understanding and working with this grape.  Since the DNA discovery in 2001, more producers in Croatia have been planting Tribidrag and making varietal wines and blends from it.
Stina Winery in Brač, Croatia
Before 2016, prior to our first trip to Croatia, I didn't care much for Zinfandel. The American Zinfandel wines often show too much residual sugar, hotness, and brash fruitiness that I can't appreciate, while the Italian Primitivo examples usually lack structure and end up lubricating my mouth suitably but fail to leave a lasting impression. Matt, on the other hand, has always been quite fond of Primitivo and also introduced me to Lytton Springs (and I loved that wine).
While the Croatian wine market is flooded with many overpriced, rustic examples of Tribidrag and Crljenak Kaštelanski, dig past the surface and you'll find the vinous gems—as is the case in the United States and Italy.
One of my favorite examples is a single-vineyard Tribidrag produced by Stina Winery. This winery has been shaping the discourse around wine with its award-winning label design, dramatic-looking vineyards, and its organoleptically superior wines.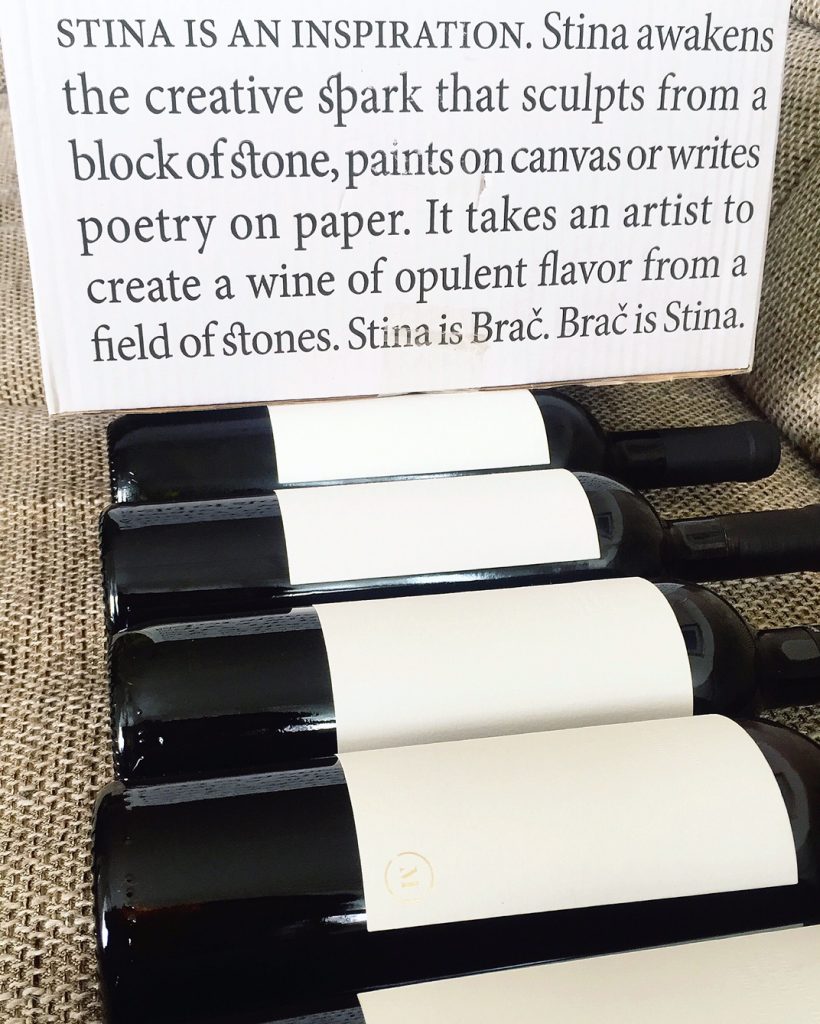 The winery and vineyards are on the island of Brač, which receives nearly 2,700 hours of sunshine every year and is the largest island in Central Dalmatia. The island is best known for two things. One, its triangular pebble beach called Zlatni Rat, which translates to "Golden Cape". This oddly-shaped beach has donned the covers of many Croatia's travel marketing materials. Two, its main export since ancient times: white stones, which were used to build the White House in Washington D.C. and Diocletian's Palace in Split. While the island is blessed with this natural material, it also means that making wine here is an art of coaxing softness out of stones. In fact, the name Stina translates to "stone", as the winery pays tribute to this mineral.
Exotic Wine Travel's Choice: 2013 Stina Tribidrag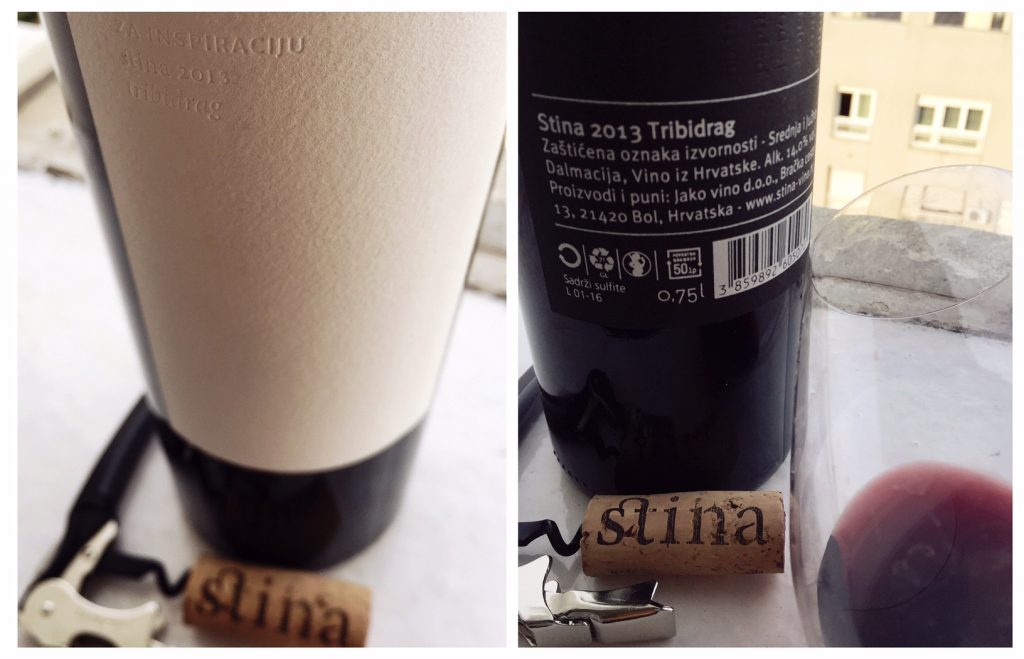 Tasting Notes: Flavors of Mediterranean herbs, baked red cherry, and baked blueberry, along with an earthy undertone. The precise, robust structure is stretched out by sweet, chalky tannins. The 12-month aging period in the barriques shows up well on the end-palate as it provides a sweet spice and oaky finish. This wine is well-built to evolve further in the cellar—with adequate acidity, lots of fruit intensity, and generous extract—but also provide high drinkability now.
Food Pairing: Pasticada (Dalmatian beef stew), Janje Na Ražnju (spit-roasted lamb)
Other Recommended Producers of Crljenak Kaštelanski /Tribidrag / Zinfandel in Croatia: Benmosche Family, Rizman, Bedalov, Matela, Zlatan Otok
Buy Stina Tribidrag at wineandmore.com
What's Next?
While this grape may come from Croatia, we should not ignore that right now Zinfandel is the most significant name from the qualitative and quantitative perspectives. As it is with all facts in history, science, and life at large, the truth is as much as we know and can prove to date. There are still people who cast doubt on the Croatian origin of Tribidrag in favor of a southern Italian or a Montenegrin one and consider the quest unresolved.
Its name aside, Tribidrag's future is lucidly bright. In California, the Croatian vines are planted in the top "cru" sites of Ridge Vineyards in California, including Lytton Springs, Geyserville, and Monte Bello. There are plans to release the commercial bottling of these Ridge's Croatian Zinfandel wines soon. The same is done in Croatia: a few producers have planted American Zinfandel cuttings in order to observe the differences between them and their Croatian counterparts.
The finest selection of
Tribidrag (Crljenak, Zinfandel)
wines available at:

Shipping is available EU-wide and to the UK.
************
    Do you want to try Croatian wines?    
If you're looking to savor the exquisite flavor of Croatian wines, look no further than wineandmore.com. With an abundance of options from different winemakers, it's easy to find exactly what your palate desires. Not sure which bottle is best for you? Try out one of their curated wine cases and discover the perfect vintage for any occasion!
************
Want to learn more about wine?
Are you ready to discover the wonderful world of wines? Come join us at wineandmore.com and let's explore the incredible selection of delicious wines together! We can't wait to share our passion for wine with you!
---
You May Also Enjoy
Feature photo taken from Stina Winery's website, www.stina-vino.hr.
Please note that the opinions expressed in this article are unsolicited and have not been paid for in any way by governmental bodies, enterprises, or individuals. We do not sell editorial content as that would destroy the legitimacy of our reviews and the trust between Exotic Wine Travel and its readers. On occasion, we extend the option of purchasing the wines we review or/and the products we spotlight. Some of these product links are set up through affiliate programs, which means Exotic Wine Travel gets referral credits if you choose to purchase these items via the links we provide.