Vinart Grand Tasting: Croatian Wine from the Archive
Reading Time: [est_time] Do you like wines with a touch of bottle age? Croatia is a fascinating country with plenty of quality wines made from both indigenous and international varieties. Thanks to the high volume of tourists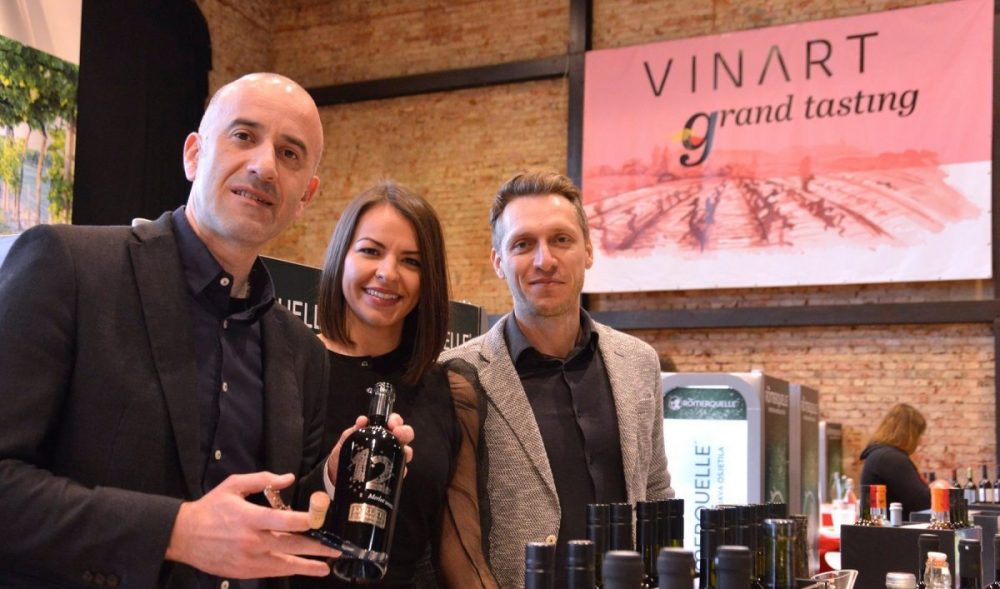 Reading Time: 5 minutes
Do you like wines with a touch of bottle age?
Croatia is a fascinating country with plenty of quality wines made from both indigenous and international varieties. Thanks to the high volume of tourists and a voracious local market, the best producers sell out of their production every vintage. This is a great thing for wineries but the flip side is that aged Croatian wine can be difficult to track down.
That's why the masterclass series of the Vinart Grand Tasting is so exciting. The Vinart Grand Tasting is the premier tasting in the Croatian wine industry. It happens annually in the early spring and the weekend event is preceded by two weeks of masterclasses.
The Vinart Grand Tasting Masterclasses
During this edition of the Vinart Grand Tasting, Charine and I attended twenty masterclasses. The majority of the classes were either vertical tastings or included rare archive wines. Tastings like this are incredibly rare since Croatian wines are purchased and consumed young. If you are in Croatia in late February, this event and the masterclasses are not to be missed.
Unfortunately, most of the aged wines in this article are not available for sale (producers have very few archive wines in the cellar). While the country (and surrounding regions) has a long history of producing wine, the modern era in Croatian wine is relatively young. Tastings like this show that there is a high level of competency in winegrowing and production. We feel honored to witness this story unfolding in front of our very eyes.
Here are some highlights from the Vinart Grand Tasting Masterclasses including a fine white Slovenian wine and a red Serbian wine.
Wine Recommendations:
You can find out more about our scoring system on the WINE RATING page.
White Croatian Wine
Korta Katarina Pošip 2017 – Dalmatia
This is the first vertical tasting Korta Katarina has done on a large scale as they sell out of their wines on a regular basis. This is another excellent vintage of the Korta Katarina Pošip. There is an explosive nose of pineapple and kefir lime with some sage. Round palate because some of the wine is barrel-aged. Round mouthfeel and a crisp bite of fruit at the end. Score: 91+/100
Iločki Podrumi, 'Arhivsko Vino' Graševina 2008 – Slavonia & The Danube
The Iločki Podrumi, 'Arhivsko Vino' Graševina is made from late-harvested fruit and it has a touch of residual sugar in it. This has started to develop some honey notes along with melon, grass, and white pepper. It's full-bodied and still has lots of fruit and freshness, it has resisted aging. Long finish. Score: 92/100
Matošević, Grimalda White 2016 – Istria & Kvarner
The Matošević, Grimalda White was the first Croatian white wine we fell in love with many years ago. It's a blend of Chardonnay, Malvazija Istarska, and Sauvignon Blanc. Part of the cuvée is barrel-aged. This may be the finest vintage we've tasted. Notes of white peach, kiwi, grass, and white flower. Tight acidity stretches out the finish, this has a bright future in the cellar. Score: 91+/100
Vina Laguna, 'Festigia Vižinada' Malvazija Riserva 2011 – Istria & Kvarner
This is Vina Laguna's premier Malvazija from the Vižinada vineyard that faces Motovun. During a vertical tasting of this wine, this was the most impressive. It's in a great place now with notes of apricot, white peach, yogurt, and a touch of natural gas. It's full and round on the palate. Score: 90/100
Šember, Qvevri 2015 – The Uplands
The Šember, Qvevri is an orange wine made of Riesling fermented and macerated in Georgian qvevri (amphora). It has haunting aromas of burnt rubber, apricot, smoke, and fall leaves. It's full-bodied and packed with high acidity and chewy tannins. Score: 91/100
Damjanić, Malvazija 2012 – Istria & Kvarner
During a vertical tasting of the Damjanić, Malvazija the 2012 stood out. It is a fresh white wine that is made to be consumed fresh and not aged. This has come along great and still has plenty of life ahead of it. It's got a nose of yogurt, lavender, white peach, and natural gas. The bottle age has put weight on the wine. Long finish. Score: 92/100
Kutjevo, Graševina arhivsko vino 1963 – Slavonia & the Danube
It was the third time I tasted the Kutjevo, Graševina arhivsko vino 1963. The third time proved to be a charm. This has aged well and is very Fino Sherry-like. Notes of almond, white peach, white apricot, and fall leaves. The high acid has kept this alive. The wine has residual sugar but the acidity keeps the wine feeling dry. Score: 92/100
White Slovenian Wine
Jakončič, Carolina Bela 2013 – Goriška Brda, Slovenia
The Carolina Bela is the signature white wine from Jakončič, one of our favorite estates in Slovenia. This is a blend of Chardonnay, Rebula (Ribolla Gialla), and Sauvignon Blanc. This is an archive wine that is still incredibly young. Notes of melon, yogurt, white peach, and other stone fruits. It's full of fruit and subtle power on the back end. The barrel aging adds structure and a long finish, this has a long future ahead of it. Score: 93/100
Red Croatian Wine
Degrassi, Terre Bianche Cuvée Rouge Riserva 2008 – Istria & Kvarner
During the vertical tasting of Degrassi wines, the Terre Bianche Cuvée Rouge Riserva 2008 stood out. This is a gorgeous wine that tastes like a fine Super Tuscan. This blend of Merlot, Cabernet Sauvignon, and Cabernet Franc has flavors of black fruit, tobacco, black olive, and sweet cedar. It's full-bodied with firm tannins and a tangerine peel-like acidity. This still has a lot of life left in the cellar. Score: 93/100
Jakob, Cuvée 2008 – Slavonia & the Danube
The Jakob, Cuvée is a blend of Cabernet Sauvignon, Cabernet Franc, and Merlot. The fruit is grown in Slavonia. This is at it's drinking peak now. There are notes of tobacco, black cherry, leather, smoke, and pepper. There is a spike of intense fruit on the palate and the tannins are developed. Better yet, this has the potential to age further in the bottle. Score: 90+/100
A Few Current Releases
Tomaz, 'Barbarossa' Teran 2017 – Istria & Kvarner
Tomaz is a producer to watch in Istria as they continue to improve with every vintage. The Tomaz 'Barbarossa' Teran is beautiful this vintage. It has notes of flint, crushed rock, sour cherry, and red raspberry. It's round and refined from barrel age. The acidity is under control for this variety. Score: 90/100
Crvik, Vilin Ples 2016 – Dalmatia
Crvik is a producer in the Konavle Valley. It's in Croatia's deep south, near the border with Montenegro. The Crvik, Vilin Ples is sort of a "Super Dalmatia". It's a blend of Cabernet Sauvignon, Merlot, and Plavac Mali. It's a big, ripe Mediterranean red with notes of red cherry, garrigue, and tar. This is full of fruit with firm tannins. This wine is a current release. Score: 89/100
Krauthaker, Pinot Crni 2017 – Slavonia & the Danube
This vintage of Krauthaker Pinot Crni (Noir) is sensational. In a masterclass, I tasted it next to two red Burgundies (Vosne-Romanée and Morey-Saint-Denis 1er Cru) and the Krauthaker showed very well. It's a big, structured Pinot Noir with notes of cherry, fall leaves, pepper, and cinnamon. This is very young and the wood is a tad heavy now but the mouthfeel and structure and phenomenal. I wouldn't be surprised to see this blossom into a showstopper. Score: 92/100
Red Serbian Wine
Temet, Ergo Crveno 2017 – Šumadija, Serbia
Temet is a producer we've liked since we first visited them back in 2016. Their Ergo Crveno was originally a Bordeaux blend but in 2016 Temet changed the blend. The wine now has 50% Prokupac along with Bordeaux varieties. This vintage has notes of dark cherry, graphite, capsicum, and pepper. There's a good mix of fruit and green notes and firm tannins. It's big, ripe wine with a long future ahead of it. Score: 91+/100
The finest selection of
wines available at:

Shipping is available EU-wide and to the UK.
************
    Do you want to try Croatian wines?    
If you want to savor the exquisite flavor of Croatian wines, look no further than wineandmore.com. With many options from different winemakers, it's easy to find exactly what your palate desires. Not sure which bottle is best for you? Try out one of their curated wine cases and discover the perfect vintage for any occasion!
************
Want to learn more about wine?
Are you ready to discover the wonderful world of wines? Come join us at wineandmore.com, and let's explore the incredible selection of delicious wines together! We can't wait to share our passion for wine with you!
---
Vinart provided complimentary admission to their workshops. The cover photo is courtesy of Vinart. The opinions expressed in this article are unsolicited and have not been paid for in any way by governmental bodies, enterprises, or individuals. We do not sell editorial content as that would destroy the legitimacy of our reviews and the trust between Exotic Wine Travel and its readers. On occasion, we extend the option of purchasing the wines we review or/and the products we spotlight. Some of these product links are set up through affiliate programs, which means Exotic Wine Travel gets referral credits if you choose to purchase these items via the links we provide.