Vinosia Taurasi Lineup
Reading Time: [est_time] Hello! Welcome to As Drunk by Exotic Wine Travel, a weekly column where we feature interesting wines that we encourage you to seek out. The reviews featured in this series may be written by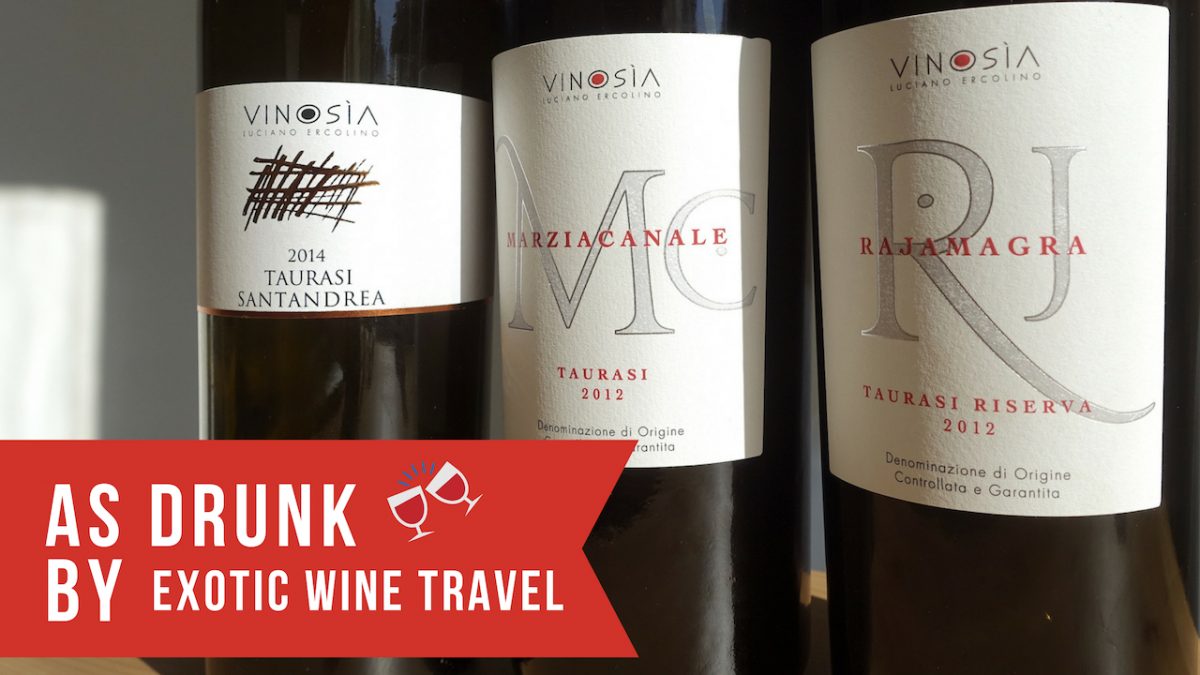 Reading Time: 2 minutes
Hello! Welcome to As Drunk by Exotic Wine Travel, a weekly column where we feature interesting wines that we encourage you to seek out. The reviews featured in this series may be written by either one or the both of us. The featured wines can be from obscure or well-known wine regions. We hope that these wine recommendations will keep you gastronomically curious and your palate invigorated!
Vinosia Taurasi Lineup: Sant Andrea, Marziacanale, Rajamagra Riserva
Prior to last year, Charine and I haven't been huge fans of the wines of Taurasi. Made from the grape Aglianico, these wines have long been referred to as the 'Barolo of the South' thanks to the grape's high acidity and tannin structure. Many examples we tasted over the years failed to live up to that nickname. That all changed when we tasted the Vinosia, Taurasi Riserva Rajamagra 2011 at James Suckling Great Wines of Italy Hong Kong.
That wine from Vinosia changed the way that I looked at Taurasi. After that bottle, we stumbled across more excellent examples including the Feudi di San Gregorio, 'Piano di Montevergine' Taurasi Riserva 2002 and the Mastraberardino, 'Radici' Taurasi 2007. All three of these wines have the tar, leather, and hazelnut notes that I associate with Barolo. They all inspired me to change my outlook on the grape and taste as many examples as possible – enter this set of wines from Vinosia.
Vinosia was founded by Luciano Ercolino in 2004. The Ercolino family was one of the founding families of the famous Feudi di San Gregorio winery in Campania, Italy. The Vinosia winery in Campania focuses on Greco, Fiano, Piedrarosso, and Aglianico (the company also makes wines in Puglia). Vinosia produces two examples of Taurasi and one Taurasi Riserva, all of which are single vineyard wines.
Vinosia, 'Sant Andrea' Taurasi 2014
The Vinosia, 'Sant Andrea' Taurasi 2014 is from a 3-hectare vineyard. It spent 14 months in used French oak. Notes of wild raspberry, cherry, cedar, and tobacco are accompanied by a touch of smoked meat. This wine is medium bodied and elegant than expected for a Taurasi with fine-grained tannins. This can improve with a few years in the bottle but it is already delicious now. If you can get a deal on this wine, it's a case buy. Score: 89/100
Find or buy on Wine-Searcher.
Vinosia, 'Marziacanale' Taurasi 2012
The Vinosia, 'Marziacanale' Taurasi 2012 is aged in French oak for 15 months. The Marziacanale vineyard is a 5-hectare plot. This is a ripe wine and the new oak really shows. Full of cherry, vanilla, tobacco, and rose notes. The fruit is bright and clear and the palate is round and silky. There is a subtle smokiness on the finish and the tannins let you know this is a wine to lay down in the cellar. Score: 91/100
Find or buy on Wine-Searcher.
Vinosia, 'Rajamagra' Taurasi Riserva 2012
Considerably darker than the other two Taurasi wines. The Vinosia 'Rajamagra' Taurasi Riserva is aged for 18 months in French oak and is made from a 3-hectare plot. This wine shows more dark fruit than the other two. There are notes of black cherry, cassis, soy sauce, and smoked meats. The wood shows on the massive palate. There are nuances here under the oak but they are hard to taste now. This is a lovely wine and I'd love to see how it does with more time in the bottle, which could elevate the score. As for now, I prefer the 2011, but time will tell with this wine. Score: 90/100
Find or buy on Wine-Searcher.
You can find out more about our scoring system on the WINE RATING page.
---
The wines were provided as samples from Vinosia. The opinions expressed are our own and have not been paid for in any way. We do not sell editorial content as that would destroy the legitimacy of our reviews and the trust between Exotic Wine Travel and its readers. On occasion, we extend the option of purchasing the wines we review or/and the products we spotlight. Some of these product links are set up through affiliate programs, which means Exotic Wine Travel gets referral credits if you choose to purchase these items via the links we provide.