Where To Stay In Épernay France
Are you planning a visit to the Champagne region of France and wondering where to stay in Épernay? Look no further as we guide you through the top accommodations in the city and provide some insider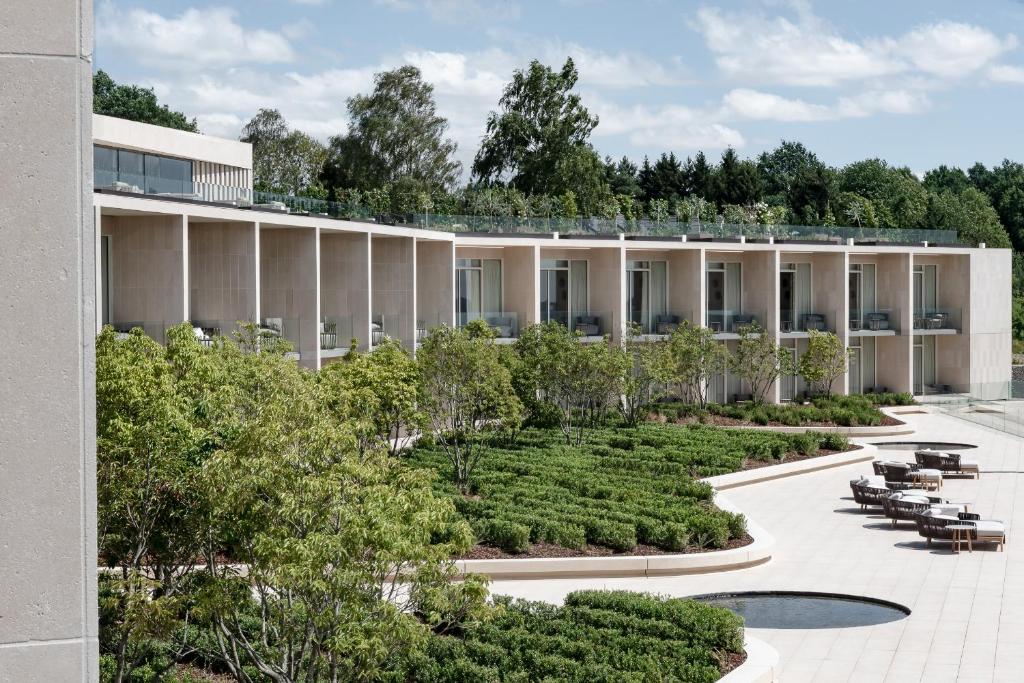 Are you planning a visit to the Champagne region of France and wondering where to stay in Épernay?
Look no further as we guide you through the top accommodations in the city and provide some insider tips for your stay.
In France's heart of the Champagne region, Épernay holds the prestigious title of "Capital of Champagne." This picturesque city is renowned for its exquisite vineyards, which boast world-class Champagne production and stunning architecture that captivates visitors from around the globe.
One of the most remarkable features of Épernay is the famed Avenue de Champagne, formerly the Avenue de Commerce. This breathtaking stretch spans almost one kilometer and is lined with grand private residences meticulously crafted by the esteemed Champagne Houses over the centuries. These opulent buildings serve as either the Head Office or the private abode of the Champagne House proprietor, and each one showcases a unique architectural style that pays homage to the brand and the spirit of Champagne as a whole.
The Avenue de Champagne is a visual feast for architecture enthusiasts and a UNESCO World Heritage site, recognized under Champagne hillsides, Houses, and Cellars. This prestigious designation further highlights the significance of this iconic avenue and its historical and cultural value.
Best accommodations in Épernay
When planning your visit to Épernay, be sure to take the time to carefully select your accommodation. Fortunately, Épernay offers many options to suit various preferences and budgets. Whether you prefer a luxury hotel with all the amenities, a cozy bed and breakfast with a personal touch, a quaint guesthouse with a rustic charm, or a modern apartment for a more independent stay, you'll find something that fits your needs.
1. Royal Champagne Hotel & Spa
Look no further than the Royal Champagne Hotel & Spa for travelers seeking the ultimate luxury. Overlooking the picturesque villages of Champillon and Hautvilliers, where the renowned Dom Perignon is buried in the abbey, this hotel offers an unparalleled experience. Just a 10-minute drive from Épernay, the capital of Champagne, the Royal Champagne Hotel & Spa is easily accessible for discerning guests.
The interiors of the Royal Champagne Hotel & Spa are light, bright, and effervescent, exuding a sense of sophistication and style, and one of the highlights is its Michelin-starred restaurant, where culinary excellence is taken to new heights. Indulge in gourmet meals prepared by world-class chefs who use locally sourced ingredients. From delicate flavors to innovative presentations, every dish is a masterpiece in its own right, complemented by an extensive wine list showcasing the region's finest champagnes.
The Royal Champagne Hotel & Spa is also renowned for its world-class spa. Designed to provide guests with a sanctuary of relaxation and rejuvenation, the spa offers a wide range of treatments and therapies inspired by the Champagne region. From champagne-infused facials to invigorating body scrubs using local grape extracts, every treatment is designed to soothe the body and nourish the soul.
In addition to its exceptional amenities, the Royal Champagne Hotel & Spa also offers impeccable service and attention to detail. Whether it's arranging a private vineyard tour, organizing a romantic picnic in the countryside, or simply providing personalized recommendations for exploring the region, the staff goes above and beyond to ensure that guests have an unforgettable experience.
For those who wish to venture beyond the confines of the hotel, the surrounding region offers a wealth of activities and attractions to explore. From wine tastings at local vineyards to hot air balloon rides over the vineyards, there are endless opportunities to immerse oneself in the rich culture and heritage of the Champagne region.
With its panoramic views, Michelin-starred restaurant, world-class spa, and impeccable service, it is truly a destination for discerning travelers who seek an unforgettable experience!
2. Bubble 8
In the heart of Épernay lies a truly enchanting destination. Bubble 8, a grand, pale stone townhouse built in 1889, is a gem of a place that exudes elegance, history, and unparalleled hospitality.
Once the home of the Chamber of Notaries of the Marne department, Bubble 8 was meticulously renovated in 2017 to create a unique and luxurious accommodation experience for travelers from around the globe. With its majestic entrance, soaring ceiling heights, and architecturally stunning facade, Bubble 8 offers a choice of Nature or Urban fantasy-themed studios and a delightfully classic apartment called Vertigo, each providing an intimate and refined atmosphere.
At Bubble 8, no detail is overlooked. The dedicated team of hosts goes above and beyond to ensure every guest has an unforgettable stay. Your comfort and satisfaction are their top priority, from high-end amenities to personalized services. The cellar of Bubble 8 is exclusively reserved for guests, offering an exquisite setting for champagne tastings, which can be organized upon request with a minimum of 6 people and 2 weeks' notice, as well as breakfasts.
Bubble 8 takes pride in partnering with independent and passionate winemakers who showcase their special cuvées to guests. Wine specialists can also be arranged for a more in-depth champagne-tasting experience. For those who wish to pair their champagne tastings with exquisite cuisine, Bubble 8 can also arrange for dishes that perfectly complement the bubbly flavors.
With its rich history, unparalleled hospitality, and commitment to providing a unique and refined experience, Bubble 8 is a haven for champagne lovers seeking an enchanting getaway in the heart of Épernay!
 3. Manoir Henri Giraud
Immerse yourself in the terroir, history, and culture of the Champagne region with a unique opportunity offered by Manoir Henri Giraud. Located in the heart of the historic hillsides of Champagne, a UNESCO World Heritage site, this exceptional setting provides an unforgettable experience that engages all your senses.
Whether planning a romantic getaway or a wine trip, Manoir Henri Giraud welcomes you with open arms. Just 25 minutes from Reims, the capital of the Coronations of the Kings of France, and a few minutes from Épernay, the capital of Champagne, this luxurious 19th-century residence has been meticulously redefined to provide comfortable and bright accommodations, serving as the perfect starting point for your immersion into the Domaine.
At Manoir Henri Giraud, you'll have the opportunity to indulge in a unique Champagne experience. The enchanting thrills await you, such as chalk baths, heated tables, and massages with grapeseed oil – a truly rejuvenating experience for your mind and body.
As a guest at Manoir Henri Giraud, you'll be staying at the foot of the famous vineyard of Aÿ-Champagne, where Henri Giraud's house has been tending to the vines since the 17th century. One of the highlights of your stay will be the exclusive private tour of Domaine Henri Giraud, followed by a commented tasting of a selection of iconic cuvées. This privileged access will open the doors to the secrets of the house, providing you with insights into the craftsmanship and artistry behind their renowned Champagnes.
Another unique experience awaits you at the Table Experience Henri Giraud, where you can indulge in a convivial ceremony celebrating the alliance of Gastronomy and Champagne. Discover the aromas of each cuvée and savor the subtle flavors of the dishes in a gastronomic journey that will tantalize your taste buds and elevate your appreciation for the art of Champagne pairing.
But that's not all – Manoir Henri Giraud also offers Craÿothérapie, a one-of-a-kind wellness experience that combines the therapeutic benefits of Champagne with luxurious spa treatments.
In conclusion, Manoir Henri Giraud provides a unique and immersive Champagne experience that captivates all your senses. From the private tour and tasting to the Table Experience and Craÿothérapie, every aspect of your stay is carefully crafted to prepare your senses for an extraordinary journey into the world of Champagne!
4. Le 25bis by Leclerc Briant
During the 18th century, a wine merchant constructed a grand house as his family residence in a prime location along the Avenue. Today, after more than two centuries, this same house has been meticulously and tastefully restored to reflect the essence and style of La Maison Leclerc Briant. The goal of the restoration project has been to revive the original house and rekindle the owner's passion for exploring the world.
Le 25bis by Leclerc Briant takes great pride in being a member of "Esprit de France," an exclusive collection of hotels and residences in France that share a strong commitment to common values of heritage, art, and culture. In addition to its elegant reception rooms and luxurious bedrooms, Le 25bis also features a sophisticated wine shop where visitors can taste and purchase the entire range of Leclerc Briant champagnes.
Guests who visit this gem on the legendary Avenue de Champagne will be warmly welcomed by a knowledgeable and enthusiastic team who will explain the unique characteristics of each wine. They can also relax in the stylish boutique adorned with wood and marble or on the serene garden terrace surrounded by trees and flowers.
5. Villa des Arts
If you're looking for accommodation that offers a comfortable stay and a prime location in the city, look no further than Villa Des Arts Épernay. Situated just a 10-minute stroll from Dom Perignon Cellars and Champagne Mercier, this hotel is a perfect choice for travelers who want to explore the famous Champagne region of France.
Location-wise, Villa Des Arts Épernay has it all. The rooms at Villa Des Arts Épernay are designed with comfort in mind. Regarding dining options, Villa Des Arts Épernay is surrounded by choices. Just 400 feet from the hotel, Le Sardaigne restaurant serves a great selection of French, European, and Italian food, offering a variety of culinary delights for guests to enjoy.
Whether you're here to explore the Champagne region, indulge in wine tasting, or simply relax and enjoy the beauty of Epernay, Villa Des Arts Épernay is the perfect accommodation option. Its comfortable rooms, convenient location, and nearby dining options make it an excellent choice for travelers seeking a comfortable and affordable stay in the heart of Epernay.
6. Champagne André Bergère
The stunning three-story residence, lovingly restored in 2017 by the Bergère family, is a true labor of love by parents Brigitte and André, along with their children Adrien and Annaëlle. Nestled at the entrance of the renowned Avenue de Champagne, this exquisite property boasts a unique and versatile space that has been transformed into a multi-functional establishment.
During the day, it serves as an elegant restaurant, offering delectable cuisine in a warm and inviting atmosphere. It transforms into a sophisticated wine bar in the evening, exuding a cozy and intimate ambiance, perfect for unwinding with a glass of fine wine. In addition to its dining and wine offerings, the Bergère family also provides charming guest rooms for overnight stays or longer, allowing guests to immerse themselves in the rich heritage and culture of the region.
With its meticulous restoration, prime location, and an array of offerings, this delightful residence is truly a gem for visitors seeking a memorable experience in the heart of Champagne.
Insider tips for your stay in Épernay
Épernay, located in the heart of the Champagne region in France, is a dream destination for champagne lovers. With its picturesque vineyards, historic champagne houses, and unique cultural experiences, there are plenty of insider tips to make the most of your stay in this charming city.
Once you're settled in, it's time to explore all that Épernay has to offer. A tour of a champagne house is a must-do activity, and there are plenty of options. The Mercier Champagne House offers a unique train tour of its cellars, where you can learn about the history of champagne production while enjoying panoramic city views. For a more intimate experience, the Pol Roger Champagne House offers tastings in a beautiful 19th-century mansion, allowing you to savor the flavors of this world-renowned bubbly in an elegant setting.
Another must-see attraction in Épernay is the Avenue de Champagne, known as the "Champs-Élysées of Champagne." This prestigious avenue is lined with grand mansions that house some of the most famous champagne houses in the world, including Moët & Chandon, Perrier-Jouët, and Pol Roger. Take a leisurely stroll down the avenue, marvel at the stunning architecture, and learn about the history and heritage of these iconic champagne houses.
Here are some insider tips to remember to make the most of your stay in Épernay. First, be sure to book your champagne house tours in advance. Many houses have limited availability and can sell out quickly, especially during peak tourist season. Planning ahead will ensure you visit your preferred champagne houses and have a memorable experience.
Second, consider visiting Épernay during the off-season. While summer is the most popular time to visit, the fall and winter can offer a quieter and more intimate experience. The vineyards may be less crowded, allowing you to enjoy a more personal and authentic champagne-tasting experience. Plus, you may be able to snag better deals on accommodations during the off-season, making your stay more budget-friendly.
Lastly, don't be afraid to venture beyond the city limits. The champagne region is vast, with many small villages and vineyards to explore. Renting a car and taking a scenic drive through the region is a fantastic way to discover hidden gems and experience the breathtaking beauty of the vineyards. You can stop by local wineries for tastings, explore charming villages with cobblestone streets and historic buildings, and enjoy the stunning countryside views.
In conclusion, Épernay is a destination that every champagne lover should visit at least once in their lifetime. By booking your tours in advance, considering an off-season visit, and exploring beyond the city limits, you can create lasting memories and savor the magic of champagne in Épernay.
Where to eat in Épernay
A trip to Épernay is not complete without savoring some delicious French cuisine. From Michelin-awarded restaurants to charming brasseries, Épernay offers a range of dining options to satisfy your culinary cravings. Here are some top restaurants to consider during your stay:
La Grillade Gourmande
Located in Épernay, La Grillade Gourmande is a top pick for food enthusiasts. The restaurant has been awarded the Bib Gourmand by Michelin, a prestigious recognition for its high-quality and good-value offerings. The extensive champagne list adds a touch of luxury to the dining experience. With its impeccable quality and cozy ambiance, La Grillade Gourmande is a sure bet for a memorable dining experience.
Symbiose
For a refined and modern dining experience, Symbiose is a must-visit restaurant in Épernay. With a small seasonal menu that bursts with flavors, Symbiose is reminiscent of fine dining. Make reservations in advance to secure your spot in this popular restaurant.
Chez Max
Since 1946, Chez Max has been representing traditional French cooking in Épernay. Amazing food that attracts both locals and visitors alike awaits you. Chez Max offers classic French dishes such as pork tenderloin with Reim's mustard, duck breast, foie gras, and an array of cheese. It's a great choice for foodies looking for authentic French cuisine in a casual setting.
La Table Kobus
Transport yourself back to the early 1900s in the restaurant designed as an old-fashioned brasserie that serves modern French dishes that will impress you. Customers rave about the impeccable service and the presentation of the dishes, which exude elegance and sophistication.
In conclusion, Épernay is a culinary paradise for food lovers, with its excellent restaurants offering a diverse range of French cuisine. From Michelin-awarded establishments to cozy brasseries, Épernay has something for everyone. So, during your visit to this Champagne region, indulge in some delicious French cuisine at these top restaurants for an unforgettable dining experience. Bon appétit!
Conclusion
With so much to see and do in Épernay, it's easy to see why the city is such a popular destination for tourists worldwide. Renowned for its exquisite Champagne Houses and the iconic Avenue de Champagne, Épernay offers a unique and immersive experience for Champagne connoisseurs and enthusiasts alike.
The Avenue de Champagne in Épernay is a haven for Champagne lovers, boasting a collection of prestigious Champagne Houses that line its tree-lined streets. From world-renowned names like Moët & Chandon, Boizel, Mercier, to the illustrious De Venoge, these Champagne Houses offer an unparalleled experience for visitors.
One of the highlights of a visit to Épernay is the opportunity to embark on a cellar tour, where visitors can discover the fascinating world of Champagne production. For those seeking a truly extraordinary experience, many Champagne Houses in Épernay offer unique activities such as sabrage, a traditional method of opening Champagne bottles with a sword. Visitors can also partake in masterclasses to deepen their knowledge about the different Champagne varieties, terroirs, and production techniques. And, of course, no visit to Épernay would be complete without indulging in a Champagne tasting, where one can savor the effervescent bubbles and delicate flavors of this world-famous wine.
Beyond the Champagne Houses, Épernay is a picturesque town steeped in history and charm. Visitors can explore its quaint streets lined with historic buildings, stroll along the tranquil banks of the Marne River, or simply soak in the ambiance of this enchanting region!