XXVI Talhas Mestre Daniel, Do Tareco
Reading Time: [est_time] Wines made in small clay pots? In the Fall of 2019, the Wines of Alentejo took me through a one-week jaunt of cellars in this part of Portugal. During the trip, I visited a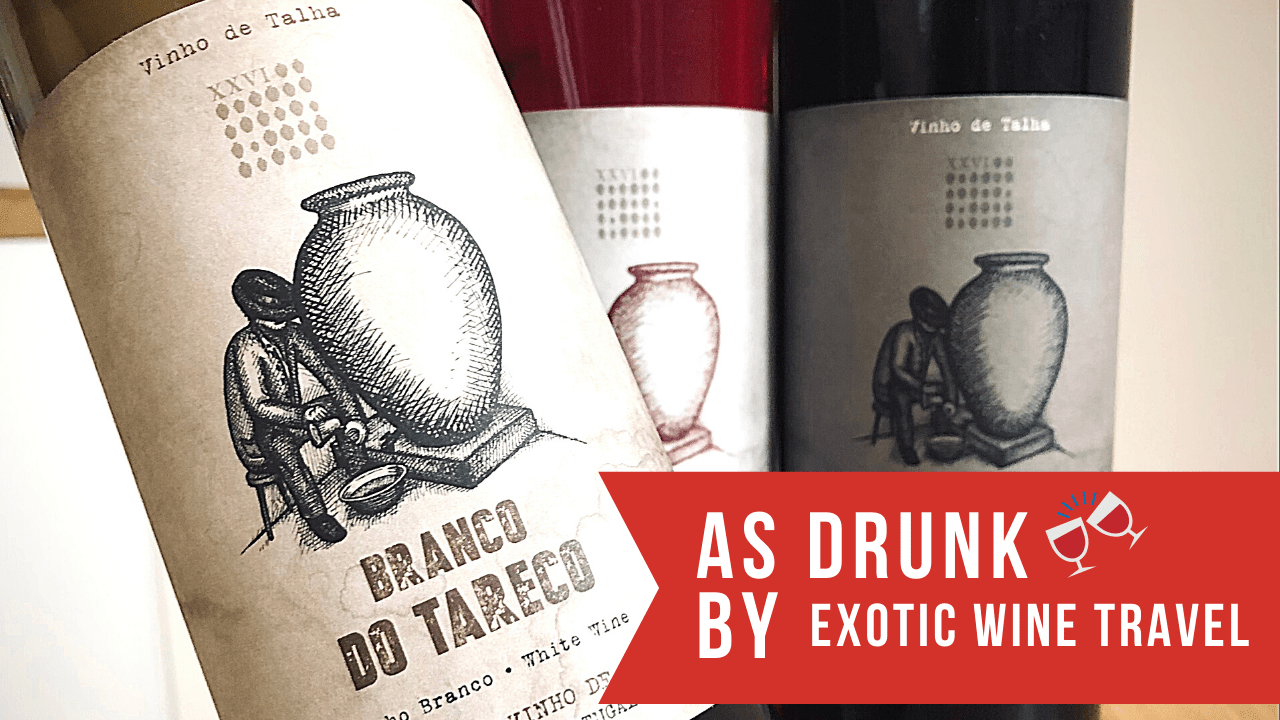 Reading Time: 3 minutes
Wines made in small clay pots?
In the Fall of 2019, the Wines of Alentejo took me through a one-week jaunt of cellars in this part of Portugal. During the trip, I visited a number of producers who are making wines in clay vessels. Portugal is home to the only appellation in the world dedicated to this technique, known as Vinho de Talha DOC. A year after my first trip to the region, I bumped into a producer of Vinho de Talha that really caught my attention.
XXVI Talhas Mestre Daniel
XXVI Talhas Mestre Daniel is a small project by childhood friends Daniel Parreira and Ricardo Santos. There are 26 amphorae (talhas) in the cellar, hence the name XXVI Talhas. Mestre Daniel is the name of Daniel's grandfather, who was the original owner of the cellar.
The Vinho de Talhas from XXVI Talhas Mestre Daniel are my favorite wines from the appellation. They produce small batches of wine and even single Talha wines (wines coming from a single amphora, like a barrel selection). XXVI Talhas Mestre Daniel also produces a line of fresher wines made in small clay pots (no larger than 300 liters). This small pot is called a 'tareco'.
"We make the 'do tareco' wines because we try to do a style as close as possible to the wine we start drinking just after Saint Martin day (11 November)," Ricardo tells me. "All the small producers are waiting for that special day to have their winery full of people," he continues.
"We bottled the 2020 tareco wines just after 11 November, they are young and fresh, almost like the wine taken from the traditional talhas. The grapes are the same as our Vinho de Talha line but there is maceration time."
Do Tareco
Do Tareco translates to "from clay pots" and are bottled immediately after Saint Martin's day. It's a day dedicated to feasting and drinking fresh wine. I was skeptical before trying the XXVI Talhas Mestre Daniel, Do Tareco wines. My assumption was that the wines would be too angular, lacking both complexity and drinkability.
Thank goodness, I was wrong. In this style, the Do Tareco wines are stellar. All three wines brim with texture and charisma. Scrap the Beaujolais Noveaux and give these wines a try. Wines made in clay vessels are all the rage these days and these bottles from XXVI Talhas Mestre Daniel are examples done right.
Wine Recommendations:
XXVI Talhas Mestre Daniel, Branco do Tarco 2020
The XXVI Talhas Mestre Daniel, Branco do Tarco is a blend of Perrum, Manteúd, Larião, Diagalves, Roupeiro, and Antão Vaz macerated for two months in small clay pots called tareco. It's a beautiful, pure white wine with notes of pineapple, chalk, white peach, and guava. The nose has the sensation of dried fruit while it has more dried fruit flavors in the mouth. Tannins are a little chewy here. This is a Vinho de Talha (Alentejan amphora wines) in it's purest form. I'm a big fan. Score: 90/100
XXVI Talhas Mestre Daniel, Palhete do Tarco 2020
Palhete is traditionally a blend of grapes left over from the harvest, both white and red. The XXVI Talhas Mestre Daniel, Palhete do Tarco is basically a deeper rosé that was fermented in small clay pots (tareco). All of the grapes for this wine are harvested and fermented together. Notes of raspberry, cherry, and earthy clay. This is more of a light red with some tannin to it. Bright acidity that cuts through the palate. This is delicious and has the ability to pair with a number of different foods. Essentially, it's an extreme natural wine in style but those who like conventional wines will find a lot to like here. Score: 90+/100
XXVI Talhas Mestre Daniel, Tinto do Tarco 2020
The XXVI Talhas Mestre Daniel, Tinto do Tarco is a blend of Aragonês (Tempranillo), Trincadeira, and Tinta Grossa fermented in small clay pots called tareco. It's a fresh red with notes of sour cherry, raspberry, pepper, and mineral notes. Juicy and fruit-forward with a small amount of tannin and a long finish. The acidity here is beautiful for Alentejo (which is a hot region). Drink this on the chilled side. Fans of Cru Beaujolais will find a lot to like here. Score: 91/100
You can find out more about our scoring system on the WINE RATING page.
Check Out These & Other Portuguese Natural Wines
You can pick up XXVI Talhas and other Portuguese natural wines at Real Portuguese Wine. Use our discount code and get 10% off. It doesn't cost you anything extra, you get a discount, and help support our work.
[ap_call_to_action button_text="Shop Now" button_url="https://realportuguesewine.com/collections/shop-all" button_align="center"]Get 10% off by using the code RPWEXWINETRAVEL[/ap_call_to_action]
---
XXVI Talhas Mestre Daniel provided tasting samples. The opinions expressed in this article are unsolicited and have not been paid for in any way by governmental bodies, enterprises, or individuals. We do not sell editorial content as that would destroy the legitimacy of our reviews and the trust between Exotic Wine Travel and its readers. On occasion, we extend the option of purchasing the wines we review or/and the products we spotlight. Some of these product links are set up through affiliate programs, which means Exotic Wine Travel gets referral credits if you choose to purchase these items via the links we provide.