Can You Tell a Burgundy from a Croatian Pinot Noir?
Reading Time: [est_time] Croatia has a long history of wine production and is currently producing over 100 million liters every year. The Croatians are among the leading consumers of wine, drinking on average 44.2-litre of wine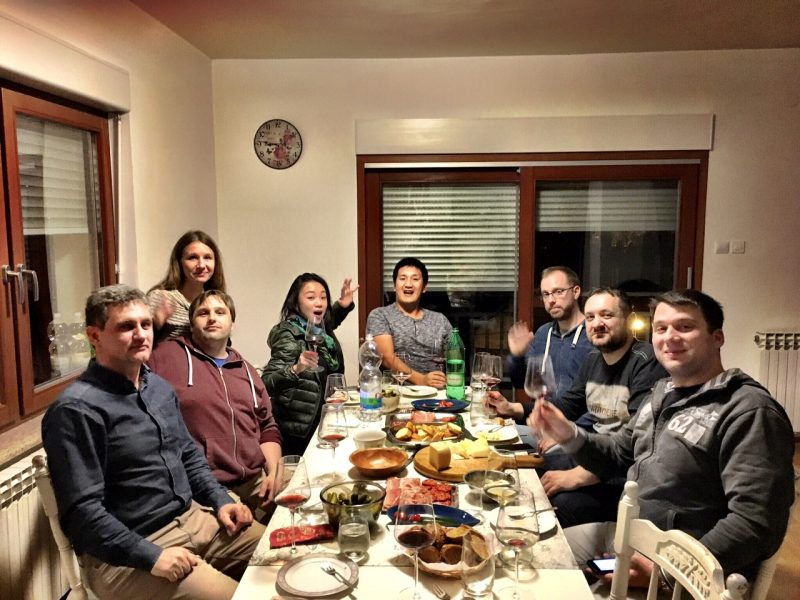 Reading Time: 7 minutes
Croatia has a long history of wine production and is currently producing over 100 million liters every year. The Croatians are among the leading consumers of wine, drinking on average 44.2-litre of wine per person annually.
Croatian Pinot Noir
In Croatia, varietal wines made from Pinot Noir are labeled as "Pinot Crni". Crni translates to "black" in English, just like the french word noir. Today, there are about 20 Croatian producers making Pinot Noir; most of them are in the part of the country with continental climate. These regions are often semi-alpine and significantly cooler than the rest of the country's wine regions in the coastal areas. The place that is touted to be the best for Pinot Noir in Croatia is Plešivica, which shares the same latitude as Burgundy. It is located southwest of the capital city Zagreb and about a 30-minute drive from it. Other Pinot Noir-growing areas in Croatia include The Uplands which is north of Zagreb, and Slavonia which is in the eastern reaches of the country.
Blind Tasting of Pinot Noir
During our stay in Croatia, we've met many fellow wine lovers whom we got to know very well after several wine-soaked nights. Everyone has been forthcoming and supportive towards our Croatian wine travel book project (coming to you in Q2 2017). Among the most helpful are a group of passionate wine enthusiasts who got to know each other via the Vivino app. For one of the meet-ups, we decided to adopt a "Croatian Pinot Noir" theme. It was a fine opportunity to see how the variety expresses itself in the country.
We came together on an evening and blind-tasted 12 Croatian Pinot Noir wines and one red Burgundy village wine. There were 10 of us at the tasting session. We tasted the wine one after another. After every round of tasting, we recorded our personal impressions before opening the table for discussions. Besides assessing the quality of each wine and learning together, we were also tasked to identify the one and only Frenchie. The labels were unveiled only at the end of the session when we had tasted through all the wines.
How does Croatian Pinot Noir taste like?
The red Burgundy stood out to us. It was a simple Louis Jadot Côte de Beaune Villages 2010 and we called it out immediately after tasting it. It wasn't a complex wine by Burgundy standard but possessed the subtle aroma, stern structure, layered flavors, well-integrated age, earthy notes, and relatively pronounced tannins–all typical of a young Beaune Village.
The 12 Croatian Pinot Noir wines expressed varied characteristics. Some were deep purple in color, heavily extracted, and possibly boosted by a touch of Merlot or Cabernet Sauvignon. Some showed purity of fruit but were overburdened by oak influence. Several of the inexpensive wines showed well. None of the wines were outstanding but many were of very good quality. Among the wines tasted, with age ranging from one to eight years old, the floral and complex tertiary flavors were sorely lacking across the board. The Croatian Pinot Noir wines that showed the best were similar in flavor profile to the Pinot Noir from New Zealand–with characteristics of red fruit, a touch of earth, and a lively disposition. They are easy drinking wines without the layers of complexity that Pinot Noir has the potential to obtain.
Tasting Notes
Here are all the wines in the order that we tasted them: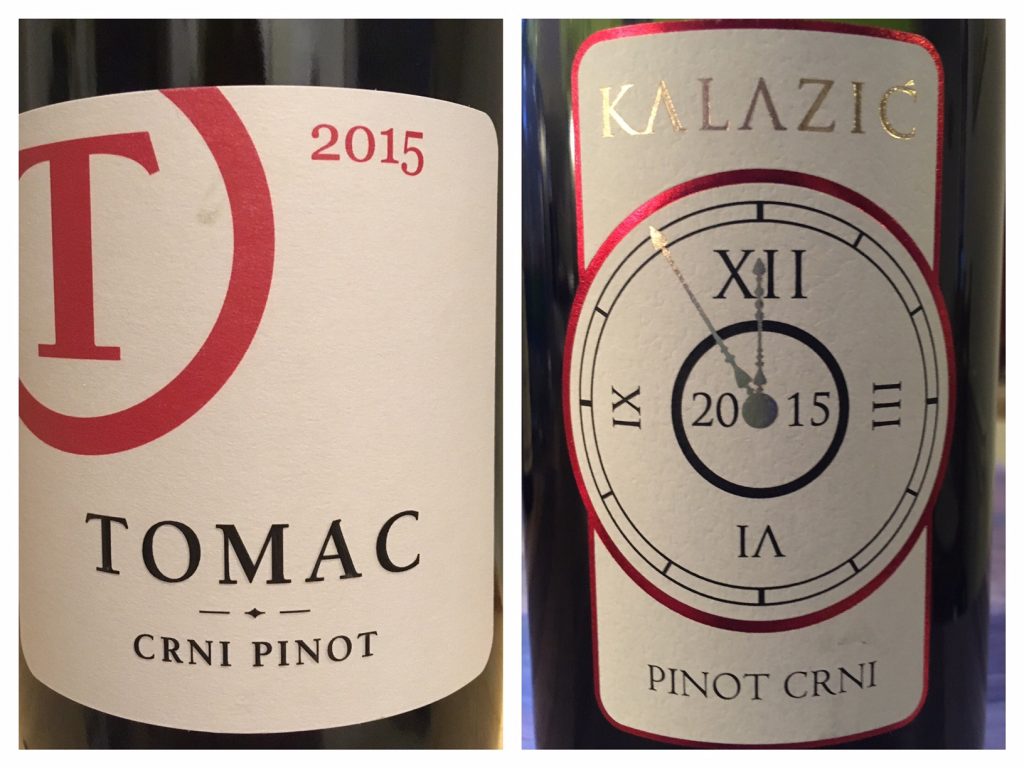 Available here.
This is the most expensive Croatian Pinot Noir in this session, with a local shop price of about USD 21. Everyone agrees that this is a good start to the blind tasting. It is pale ruby in color. The flavors are of raspberry, strawberry, fall leaves,  and a gentle touch of toast. However, seek deeper and you'll find some Burgundy-esque earthiness, licorice, and spice in it. The finish is rather lengthy and juicy, supported by soft grained tannins. The acidity is a tad low and the wine needs more time in the bottle to settle down. Nonetheless, the subtlety, earthiness, precise structure, and gradual development of this wine are reminiscent of a Burgundy but the feather-light body gives it away. Everyone around the table appreciates this wine for its gentleness and rare purity that is not concealed by oak. However, everyone also agrees that it is lacking in acidity.
Available here.
This wine has a ruby hue and more blue tinge than the first wine. The initial first impression is mostly of vanilla and toastiness, with some strawberry cream loitering around. Strangely, that combination reminds us of new books and fresh papers–the smell of a new semester. A deep sniff takes us to the familiar land of Pinot Noir–red cherry and redcurrant. The wine is simple, refreshing, with a nice level of acidity but the strong presence of oak influence and looming harsh tannins are hard to get around.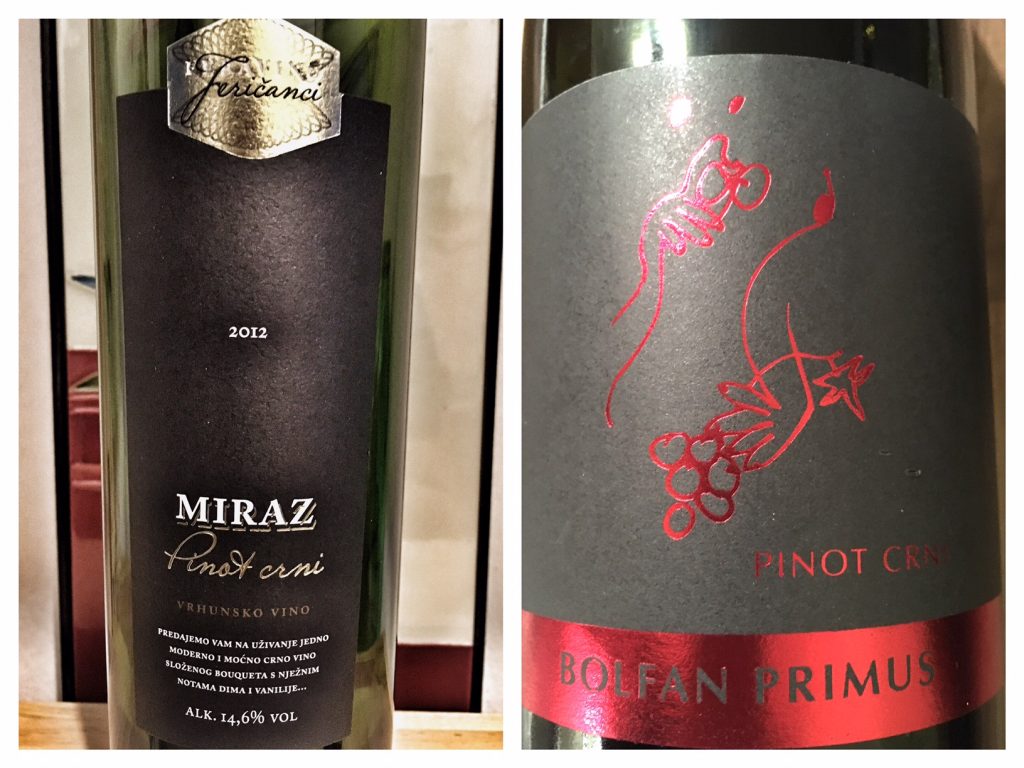 Feravino, Miraz Pinot Crni 2012
This wine is garnet in color with medium intensity. Okay, sign of aging and Burgundy? On the nose, it doesn't smell like a varietal Pinot Noir wine as it is shaped by notes of dark cherry, red plum, sweet spice, toastiness, and vanilla. The oak influence is quite disjointed. The wine is full-bodied with 14.6% ABV and firm tannins. A pleasant wine with wonderful aroma but it doesn't taste like a varietal Pinot Noir either. Too hot or a tad of Merlot? We don't know!
Bolfan, Primus Pinot Crni 2012
Available here.
This wine is coming to deep in its colour intensity! On first impression, the wine seems highly extracted and packed with ripe and cooked berries, raisin, chocolate, and freshly chopped wood. Sniff deeper and you'll get a layer of earthy and herbal notes. It comes around fresher and lighter on the palate with flavors of predominantly cherry and a sprinkle of cumin, supported by green but still relatively round tannins. The high acidity carries the flavors into a pleasant finish. The general consensus towards this wine is that it is too much of everything.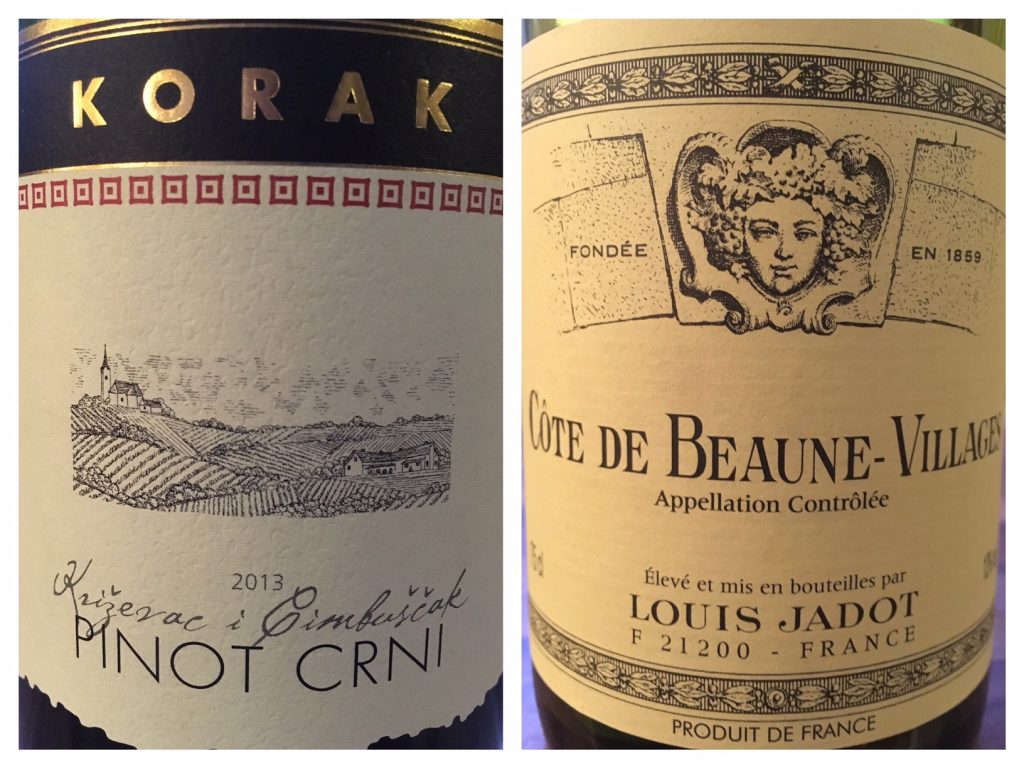 Available here.
A lively medium ruby hue. This looks like  a Pinot Noir! Flavors of cherry, raspberry, cranberry, sweet vanilla, grass, white pepper, and toast. This wine is ebullient and fruity with an acidic core and precise structure. The tannins taste a tad green but balanced out by a candied cherry finish. An easy-drinking, cool-weather Pinot Noir reminiscent of the mid-range ones from Central Otago.
Louis Jadot, Côte de Beaune Villages 2010
This costs around USD 20, which is the same price as Tomac Crni Pinot 2015 (first bottle), at the local shop. Browning on the edges with more pronounced color gradient than the rest. Lightly aromatic but palate packs layers of cherry, currant, forest floor, mushroom, and earthy notes. The tannins are sweet, chewy, and integrated. The signs of aging, earthiness, and subtlety in aroma and palate give signs to an entry-level Village Burgundy.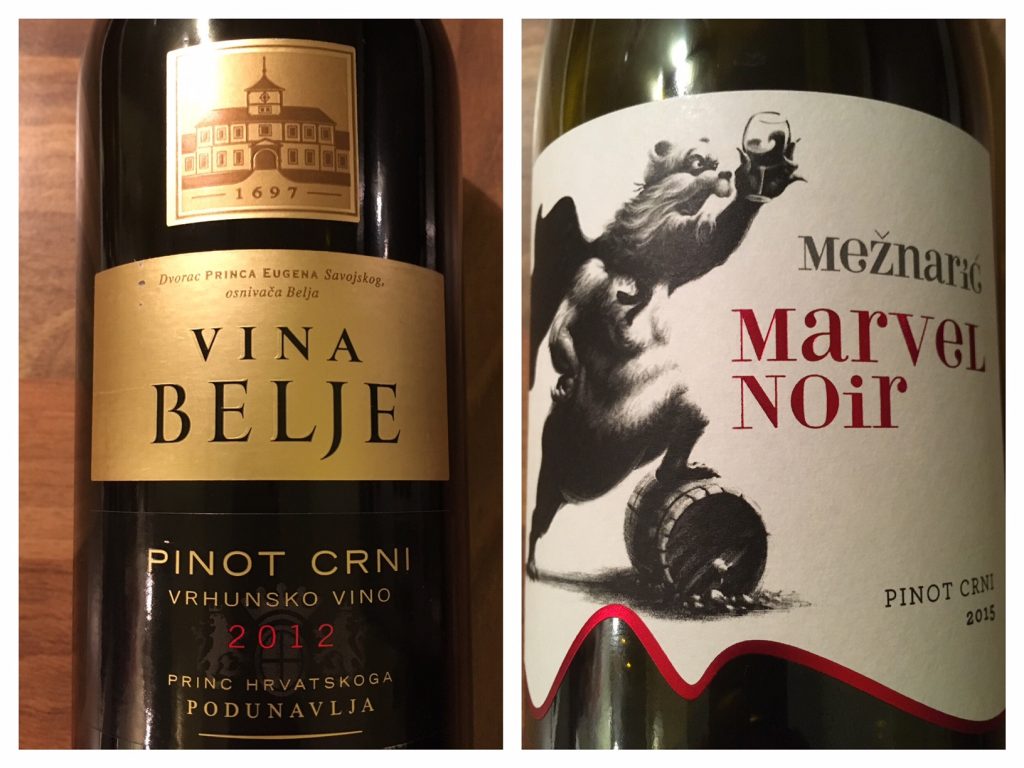 Vina Belje, Pinot Crni 2012
A typical hue of Pinot Noir–medium ruby heading to garnet. Aroma of cranberry and candied cherries dominates the nose, in tandem with gentle earthy notes. The refined aroma belies the flavors on the palate. The cranberry flavor carries over onto the palate; an extra taste of white pepper awaits amidst the mouth-coating, juicy fruitiness. The tannins are gentle but persistent and chewy, rounding up to a sweet-cherry long finish. Impressive choreography and structure, though lacking in depth. This wine has 15.5% ABV; it's impressive that the high alcohol doesn't confound us on first impression.
Mežnarić, Marvel Noir Pinot Crni 2015
Pale ruby in colour. A youthful wine with high acidity and the flavors are approachable and delicious. The aroma is packed with caramel, hydrangeas, cheese, blueberry, strawberry, and banana–which immediately brings back November's memories of Beaujolais Nouveau. The floral note is inviting yet disjointed. The finish is of candied red fruit sweetness. This is a crowd pleaser around the table but it's also Charine's least favorite.
Aroma of sour cherry, forest floor, and red beet. A rather simple wine with a short end plate, but perked up by some tertiary and mineral notes. It brings back memories of eating at local cucina in Italy, with its cherry flavor and high acidity, quite like a Vino da Tavola. ABV is 14.5% but the high acidity works to its favor. It is a nice wine, similar to someone you think is fine but are not interested in dating.
Pale ruby in color with a nose full of crushed rock, sour cherry, mint, and oregano characteristics. A hint of barnyard aroma makes this wine extremely appealing to us. The wine has a silky texture but the relatively short end palate holds it back from excellence.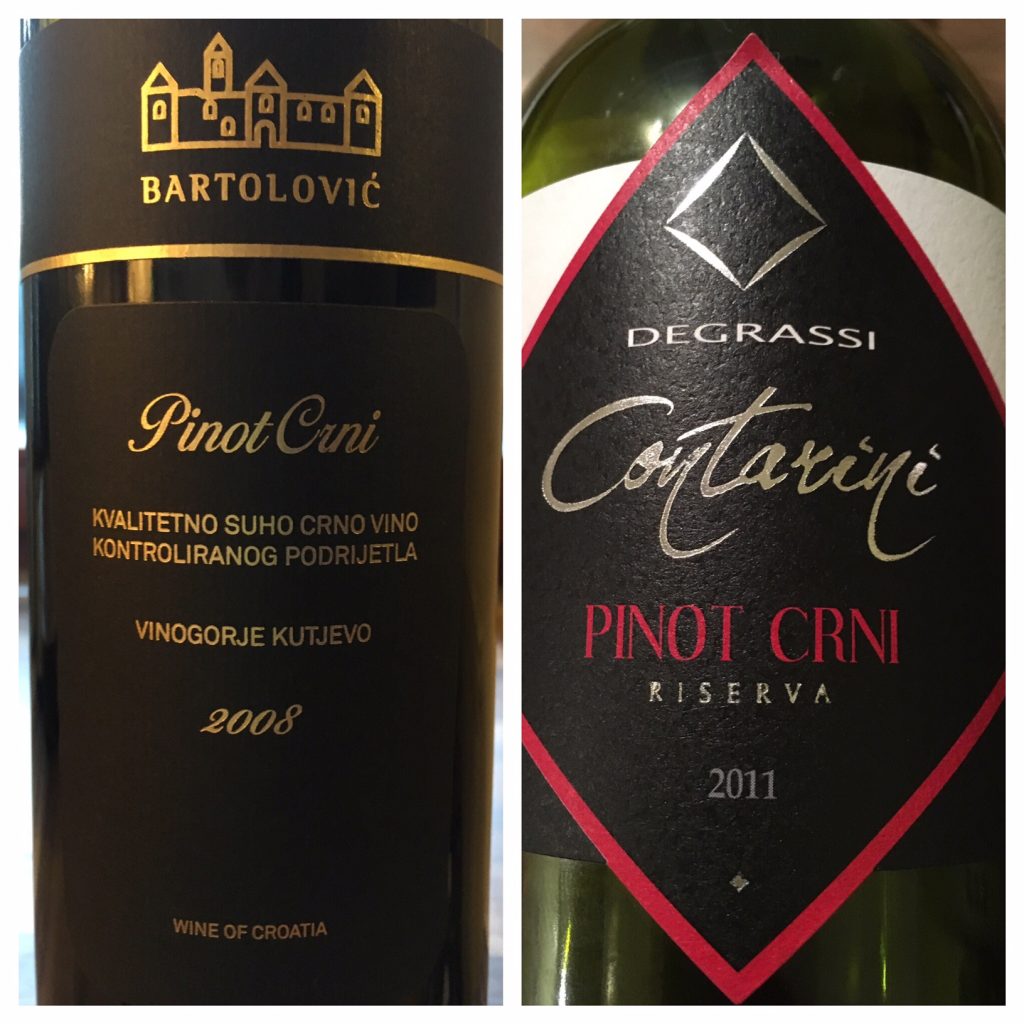 Bartolović, Pinot Crni 2008
This has a medium garnet color and does not smell like Pinot Noir. It is packed full of vanilla, sour cherry, and green herb, chocolate, licorice, sweet spice, white pepper flavors. The wine has high acidity and is extremely tangy. The wine reminds us of a simple central Italian Sangiovese (according to Matthew) or a Cabernet Sauvignon blend (according to Charine).
Degrassi, Pinot Crni 2011
The wine has a deep hue. It smells and tastes like a Bordeaux blend with characteristics of black pepper, red plum, black cherry, tomato leaf, twig, earth, and licorice. The nose is excellent while the palate tastes a tad older with more tertiary notes and raisin. The medium tannins offer some nice tugs on the palate. An enjoyable red wine but does not show the typicity of Pinot Noir. This is another relatively big-bodied Pinot Noir with 14.7% ABV.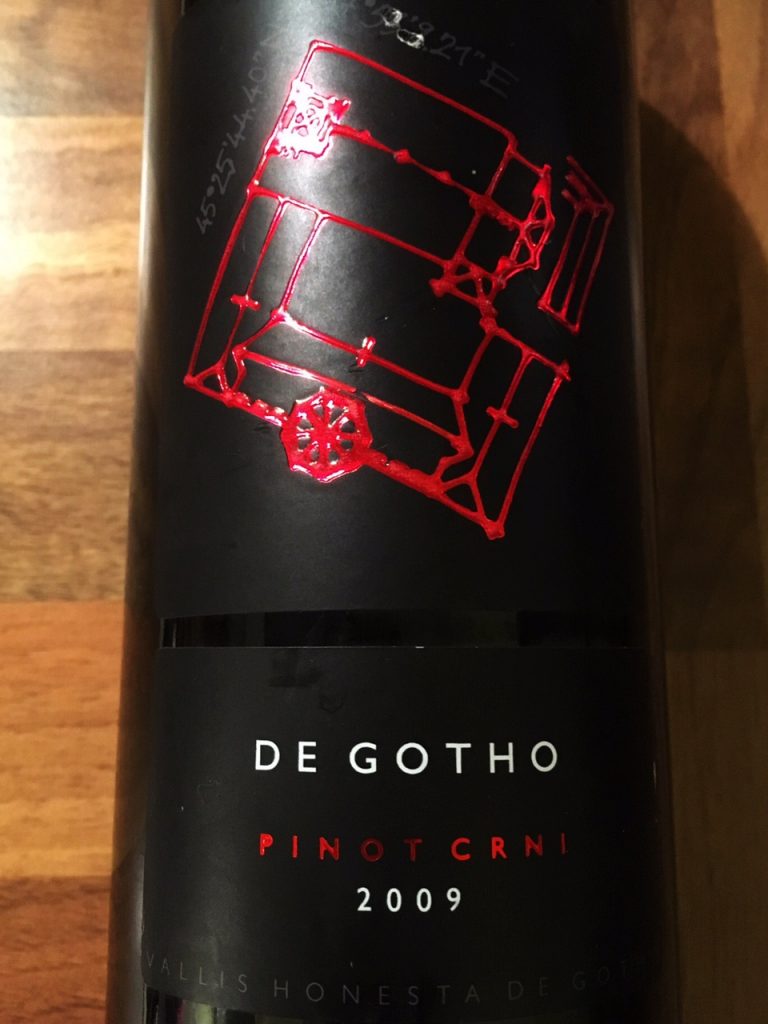 Kutjevo, Degotho Pinot Crni 2009
Available here.
Opaque sangria red in color. It smells like a light breeze of caramel, raisin, compote, white pepper, and green twig.  On the palate, it gets fresher with black cherry, forest floor, cedar wood, and a vanilla aftertaste. It shows up like a Cabernet Shiraz blend from southeastern Australia. This is not a pleasant wine to the group.
We also tasted the following Croatian Pinot Noir on a separate night but thought it'd be relevant to include the notes here: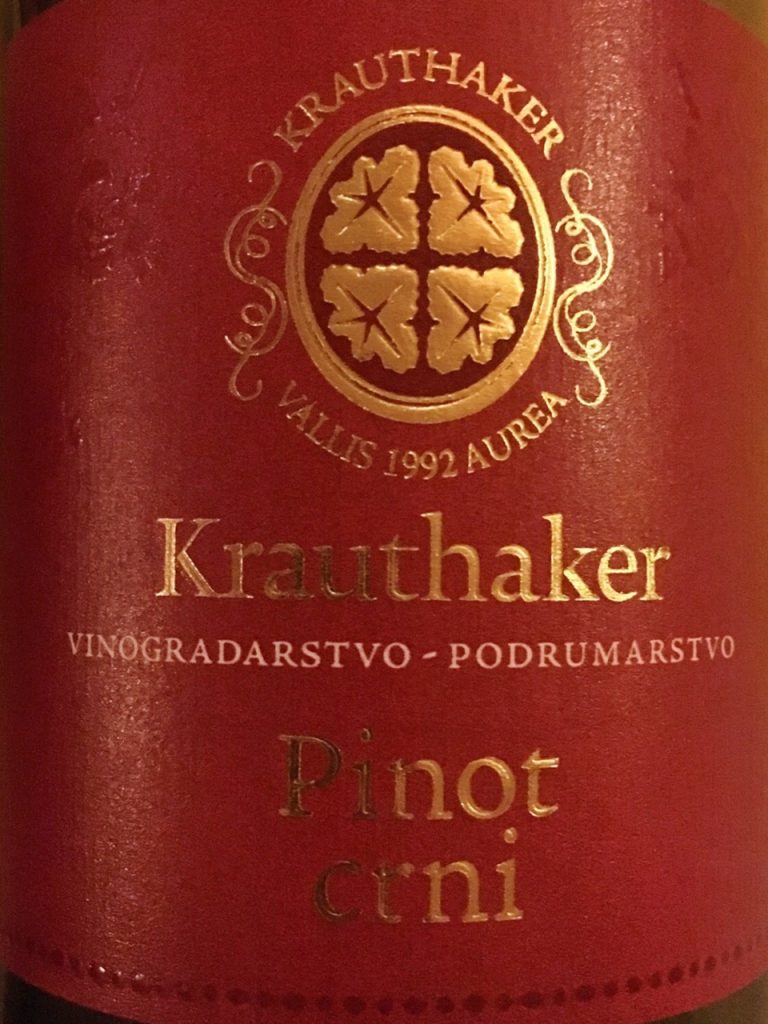 Krauthaker Pinot Crni 2013
Available here.
A rich and dense Pinot Noir with red fruit, red plum, and a touch of forest floor. This has some dense flavor profiles of a Californian Pinot Noir but it's lacking the strong body to deliver the flavors. Almost Merlot-esque in structure and texture. A pleasant and well-made wine but lacking the elegance of a true Pinot Noir.
So, Verdict?
Native to France but has made its way all over the world, Pinot Noir is pretty, classy, delicate, powerful, demanding, and erratic all at the same time. There's good reason that Pinot Noir is dubbed the "heartbreak grape", it is difficult to grow and turn into a good wine. The epitome of great Pinot Noir is Burgundy–with its Old World elegance, structure, and elusive earthiness. Today, wine regions like California, Oregon, Baden, Ahr, Central Otago, Malborough, Yarra Valley, Tasmania, among many others are also known to create their own fantastic renditions.
Personally, we like our Pinot Noir in its most ethereal form from Burgundy. However, we don't love it so much that many Burgundy wines need to be aged for a long time. Our second favorite is Santa Barabara where single-vineyard Pinot Noir wines can produce stunning intensity. However, we don't love it so much that they are mostly limited to distribution via mailing lists. Regardless, the tantalizing array of distinctive styles from its different birthplaces is Pinot Noir's greatest trump card.
So what about Pinot Noir from Croatia? The Croatian Pinot Noir wines that performed the best in this session are from the wineries of Tomac and Korak. Coming close on the second band are Vina Belje, Mežnarić, and Iuris. Overall, we believe in its potential but it'll take several vintages for the Croatian producers to tease out their best expression of this variety. Based solely on this tasting session, there seems to a challenge of Pinot Noir grapes overripening here. The degree of oak influence is another area that needs adjustment. Clonal selection and (partial) whole bunch fermentation are also vital pulse points that can help to achieve more sensuous, high-toned Pinot Noir wines. The winemaking is technically excellent throughout the country; coupled with gifted terroir, we have no doubt that Croatia will be able to deliver excellent Pinot Noir, and with a good price-quality ratio to boot, in the near future.
The finest selection of
Croatian wines
available at:

Shipping is available EU-wide and to the UK.
************
    Do you want to try Croatian wines?    
If you're looking to savor the exquisite flavor of Croatian wines, look no further than wineandmore.com. With an abundance of options from different winemakers, it's easy to find exactly what your palate desires. Not sure which bottle is best for you? Try out one of their curated wine cases and discover the perfect vintage for any occasion!
************
Want to learn more about wine?
Are you ready to discover the wonderful world of wines? Come join us at wineandmore.com and let's explore the incredible selection of delicious wines together! We can't wait to share our passion for wine with you!
You May Also Enjoyd
Sontacchi Pinot Noir 2015
Understanding Croatian Wine With Cliff Rames
Croatian Wine on the Rise
---
Disclaimer: The ideas expressed in this article are personal opinions and are not associated with any sponsors or business promotions.