Grand Cro Croatian Wine: 16 Wines Worth Trying
Reading Time: [est_time] It's time to give Croatian wine a look. With four major wine regions, true Mediterranean and Continental climates, and over a hundred indigenous varieties the country is poised to make a splash
Reading Time: 6 minutes It's time to give Croatian wine a look. With four major wine regions, true Mediterranean and Continental climates, and over a hundred indigenous varieties the country is poised to make a splash on the world market. Now the country needs to focus on promotion – enter the first Grand Cro Press Tour.
During the fall of 2018, we were invited to tour the four wines regions of Croatia with a group of media and press from Meininger (Germany), Vinum (Switzerland), Falstaff (Austria), Winicjatywa (Poland), Czas Wina (Poland), Pécsi Borozó (Hungary), Uncorking Croatia (USA), and Vinotopia (USA). The trip was organized by The Grand Cro – Premium Croatian Wine Estates group.
During a whirlwind five days, we covered all four of Croatia's wine regions (you can find out more about these regions in our book Cracking Croatian Wine). Over that time there were close to one hundred wines on offer for the foreign press to discover. It was a pretty grueling trip with early morning starts, many hours of bus travel, and late nights. In the end, a thorough overview of Croatia was condensed into a few days.
It was a fantastic opportunity to see old friends and taste new vintages. We didn't discover any new Croatian wines on the trip. We did come across new vintages and our opinions on a few wines changed. Here are 16 Croatian wines worth trying.
Exotic Wine Travel's Picks
You can find out more about our scoring system on the WINE RATING page.
1. The Croatian Uplands
Kopjar, Sauvignon Blanc 2017
The Croatian Uplands is adjacent to Südsteiermark, Austria – a premium area for Sauvignon Blanc. This suggests that this part of Croatia has good potential for the grape too. The Kopjar Sauvignon Blanc is explosive but not over the top. It is grassy and pungent with notes of kiwi fruit. It's round on the palate with bright acidity. It's quasi-New Zealand style of wine with a snappy, pepper-like finish. It's not the most stellar Sauvignon Blanc, but it's a very good effort from this young winery. Score: 88/100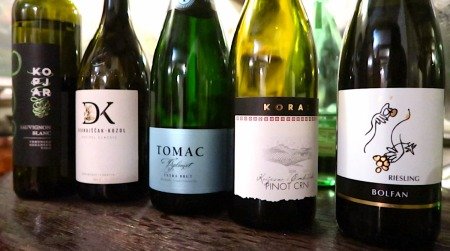 Korak is one of the premium names in Croatian wine. They pour their hearts into Pinot Noir and it shows in this vintage. The Korak Pinot Noir 2016 has notes of red cherry, vanilla, perfume, and a touch of earth. It's very elegant and layered, exactly like Pinot Noir should be. The wine is silky smooth on the palate with grippy tannins. Score: 91/100
Tomac, Classic Brut Nature 2006
Tomac is the name in Croatia when it comes to sparkling wine. The Tomac Brut 2006 is a small lot of bottles that Tomislav Tomac put away to see how they would age. The wine spent over ten years on the lees and has a very autolytic (bready, yeasty) nose. It's made from Chardonnay and various indigenous varieties from Plešivica, Croatia. The palate is refreshing with lots of white fruit and citrus flavors. It tastes remarkably young, which is surprising considering the nose. There aren't many notes of bottle age here. The bubbles are fine and persistent and the finish is very long. Once again, Tomac delivers a killer wine. Score: 92/100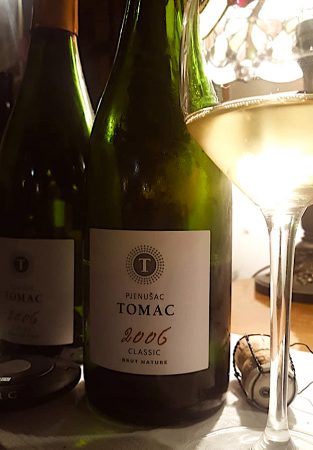 Photo from Tomac Winery Instagram page. 
The Petrač Karizma is one of Croatia's most recognizable reds on the local market. The 2012 vintage was warm, which was needed for this blend of 70% Cabernet Sauvignon and 30% Merlot. It has a wonderful nose of black & red cherry, mushroom, capsicum, and earth. The oak integration is stellar, it is round on the palate without strong wood flavors. Ripeness can be a problem with this wine, but it's not an issue in the 2012 vintage. Tannins are developed and round and the finish has persistence (photo below is of 2015 vintage). Score: 90/100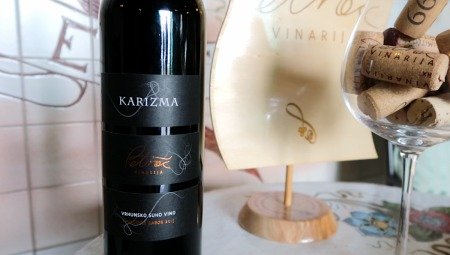 2. Slavonia & The Croatian Danube
Galić, Blanc de Blancs Brut Nature 2014
This is the first release of methodé traditionelle sparklers from Galić. The Galić Blanc de Blanc Brut Nature NV is a balanced and linear wine made from Chardonnay. It feels light on the palate but the flavors are rich and concentrated. Notes include white pear, white peach, lemon, and biscuit notes. The bubbles are very fine, making this wine all about structure, structure, structure. Score: 90/100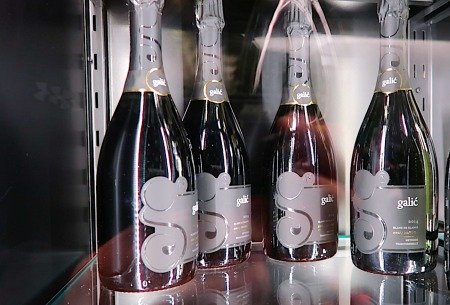 Iločki Podrumi Traminac Vrhunsko 2017
A vintage of Iločki Podrum Traminac Vrhunsko was served during the coronation of Queen Elizabeth II. It remains to be a solid wine year after year. The wine has a pungent nose with white flower, kiwi, and incense. This vintage is very intense and the flavors are Gewürtztraminer to the tee. It's a floral white wine with a touch of spiciness and a bitter flower finish.  Score: 89/100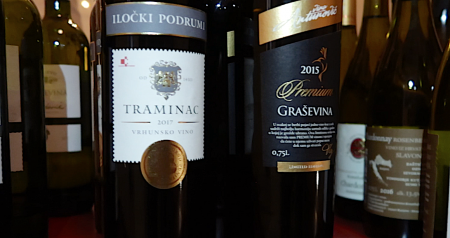 Antunović, Graševina Premium 2015
The 2013 vintage of Antunović Graševina Premium won a Platinum medal at the Decanter World Wine Awards. This 2015 vintage is the follow up to that award-winning wine. The wine has notes of honey, lemon, baked apple, and white flower. It's medium bodied with snappy acidity. Rich and luscious yet bone dry on the finish, it's a role model for wines made from Graševina. Score: 89/100
3. Istria & Kvarner
Matošević, Grimalda White 2016
The Matošević Grimalda White is fantastic vintage after vintage. It's made from Chardonnay, Malvazija Istarska, and Sauvignon Blanc aged in French oak. There are notes of melon, herbs, tropical fruit, and a touch of wood. It's full-bodied and creamy with a touch of spicy notes from the oak. It has generous flavor in the mouth with just the right amount of acidity. We love the oak integration in this wine year after year. Score: 91/100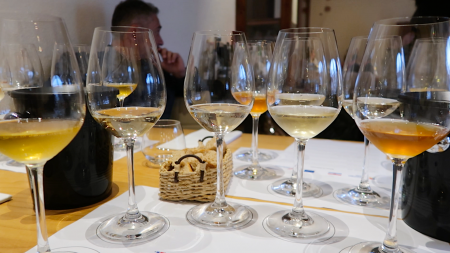 The Meneghetti White and Meneghetti Red are the flagship wines from this estate. Both new releases are wonderful. The Meneghetti White is a blend of Chardonnay and Pinot Blanc aged in French oak and has notes of tropical fruit, oak, and peach with a touch of yogurt. The wine is full-bodied and ripe. The wood might be a bit much for some but it's delicious and reminds us of the barrel fermented whites from Friuli Venezia-Giulia. Score: 90/100
* We also highly recommend the newest vintage of Meneghetti Red 2012. Year in and year out, it's one of Croatia's top Bordeaux blends.
Benvenuti, Anno Domini Teran 2015
The 2013 Benvenuti Teran won a platinum medal at the Decanter World Wine Awards. While that vintage is delicious, we prefer the 2015 a little more. It's juicy and full of blood iron, raspberry, cherry, and cedar notes. The wine has high acidity and is juicy with some Italian flair. Aggressive tannins but delicious with food. The sharp acidity may bother some but it's a perfect pairing with tomato-based pastas. Score: 92/100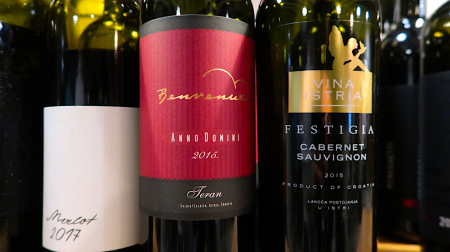 The Boškinac Cuvée is a blend of Merlot and Cabernet Sauvignon aged in oak for 18 months. We've had many vintages of this wine and this may be the most approachable vintage to drink young. It acts like a Super Tuscan, full of red fruit, graphite, and sweet tobacco flavors. Elegant for a Mediterranean Bordeaux blend with a backbone of acidity. This wine has a history of aging beautifully. Score: 92/100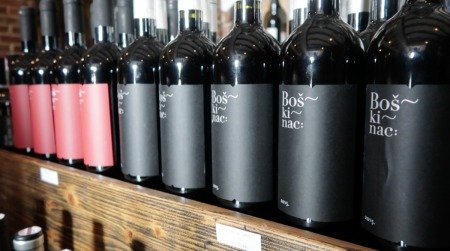 4. Dalmatia
Master of Wine Jo Ahearne crafted this rosé with the unique grape Drnekuša. In terms of color, the Ahearne Rosina 2016 looks like an orange wine in the glass. It has notes of strawberry, rose petal, and minerals. The flavors are in between a rosé wine and an orange wine. The tangerine-like acidity stretches the long finish. Score: 91/100
Hrvoje Baković is a small producer on the island of Brač. Baković gets Pošip grapes from the island of Korčula for this wine. There are notes of pineapple, lemon, lime, and mineral notes. It's fresh and fruity with a wonderful tanginess and just a touch of aged notes and a persistent finish. We had this a year ago and it's showing better after some time in the bottle. Score: 89/100
Bibich is one of the big names in Croatian wine, they export a lot of their wine, especially to the USA. The Bibich BB is a brand new bottling from the winery, it's made from the indigenous grape Babić. There are notes of plum, meat, Mediterranean herbs, and a touch of violet in the glass. It's ripe, rich and generous on the palate. The spicy finish with firm tannins adds up to a beautiful Mediterranean red wine. Score: 90/100
* We also recommend the latest vintage of Bibich Bas de Bas 2015. It's an old-world style Syrah with impeccable drinkability.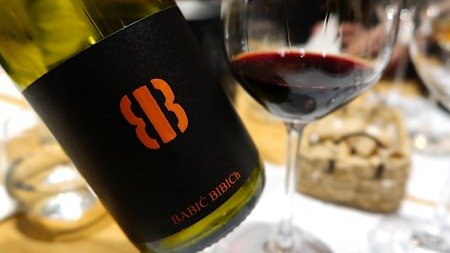 We've written about this beautiful wine before and it showed well again on this trip.
This macerated Maraština (Rukatac) flaunts an arresting golden hue and flavors of cherry, citrus, cedar, caramel, and an array of Mediterranean herbs. There's a lot of power coming from the acidity and minerality. It will be hard to tell if this is a white, rosé or red wine in a blind tasting. A chameleon wine that will surprise nearly every wine lover. Score: 92/100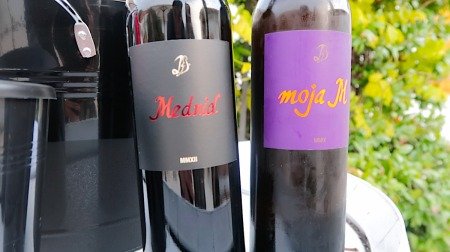 Saints Hills, E.T. Dingač 2011
A barrel selection of wines from a special vintage of Dingač. The Saints Hills E.T. (Ernest Tolj) Dingać 2011 was bottled and sold off in an auction for charity. It is rich and has Bordeaux-like flavors and silkiness coupled with the structure and tannins of Plavac Mali. Notes of black cherry, licorice, rose petal, and oak. It's full-bodied, plush, and highly polished. The tannins are sweet and biting which guide the long finish. Some may complain that this tastes a little too international, but you can't deny the high quality of the wine. Score: 94/100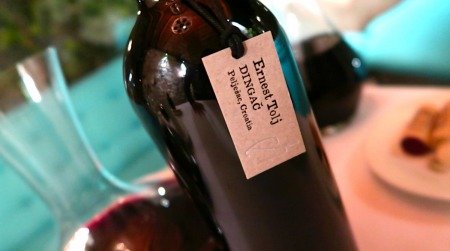 The finest selection of
Croatian wines available at:

Shipping is available EU-wide and to the UK.
************
    Do you want to try Croatian wines?
If you're looking to savor the exquisite flavor of Croatian wines, look no further than wineandmore.com. With an abundance of options from different winemakers, it's easy to find exactly what your palate desires. Not sure which bottle is best for you? Try out one of their curated wine cases and discover the perfect vintage for any occasion!
************
Want to learn more about wine?
Are you ready to discover the wonderful world of wines? Come join us at wineandmore.com and let's explore the incredible selection of delicious wines together! We can't wait to share our passion for wine with you!
---
We were guests of the Grand Cro Association which provided for meals and accommodation. Please note that the opinions expressed in this article are unsolicited and have not been paid for in any way by governmental bodies, enterprises, or individuals. We do not sell editorial content as that would destroy the legitimacy of our reviews and the trust between Exotic Wine Travel and its readers. On occasion, we extend the option of purchasing the wines we review or/and the products we spotlight. Some of these product links are set up through affiliate programs, which means Exotic Wine Travel gets referral credits if you choose to purchase these items via the links we provide.