Goggiano, 'Brunot' Grignolino d'Asti 2018
Reading Time: [est_time] Hello! Welcome to As Drunk by Exotic Wine Travel, a weekly column where we feature interesting wines that we encourage you to seek out. The reviews featured in this series may be written by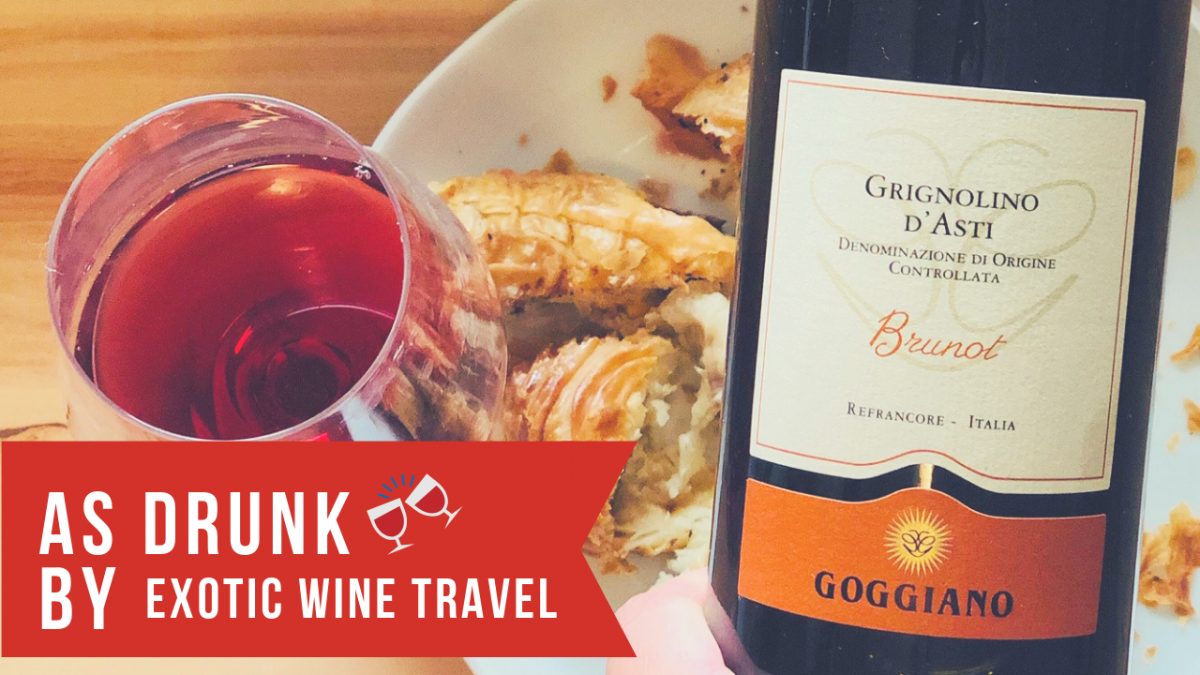 Reading Time: 1 minute
Hello! Welcome to As Drunk by Exotic Wine Travel, a weekly column where we feature interesting wines that we encourage you to seek out. The reviews featured in this series may be written by either one or the both of us. The featured wines can be from obscure or well-known wine regions. We hope that these wine recommendations will keep you gastronomically curious and your palate invigorated!
[ap_spacing spacing_height="35px"]
Goggiano 'Brunot' Grignolino d'Asti 2018
Grignolino, a local variety from Monferrato in the Piedmont wine region, is commonly made into light-colored, low-alcohol, aromatic, and easy-drinking wine. I've tasted several examples of Grignolino from Piedmont and also from Heitz Cellar in Napa Valley; all of them fit into the same classic profile: nice and joyful wine with something missing in the mid-palate, and then the astringent and firm tannins kick in in a surprising way.
The Grignolino d'Asti made by Goggiano Winery is arguably one of the best examples of Grignolino. Goggiano is a family winery that works with 20 hectares and produces about 100,000 bottles every year. The Grignolino (and its Ruché comes a close second) might be the most memorable wine in the Goggiano's portfolio.
Named after the man who manages the vineyard, there is nothing more that I want from Goggiano 'Brunot' Grignolino d'Asti 2018. The nose is Pinot Noir-like but with a strong floral aspect: redcurrant, red cherry, and blueberry, underlined by fresh garden herbs, rose, and hyacinth. On the palate, it has more mid-palate expression than the other Grignolino wines I've tried. The palate's lives up enough to to the nose's intensity. The tannins are controlled: not dry, not flavorful, just there to deliver a refreshingly clean finish. The wine is balanced and drinks well at 13.5% alcohol with lots of fruit quality. The finish is short but exits on a light-footed note.
This wine would be absolutely fitting on a warm summer afternoon.
The local retail price is 8 euros.
Food pairing advice: Go for a salty and savory pastry that can lend broadness to the wine's mid-palate.
Score: 90/100 (You can find out more about our scoring system on the WINE RATING page.)
[ap_spacing spacing_height="20px"]
More Italian Wine Recommendations:
[ap_spacing spacing_height="35px"]
---
Please note that the opinions expressed are our own and have not been paid for in any way. We do not sell editorial content as that would destroy the legitimacy of our reviews and the trust between Exotic Wine Travel and its readers. On occasion, we extend the option of purchasing the wines we review or/and the products we spotlight. Some of these product links are set up through affiliate programs, which means Exotic Wine Travel gets referral credits if you choose to purchase these items via the links we provide.