How Do Top Croatian Wines Fare Against Italian Wines?
Reading Time: [est_time] In 2016, we spent three months in Croatia; and we'll be returning to the country again in 2017 for a few more months to finish up the research and writing for our latest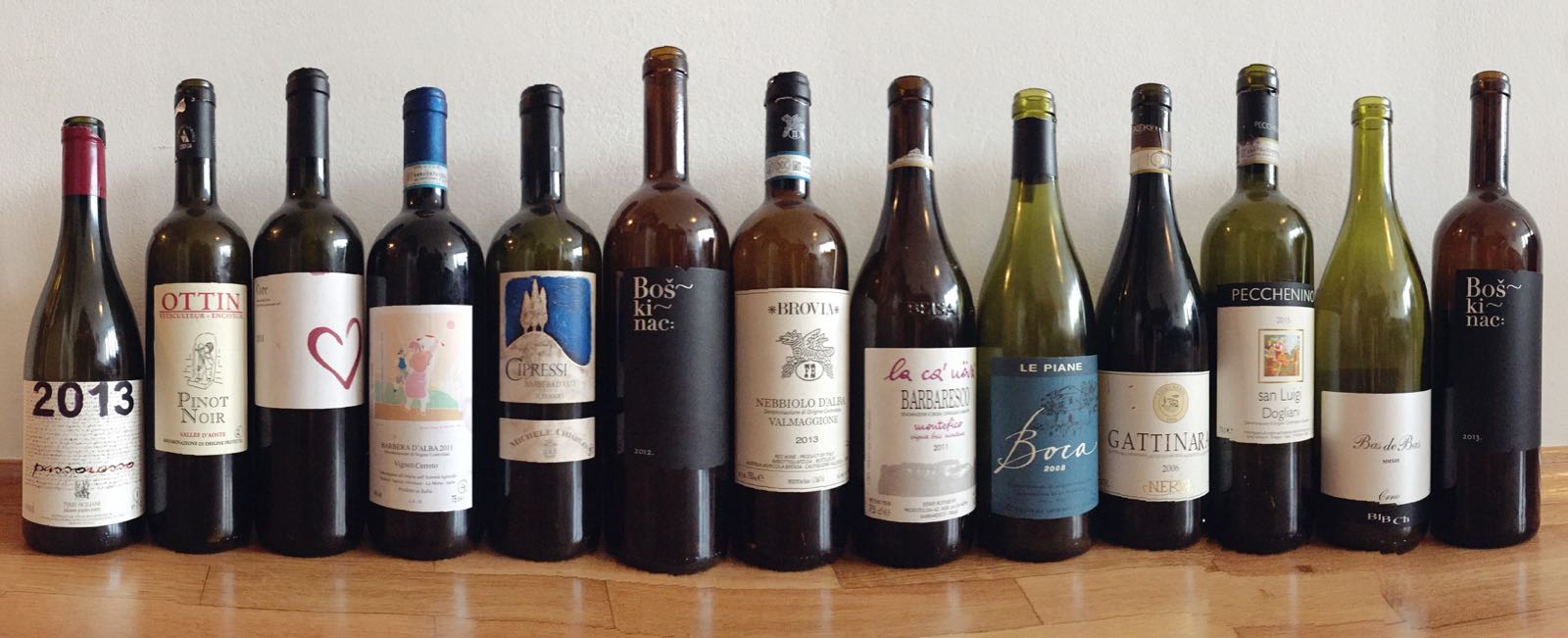 Reading Time: 9 minutes
In 2016, we spent three months in Croatia; and we'll be returning to the country again in 2017 for a few more months to finish up the research and writing for our latest wine book entitled Cracking Croatia. During our stay, we wanted to organize a special tasting session for our Croatian friends, as excellent Italian wines aren't exactly accessible in the country. With some heavy lifting research by Matt and help from our Italian friend Stefano, we ordered a case of Italian wines from Stefano's wine shop called La Vite Turchese in Barolo. Since we were in the European Union, it was a fuss-free process to ship the wines from Italy to Croatia.
Within a week, the case of wines was delivered. Matt was so excited about the wines that, during the time between the arrival of the wines to when we had our tasting, he was taking the bottles out of the box, looking at them, patting them, then slipping them back into the box for a few times a day. And this entire process of adoration happened every day until the momentous evening when we finally got to drink the wines.
Then, Charine had an idea. Why not make a game out the session? Why not create a mini challenge? She thought it'd be great to present a few examples of the finest Croatian wine alongside the Italian wines. She reached out to two famous Croatian producers that we personally respect and they agreed to participate. It was decided that the Croatian wines would be tasted blind; we wouldn't mention that they are Croatian wines but merely state that the wines are non-Italian.
The Big Night: Vino Rosso Versus Crno Vino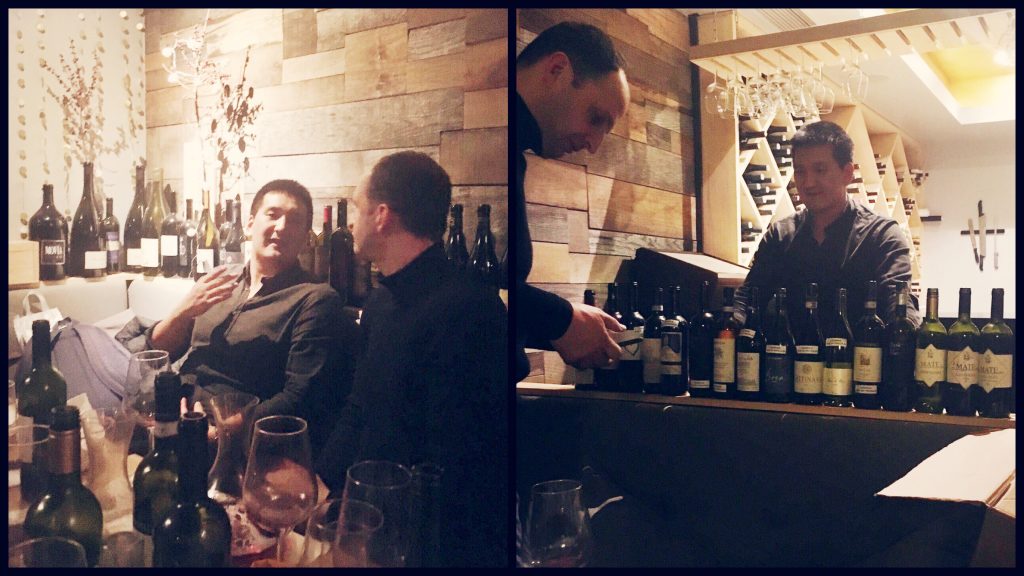 Flight 1: Light Italian Reds
1.  (Vini Franchetti) Passopisciaro, Passorosso 2013 – Sicily, Italy    [Vinous: 90 Points]
Made from Nerello Mascalese grapes, sustainably farmed from 70- to 100- year-old vines that are grown at an altitude of between 500 and 1000 meters on the slopes of Etna. Aged for 18 months in large oak barrels. 
Wild yet subtle. A perfumed nose of red berries, fresh Mediterranean herbs, smoke, and earth. A lean but expressive palate delivering the flavors suitably with medium-plus acidity and soft tannins. This is an honest wine that captures the charm of Etna well with its smoky and slate notes.
2.  Ottin, Pinot Nero 2013 – Valle d'Aosta, Italy
This is the wild card of the tasting as we have no prior experience with Pinot Noir from Valle d'Aosta. Ottin is one of the most well-known producers in Valle d'Aosta. Made from organic grapes planted on steep, south-facing terraces at 590 meters above sea level.
This wine is humble on the nose and theatrical on the palate. Flavors of barnyard, red berries, pine, and grass. It has medium-plus acidity, a light tug of tannins, and an expressive mid-palate spike. On the end palate, the wine takes a swift turn and displays some spicy notes. At a shop price of €18 (in Italy), this wine is a steal for the experience it delivers. We're intrigued and look forward to tasting more Pinot Noirs from Valle d'Aosta.
3.  Montevetrano, Core 2014 – Campania, Italy    [Vinous: 90 Points]
We've had dense and highly structured Aglianico based wines, as well as lighter and fruity examples. This is the entry-level red from a famous producer in Campania. We have no idea what to expect from this wine.
This has a dark hue and a dense body, so it doesn't fit the theme of this flight. An immediate sign of a warmer climate wine with flavors of raisin, plum, black cherry, mocha, cardamom, and licorice. The aroma is intriguing, with a whiff of blood and iron—like a blue rare steak. The tannins are firm and sandy but not harsh. Impressive structure and a good balance between fruit and spice that seem to hint at us: Please go order another plate of pršut (Croatian dry cured ham). The perfect bold wine to have on a cold day, but a waste to be consuming it right now at such a young age; this will be spectacular with a few more years of bottle aging.
Thoughts on Flight 1, Light Italian Reds:
The Pinot Noir is the favorite of the majority. But Matt has a differing opinion: he enjoys the Etna Rosso most. However, other people in the group find that wine light, simple, and even a tad rustic. The third wine, which is an Aglianico blend, has its supporters as well. One of our friends likes the wine so much that he wants to keep the bottle close to him the whole evening. When the server tries to clear the bottle, he snatches it back immediately and it remains by his side for the rest of the evening.
Flight 2: Barbera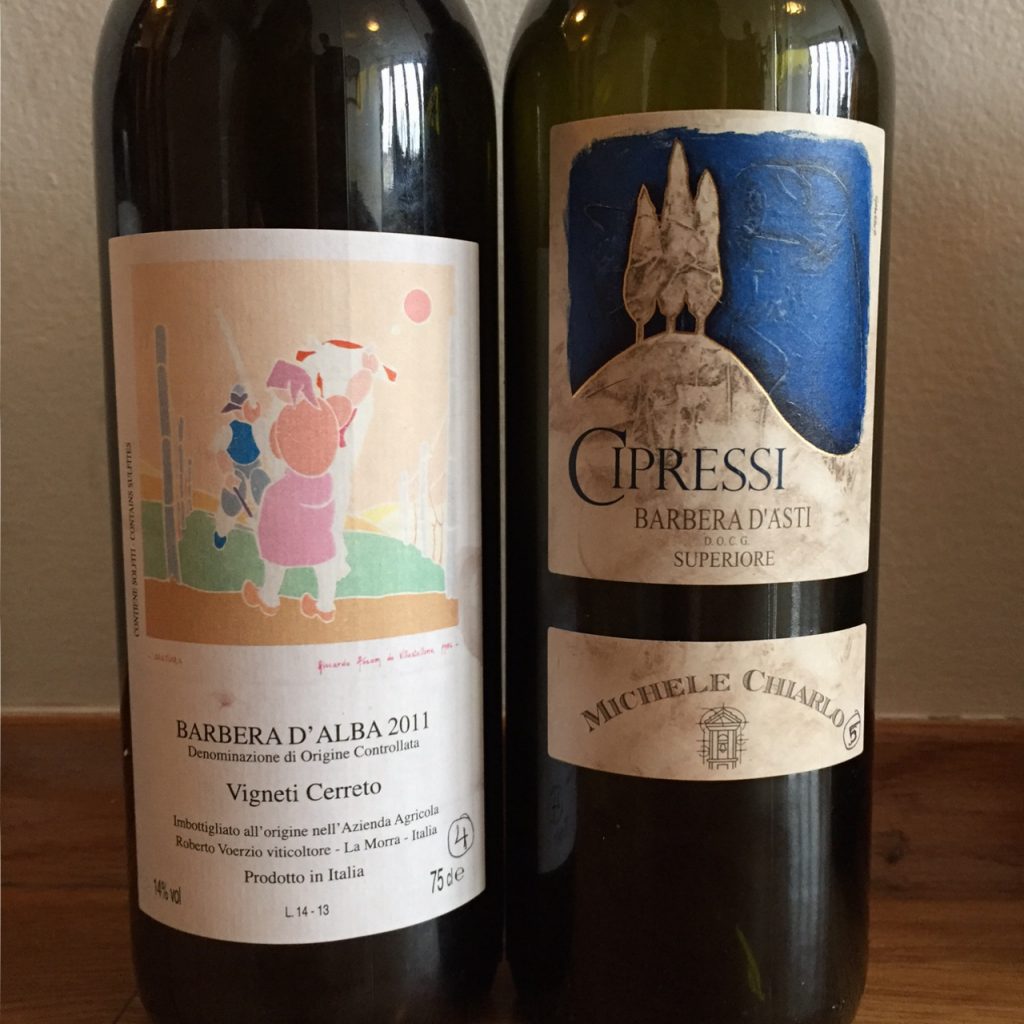 4.  Roberto Voerzio, Barbera d'Alba, Vigneti Cerreto 2011 – Piedmont, Italy    [Vinous: 89 Points]
From a renowned producer in Piedmont. Fermentation in steel tanks; aged for 12 months in 30% new and 70% used oak barrels, then transferred to steel tanks for eight months of further aging before bottling.
Relatively full and fleshy, compared to the other Barbera wines we've had. Flavors of both red and black fruits, chocolate, clove, and sweet cedar. A clear trace of mineral characteristic lingers. Satin-like finish with soft tannins. A great food wine that makes Charine crave an Osso Buco (a Milanese specialty of braised veal shanks).
5.  Michele Chiarlo, Cipressi, Barbera d'Asti Superiore 2013 – Piedmont, Italy    [Decanter: 90 Points]
Aged for one year in cask, followed by aging in bottle for at least nine months.
Young and oaky. The ripe fruitiness shines through in this Barbera. Flavors of cranberry, cola, maraschino cherry, and vanilla. Medium bodied with bright acidity, a combination that's asking for a solid food companion. 
Thoughts on Flight 2, Barbera:
This isn't a fair comparison as the wines are from different vintages. Everyone prefers the former to the latter. That's not to say that the Barbera d'Asti isn't a good wine, it's just that the Barbera d'Alba has a higher drinkability right now.
Flight 3: Surprise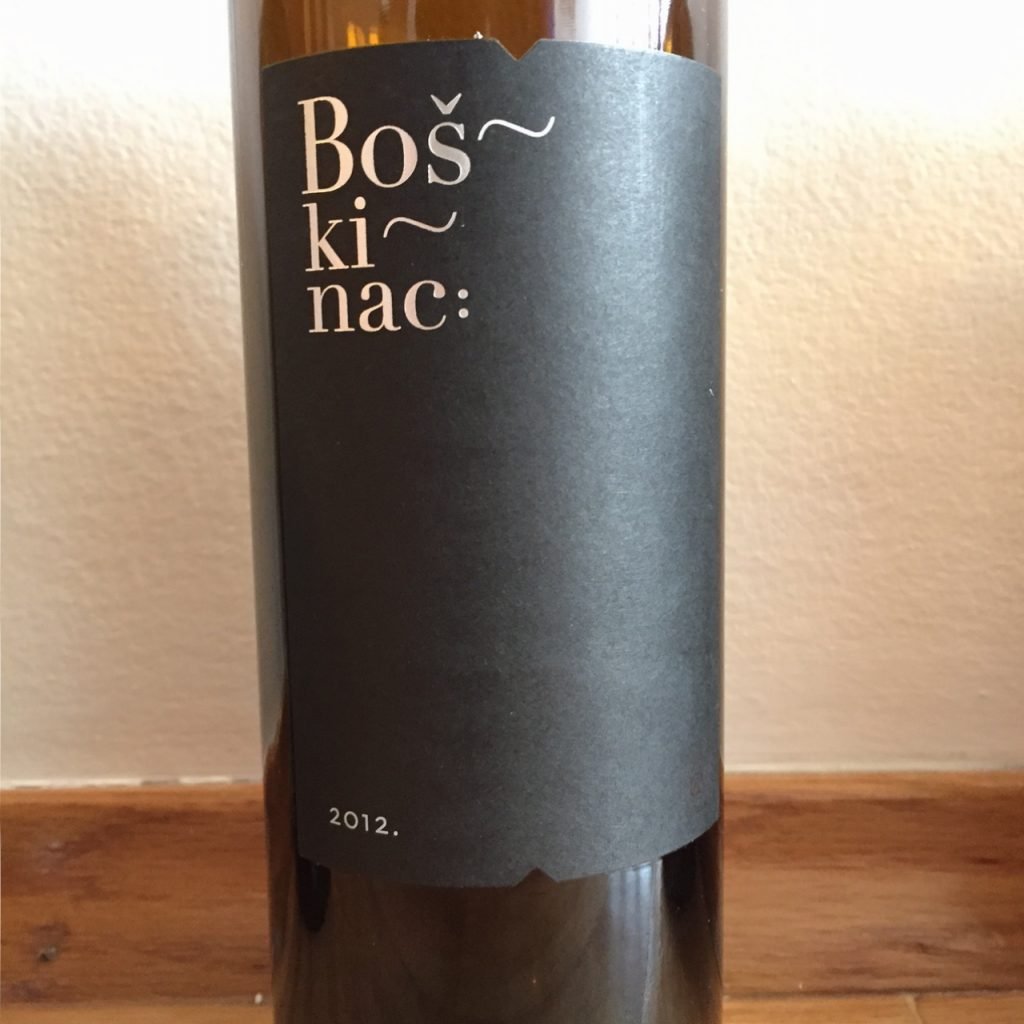 6.  Boškinac, Cuvée 2012 – Kvarner, Croatia 
Available at wineandmore.com
Note: This wine is tasted blind. A blend of Merlot and Cabernet Sauvignon, aged in French barriques for 24 months. We've had this wine several times and it always shows up well. In fact, the Boškinac Cuvée 2007 is on our 'Top 10 Wines of Croatia' list.
This has an opulent bouquet that gets practically everyone to sit up. Aroma characteristics include red pepper flakes, tobacco, leather, bonfire, red berries, and cassis. Full in the mouth and delivers a touch of heat with more emphasis on dried fruit notes. It finishes off with an extremely long, sweet cedar characteristic. 
Thoughts on Flight 3, Surprise:
It's fun to present this blind, as it validates the pride of our Croatian friends and our trust in the fineness of Croatian wine. The table is full of "ooouuuhhsss" and "aaahhhhssss" after the first sniff of this wine. The wine has a lot of aging potential. But as it is now, even without the future tertiary complexity, it's already a crowd pleaser. It has a lot to live up to as this is a prequel to the Nebbiolo wines. So let's see how the night goes.
Flight 4: Nebbiolo From Langhe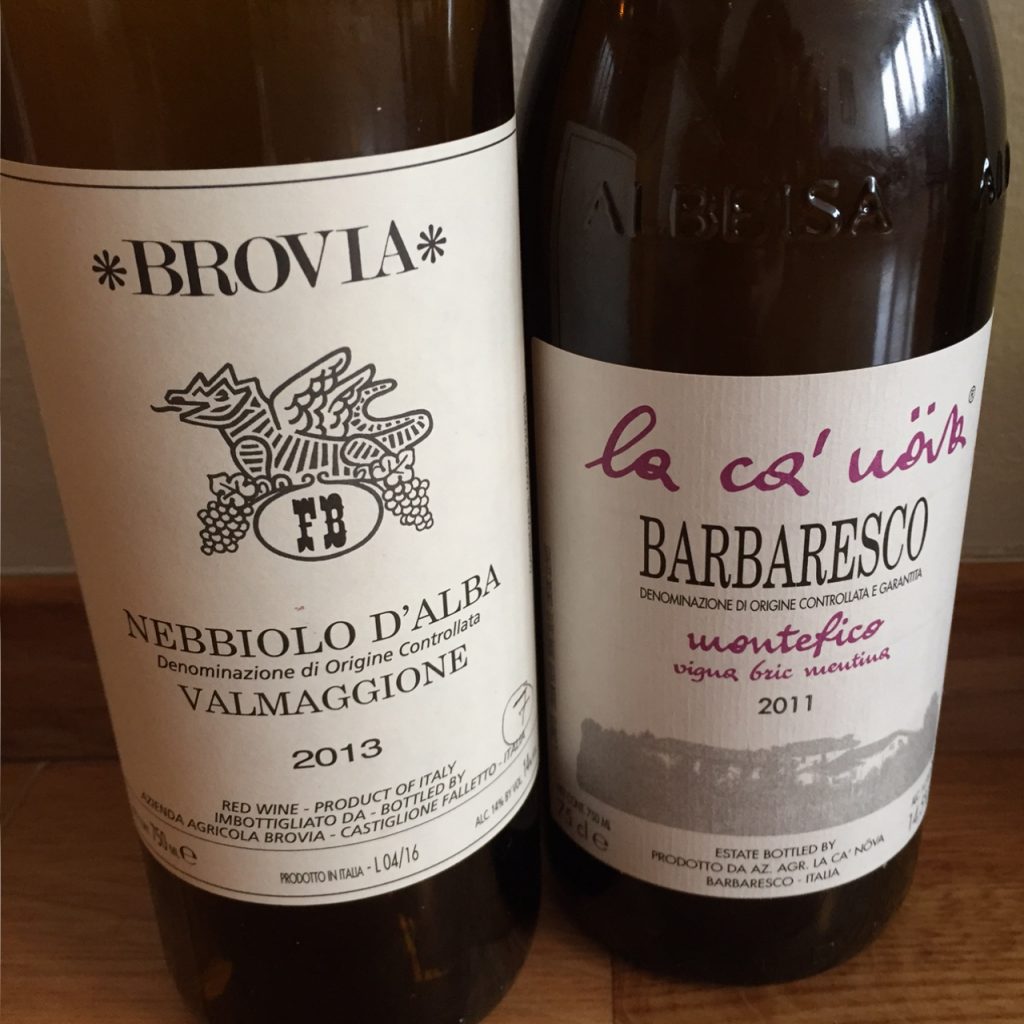 7.  Brovia, Nebbiolo d'Alba, Valmaggiore 2013 – Piedmont, Italy 
A Brovia Goblet Sue Barolo 2008 was what turned Matt into a Barolo lover.
Grown on south-facing vineyards with calcareous and sandy soil, at 350 meters above sea level. No pesticide or herbicide is used in the vineyards; spraying is done with only copper and sulfur, and using manure as a natural fertilizer. No fining or filtration. This comes from Valmaggiore in Roero, an area known for wines that are structured and tannic, so much so that they are sometimes compared to the wines from Barolo.
The predominantly sandy soil of the vineyards imparts an immediate fresh and lively impression, indicating an approachable and delicious Nebbiolo from an esteemed producer. This is the entry-level red from Brovia. Notes of violet, rubber, cherry, cranberry, blueberry, mint, black truffle, and tar. It has all the hints of what makes a great Nebbiolo and is highly drinkable for a young wine. The tannins are fine-grained but the end palate is still pleasant. The acidity is high which makes the finish seems a bit lean. This is a feisty fling of a wine, which makes us crave an equally raw and wild dish from Piedmont called Carne Cruda (raw beef).
______________________________

"I eagerly await this wine's [Brovia Nebbiolo d'Alba Valmaggiore] release every year—it's a sentimental favorite and truly one of the best values in Piedmont."

David Lynch from SommSelect

______________________________
8.  La Ca' Nova, Barbaresco, Vigna Bric Mentina Montefico, 2011 – Piedmont, Italy    [Vinous: 94 Points]
From the Montefico vineyard in the village of Barbaresco. Aged in Slavonian oak for 22 months.
The nose is dominated by rose characteristic, and a good amount of smoke, tar, red berries, blueberry, and chalky notes. Big and ripe on the palate with powerful tannins that support the incredibly precise, trigonal structure. Flavors lean toward dried berries and savory notes in the mouth. A wine that will go great with a Cherasco snail dish.
Thoughts on Flight 4, Nebbiolo From Langhe:
This is a divisive set of wines. The entire table splits equally between the two wines when asked which one they prefer. The Nebbiolo d'Alba is highly drinkable and shows more finesse than the Barbaresco, which is drinking well for its young age with alluring ripe and dense flavors. This flight reveals a lot about the individual preferences when it comes to red wine.
Flight 5: Nebbiolo From Lesser-Known Areas
9.  Le Piane, Boca 2008 – Piedmont, Italy    [Vinous: 96 points]
A blend of 85% Nebbiolo and 15 %Vespolina grapes from the old vines of Le Piane. Fermentation happens with natural yeast in open steel tanks and large wood casks. Three years of aging in 2,000- to 3,000- liters Slavonian wood casks.
Stand up and cheer, that's literally what's happening as we taste this wine. A beauty packed with layers of nuances, gently unveiling itself as you wait and pursue it over time. The nose appears to be from a warm year and already packed with tertiary notes: stone fruit, black fruit, hazelnut, mushroom, tar, rose, forest floor. Yet in the mouth, it defies the initial impression with its fresher-than-actual-age flavors of chocolate, violet, juicy cherry, cranberry, and white pepper. A wine of great focus, power, playfulness, and elegance. This is a wine that has the potential to move a camp of non-Nebbiolo believers.
______________________________

"This [Boca] was one of the most fascinating wines at the tasting. Long skin contact and three-year aging in Slavonian oak makes this Nebbiolo really stand out from the crowd. Cloves and sweet spices on the nose. Darker and riper fruits on the palate that feels so silky, but powerful and rich."

Martina Milicevic from Pretawine

______________________________

 
10.  Nervi, Gattinara 2006 – Piedmont, Italy    [Wine Spectator: 93 points]
Made with 100% Nebbiolo grapes (or Spanna as it is called in this part of Piedmont) grown on a combination of clay and volcanic gravel at an elevation of 280 to 400 meters above sea level. Fermentation in stainless steel vats at controlled temperature. Aged for five years in oak barrels, with further aging in cement vats and in the bottles for at least a year.
Another beauty from the oldest estate in Gattinara. At 10 years old, it's still a teenager of a Nebbiolo. A captivating bouquet of forest floor, spicy salami, tomato leaf, cranberry, cherry, rubber, and smoke. On the palate, it opens to more earthy notes with a nice balance of fresh and fruity primary flavors. Silky texture with fine-grained tannins and expressing a lot of vitality on the palate. An exquisite wine that deserves to be paired with an equally exquisite dish of Piedmont: Tajarin al ragù.
Thoughts on Flight 5, Nebbiolo From Lesser-Known Areas:
These are the headliners of the evening. This is the first time that everyone's tasting a Boca and no one's disappointed. The Gattinara is the oldest wine of the session and is aging beautifully, showing many more peak years ahead. The table is, again, split half-and-half when it comes to the "winner of the round", but there's no doubt that these two are the highlights of the evening—just as we've planned.
After having a sip of the Boca, Croatian wine critic Saša Špiranec enjoys the wine so much that he feels compelled to stand up and raise a toast to this charm in a glass. A completely justified response; the Boca is indeed special.
Flight 6: The Finale, Expect the Unexpected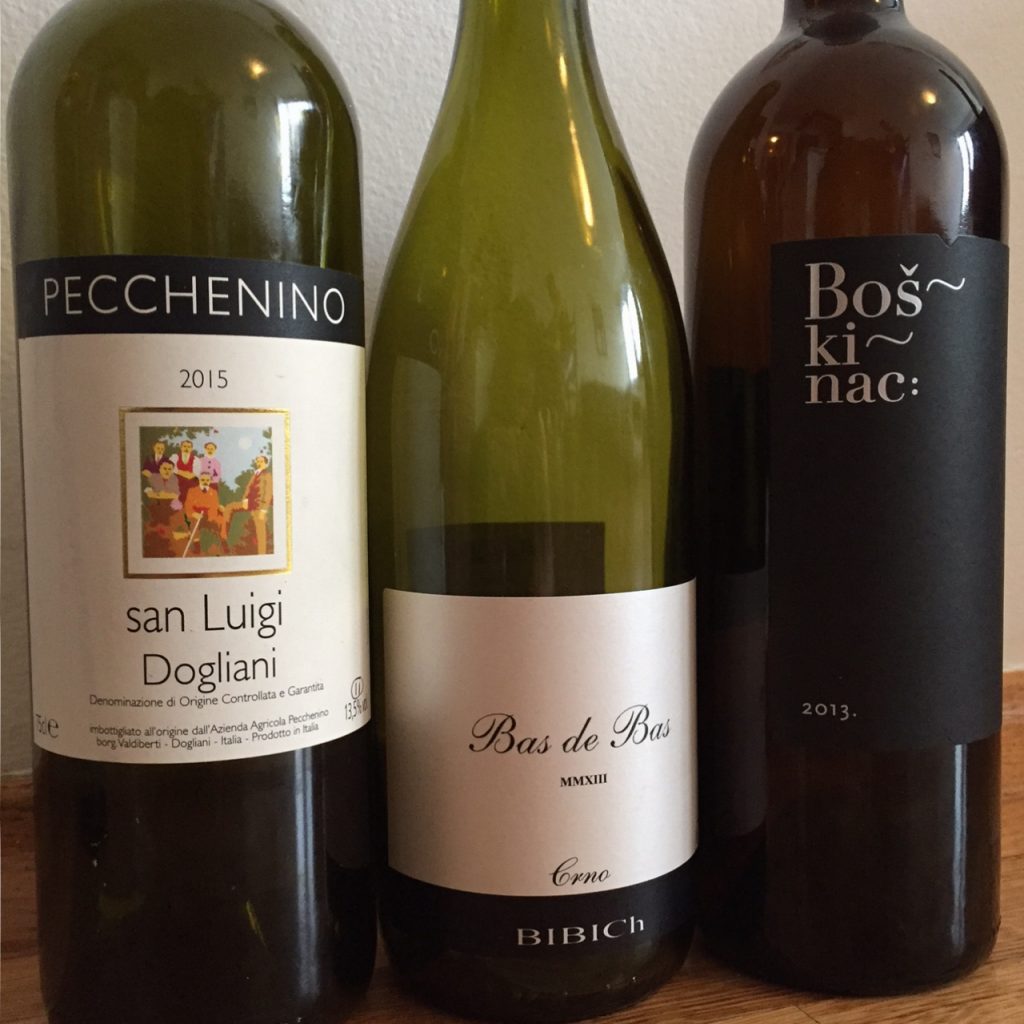 Pecchenino, Dogliani, San Luigi 2015 – Piedmont, Italy    [Wine Spectator: 90 points]
Note: There's a mistake made here; this wine should have been served earlier in the tasting. 100% Dolcetto grapes harvested from Dogliani in Piedmont, one of the best sites for the Dolcetto variety.
Bouquet of sour cherry, rhubarb, licorice, pumpkin spice, and earth. Light body with tangy and refreshing delivery on the palate. A  pleasant food wine that many people would like.
Bibich, Bas de Bas Crno 2013 – Dalmatia, Croatia 
Available at wineandmore.com
Note: This wine is served blind. Bas de Bas is one of the cult wines coming out of Croatia.  A blend of predominantly Syrah and a touch of Merlot. Aged for 24 months in French oak barrels.
Full-bodied, rich, and dense. This wine sashays into the evening with a thunderstorm: it is swanky and stern simultaneously. Notes of wild game, black plum, blackberry, black cherry, tobacco, and cedar. Luscious texture with a long finish.
Boškinac, Cuvée 2013 – Kvarner, Croatia 
Available at wineandmore.com
This cuvée is a blend of Merlot and Cabernet Sauvignon. Bouquet of red cherry, red plum, cranberry, pencil lead, earth, and oak flavors. It is rich and slightly spicy on the palate. This wine has an exceptionally long finish. Great structure and flavor intensity that reveal its high aging potential; but as of right now it's still a tad young to be consumed—the flavors need a bit more time to melt together, but all the elements are here for this to be great.
Thoughts on Flight 6, The Finale:
Matt's idea is to serve the Dolcetto as a refreshment, before hitting the big-bodied Bas de Bas in a blind tasting. Charine thinks it's better to offer a typically cheerful Dolcetto as the first wine of the evening. After tasting the Dolcetto, the group agrees with Charine. It's challenging to reassess a light-bodied, fruity wine after the palates have gone through a myriad of ages and complex flavor profiles.
When the Bas de Bas is served, everyone's intrigued by the luxurious bouquet; it is one of Croatia's most expensive wines. Many people can tell from the flavors that it's a wine from Mediterranean climate.
The Boškinac Cuvée 2013 is a bonus wine that rounds up the night with its deliciousness and a hint that the best is yet to come—for the wine itself and for all of us.
Conclusion
At the end of the night, Darko Vozab (the #2 Vivino user in Croatia) says it best, "Too much good wine."
This entire flight is fantastic; every single wine displays its own set merits.  All the Nebbiolos are charmers. The Pinot Noir is the biggest surprise. The Etna Rosso and Aglianico are the most controversial.
All of the Italian wines are great, but what about the Croatian wines?
Both producers Boškinac and Bibich are highly regarded in Croatia, and their wines are right there with the best of the flight, even next to the big Bs of Italy. So živjeli to that, and saluti to more cross-cultural sharings through wine!
Here's a video review of the wines:
Thanks to Sherry's Wine & Bites in Zagreb, Croatia for providing a venue for us to taste all of these wines.
The finest selection of
wines
available at:

Shipping is available EU-wide and to the UK.
************
    Do you want to try Croatian wines?    
If you're looking to savor the exquisite flavor of Croatian wines, look no further than wineandmore.com. With an abundance of options from different winemakers, it's easy to find exactly what your palate desires. Not sure which bottle is best for you? Try out one of their curated wine cases and discover the perfect vintage for any occasion!
************
Want to learn more about wine?
Are you ready to discover the wonderful world of wines? Come join us at wineandmore.com and let's explore the incredible selection of delicious wines together! We can't wait to share our passion for wine with you!
You May Also Enjoy
Buyer's Guide: Croatian Wines in the USA
Zagreb VINOcom: Gems from Croatia's Largest Wine Show
Can You Tell a Burgundy from a Croatian Pinot Noir?
Understanding Croatian Wine with Cliff Rames
The Original Zinfandel from Croatia
The Boškinac Cuvée 2012, Boškinac Cuvée 2013, and Bibich Bas de Bas Crno 2013 were sponsored by the proprietors. (Thank you, Boris Šuljić and Alen Bibic!) However, the opinions expressed in this article are our own and we are under no obligation to give favorable reviews.