Matalj Kremen Kamen: A Vertical Tasting
Reading Time: [est_time] Recently, we were fortunate to take part in a rare vertical tasting of what is widely considered to be Serbia's finest red wine. We were elated by the opportunity as it isn't every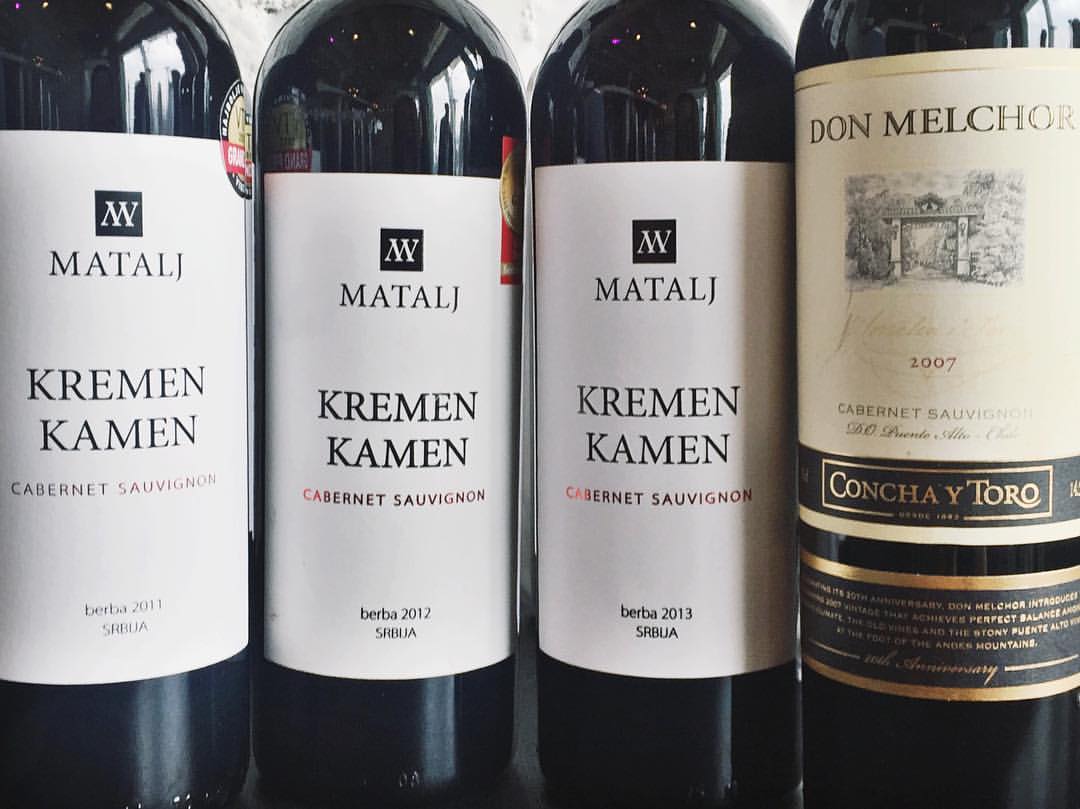 Reading Time: 5 minutes
Recently, we were fortunate to take part in a rare vertical tasting of what is widely considered to be Serbia's finest red wine. We were elated by the opportunity as it isn't every day that one gets to taste all the vintages of this wine side by side. This wine isn't a stranger to our regular readers: the Matalj Kremen Kamen appeared in our Top 16 Wines of 2016 and in our article about the amazing terroir of east Serbia. The Kremen Kamen wine is the premium line of Matalj Vinarija with a limited production of 3,000 bottles per year in selected vintages. To date, there are only three vintages produced: 2011, 2012, and 2013.
Matalj Kremen Kamen is a single-vineyard wine. The berries are sourced from the Kremen vineyard. After vinification, the wine is divided and aged in American, French, Hungarian, and Serbian oak barrels of 225-litre capacity for around 19 months. After the period of aging in different oaks, the wines are taken from all the barrels and blended to give the best and most holistic expression of the Kremen vineyard.
Matalj Winery
Matalj is owned by Nikola Mladenovic "Matalj", who makes wine with the assistance of superstar Serbian wine consultant Mladan Drogojlevic. The first vintage of Maltalj Vinarija was released in 2008.
The winery is located in Negotin, in the far eastern reaches of Serbia and near the Danube river. From Matalj's vineyards, you can see both Romania and Bulgaria across the river. In the recent years, Negotin has gone through commercial neglect and financial hardship. Nikola had returned from Belgrade to his hometown with the hope of restoring the spark of Negotin, which was once dubbed "the cultural center". We too hope that with the success of Matalj winery, more attention will be given to this beautiful part of Serbia. You can take a peek at Negotin and Matalj's vineyards in the video below.
Note: Video is in the Serbian language.
Matalj produces 60,000 bottles every year. The current portfolio includes two whites, a Sauvignon Blanc and a Chardonnay; one rosé, a blend of Merlot-Cabernet Sauvignon-Gamay; two reds, a Cabernet Sauvignon called Kremen and another called Kremen Kamen; and a dessert wine, made of Black Tamjanika grapes. There are plans for expansion in site capacity, production size, and portfolio. A new building for the winery is slated for completion by 2017. New vineyards have also been planted. "If you're not growing, you're dying," Nikola told us during our visit to his property.
The Moment of Truth
After our first meeting last year, Nikola soon became a good friend of ours. Since we were back in Belgrade, Serbia, we wanted to have a proper catch-up with Nikola over lunch and of course, taste his wines again. Wait a minute, taste? No, drink! It's always hard to taste and spit the Matalj wines, even at trade shows. Nikola was exceedingly generous to offer samples of all three vintages of his magnum opus. The 2011 and 2012 vintages are completely sold out and Nikola has only a few bottles left for his personal collection. Since the tasting was something of a rarity, we decided to make the best use of it and have Igor Lukovic, the editor-in-chief of Serbian magazine Vino & Fino join us for the afternoon.
_____________________________

This wasn't the NBA versus amateurs; all of the wines belong in the big leagues.

_____________________________
Our contribution to the session was one of Chile's greatest red wines: Concha y Toro, Don Melchor, Cabernet Sauvignon, 2007. This wine has been listed eight times on the Wine Spectator's Top 100 list, and the 2007 vintage scored 95+ points from The Wine Advocate by Robert Parker. We were anxious to see how the Matalj Kremen Kamen would perform next to the Chilean heavyweight.
We love Matalj wines, and we love Kremen Kamen. So much so that we are always talking about it. But are we biased? Is the Serbian red wine ready for the world stage? How is the Kremen Kamen going to show up next to a Robert Parker-approved wine?
Those were the questions we had as we headed to lunch.
Before the tasting commenced, all the wines were decanted for one and a half hours. We took our time to chat about the Matalj estate and also gathered Igor's insights into the Serbian wine industry. Then the meat-fueled appetizers started pouring in, and the show was on.
None of the wines held back from showing the very best. The 2012 Kremen Kamen came out swinging. The 2011 vintage was shy at first but opened up and came close to 2012 in terms of quality during the course of the evening. The newest vintage 2013 was noticeably fruitier and expressed a high level of drinkability. All three vintages were great Cabernet Sauvignons with medium body and vibrant acidity. They were packed with thoughtful subtleties that were led out by precise structures. All of them also showed the ability to go the distance and certainly backed up the reputation of being one of Serbia's finest red wines.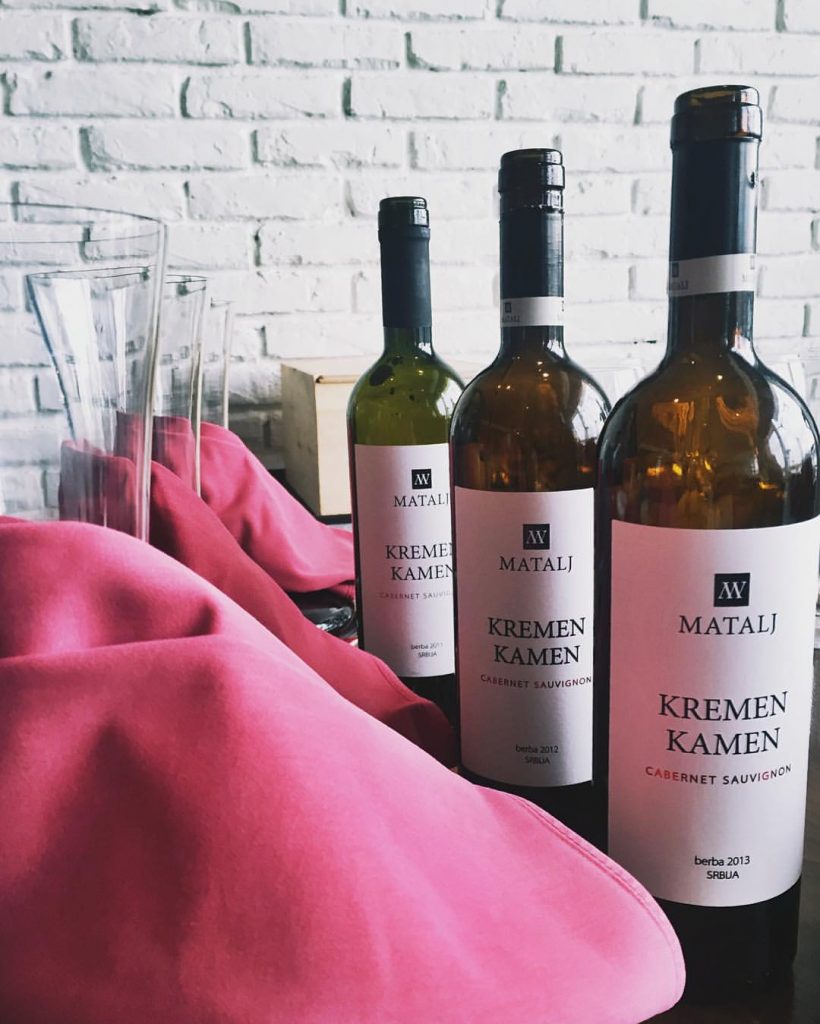 And how did Kremen Kamen stack up to a Chilean Cabernet Sauvignon that has a long pedigree? The winner of the session was the Don Melchor. Bear in mind though that it wasn't a fair comparison since the wines were of different vintages and ages. However, the perfect balance between aged characteristics and fruit notes, the intense bouquet and flavors, and the fine-grained tannins of Don Melchor 2007 were a thing of dreams for the wine geeks. 
Not all was lost for Matalj. The Kremen Kamen put up a stunning performance. This wasn't the NBA versus amateurs; all of the wines belong in the big leagues.
The Wines
Matalj wines available for puchase at wineandmore.com
Powerful and elegant. Did we mention power? As it breathes, the bouquet constantly changes. Aromas of black fruit, plum, violet, tobacco, leather, sweet basil, and white pepper. Mineral-laced ripe fruit on the front palate, a spike of intensity on the mid-palate, and then the flavors goes down the esophagus with a huge presence. This isn't a big bodied Cab but the end palate packs power and the tannins are round and soft. A damn good wine that can compete anywhere in the world. Note that this is reticent at first and requires hours of decanting before showing its potential. 4.5/5
This is the most heralded wine of all the vintages. It was the overall winner at The Balkan International Wine Competition 2015 for the red wine category.
A wine that exudes depth and subtlety. A luxurious bouquet of ripe plum, black cherry, cassis, leather, black pepper, and tobacco. The beauty resides in how it spreads its wings on the palate, exhibiting broadness and length. The flavors are mouth-filling and held by a delineated structure. Amazingly long end palate put forth by purity of fruit. This wine is still in embryonic form and has plenty of underlying structure and tannins to ensure many years of fine drinking. 4.6/5
The fruit attack is more vigorous in the 2013 than the other vintages. Bouquet of citrus, red fruit, blueberry, violet, eucalyptus, cedar, and vanilla. The tertiary aroma of leather is beginning to show up. Medium weight on the palate dominated by flavors of berries and green herbs. It has a lively mid-palate spike and grippy tannins that reinforce the good structure of this wine. Because of the decidedly mid-weight style by Cabernet Sauvignon standards, some people may overlook this wine. But the true grace lies in its preciseness and purity of fruit, perked up by beams of tannin and a minerally energy that shapes the spine. There is a lot going on underneath this friendly, young Cabernet Sauvignon. At such a tender age, it exhibits surprisingly high drinkability. 4.3/5
_____________________________

If we have to describe Matalj Kremen Kamen in one sentence, we would say that it's an alluring Cabernet Sauvignon with sternness in its structure and subtlety in its power.

_____________________________
Concha y Toro, Don Melchor, Cabernet Sauvignon 2007
A luxurious bouquet with intense old calfskin characteristic, plus some dried herbs, violet, roasted coffee beans, and earthy notes. The primary fruit aromas are still very much alive. On the palate emerge plum, blackcurrant, cumin, bay leaf, sage, dried tobacco leaf, and red jalapeno. The tannins are round and fine-grained. Precise, trilateral structure—big attack on the front palate and a gentle, persistent finish. The Don Melchor 2007 is currently exhibiting the perfect balance between primary and tertiary notes; the peak period has begun. 4.8/5
Last Word
If we have to describe Matalj Kremen Kamen in one sentence, we would say that it's an alluring Cabernet Sauvignon with sternness in its structure and subtlety in its power. Our final message to Nikola was: we hope that he can make the same impact on Serbian wine as what Don Melchor has made on Chilean wine.
Our friend Igor Luković also wrote about his tasting experience of Kremen Kamen vertical on his website Vino & Fino (article in Serbian).
The finest selection of
available at:

Shipping is available EU-wide and to the UK.
************
    Do you want to try Serbian wines?    
If you're looking to savor the exquisite flavor of Serbian wines, look no further than wineandmore.com. With an abundance of options from different winemakers, it's easy to find exactly what your palate desires. Not sure which bottle is best for you? Try out one of their curated wine cases and discover the perfect vintage for any occasion!
************
Want to learn more about wine?
Are you ready to discover the wonderful world of wines? Come join us at wineandmore.com and let's explore the incredible selection of delicious wines together! We can't wait to share our passion for wine with you!
---
Disclaimer: The ideas expressed in this article are personal opinions and are not associated with any sponsors or business promotions. The distinctions for our scoring system can be found on the START HERE page.