Slovak Tokaj: Tokajské Výber 6 Putňový
Reading Time: [est_time] Tokaj is one of the world's legendary wines, known as the wine of kings and king of wines. When it comes to sweet Tokaji, the Tokaji Aszú 6 Puttonyos is often the crown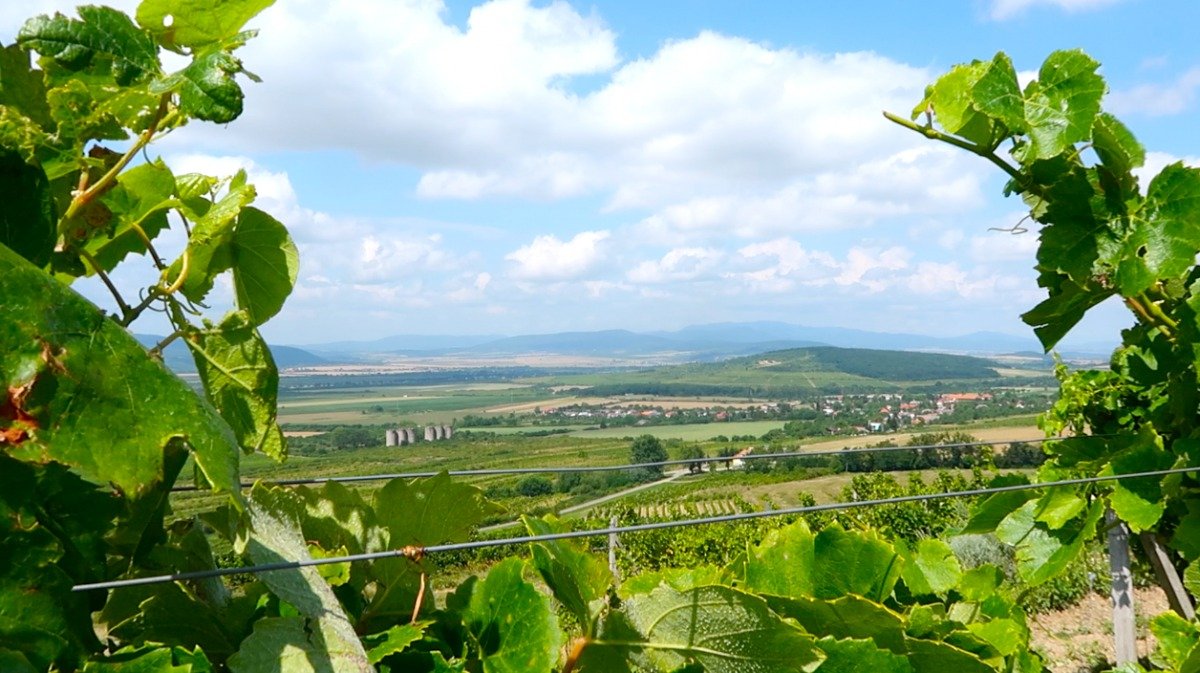 Reading Time: 4 minutes
Tokaj is one of the world's legendary wines, known as the wine of kings and king of wines. When it comes to sweet Tokaji, the Tokaji Aszú 6 Puttonyos is often the crown jewel in most producers' portfolios (in addition to Tokaji Eszencia). These wines are so intense and unique, they feel almost medicinal when drinking them.
This type of wine is made by using grapes infected with botrytis, which are shriveled and intensely sweet. The sweetness level of Tokaji was traditionally measured by how many baskets (puttony) of botrytized berries were added to the base wine. A Tokaji Aszú 6 puttonyos traditionally took six puttony of grapes to achieve the proper level of sweetness. The botrytized grapes aka Aszú berries are picked by hand, making these wines labor-intensive.
Most people associate Tokaj with Hungary and for good reason. If you've ever had the chance to sip on a sweet Tokaji, it was most likely from Hungary. A little-known fact is that this luscious sweet wine is also made across the border in Slovakia, where it's known as Tokajský Výber 6 Putñový.
Slovak Tokaj
A small part of Tokaj falls within the borders of modern-day Slovakia. The existence of Slovak Tokaj is highly controversial and Hungarians have disputed Slovakia's use of the name to the EU. Pushing politics aside, both sides of Tokaj show similarities.
The first and foremost is the volcanic soil. Slovak Tokaj producers possess long cellars that tunnel through the volcanic tuft. These cellars are humid and have the perfect conditions for the black cellar fungus Racodium cellare, which feeds off evaporated alcohol and keeps the air free of musty smells.
Many of the grapes are used on both sides of the border (Furmint, Hárslevelü/ Lipovina, and Sárgamuskotály/Yellow Muscat/Muškát žltý). The Hungarian side also has unique grapes like Kabar, Kövérszőlő, and Zetá. We haven't come across these in Slovak Tokaj, although there could be small isolated plantings.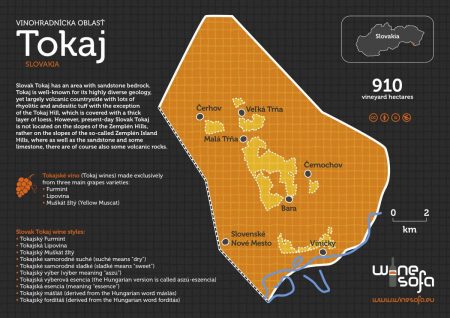 Info poster by WineSofa.eu
There are over 900 registered hectares of vineyard space in Slovak Tokaj but many claim that less than 50% of that is actually planted. Slovak Tokaj consists of seven villages as opposed to 27 in Hungarian Tokaj. There are seven larger producers in Slovak Tokaj in addition to several small, garage wineries.
Slovak Tokaj Nomenclature
WineSofa has put together an info poster to explain the different styles of wine in Tokaj. Winemaking laws are very similar in both parts of Tokaj. The nomenclature in both sides is different, which should be no surprise because the Slovak and Hungarian languages bear no resemblance to each other.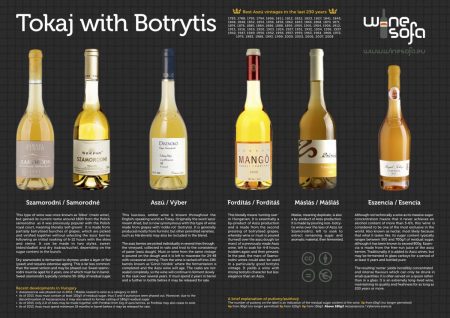 Here are terms that appear on Slovak Tokaj labels.
Tokajský = A wine from Slovak Tokaj. A wine from the Hungarian side is called Tokaji.
Suché/Sladké = Dry/Sweet
Samorodné = The same name as Szamorodni in Hungarian Tokaj
Výber = Aszú, the dried grape berry affected by botrytis
Putňový = Analogous to Puttonyos in Hungary, which are the traditional wood baskets used to collect Výber/Aszú berries
Forditáš = Analogous to Forditas in Hungarian Tokaj. A style of wine where Výber/Aszú skins are reused to make a second batch of sweet wines. Similar to the ripasso method in Italy.
Výberová Esencia = Analogous to Aszú Eszencia, which is a style that was officially discontinued in Hungarian Tokaj. It's sweeter than Výber Putñovy wines, yet lighter than an Esencia wine.
Esencia = Eszencia, the free run juice from Výber/Aszú berries. It runs strictly from the weight of the grapes and is collected via a tap at the bottom of a tank.
Tokaj: Differences in Style
Hungarian Tokaji might be more user-friendly to most of the wine drinking public. Wine geeks will probably be intrigued by the sweet wines from Slovak Tokaj, aside from the uniqueness factor. Among the wines of Slovak Tokaj, the Tokajský Výber 6 Putñový is sure to peak interest. 
There are some obvious differences in the styles between sweet Hungarian Tokaji and Slovak Tokajský. In general, the sweet Tokajský wines from Slovakia are more oxidative and "old-school" in style compared to Hungarian Tokaji. The sweet Slovak Tokajské wines are nuttier with toffee-like notes, similar to Tawny Port. What the wines share with their Hungarian counterparts is the fiery acidity that wipes the palate clean.
Slovak Tokajský Výber 6 Putňový 
We have included all producers of 6 Putñový wines in Slovak Tokaj with the exception of Chateau Vecsey – who chose not to show their wines. Chateau Grand Bari is another new project in the region but they have yet to release a Tokajský Výber 6 Putñový to the market. Unfortunately, these wines are not heavily exported, which means you will have to visit Slovakia to pick them up. 
Chateau Viničky Tokajsk

ý

V

ýber 6 Putñový 2009
The Chateau Viničky Tokajský Výber 6 Putñový 2009 is widely available in Tesco outlets throughout Slovakia. This wine has notes of dried apricot, walnuts, almonds, and lime skin. Very sherry-like on the nose. Concentrated on the palate. It's rich with nutty flavors. The acidity isn't searing like normal Tokaj but it is high. Natural gas and citrus-like finish. It isn't the most complex wine in this style but it is delicious. Score: 88/100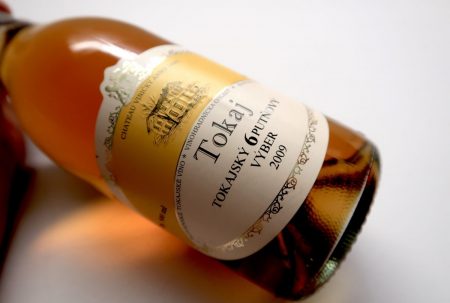 J&J Ostrožović  

Tokajský Výber 6 Putňový

 2003
J&J Ostrožović is one of the biggest names in Slovak Tokaj. It's still owned by the founder, Jaroslav Ostrožović. Jaroslav produces many different wines, including a reductive fresh style of sweet Tokaj, but he still prefers to make the traditional Tokaj wines.
The J&J Ostrožović Tokajský Výber 6 Putňový 2003 has a golden amber color. With 160 g/L of RS and 13 g/L of acidity, it's aged for five years in the barrel. Layers of fall leaves, apricots, orange peel, and tobacco make up the complex flavors. The wine is rich on the palate with fiery acidity and a spicy finish. Score: 93/100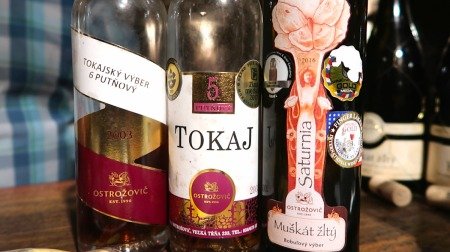 Tokaj & Co. 

Tokajský Výber 6 Putñovy 2006
Tokaj & Co. is another one of the big boys on the market. Their wines can also be found easily in Tesco outlets throughout Slovakia. The Tokaj & Co. Tokajský Výber 6 Putñovy 2006 is a blend of 65% Furmint, 25% Lipovina, and 10% Yellow Muscat. This was aged for eight years in the barrel and 180 g/L of RS. Wax, fall leaves, lemon, and apricot notes dominate the flavor profile. It's rich and luscious on the palate, which includes lots of aged notes. Fiery acidity and a long finish. Score: 90/100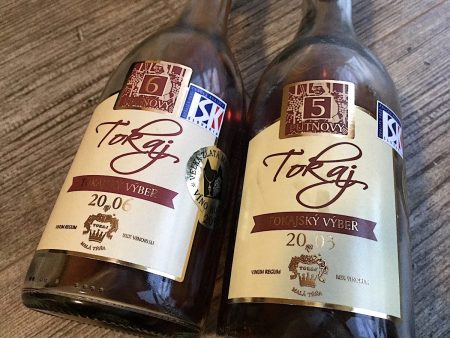 Tokaj Macik 

Tokajský Výber 6 Putňový 2006
Jaroslav Macik is a traveling man. He can be seen judging at various competitions over Europe. His wines are also the only Slovak wines currently displayed at La Cité du Vin in Bordeaux. The Tokaj Macik Tokajský Výber 6 Putňový 2006 is made with a base of Samorodné wine, unlike most other sweet Tokaj wines that use fresh, dry wine as a base.
It has flavors of pumpkin spice, orange peel, and dried apricot with a touch of fall leaves. This is aged under a thin film of bacteria called flor. This is a unique style, it isn't as full bodied as normal 6 Putñový wines. The wine is lighter on its feet with a lovely freshness. Score: 90/100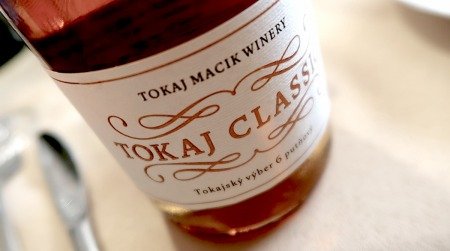 Zlatý Strapec Tokajský Výber 6 Putňový 2009
Zlatý Strapec is a gem of a producer. Their wines aren't present much on the market and most of their business comes from selling bulk wine from the tap to the locals. However, their Tokajský Výber wines can be stunning.
The Zlatý Strapec Tokajský Výber 6 Putňový 2009 is orange and amber in color. Charred wood, orange peel, nuts, and dried apricot dominate the palate. With 160 g/L of RS, it's rich and concentrated. This has many layers of flavors. It's chewy and has an impeccable balance for a wine of this sweetness. Fiery acidity and a long finish, both staples for the sweet wines of Tokaj. Score: 92/100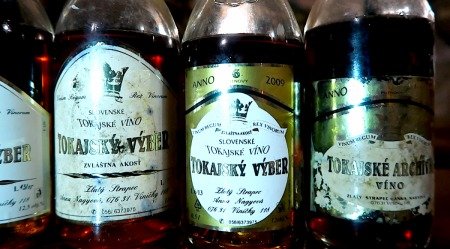 You may also enjoy:
Slovak Tokaj: A Forgotten Region
Hungarian Wine: The Legendary Tokaj Region
Return To Tokaj
---
Some of the wines tasted were provided as samples and some were tasted in the cellar. The opinions expressed in this article are unsolicited and have not been paid for in any way by governmental bodies, enterprises, or individuals. We do not sell editorial content as that would destroy the legitimacy of our reviews and the trust between Exotic Wine Travel and its readers.