Slovenian White Wine Part 2: Spotlight on Goriška Brda
Reading Time: [est_time] Of all the wine districts in Slovenia, few are held in such high regard as Goriška Brda. Goriška Brda (or Brda for short) is a district in Slovenia's Primorska region. Brda is basically an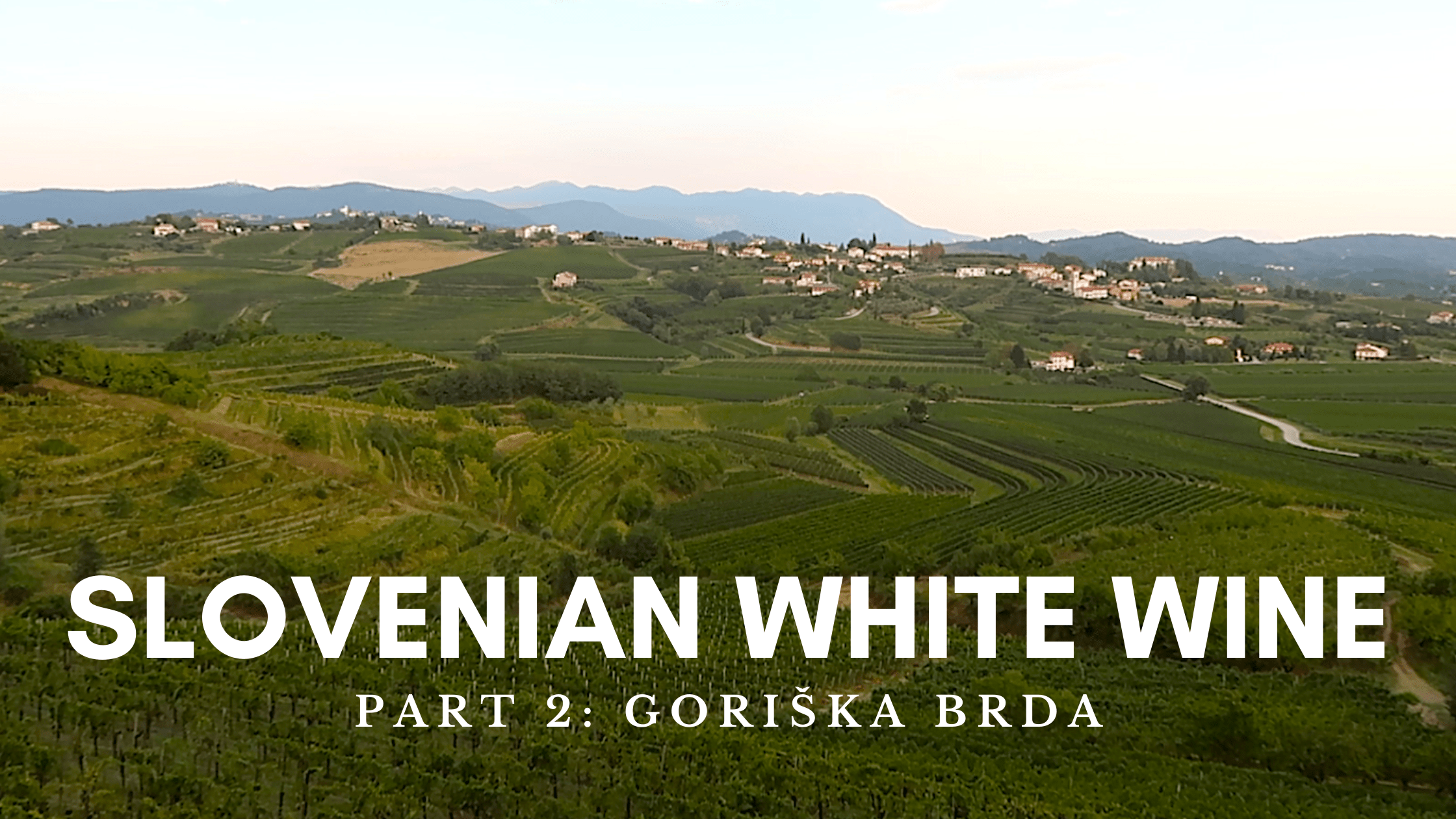 Reading Time: 8 minutes
Of all the wine districts in Slovenia, few are held in such high regard as Goriška Brda.
Goriška Brda (or Brda for short) is a district in Slovenia's Primorska region. Brda is basically an extension of Italy's Collio DOCG. It actually could be considered the other way around, as Goriška Brda has almost three times the vineyard area of Collio. It's not uncommon for producers to have vineyards on both sides of the border.
Goriška Brda: The Slovenian Wine Region
Goriška Brda is a beautiful, soulful region full of terraced vineyards, hilltop villages, and panoramic views of the Alps. There is no geographical border with Italy and driving through the area, it's common to criss-cross the political border several times on just one road. It's no surprise that there's a strong Italian influence.
It's here where modern Slovenian wine began. Some producers started the quest for quality even before Slovene independence in 1991. Producers like Movia, Marjan Simčič, Jakončič, and Edi Simčič were among the visionaries to raise the quality bar.
The wines in Goriška Brda are similar in style to those being produced in Friuli-Venezia Giulia (Italy). Producers use a number of wine grapes to make varietal wines and blends. Local grapes include Rebula (Ribolla Gialla), Sauvignonasse (Friulano), Malvazija Istarska, and Pikolit (Picolit). Winemakers in Goriška Brda also utilize white French grapes like Sauvignon Blanc, Chardonnay, Pinot Blanc, and Yellow Muscat.
Wine Styles in Goriška Brda
Goriška Brda (along with its neighbors Vipava, Kras, and Slovenska Istra) has made a name for itself with orange wines/amber wines. The district boasts many excellent, minimal-intervention wines but Brda is more than just orange wine. From fresh to barrel-fermented whites, to wines made in amphora, you'll find a multitude of styles.
Thanks to its location near the Adriatic Sea and the cooling influence of the Alps, the region is blessed with fantastic grape-growing conditions. For white wines in Goriška Brda, I tend to favor full-bodied white blends and orange wines. The reds can be excellent too, they are covered in the article Slovenian Red Wine.
The future of Goriška Brda remains bright. The wines are already world-class, the location is breathtaking, and the top producers are willing to travel the world to promote their wines. Savvy wine drinkers would be wise to take note. Here are some of my favorite wines from the current releases in Goriška Brda.
Slovenian Wine Recommendations:
Discover great Slovenian white wine at wineandmore.com
The Movia, Veliko Belo is a blend of Rebula, Sauvignon Blanc, and Pinot Gris aged in wood and bottle for nearly four years. It feels a little riper than previous vintages. Complex white with notes of apple, sweet peach, dried yellow flowers, caramel, and flint. Wide and broad on the palate. The palate is more mineral and acid-driven than fruit. There is a staying power here and a salty finish. This wine always ages well and this should be no exception. Score: 92/100
This vintage of the Movia, Puro is made of Chardonnay. It's barrel fermented and aged for 18 months and then spends at least two years in bottle, on the lees until you open it. Notes of strawberry, apricot, sweet yellow peach, mushroom, and pie crust. Tastes like a lighter orange wine with extra lees note and a fine bead of bubbles. Score: 92+/100
The Movia, Chardonnay sees two days of skin contact, is barrel-fermented and spends 18 months in oak. The bacon fat notes of oak come out here in addition to red apple, white pear, brioche, and a touch of chalkiness. Buyer beware, there's a Sherry-style, nuttiness to this wine that is oxidative in style. It's full-bodied with a lot of bite, red wine drinkers will find a lot to like her. Grippy palate and a long finish. This is nice now but is built to age. Score: 91/100
Edi Simčič, 'Fojana' Sauvignon 2016
The Edi Simčič, 'Fojana' Sauvignon is a single vineyard, barrel-fermented Sauvignon Blanc that spends 11 months in wood. Ripe notes of mango, kiwi, and white peach with just a hint of grassiness. It's not overly grassy or herbal like many Sauvignon Blancs can be. Fantastic wood integration on the nose. This is a rich, full-bodied white. There are some chalky, mineral undertones on the back end. Powerful fruit and a long finish. I rank this right up there with the finest examples you can find of full-bodied Sauvignon Blanc. Score: 93+/100
Edi Simčič, 'Kozana' Chardonnay 2017
The Edi Simčič, 'Kozana' Chardonnay barrel-fermented, serious Chardonnay. Explosive nose of fresh apricot, melon, yellow peach, matchstick, and a sweet kiss of oak. Full-bodied and intense, this is rich, opulent white. There's a lot of fruit here and the barrel just adds support, not flavor. Balanced the entire way through. It almost drinks like a red and should age just as well too. Brilliant effort. Score: 95/100
Edi Simčič, Triton Lex 2018
The Edi Simčič, Triton Lex is a barrel-fermented blend of Chardonnay, Sauvignon Blanc, and Rebula. This is still a baby. Rich, powerful, and full of texture. Notes of melon, white pear, jasmine, white flower, and Greek yogurt. The oak comes through strong on the nose but less so on the palate. It seems like it will be a big, fat white on the nose but the palate displays finesse and sharp, lemony acidity. This still is nowhere close to being ready to drink, it's got a long life ahead of it. Score: 92+/100
Jakončič, Carolina Bela 2017
The Jakončič, Carolina Bela is a barrel-fermented blend of Chardonnay, Rebula, and Sauvignon Blanc. This is slimmer and grassier than past vintages. The Sauvignon Blanc dominates here, in fact, I might think it's a varietal example if tasted blind. Notes of kiwi, white peach, grass, white pepper, and a touch of the barrel. The wood adds texture and a light seasoning here but never dominates the flavors. It's surprisingly fresh for a barrel fermented and aged white. There's a streak of green acidity that runs down the throat and stretches the finish. Score: 91/100
Marjan Simčič, 'Cru Selection' Chardonnay 2018
The Marjan Simčič, 'Cru Selection' Chardonnay is from the line of 'premier cru' wines from this estate. It sees skin contact for a few days and is fermentation in large cask and aged there in addition to barrel for about 15 months. Notes of green guava, green mango, lime, pear, and yogurt. The nose is all cool weather while the palate is surprisingly full and mouth-filling. Fantastic barrel integration. Score: 92/100
Marjan Simčič, 'Opoka' Sauvignon Blanc 2018
The Marjan, Simčič, 'Opoka' Sauvignon Blanc is macerated for four days and aged in large cask for 15 months. Intense nose of kiwi, elderflower, melon, and a touch of grass. It's a riper Sauvignon Blanc. On the palate is where this wine really shines. It's a medium-bodied wine with a substantial palate presence. Plenty of texture and a limey, citrusy acidity runs down the palate. Intense fruit that covers the mouth. Long finish. Score: 93/100
Marjan Simčič, 'Opoka' Chardonnay 2018
The Marjan Simčič, 'Opoka' Chardonnay spends four days on the skins and was barrel-fermented and then aged for 23 months. A riper style of Chardonnay with notes of melon, flint, white peach, and a touch of white pepper. This is very much a Beaune-style of Chardonnay. The wood doesn't appear on the nose but adds some sweetness to the palate. Rich and full-bodied with a long salty finish, it never feels too flabby thanks to the acidity. If you're looking for a fantastic, Burgundy-inspired Chardonnay, look no further. Score: 94/100
The Štekar, Malvazija is Malvazija Istarska that is lightly macerated for one week and aged in oak. Very good aromas of sweet peach, white apricot, dandelion, and a touch of white pepper. This wine has an acidic edge, something that is normally missing with the grape. The tannins are round and the crispy, lemony acidity washes them away. There's a lot to like here, it drinks more like a bigger white than an orange wine. Score: 90/100
Emeran Reya, Brut Nature NV
The Emeran Reya, Brut Natur traditional method sparkler is half Rebula and half Chardonnay aged on the lees for two to three years. It has notes of Asian pear, yogurt, natural gas, and a touch of white flower. Attractive and floral nose accompanied by fine bubbles. Fun wine with lemony acidity. It's more than just a simple, fruity sparkler, it has some depth to it. Score: 90+/100 
Emeran Reya, Pynot Rosso 2018
The Emeran Reya, Pynot Rosso is Pinot Gris that is macerated for 5 days and aged in large oak casks. This has a pink copper color to it. Notes of fall leaves, cranberry, dried apricot, lemon peel, tobacco, and dried flowers. Very complex nose. Full-bodied and juicy. Pinot Gris can have problems with rising alcohol but this really hits the palate perfectly. Chewy tannins and good length. Score: 91/100 
The Emeran Reya, Yakot is Friulano macerated for five days and aged in used oak. This has an explosive and expressive nose. Notes of sweet yellow flowers like dandelion burst from the glass in addition to pineapple, sweet peach, pepper, and flint. On the palate, there's plenty of fresh fruits and baking spice. It's the perfect wine to introduce the genre of orange wines to an outsider. Ripe, chewy tannins. Score: 90/100
The Ščurek, Jazbine is a single vineyard blend of Friulano, Pinot Gris, and Rebula. It's barrel fermented and aged. This blend is reminiscent of the whites just across the border in Italy under the Collio DOC. Notes of pineapple, apricot, chestnut, white flower, and flint notes. Intense flavors and depth. Fantastic wood integration. The wine is much more intense on the palate than the nose. Friulano makes its mark all over this wine while the Rebula delivers some modest acidity. Score: 91/100
The Ščurek, Duro is a blend of Rebula, Chardonnay, and Pinot Blanc macerated for 14 days and fermented in large cask. Bright and lively, there are notes of white peach, crushed limestone, white flowers, and a touch of fresh apple pie. This shows the Ščurek house style, it's rich and layered. There isn't a lot of bottle development now, which means it should be fantastic in the cellar. Lemony acidity on the long finish. Score: 92/100
Ščurek, Stara Brajda 2016
The Ščurek, Stara Brajda is an old-vine blend of Rebula, Friulano, Malvazija Istarska, Picolit, and Glera. It's fermented in big barrels. Intense notes of white flower, white apricot, chestnut, yellow peach, and white pepper. It smells and tastes younger than the age would suggest. Round on the palate with plenty of fruit and structure. The wood integration is stellar here (as with all of their wines) it adds a touch of seasoning without distracting from the taste. Long finish and cellar-worthy. Score: 92+/100
Klet Brda, Krasno Orange 2018
The Klet Brda, Krasno Orange is a macerated blend of Rebula, Friulano, and Malvazija Istarska. The Rebula saw skin contact for a year while the other varieties did for one year. It's an amber wine technically but it has a pink salmon color. Pretty nose of white flower, mineral water, fresh apricot, yellow peach, and chalk. More on the fresher style of orange wines. The palate is loaded with fresh fruit and a tangerine peel-acidity. It acts more like a complex rosé than an orange wine. With gentle tannins, this is a surprisingly delicious effort. Score: 90/100
The Mulit, Belo is a blend of Chardonnay, Viognier, Sauvignon Blanc, Ribolla Gialla, and Picolit. Most of the cuvée was fermented and aged in stainless steel with a touch of it barrel-aged and a small amount in amphora. Gorgeous style of nose with white peach, white flower, apricot, chalk, and just a kiss of wood. Full-bodied white with plenty of fruit. This really shows the essence of Brda and that all whites don't have to be macerated. Great interplay between fruit and mineral notes. A surprising find. Score: 91+/100
Rokovi, Orange Malvasia 2019
This is Malvasia Istriana that has been kept on the skins. Gorgeous nose of dried peach, white flowers, dried lemon peel, and a touch of white pepper. This is a delicate orange wine, there's plenty of texture here but the tannins are not too drying. There's a spiciness on the finish that adds to the complexity. I'd like a longer finish but this is a solid effort. It should age nicely in the medium term too. Score: 89/100
Ronk, 'Selectus' Grigio 2019
The Ronk, 'Selectus, Grigio is 100% Pinot Grigio that was on the skins for a week. A small part of the wine was aged in wood. It has a pretty pink copper color. The nose is impressive with notes of white flower, tangerine peel, red berries, and a little lemon. It smells a little like a blanc de noirs Champagne without the yeastiness. Elegant on the palate with plenty of fresh fruit notes and just a touch of tannins. A wine that drinks more like a heavier rosé or a light red. Score: 90/100 
Prinčič, Mihael Belo 2018
The Prinčič, Mihael Belo is a barrel-aged blend of Rebula, Sauvignon Blanc, and Chardonnay with a touch of maceration. Wonderful nose of melon, dried mango, dried white peach and clay. The barrel is handled very well in this wine, it never overpowers the fruit. Round mouthfeel. I'd like a longer finish but this is delicious for those who like their whites with a touch of bottle age. Score: 90/100

You Might Also Enjoy:
---
Thanks to all of the producers for providing tasting samples. The opinions expressed in this article are unsolicited and have not been paid for in any way by governmental bodies, enterprises, or individuals. We do not sell editorial content as that would destroy the legitimacy of our reviews and the trust between Exotic Wine Travel and its readers. On occasion, we extend the option of purchasing the wines we review or/and the products we spotlight. Some of these product links are set up through affiliate programs, which means Exotic Wine Travel gets referral credits if you choose to purchase these items via the links we provide.