Modri Les Noirs: A Pinot Noir Festival in Slovenia
Reading Time: [est_time] We were invited to the first Modri Les Noirs, a two-day Pinot Noir festival in Idrija, Slovenia. The event is the brainchild of Matjaž Lemut, owner and winemaker of Tilia Estate. The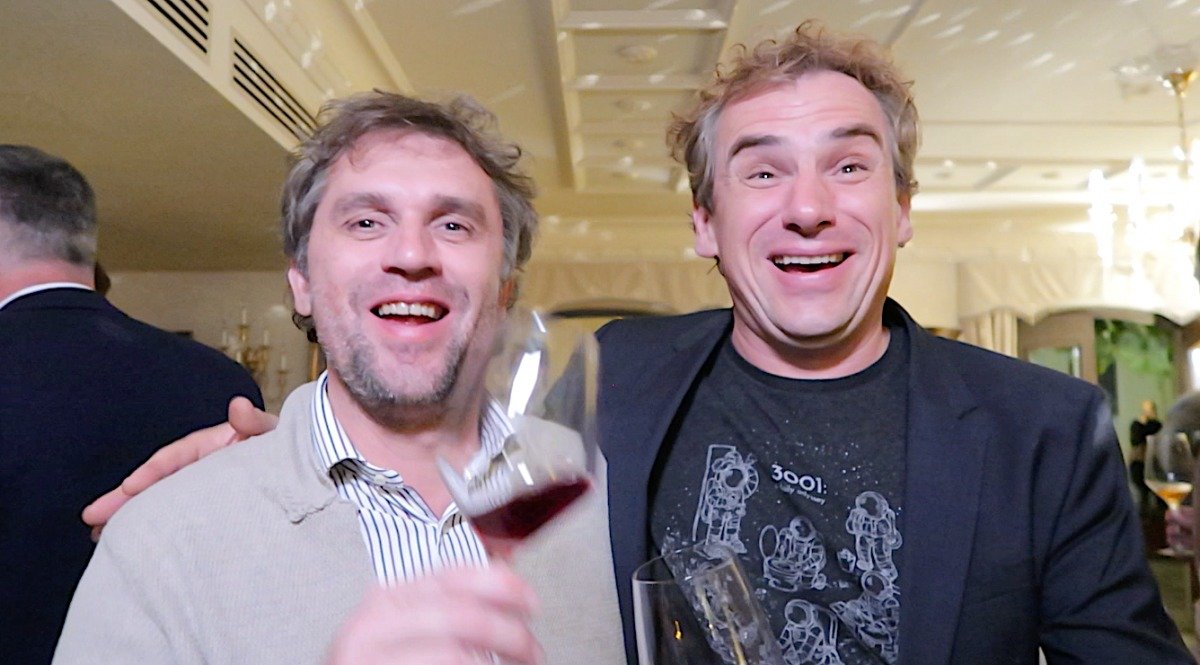 Reading Time: 5 minutes We were invited to the first Modri Les Noirs, a two-day Pinot Noir festival in Idrija, Slovenia. The event is the brainchild of Matjaž Lemut, owner and winemaker of Tilia Estate. The Modri Les Noirs brought together 15 Pinot Noir producers from Slovenia, four from Croatia, and five from elsewhere around the world. The event took place in the elegant five-star hotel Kendov Dvorec.
Charine is a Pinot Noir lover so we jumped at the opportunity to attend Modri Les Noirs. Many examples of Pinot Noir in Ex-Yugoslavia, Hungary, Romania, Slovakia, and the Czech Republic suffer from inconsistency. In Central-Eastern Europe, we find the best examples of Pinot Noir to be from Slovenia (although there is still plenty of vintage variation). It was no surprise that the best wines from the event (in our opinion) were Slovenian.
Modri Les Noir, Edition One
The two-day event was fun and informal (as you can see in the video above). It consisted of an opening masterclass, gala dinner, and walk-around tasting with more workshops sprinkled in. During the two days, we had the chance to taste some new vintages and discover new wines. Here are our favorite Pinot Noirs from the first Modri Les Noirs.
Wine Recommendations:
You can find out more about our scoring system on the Wine Rating page.
Slovenia
The Burja Žorž is a single vineyard selection of Pinot Noir. It's more of a richer and dark fruit-driven Pinot Noir. Notes of plum, mineral, and cedar note. It's round on the palate and highly structured with tight tannins. It needs time in the bottle to show its best. This is a Pinot Noir for people who like beefier examples like the ones from Sonoma County California. Score: 90/100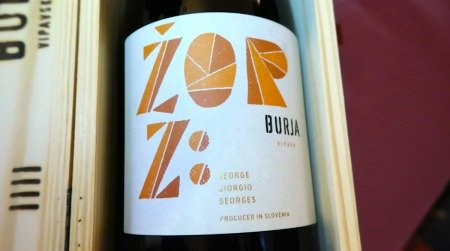 Marjan Simčič Opoka Pinot Noir 2014
Slovenian winemaking superstar Marjan Simčič has a lineup of cru wines named Opoka, which this wine belongs. We've had several vintages of this label and have been impressed with all of them. The Marjan Simčič Opoka Pinot Noir 2014 is impressive for a tough and rainy vintage. It has notes of perfume, leather, red fruit, and fall leaves. The wine is round and complete on the palate. It's quite a dancing act between red fruit and earth. Grippy tannins and spicy finish, this is high-level stuff. Score: 93/100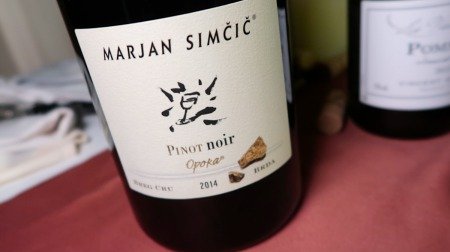 Tilia, Pinot Noir Estate 2015
This wine really surprised us, especially for a mid-range wine. The Tilia Pinot Noir Estate is earthier and more structured for the grape. It's full of leather, fall leaves, and red fruit. It starts out round and silky on the palate and finishes with a spicy character and a tannic grip. Very old world in style, structured and full-bodied. Score: 89/100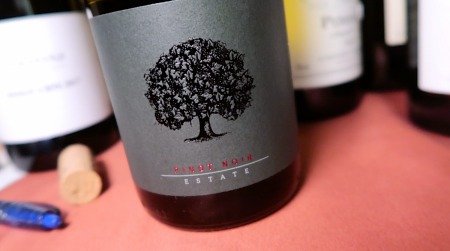 Tilia, Pinot Noir (White Label) 2016
The Tilia Pinot Noir White Label 2016 steps up the concentration and structure. It's full of perfume, red fruit, fall leaves, and brown spices. The palate feels round but the tannins are a bit hard now. If you happen to pick up this bottle, put it in your cellar for 10 years or more. Score: 91/100
Heaps Good Wine Company, Modri Pinot 2013
This wine was a big surprise among many of the guests. It's owned by Kiwi (New Zealander) Nick Gee. The label of Heaps Good Wine Company Modri Pinot is fun and unpretentious, plus it's topped with a screwcap. Cool strawberry, raspberry, vanilla, leather, and white pepper flavors emerge from the glass. It's modern, clean, and juicy with a long finish. Score: 92/100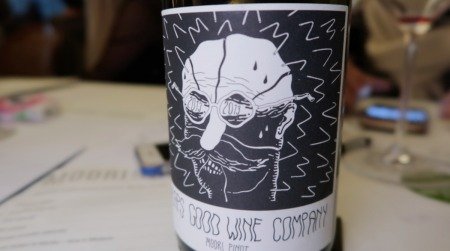 Pasji Rep, Pinot Noir 2010
Pasji Rep is a small Eco-certified (organic) producer from the Vipava Valley. They brought a few back vintages to Modri Les Noirs and this one showed well. The Pasji Rep Pinot Noir 2010 is a ripe style of Pinot Noir done well. The wine is dark fruit driven with notes of forest floor and mushroom that accompany the fruit. Full and plush on the palate with a gentle finish. We hope their current release (2016) reaches these heights after more time in the bottle. Score: 92/100
Prinčič, Modri Pinot 2010
Prinčič is a small winery in Goriška Brda. They brought a number of older vintages to the Modri Les Noirs and this one was the most impressive. The Prinčič Modri Pinot 2010 has beautiful nuances that have emerged with bottle age. There are notes of perfume, cherry, and fall leaves. The flavors are delicate and the wine has a silky, medium weight. There are fine tannins, if the finish were longer this could move to epic levels. Score: 89/100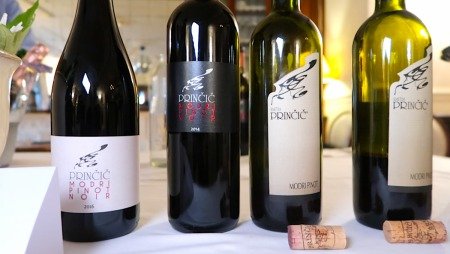 Jakončič, Carolina Noir 2015
When we think of Jakončič, we associate them with excellent Merlot and Bordeaux blends. The Jakončič Carolina Noir shows they can produce some stellar Pinot Noir as well. This wine is big bodied and structured. There are notes of bright red fruit, fall leaves, waxiness, and soil. It's rich on the palate with chewy tannins. More of an earthy Pinot Noir, older vintages show the Carolina Noir ages nicely. Score: 90/100
A wine that is flat-out fun to drink. The Ščurek Pinot Noir isn't our favorite wine in their portfolio but it still is delicious. Full of cherry and crushed rock notes. It's very fruity and tastes like a full-fledged, natural wine. It's a medium bodied wine and high acidity. Score: 89/100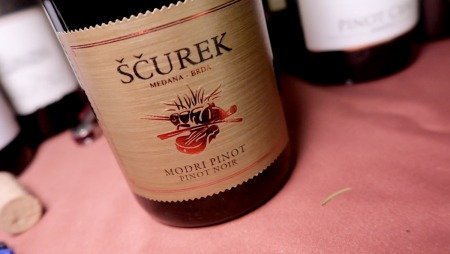 Guest Wineries From Around The World
Vincent Girardin, Pommard 2015 (Burgundy, France)
Age-worthy stuff for a Village level Burgundy. The Vincent Girardin Pommard has notes of leather, mushroom, red fruit, and mineral notes. It has a seductive nose and is rich and full on the palate. The tannins are a tad green and hard but the fruit has a lasting, subtly powerful finish. This wine needs much more time in the bottle to show its best. Score: 90/100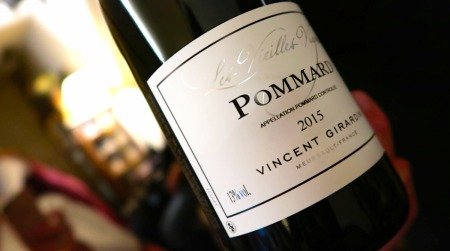 Louis Latour, Pommard-Epenots 1er Cru 2014 (Burgundy, France)
Of the three red Burgundies present at Modri Les Noirs, the Louis Latour Pommard-Epenots 1er Cru was the most impressive. The wine has notes of cherry cola, earth, white pepper, and a touch of leather. Silky smooth on the palate with generous fruit and a low level of tannins. A touch more power and finish would take this wine to ethereal levels. Score: 89/100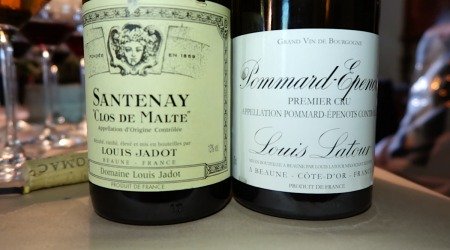 Salomon & Andrew, Pinot Noir 2013 (Central Otago, New Zealand)
It was nice to see a wine from the Southern Hemisphere present at the Modri Les Noirs. The Salomon & Andrew Pinot Noir 2013 is fruity and fun with notes of cherry, strawberry, and a touch of smoke. Full of fruit with some tannic grip. It has nice nuances. The wine can use a touch more acidity but it's still delicious. Very fruit forward and easy to drink. Score: 90/100
Tomac, Pinot Crni 2017 (The Uplands, Croatia)
Three of the leading Plešivica, Croatia showed up at the Modri Les Noirs: Šember, Korak, and Tomac. All of their wines showed well but the Tomac Winery's Pinot Crni proved to be distinct. It is not bottled yet and will be on the market next year. It's more of an herbal, earthier play. The wine is hefty without being clumsy. Lots of dark cherry flavors accompany the earthy tones and chewy tannins. Score: 89/100
Castelfeder, Burgum Novum Pinot Nero Riserva 2015 (Alto Adige, Italy)
We have yet to visit Alto-Adige in Italy but we always love drinking wines from there. Pinot Nero (Noir) has a distinctive mountain berry flavor when it comes from this part of Northern Italy. The Castelfeder Burgum Novum Pinot Nero Riserva is the top wine in the winery's portfolio. It is dense and concentrated without being fat. Has notes of red raspberry, fall leaves, spice, and mountain air. It's a full-bodied Pinot Noir with a spicy finish. Score: 94/100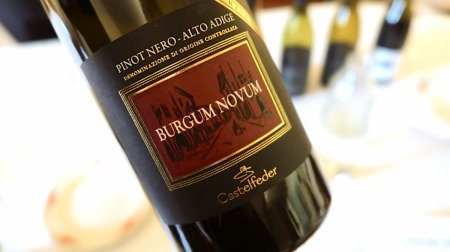 You May Also Enjoy: Pinot Noir Love Affair – Modri Les Noirs Wine Festival by wineandmore.com 
The finest selection of
Slovenian & Croatian wines
available at:

Shipping is available EU-wide and to the UK.
************
    Do you want to try Slovenian and Croatian wines?
If you're looking to savor the exquisite flavor of  Slovenian and Croatian wines, look no further than wineandmore.com. With an abundance of options from different winemakers, it's easy to find exactly what your palate desires. Not sure which bottle is best for you? Try out one of their curated wine cases and discover the perfect vintage for any occasion!
************
Want to learn more about wine?
Are you ready to discover the wonderful world of wines? Come join us at wineandmore.com and let's explore the incredible selection of delicious wines together! We can't wait to share our passion for wine with you!
  We were guests of the Modri Les Noirs and Hotel Kendov Dvorec who provided our travel, meals, and accommodation. Please note that the opinions expressed are our own and have not been paid for in any way. We do not sell editorial content as that would destroy the legitimacy of our reviews and the trust between Exotic Wine Travel and its readers. On occasion, we extend the option of purchasing the wines we review or/and the products we spotlight. Some of these product links are set up through affiliate programs, which means Exotic Wine Travel gets referral credits if you choose to purchase these items via the links we provide.