VinNatur: A Proponent of Checks and Balances
Reading Time: [est_time] "You're a really good agriculturist but you're a bad winemaker." Angiolino Maule, La Biancara's winemaker and founder, thinks this statement from oenologist Franco Giacosa might have changed the course of his life as a winemaker. "In the
Reading Time: 9 minutes
"You're a really good agriculturist but you're a bad winemaker."
Angiolino Maule, La Biancara's winemaker and founder, thinks this statement from oenologist Franco Giacosa might have changed the course of his life as a winemaker.
"In the past, I would say a good wine is 90% vineyard and 10% winery. Today, I would say that wine is made in the vineyard, that's the base. But wine is not fully made in the vineyard."
Whether it's made in the vineyard or winery, the point of it all, as Angiolino explains, "It's about making natural wine without defects. That's the first goal."
In this video interview, we chat with Angiolino Maule about his work and goals.
What is VinNatur?
Founded by Angiolino Maule in 2006, VinNatur is a wine association that unites and supports small producers of natural wines. In 12 years, the association has grown from its original 65 founding members to now representing 190 producers from nine countries: Italy, France, Spain, Portugal, Austria, Germany, Czech Republic, Slovakia, and Slovenia.

Going Beyond Organic and Biodynamic
"Natural wine" is an interesting and attractive concept but an ambiguous term in the present-day wine world. The definition of natural wine remains subjective with no official accreditation to support producers who claim to make natural wine, which in turn leads to abuse and criticism—especially around the semantic properties of "natural wine".
As natural wine continues to rise in popularity, VinNatur plays a paramount role in defining its premises. Going beyond ideological and philosophical ideas, the association has specified a list of permitted and forbidden practices—both in the vineyard and cellar—for its members.
You can take a look at VinNatur's procedure guideline here, which was put in place in July 2016. All VinNatur wines are officially certified by external laboratories verifying that no pesticides, no herbicides, and no chemical fertilizers have been used in the process of making the wines. Checks are done every year and are mandatory for each producer. The prime objectives are threefold:
To align members of the association and improve the quality of natural wines through scientific research, lab analysis, and innovative natural winemaking techniques.
To communicate explicitly to VinNatur's consumers about how the wines of VinNatur are made.
To offer VinNatur's consumers more than self-declarations but guarantees of quality and reliability.
And Moving Forward
Currently, VinNatur is the only natural wine association in Italy that collaborates with universities and research centers. Besides the regular checks and inspections, VinNatur is also delving deeper into the sustainable ecological development of vineyards. The research subjects that VinNatur is working on include soil vitality, entomological and botanical biodiversity of vineyards, and reduction of copper and sulphur usage.
"Our research is based on both observations and scientific data," says Angiolino.
He continues, "We are focusing on how to replace copper and sulphur with vegetable extracts that help vines to build up resistance. But our most major project is on biodiversity."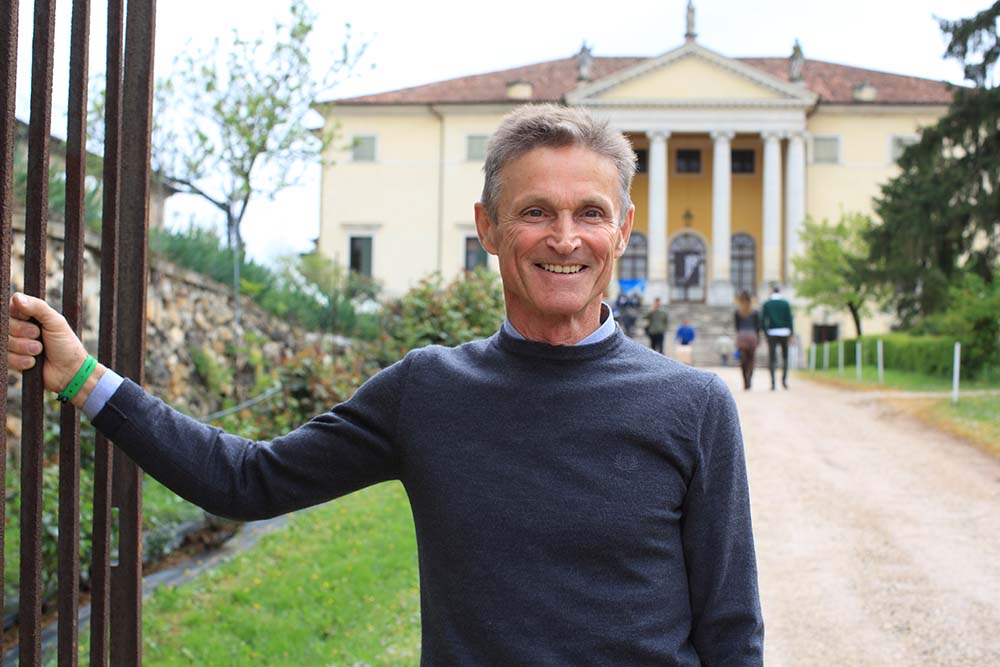 "But if your mind is not mature enough, no methodology is going to work."
I'm sitting in a Villa Favorita 2018 class, called "Natural Wine Making – The Role of the Cellar", and I am particularly intrigued by the dialogue's focus on personal well-being and ethical living. It resonates with me since I only began to appreciate natural wine because it aligns with my lifestyle choices.
The speakers are the aforementioned Franco Giacosa and Angiolino Maule.
The speakers discuss how natural winemakers can take conventional wisdom in life and apply it to minimal-intervention winemaking—from committing to a healthy diet to developing an inner compass of personal values. Following the rules of nature and life, Angiolino says, "But if your mind and philosophy are not mature enough, no methodology is going to work."
Ultimately, being a VinNatur wine producer requires unwavering commitment built upon personal conviction.
"You have to work on the winemaker's mindset and convince them that prevention is the way, not chemical treatment."
Villa Favorita: VinNatur's Annual Event
Villa Favorita is one of the biggest natural wine fairs in the world. Held at an 18th-century Venetian manor in Sarego (Vicenza, Italy), the three-day annual event serves as a meeting point for producers, distributors, and consumers. The event usually takes place in the same week as Vinitaly, and both event locations are about 50 kilometers apart.
158 producers participated in the 2018 edition where visitors got to taste and purchase the wines made by these VinNatur producers.
The 2018 program was thoughtfully designed to help people discover and learn about natural wines. Besides the walk-about tasting where visitors got to taste wines and speak with winemakers, there were also thematic tastings of volcanic wines and orange wines; masterclasses about minerality in wine and aging wines made without SO2; and dialogue classes like the abovementioned "Natural Wine Making – The Role of the Cellar".
So let's address the elephant in the room. Were there a lot of bad wines, funky wines, and wines with faults? The short answer is no. There is no bourgeois high horse to ride on; we're drinking pretty well here, naturally! I spent two days at the event and tasted over 150 wines; less than 10 of those wines showed perceptible microbiological flaws. It was the first time that I attended VinNatur's Villa Favorita. According to my more experienced colleagues, the wines of VinNatur have made a tremendous leap in quality over the past three years.
Video Recap: VinNatur's Villa Favorita 2018
Recommended VinNatur Producers
As stated under "Statute" on the VinNatur's website:
To produce wine in a natural manner means fully respecting the territory, the vines and nature's cycle and, through experimentation, limiting the use of invasive and toxic chemical and technological agents both in the vineyard and in the wine cellar. It is the Association's intent to preserve wine's individuality from the standardization that chemistry, technology and industrialization have brought to the world of agriculture and particularly to wine related activities.
Viticulture and vinification make up a complex ecosystem where chaos reigns and the balance can so easily tip towards outcomes we don't desire. I appreciate the VinNatur's community for its concerted and informed effort to create an as-close-to-ideal-as-possible environment where nature can take its course and leaves us with something beautiful and real. What's more: the association is doing its part to safeguard soil balance and the ecosystem.
Here are 12 VinNatur producers and wines to be on the lookout for.
Barale (Piedmont, Italy)
Éric Texier (Rhône, France)
Daniele Portinari (Veneto, Italy)
Fongoli (Umbria, Italy)
Gratavinum (Priorat, Spain)
(Click on the right arrow icon on the photo to view more images.)
Heinrich (Burgenland, Austria)
Mas Zenitude (Languedoc, France)
(Click on the right arrow icon on the photo to view more images.)
Reyter (Alto Adige, Italy)
Rocco di Carpeneto (Piedmont, Italy)
Tarlant (Champagne, Italy)
Terpin (Friuli, Italy)
(Click on the right arrow icon on the photo to view more images.)
Thomas  Niedermayr (Alto Adige, Italy)
---
– Thank you Emma Bently for helping me with translation during the Villa Favorita 2018's classes.
– Thank you Irene Graziotto, Studio Cru, and the VinNatur for hosting me.
You May Also Enjoy