Fruška Gora: The Innovative Serbian Wine Region
Reading Time: [est_time] North Serbia is home to what is perhaps the most experimental wine region in the country. Ironically it is one of its oldest wine regions as well, a place where Marcus Aurelius ordered
Reading Time: 7 minutes
North Serbia is home to what is perhaps the most experimental wine region in the country. Ironically it is one of its oldest wine regions as well, a place where Marcus Aurelius ordered vines to be planted 1700 years ago. For modern producers, what is old is new again.
The Fruška Gora hill runs approximately 80 kilometers east to west and its highest point is 539 meters. It's flanked to the north by the Danube River. Most of the hill lies within Serbia's borders, but a tiny portion of the western end is in Croatia. The low-lying Fruška Gora stands out like a sore thumb in the pancake-flat province of Vojvodina. It is technically located in the Sremski Wine Region, but many locals simply refer to the region as Fruška Gora.
Fruška Gora was the first wine region that we visited in the entire Ex-Yugoslavian region. We stayed in the cellar town of Sremski Karlovci in the late winter of 2016. The town is on the eastern end of the hill and filled with small, family cellars. We spent a few days going from cellar to cellar and came away unimpressed. Most of the wines were oxidized, rustic, and not very good. The one positive was that we got a chance to taste Bermet for the first time.
To be fair, we weren't plugged into the Serbian wine scene at that point in time. That trip did yield a few great moments like tasting from the barrel at the well-regarded Belo Brdo and eating at Kovačević winery – one of our favorite Serbian restaurants.
In March of 2017, we returned to Serbia. We stayed in the capital of Belgrade for a few months tasting the new vintages and discovering new gems. During those few months, we took several day trips to Fruška Gora. Our old conceptions were shattered. We were shocked to find many clean, high-quality, and innovative wines being made on the hill.
Garage Wineries
There are several small wineries on Fruška Gora producing excellent juice. Arguably the most successful at the moment is Bjelica. Miodrag Bjelica produces wine in his attached garage. Miodrag is producing one of Serbia's finest barrel-fermented Chardonnays and one of the top sparkling wines. Both wines are labeled Barbaroga and have fascinating labels.
 

Bjelica winery (Fruška Gora, Serbia) should be a familiar name if you've followed our Instagram or Facebook for awhile. The Saga (Sauvignon Blanc-Semillon) bottling is arguably our favorite white wine from Serbia. Unfortunately the Babaroga Chardonnay didn't show up as well during our first tasting. That has changed as we retasted it on Saturday. The toastiness has settled down better and the Babaroga Chardonnay now possesses this big and stunning attack all the way from the front to end palate. It's still a little premature for consumption but is showing great potential for a few years of aging and fantastic development. Also, check out the label designs of the Graffiti bottling in this picture. The design changes every year.
The labels aren't all smoke and mirrors, however. Bjelica produces our favorite white wine in all of Serbia named Saga – a blend of Sauvignon Blanc and Semillon. It has a beautiful smokiness to it with a taut, acidic core.
Chichateau is another garage winery with owner/winemaker Đjorđje Stojsić. It's in the heart of Fruška Gora and focuses on the classical varieties like Cabernet Sauvignon, Cabernet Franc, Chardonnay, Merlot, and Sauvignon Blanc. Đjorđje produces less than 15,000 bottles of wine out of his garage. His mother also makes some mean apple pie!
 

We don't drink much rosé. We don't like rosé much. Yet everything about this Chichateau Pink Punk 2016 seems to work its way to our hearts. We are especially fond of the typefaces, the tactile off-white label, and the enclosure. The presentation is spunky and iconoclastic. The taste is redolent of a cheerful summer, go-to-the-swimming-pool rosé but with a more ready-for-the-table seriousness. A blend of 40% Merlot, 40% Cabernet Franc, and 20% Cabernet Sauvignon. Interestingly, it smells a lot like a fresh Pinot Grigio with its notes of lemon, pear, white peach, and spearmint. A strawberry characteristic echoes in the background. On the palate, it's marked by zesty acidity, striking structure, and remarkable salinity. We can see why this is one of the most popular rosé in Serbia. Chichateau produces about 15,000 bottles/year out of a garage, using only estate-grown grapes. It's located on the southern slopes of Fruška Gora. If you're in Serbia, it'll be worthwhile to check out the winery and/or its wines.
One of Chichateau's most exciting wines is their rosé named Pink Punk. It's light, crisp, and incredibly easy to drink. It's a true blush rosé meant for summer sipping. Đjorđje also makes a solid red wine name Fabula Mala, which is a traditional Bordeaux Blend. His reserve red named Fabula Lagum is made only in good years and very exciting. I got a chance to taste the 2012 vintage from the bottle and 2015 from the barrel, both were well-made reds that compete with Serbia's best.
Chichateau's wines are now available for purchase via wineandmore.com
 

Our second bottle of 2015 Chichateau Fabula Mala. Pairing done with beef & bean chili. This appears much less oaky than the first. Drinking well now but can definitely knit and soften after another year in the bottle. Beautiful violet and rose, along with the usual fruit aromas. Modest intensity, depth, and length. We really enjoy this as a food wine and are inclined to put it in the same league as Matalj Kremen and Cilić Cabernet & Merlot.
Another garage winery that caught our eye was Tri Međe i Oblak. The winery is located on the jagged border between Serbia and Croatia. The winery is named after the three border crossings that the owner has to make just to get to his vineyards. Tri Međe i Oblak made an interesting white wine from Grašac (known as Graševina in Croatia and Welshriesling around the world). They also grow and make wine from the red grape Vranac. It's odd to see Vranac outside the Mediterranean climates of Montenegro and Macedonia, but Tri Međe i Oblak says the grape is doing well. Unfortunately we didn't get a chance to taste it.
The Conventional Wineries
Fruška Gora has the vineyard space to support several large wineries. Molovin, Kovačević, Ilić-Nijemčević, and Erdevik wineries all have the vineyard holdings and capacity that make them much larger than the aforementioned garage wineries.
The largest independent winery in Serbia, Kovačević, calls Fruška Gora its home. They produce close to one million bottles of wine every year and their Chardonnay is one of Serbia's best selling wines.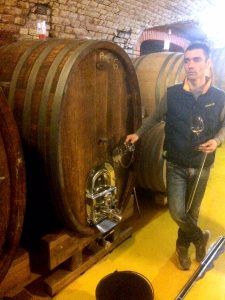 Even at that scale, they produce some interesting stuff. Kovačević is experimenting with orange wines / amber wines produced both in wood and in Georgian qvevri (buried amphora). We had a chance to taste two macerated wines, one made from Grašac and one from Riesling – they were both very impressive. After the tasting, we went upstairs to eat at the superb restaurant and taste some archive and reserve wines, including a very impressive aged Riesling.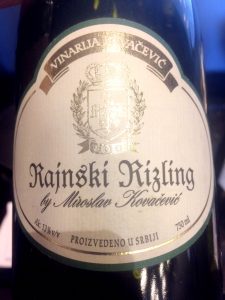 Our biggest surprise on Fruška Gora was a fairly new project named Ilić-Nijemčević. We were introduced to their wine by our friend Mileta Popović who runs the blog Serbian Wine Guide. Mileta treated us to a bottle over lunch. The label gave us cause for concern at first but once we tasted the wine, all doubts melted away. The Ilić-Nijemčević Crveno Vino is predominantly made of Gamay and it is fruity, balanced, and food friendly.
 

It seems odd that a Gamay-based red can go well with a mountain goat dish, but it does! It helps that the wine probably has some Cabernet Sauvignon in the blend and the meat is surprisingly not too gamey. The wine is red fruit flavor dominated with good texture, paired with lean goat meat cooked in kaymak (a cross between clotted cream and cream cheese), it's a beautiful combination for a cold afternoon.
Less than one week after tasting the wine, we were off on a press trip to Ilić-Nijemčević. It is an old cooperative winery that was purchased by two families. They own their own vineyards and are already producing solid wine. Their whites and two rosé wines stand out in addition to their Gamay based wine.
 

Beautiful day in the Fruška Gora wine region of Serbia. We're on a press trip to Ilić-Nijemčević winery.
Another interesting winery that has taken over an old cooperative is Erdevik Winery. It's named after the village where it is located. They have a huge facility, a skilled winemaker, and beautiful vineyard holdings.
The buildings look old and rundown from the outside, but inside it is another story. Equipped with top-of-the-line equipment and oak, this winery is looking to push the quality barrier of wines for Fruška Gora. Their Sauvignon Blanc and two Rosé wines are already getting praise from the local press. The most exciting wine for us is their Omnibus Lector, a barrel-fermented Chardonnay that shows, dare I say, Burgundian traits. Erdevik wines are available for purchase at wineandmore.com
Every country that is attempting to re-acquire their lost wine culture need the types of wines that these producers provide. Wines that taste good, are technically sound, and affordable. We're looking forward to seeing the progress of these wineries in the coming years.
Serbian Natural Wines
Serbia has an ancient winemaking tradition but in a way, but it is in the process of reacquiring its wine culture after the breakup of Yugoslavia. It's a young industry that has been focused on quality-driven wines only for the last 15 years. But there is a thriving, underground, natural wine movement. The hub of this movement in Serbia is Fruška Gora.
 

The main motivation for us to attend yet another wine salon in Belgrade last weekend: to taste the wines of Oskar Maurer. Oskar is a famous mentor, leader, and figure of the natural wine movement in Serbia. The Maurer wines are hard to come by in Serbia as most are exported. We were told that these wines are so well-received in other parts of the world that they are listed by 12 different Michelin-starred restaurants across the globe.
Currently, there are several natural producers on the market including Bikicki, Bojan Baša, Imperator, Maurer, and Sagmeister. We found this shocking for a country that has only 400 registered wineries and reinventing its wine culture. Bikicki wines are available for purchase at wineandmore.com

We've tasted wines from all of these producers. All the producers show enormous potential. The wines are very exciting and the local market is enthusiastic over this style of wine.
Final Thoughts on the Wines of Fruška Gora
We are the first to admit that we were wrong about Fruška Gora. That's the beauty of the wine scene in these emerging wine regions. There are hidden gems all over the place, you just need to know where to look. We aren't overly enthusiastic about the reds coming out the region – although we hope to be proven wrong again.  The white wines and natural wines show the most promise as of now.
Fruška Gora has a lot going for it: proximity to the two biggest cities in Serbia, south-facing exposure, moderating influence of the Danube, and passionate winemakers. The sky is the limit for this place and we're glad to have seen the foundation first hand.
The finest selection of
available at:

Shipping is available EU-wide and to the UK.
************
    Do you want to try Serbian wines?    
If you're looking to savor the exquisite flavor of Serbian wines, look no further than wineandmore.com. With an abundance of options from different winemakers, it's easy to find exactly what your palate desires. Not sure which bottle is best for you? Try out one of their curated wine cases and discover the perfect vintage for any occasion!
************
Want to learn more about wine?
Are you ready to discover the wonderful world of wines? Come join us at wineandmore.com and let's explore the incredible selection of delicious wines together! We can't wait to share our passion for wine with you!
You May Also Enjoy:
Vinarija Doja: Serbia's New Vinous Star
Tonković Kadarka Fantazija 2011
Fine Serbian Wine On Belgrade's Doorstep
Matalj Kremen Kamen: A Vertical Tasting 
Vinodonia Skopje Wine Salon Impressions
Serbian Grand Cru On The Slopes Of The Danube
Prokupac From South Central Serbia 
---
Special thank you to Igor Luković and Tomislav Ivanović of Vino & Fino and Vinopedia for helping us schedule a few visits. Another thanks goes to both Dušan Jelić of Wines of Fruška Gora and Mileta Popović of Serbian Wine Guide.
Disclaimer: This article is based on our own opinions and is not associated with sponsorship or business promotions of any kind.