Reading Time: 1 minute
In the Spring of 2018, we set out on a re-tour of Croatia to bring our book Cracking Croatian Wine: A Visitor Friendly-Guide to life. There was so much to share about Istria that we ended up shooting four episodes there.
In part 1 of Cracking Croatian Wine in Istria, we offer an overview of the wine grape-growing condition and a peek at what Istrian cuisine has to offer. In part 2, we shift the focus to Malvazija Istarska, the most widely planted grape in the region. In part 3, we dive deep into Istria's gastronomy and go on a truffle hunt.
This is the last episode about Istria. In this episode, we take you out on a spearfishing trip in the Adriatic Sea and recommend some elusive vinous gems of Croatia.
The Adriatic-Powered Wine and Seafood from Istria
Watch "Cracking Croatian Wine in Istria, Part 4 of 4" on Exotic Wine Travel YouTube:
Timestamps: Cracking Croatian Wine in Istria, Part 4/4
(0:58) Introduction to the seaside town of Poreč.
(1:30) Meet Milan Budinski, winemaker of Vina Laguna Winery and former national spearfishing champion. He catches some fresh shellfish from the Adriatic Sea for us to taste.
(2:39) Milan Budinski and his wife Ivana Budinski prepare an Adriatic seafood feast from our morning catch. The meal is paired well with a Malvazija Istarska wine from Vina Laguna Winery.
(4:35) Learn about the terra rossa (Italian for "red earth") soil of western Istria. Terra rossa is a red, clay-like soil with good drainage characteristics.
(6:17) Meet Dimitri Brečević of Piquentum Winery. He takes us up to the remote village of Vrh and shows us some vineyards.
(7:27) Meet Adriano Grbac of Grbac Winery, one of the first wineries in Croatia to make traditional-method sparkling wine. He doesn't sell his wines in retail shops, so these wines can only be bought at the cellar.
(9:12) Discover one of the most famous restaurants in Istria, Konoba Stari Podrum.
(10:12) Meet Marino Markežić and Ana Markežić of Kabola Winery, a certified organic wine producer. Kabola is best known for its Malvazija and Teran wines, including a few examples made in amphora (Georgian qvevri).
(12:18) We wrap up our time in Istria and offer a preview of the upcoming episodes about Dalmatia.
View, like, share the full episode on our Facebook Page:
************
Want to learn more about Croatian wine?
Our visitor-friendly wine travel guidebook to Croatia is available on Amazon now!
Check out Cracking Croatian Wine: A Visitor-Friendly Guide for more information.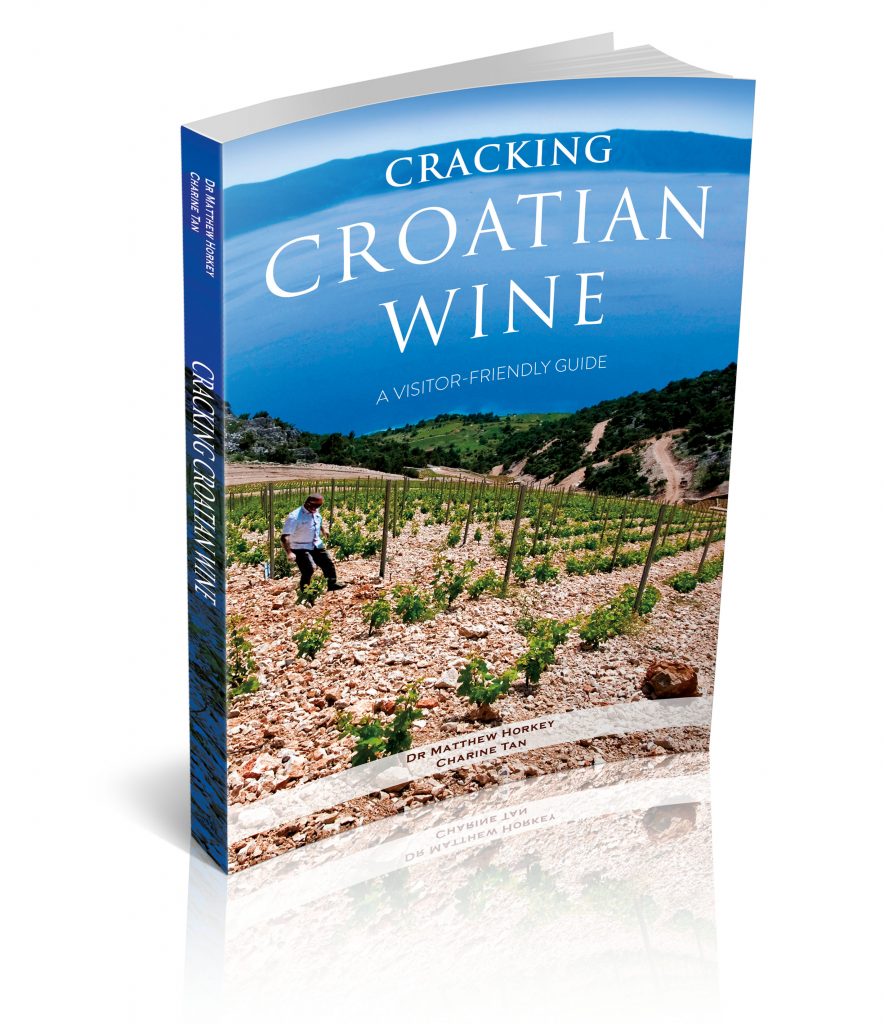 ---
You May Also Enjoy
Please note that the opinions expressed in this article are unsolicited and have not been paid for in any way by governmental bodies, enterprises, or individuals. We do not sell editorial content as that would destroy the legitimacy of our reviews and the trust between Exotic Wine Travel and its readers. On occasion, we extend the option of purchasing the wines we review or/and the products we spotlight. Some of these product links are set up through affiliate programs, which means Exotic Wine Travel gets referral credits if you choose to purchase these items via the links we provide.