Cracking Croatian Wine in Istria (Part 2/4): Malvazija Istarska
Reading Time: [est_time] In the Spring of 2018, we set out on a re-tour of Croatia to bring our book Cracking Croatian Wine: A Visitor Friendly-Guide to life. There was so much to share about Istria that we ended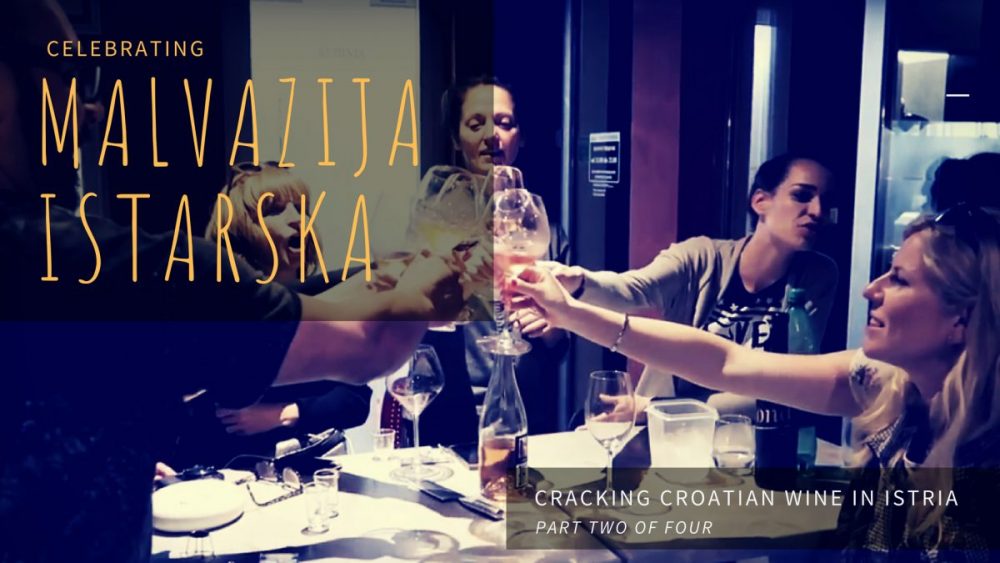 Reading Time: 3 minutes
In the Spring of 2018, we set out on a re-tour of Croatia to bring our book Cracking Croatian Wine: A Visitor Friendly-Guide to life. There was so much to share about Istria that we ended up shooting four episodes there. In Part 2 of Cracking Croatian Wine in Istria, we shift our focus to Malvazija Istarska, the most widely planted grape in the region.
(Also, check out Part 1/4 of Cracking Croatian Wine in Istria here.)
Malvazija Istarska
(Pronunciation: Mal-vah-zee-yah Yee-star-skah)
As its name suggests, Malvazija Istarska—also known as Malvasia Istriana in Italy and Istrian Malvasia for English speakers—is an autochthonous wine grape of Istria. It is neither related to the other Malvasia varieties that originated from Greece nor the same as the Malvasia varieties planted in Italy (besides Friuli). The first written record on the cultivation of Malvazija Istarska dates back to 1891 when Malvazija Istarska wines were presented at a wine exhibition in Zagreb. Today, this grape plays a significant viticultural role in Croatian Istria, Slovene Istria, and Friuli, Italy.
Istria's Flagship White Wine Grape
Malvazija Istarska is the second (after Graševina) most widely planted grape in Croatia; and in Istria, it is the most widely planted grape—accounting for more than half of the planting.
Malvazija Istarska is relatively vigorous and typically offers good yields. To produce good quality, vintners avoid growing this variety in fertile and moist soil. The terra rossa soil and flysch soil in Croatian Istria are considered well-suited for Malvazija Istarska. Generally, Malvazija Istarska wine contains 12-14.5% alcohol and the total acidity is between 5-6.5g/l.
Malvazija Istarska can be made into many different styles of wine, including fresh and fruity, barrel aged and complex, macerated, and sweet. Some producers in Croatia also age the wine in acacia wood barrels, Georgian qvevri, and amphorae. When macerated, this variety can produce compelling amber wines / orange wines with high-toned aromas and juicy mouthfeel.
How's It Taste
Malvazija Istarska wines are characterized by floral aromas (chrysanthemum, acacia, frangipani, etc.), white-fleshed fruit flavors (peach, apple, pear, etc.) and a green lift (lime, green apple, fresh green herb, etc.). Often, the wines also have a slightly bitter, almond-tasting finish.
Every Istrian producer makes at least one bottling of Malvazija wine. The grape shows so much potential that it has famous wine personalities, including British wine writer Oz Clarke, singing its praises.
RECOMMENDED PRODUCERS
[ap_list list_type="ap-list2″]
[ap_li]YOUNG AND REFRESHING MALVAZIJA: Damjanić, Fakin, Franković, Matošević, Tomaz, Vina Laguna[/ap_li]
[ap_li]OAKED AND AGE-WORTHY MALVAZIJA: Coronica, Kozlović[/ap_li]
[ap_li]MACERATED MALVAZIJA: Clai, Dobravac, Kabola, Piquentum, Roxanich, Trapan[/ap_li]
[ap_li]SWEET MALVAZIJA: Benvenuti[/ap_li]
[/ap_list]
In this episode, we put the spotlight on this wine grape and also show you a number of great places to eat while in the region.
Watch "Cracking Croatian Wine in Istria, Part 2 of 4" on Exotic Wine Travel YouTube:
Timestamps: Cracking Croatian Wine in Istria, Part 2/4
(0:57) An Introduction to Istria's flagship white wine grape, Malvazija Istarska.
(1:16) Meet Ivica Matošević of Matošević Winery. Ivica Matošević was the president of Vinistra (The Association of Winegrowers and Wine Producers of Istria) since its formation in 1994 until 2014, making him the perfect spokesperson for Malvazija Istarska.
(2:55) Meet Antonella Kozlović, one of the proprietors of Kozlović Winery. The wines of Kozlović are well-known all around Croatia. In this video, we introduce you to the wines from their premium vineyard, Santa Lucia—this site has been called "the Puligny-Montrachet of Istria".
(6:11) See one of the best spots in Istria for shellfish: Restaurant Viking on the Lim Bay.
(7:34) Meet winemaker Bruno Trapan of Trapan Winery. Bruno Trapan recently opened an on-premise restaurant which serves local specialties with a modern twist.
(10:08) At the 25th annual Vinistra, we interview renowned wine personality Steven Spurrier, Decanter Magazine's consultant editor and the organizer of the 1976 Judgment of Paris. In this interview, Mr Spurrier offers his thoughts on Malvazija Istarska.
(12:09) Preview of the next episode, Cracking Croatian Wine in Istria (Part 3 of 4).
View, like, share the full episode on our Facebook Page:
The finest selection of
Croatian wines available at:

Shipping is available EU-wide and to the UK.
************
    Do you want to try Croatian wines?    
If you're looking to savor the exquisite flavor of Croatian wines, look no further than wineandmore.com. With an abundance of options from different winemakers, it's easy to find exactly what your palate desires. Not sure which bottle is best for you? Try out one of their curated wine cases and discover the perfect vintage for any occasion!
************
Want to learn more about wine?
Are you ready to discover the wonderful world of wines? Come join us at wineandmore.com and let's explore the incredible selection of delicious wines together! We can't wait to share our passion for wine with you!
---
You May Also Enjoy: Making Cracking Croatian Wine
Croatian Wine: 10 Refreshing White Wines to Try
Please note that the opinions expressed in this article are unsolicited and have not been paid for in any way by governmental bodies, enterprises, or individuals. We do not sell editorial content as that would destroy the legitimacy of our reviews and the trust between Exotic Wine Travel and its readers. On occasion, we extend the option of purchasing the wines we review or/and the products we spotlight. Some of these product links are set up through affiliate programs, which means Exotic Wine Travel gets referral credits if you choose to purchase these items via the links we provide.