Must-Visit San Gimignano Wineries
San Gimignano, located in the heart of Tuscany, is a small medieval town globally recognized for its incredible wine! The town's nearby wineries enjoy a stellar reputation across the globe and offer a diverse range of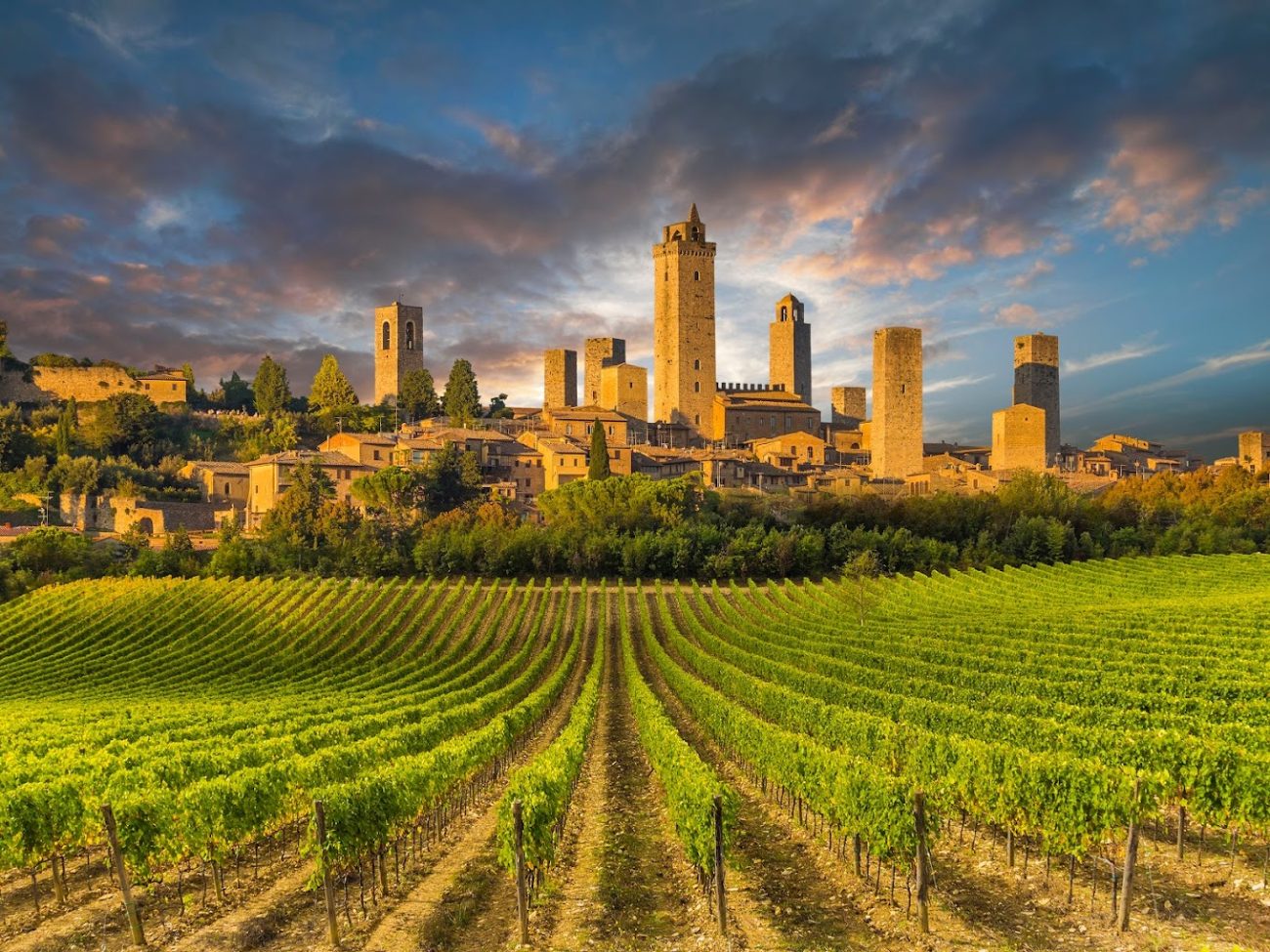 San Gimignano, located in the heart of Tuscany, is a small medieval town globally recognized for its incredible wine!
The town's nearby wineries enjoy a stellar reputation across the globe and offer a diverse range of grape varieties that cater to a wide spectrum of wine lovers.
Best San Gimigiano wineries
San Gimignano, known as the Town of Fine Towers, is a stunning medieval hill town in Tuscany, Italy. The town is renowned for its unique medieval architecture, which includes a dozen well-preserved tower houses that form an unforgettable skyline. San Gimignano was once home to 72 towers during the fourteenth century when each family built a tower to demonstrate their economic power. The town's historic center has been designated a UNESCO World Heritage Site since 1990.
In addition to its striking architecture, San Gimignano is famous for its local products, including saffron and a prize-winning white wine called Vernaccia di San Gimignano. Vernaccia is one of the oldest wines in Italy, dating back to the town's founding. Even Dante mentions it in his Divine Comedy. Visitors to San Gimignano are encouraged to try this exceptional wine, which wineries produce with a long history and passed-down techniques.
The region's unique soil and microclimate contribute to developing these exceptional wines, which are highly sought after. San Gimignano's beauty and cultural significance make it a must-visit destination for anyone traveling to Tuscany.
1. Tenuta Torciano
For over three centuries, Tenuta Torciano has been synonymous with high-quality wines! Founded in 1720 by Bartolomeo Giachi, the art of winemaking was passed down from generation to generation, with each descendant building on the knowledge and skills of their forebears.
Today, Tenuta Torciano is owned and operated by Pierluigi Giachi, his wife Luciana, and their children Emanuele and Vittoria. As the thirteenth generation of the Giachi family in the wine industry, they have continued the legacy of producing some of the finest wines from both long-established wine-producing regions in Tuscany and emerging viticultural areas.
What sets Tenuta Torciano apart is its unwavering commitment to integrity, high quality, and excellent service. They strive to provide their clients with an exceptional selection of fine and rare wines while ensuring that they receive personalized attention and exceptional service. The team at Tenuta Torciano comprises dedicated and knowledgeable professionals who are passionate about what they do.
Located on the hills near San Gimignano, Tenuta Torciano is one of the top-rated vineyards in Tuscany. The wine tastings, led by the charismatic Pier Luigi Giachi, are a must-try experience. The wines are presented with passion, from white Vernaccia di San Gimignano to Tenuta Torciano's Super Tuscans, paired with different types of ham and cheese. Their famous lasagna with truffle olive oil is a highlight that will leave you craving more.
In addition to its exceptional wines, Tenuta Torciano offers a one-of-a-kind experience of immersing oneself in the beautiful Tuscan countryside, surrounded by nature, and indulging in the art of winemaking.
Uncover Best San Gimignano Wine Tasting Experience with Food.
2. Podere La Marronaia
If you plan a trip to San Gimignano, Tuscany, and enjoy wine, you won't want to miss a visit to Podere La Marronaia. This family-run farm is located just a 5-minute drive from the center of San Gimignano, surrounded by picturesque vineyards, and offers an unforgettable wine-tasting experience.
Podere La Marronaia is an organic and biodynamic farm that produces exquisite wines and extra virgin olive oil. The farm was established by Silvia and Luigi in 2000 and has since been run by their family, including their sons Pietro and Corrado. The family owns three vineyards, where they grow a variety of red and white grapes, including.
Vernaccia,
Sangiovese,
Canaiolo,
Trebbiano,
Chardonnay,
Merlot,
Cabernet Sauvignon, and
Syrah.
The family takes great pride in using organic and biodynamic methods to cultivate their crops, focusing on maintaining the soil's natural fertility and promoting the balance of the ecosystem. They also have an extensive olive plantation in the Siena countryside, under the Chianti Colli Senesi DOC region, to produce their delicious extra virgin olive oil.
At Podere La Marronaia, visitors can take a guided tour of the farm. The tour starts with a short introduction to the whole farm activity and continues with wine and extra virgin olive oil tasting at their charming cellar in the farmhouse shop "Ai Quattrorsi." In addition to wine and olive oil tastings, they also offer cheese tastings, pasta with saffron, pesto, or truffle meals, vineyard experiences, and cooking classes.
If you want to stay a bit longer, Podere La Marronaia also offers accommodation in their well-furnished rooms with modern facilities. The panoramic windows offer stunning views of the vineyards and San Gimignano's towers.
With its organic and biodynamic methods, charming farmhouse, and picturesque vineyards, it's no wonder why it's considered one of the best wineries to visit in Chianti.
Indulge in the Wine & Oil Tasting with Lunch or Dinner.
3. Fattoria Poggio Alloro
Experience the quintessential Tuscan hospitality and stunning views of medieval towers at Fattoria Poggio Alloro, one of the first wineries you'll encounter while approaching Florence from the northeast. The family-run estate, nestled amidst rolling hills and lush fields, is a popular destination for its all-organic farm, wine tastings, educational farm activities for kids, and a restaurant that serves delicious Tuscan delicacies.
Spread over 250 hectares, 70 of which are dedicated to growing the local Vernaccia di San Gimignano and other grapes and olive trees scattered across the estate that yield excellent extra-virgin olive oil. The family uses organic fruits and vegetables grown in the garden and orchards to create traditional Tuscan dishes.
The estate's agriturismo comprises ten rooms and an apartment in a Tuscan-style restored farmhouse, where guests can enjoy a sweet morning with fresh milk from the dairy cows, homemade breakfast cakes, and freshly picked fruits. During the day, guests can explore the farm and visit nearby historical and natural sites. In the evening, they can relax and taste the estate's wines, dine on the restaurant's traditional Tuscan recipes, and even join other guests at long tables to share a bottle of wine.
The Fioroni family moved to San Gimignano from the Marche region in the boom years after World War II to work as sharecroppers. In 1973, they decided to buy the farm, and since then, they have nurtured it into the successful winery it is today. The estate's name, Poggio Alloro, derives from the Bay Leaf Hill that abounds with bay laurel bushes on the property.
Whether you are a wine enthusiast, a foodie, or just seeking a peaceful countryside retreat, Fattoria Poggio Alloro has something for everyone. With its warm hospitality, organic produce, and stunning surroundings, it is no wonder that this family-run farm has become a popular Tuscan destination.
Discover Best Chianti Wine Tour with Tuscan Lunch, Visit to San Gimignano and Organic Wineries.
4. Il Colombaio di Santa Chiara
Il Colombaio di Santa Chiara is an elegant agriturismo located just 2 km from San Gimignano, immersed in the stunning greenery of the Tuscan countryside, surrounded by vineyards and olive groves. The property offers its guests an unforgettable stay, thanks to the meticulous renovation carried out by the owner himself, using natural materials and enhancing the original atmosphere of the building.
The accommodations have been adapted to offer maximum comfort while retaining the original spaces' pleasant atmosphere. The agriturismo is located in a structure dating back to the 1800s, and guests can explore the old cellar, which was once used to store wine at a low temperature. For those who love to stroll, San Gimignano can be reached by walking along a white road for just 800 meters. Car and scooter rentals are also available for those who wish to explore the surrounding area.
The owner's extensive experience in the agricultural sector is at the guests' disposal for those interested in activities such as tastings of the estate's own products, including wine and olive oil. But Il Colombaio di Santa Chiara is not just a wine estate – it is also a stylish retreat, with six sumptuously designed rooms and tasting rooms with creative touches.
The Logi family, who owns the estate, are known for producing some of the finest Vernaccia around, and their passion for winemaking is evident in everything they do. Visitors can enjoy lunch on the restaurant's scenic terrace or take a much-recommended Jeep tour through the vineyards.
In short, Il Colombaio di Santa Chiara offers its guests the opportunity to experience the beauty and elegance of Tuscany in a truly unforgettable way. Its stunning location, luxurious accommodations, and exceptional wine and food make it the perfect place to relax, unwind, and enjoy all these magical region offers.
Join The Ultimate Tuscan Cooking Class!
5. Mormoraia
La Mormoraia, located in the heart of Tuscany hills, is an elegant farm run by the Passoni family. The farm is built on the site of a former convent and has been lovingly restored to its old-world charm. The farmhouse has 30 double rooms, all renovated in the traditional and rustic Tuscan style, set in a panoramic position of rare beauty overlooking the towers of San Gimignano.
The history of La Mormoraia is one of the fathers' passions transmitted and carried on by sons. The former convent La Mormoraia became the property of Pino Passoni, a Milan businessman, and his wife Franca in 1980. In 1990, they began the careful renovation of the estate buildings and vineyards, with the intention of restoring them while maintaining the same characteristics of old times.
In 2012, Alessandro, only 23 years old, took control of the company and reorganized it with the support of his parents. The apartments were transformed into elegant B&B rooms, the sauna and steam bath were built to meet the needs of relaxation and well-being, and the agricultural production was converted into organic. In 2014, the restaurant was opened to allow guests to discover the flavors of the Tuscan tradition.
La Mormoraia offers various activities to its guests, such as hiking around its vineyards, forests, and lake. Guests can also explore the Tuscan hills using one of their Electric Mountain bikes. The farm offers massages in its wellness area and cooking classes with chefs. Guests can also taste their wines and extra virgin olive oil served with typical local products.
In conclusion, La Mormoraia is a unique and special place where guests can immerse themselves in the charm and traditions of Tuscany, enjoying a relaxing and authentic experience.
Check Prices on Booking.com ↗             Compare prices on Tripadvisor.com ↗               Check Best Deals on Agoda.com ↗
San Gimignano food and wine pairing
San Gimignano is a picturesque medieval town renowned for its beautiful architecture and captivating history. However, the town's beauty is not just limited to its landscape; it is also celebrated for its gastronomic delights and the local wines that perfectly complement the region's flavors.
San Gimignano's cuisine is rooted in the Tuscan tradition, with its simplicity and emphasis on using fresh and locally-sourced ingredients. The town's culinary specialties are characterized by their strong flavors, reflecting the agricultural and pastoral heritage of the region.
Uncover Truffle Hunting Experience with Wine and Lunch in Tuscany.
Regarding food and wine pairing, San Gimignano is a paradise for any foodie or wine enthusiast. For instance, the Vernaccia di San Gimignano is the region's pride, renowned for its crisp acidity and delicate floral notes. This wine pairs perfectly with the local dish Pappa al Pomodoro, a tomato and bread soup with a hint of garlic and basil. The acidity of the wine cuts through the sweetness of the tomato, while the floral notes balance the dish's earthy flavors.
Panzanella, a bread and tomato salad, is another classic Tuscan dish that pairs well with San Gimignano's wines. The dish's tangy flavors perfectly match the town's red wines. The wine's acidity and tannins help balance the salad's oil and vinegar dressing, while the fruity notes bring out the sweetness of the tomatoes and the bread.
Join The Private San Gimignano Walking Tour.
Lastly, the famous Florentine steak is a must-try dish when in Tuscany. The dish's juicy and flavorful meat pairs best with San Gimignano's bold and robust red wines, such as Brunello di Montalcino or Vino Nobile di Montepulciano. These wines are known for their full-bodied and complex flavors, complementing the steak's intense taste and richness.
In conclusion, San Gimignano's food and wine pairing is a journey worth embarking on for anyone who appreciates good food and wine. The town's local cuisine perfectly reflects its rich history and agricultural heritage, while its wines are a testament to the region's winemaking traditions. With every sip and bite, you can experience the true essence of Tuscany's culinary delights.
When to visit San Gimignano 
San Gimignano attracts visitors worldwide due to its rich history, stunning architecture, and beautiful landscape. The town has a unique charm that can be enjoyed throughout the year, but the best months for a visit are April to July and September to December when the weather is ideal.
San Gimignano's weather can be described as mild and pleasant, with relatively low humidity and little precipitation. However, temperatures can feel cold for about half the year, with the warmest months being June to August. This makes it an excellent time for sunbathing, swimming, and enjoying the outdoors.
Spring and autumn offer excellent weather for exploring the city. During these seasons, the temperature is pleasant and comfortable, and visitors can enjoy the town's sights without worrying about heat exhaustion or chilly weather. In contrast, winter in San Gimignano can be quite cold, and the town can be covered in snow during this period, creating a picturesque winter wonderland. On the other hand, summer in San Gimignano is warm. Visitors can expect long, sunny days and warm evenings during this period, making it an excellent time to explore the town's sights and enjoy outdoor activities.
The off-season in San Gimignano starts in October and lasts until February, during which the tourist rush is less, and hotels offer low fares. This makes it an ideal time for visitors who want to avoid crowds and leisurely explore the town's beauty.
Conclusion
Visitors can explore the estates of San Gimignano's wineries, where they can sample some of the region's finest wines and learn about the wine-making process. They can also explore the local cuisine, which perfectly complements the rich and complex flavors of the wines.
The experience of visiting San Gimignano's wineries is truly unique. It brings together art, culture, history, and gastronomy in an enriching and enjoyable way. The wineries' welcoming and knowledgeable staff ensures visitors leave with a deeper appreciation and understanding of the region's wine-making tradition!
*Please note that some links are set up through affiliate programs, meaning Wine travel gets referral credits if you purchase these items via our links at no additional cost to you.