2020 Rewind
Reading Time: [est_time] For better or worse, 2020 is a year all of us will ever forget. This last year saw the fear of one singular thing affect the entire world. My life was deeply altered,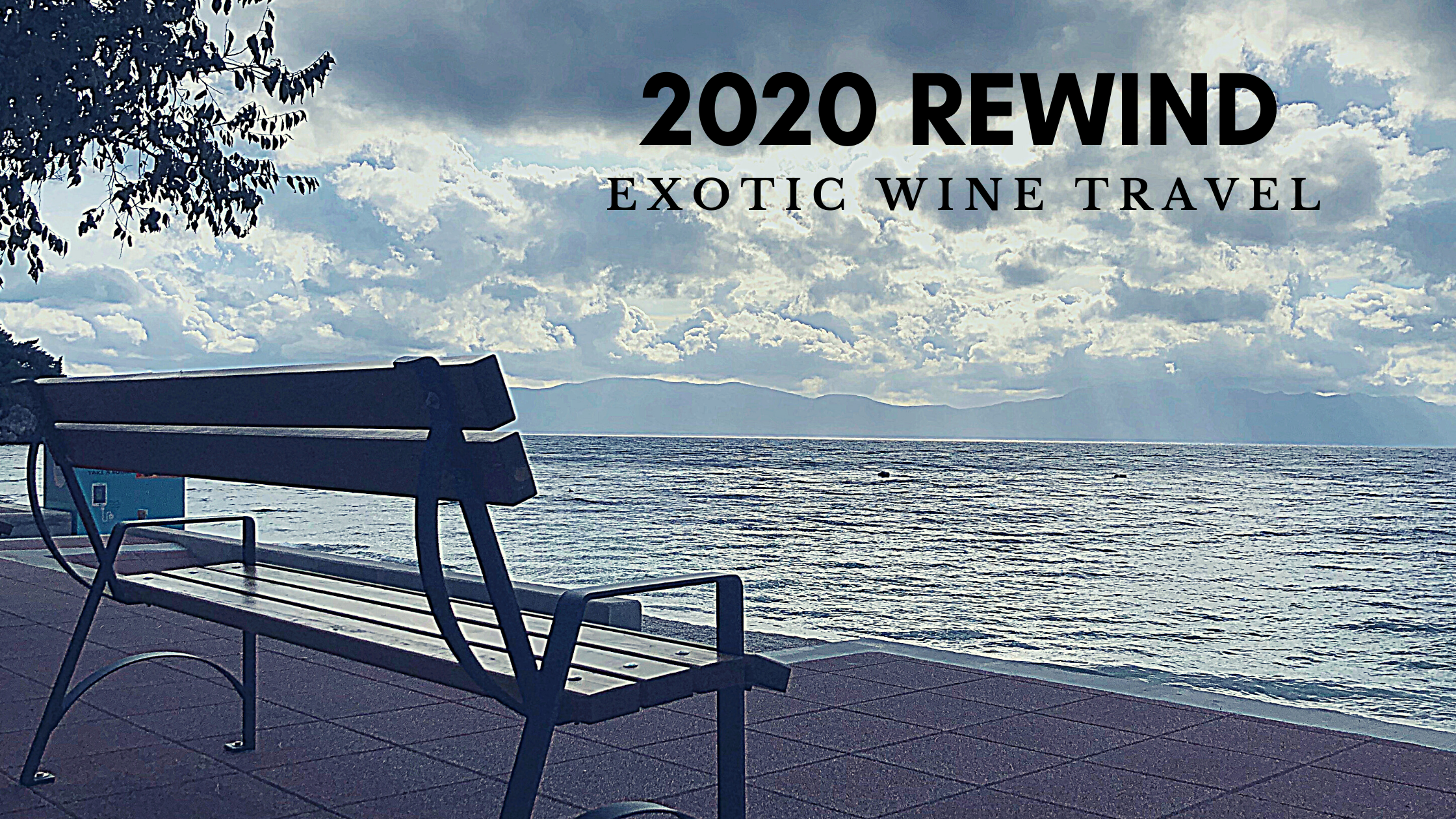 Reading Time: 8 minutes
For better or worse, 2020 is a year all of us will ever forget. This last year saw the fear of one singular thing affect the entire world. My life was deeply altered, like countless others around the world. That's not to say everything was terrible, I have a lot of things to be thankful for.
Reliving 2020 isn't something that most of us want to do but there were some highlights for me. Here's the 2020 Rewind for Exotic Wine Travel.
Licking Our Wounds: Discover Hungarian Wine
We closed 2019 with an epic failure.
For years, we've had the idea of creating a guide book for Hungarian wines in the same spirit as our past books. The previous books we wrote took significant investment, so I opted to go with Kickstarter. After months of research, the Discover Hungarian Wine Kickstarter launched in November 2019.
Unfortunately, I made the wrong choice to set a high bar on Kickstarter and our goal wasn't reached – meaning we got zero capital from it. Despite the setback, I still had my heart set on relaunching a Kickstarter in 2020. It's simple, I love Hungarian wines and believe in them.
The first wine shows I attended in 2020 included WineOS in Osjek (Croatia) and Borjour Magnum in Budapest (Hungary). The former included a vertical tasting of one of Hungary's most respected winemakers and the latter is the largest indoor tasting in Hungary. After discovering new and exciting wines at Borjour Magnum, I felt optimistic about relaunching our Kickstarter in the Spring of 2020. Unfortunately, 2020 had different plans in store for me.
Millésima Blog Awards 2020
A few weeks after the show, I was selected as a finalist in the Millésima Blog Awards 2020. It was my fourth year applying for the competition. I was chosen as a finalist in 2019 but fell short of winning. The story of this year's edition was different, I was selected as the winner of the Public's Choice Award for my article "German Pinot Noir: Is It Worth The Hype?"
The grand prize is a week-long trip to Bordeaux. Because of the situation this year, the trip was canceled and still hasn't been rescheduled. My elation ultimately ended in disappointment.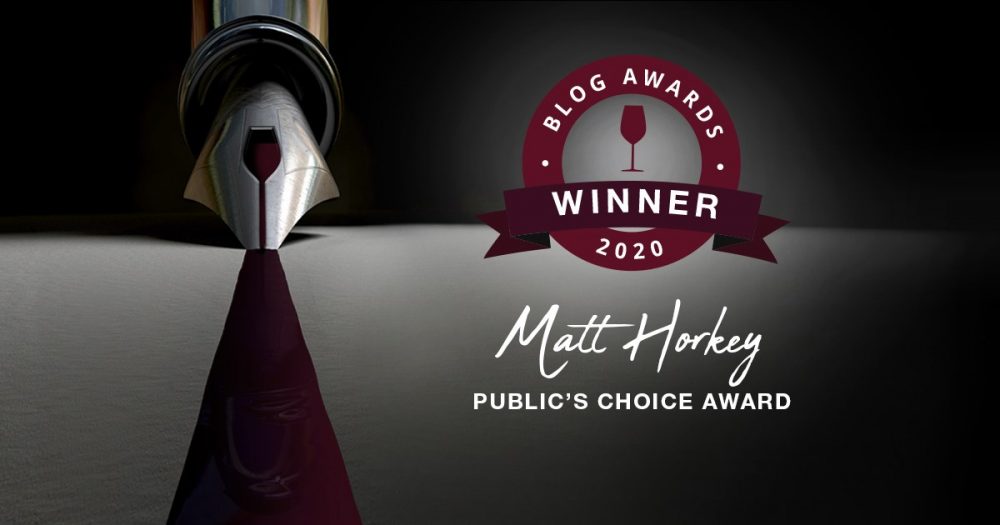 Back to Sardinia
My last trip before the world went crazy was Sardinia, Italy. Over the years, I've been to the island several times per year and have really fallen in love with it. This trip was to judge in my second International Vermentino Competition. The days were filled with plenty of wine and even more delicious food.
After the competition, the organizers arranged two short trips to the western part of the island to explore the unique wines known and Vernaccia di Oristano and Malvasia di Bosa. These are two of Italy's smallest DOCs and are wines that are aged under a thin film of yeast known as the floor. They're not fruity, they are savory and nutty which confuses most wine drinkers. If you're looking for a new experience, try one of these wines.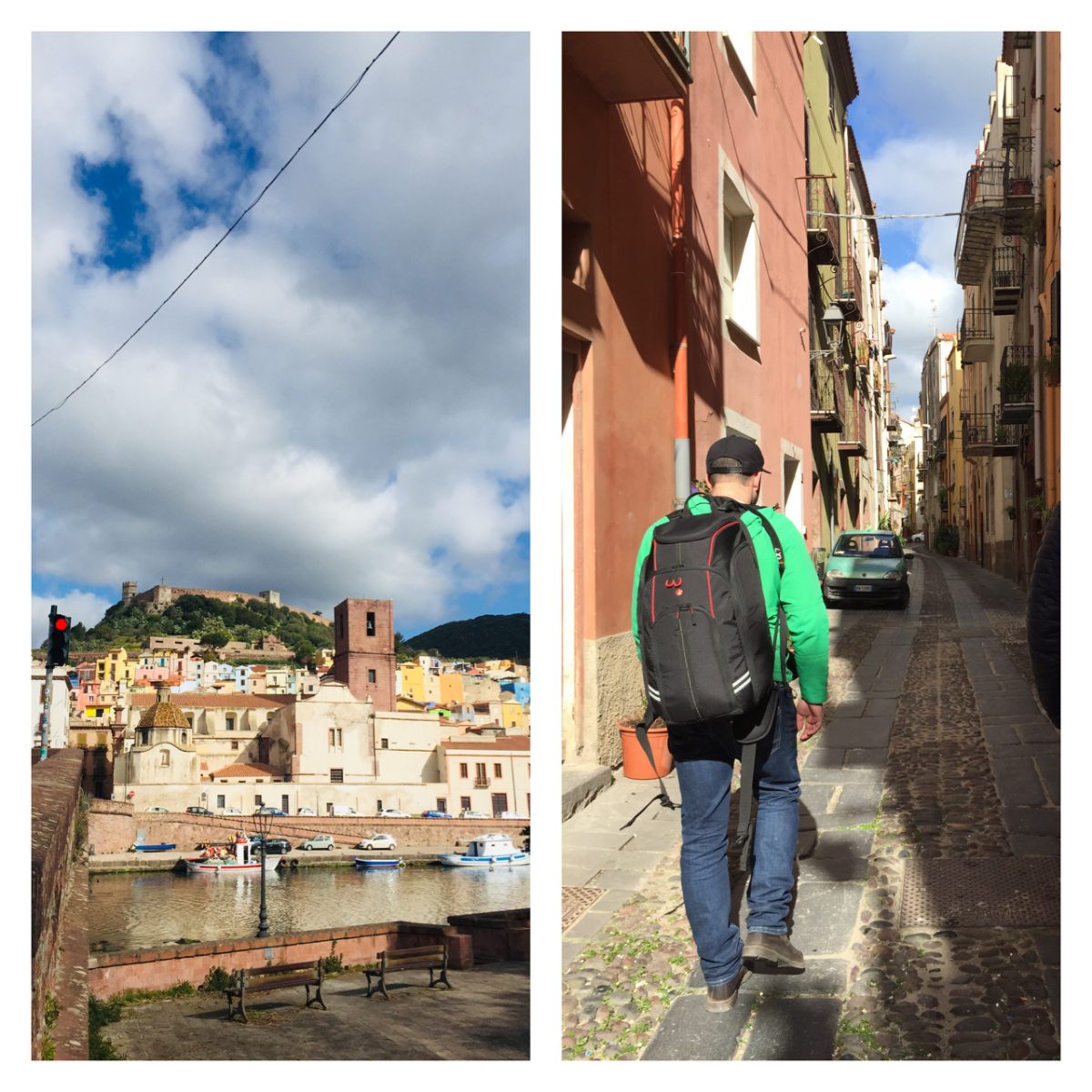 COVID & The Zagreb Earthquake
I returned to Zagreb, Croatia for the annual Vinart Grand Tasting. It's the most prestigious tasting in Croatia. The show featured several amazing masterclasses, including a vertical tasting of Croatian wine icons. We did some PR for the event, helping to bring foreign journalists to the show. After the press trip through some of Croatia's wine regions, the world went into lockdown over COVID19.
Our travel plans came to a grinding halt and we found ourselves 'stuck' in Croatia.
On March 22, just a few weeks after the national lockdown, we were woken at about 6:30 in the morning. The horizon seemed distorted as I looked out the window. Running out to the balcony, I saw dust rising from downtown Zagreb, I thought that a bomb went off.
It was the biggest earthquake Zagreb experienced in over 140 years. Thankful there were few casualties and the structural damage to our rented apartment was minimal. I put together a quick YouTube video of our reactions after the earthquake and it quickly became the most viewed video of the year on the Exotic Wine Travel channel.
Châteauneuf-du-Pape
Our friend Michel Blanc is the director of the Fédération des Syndicats de Producteurs de Châteauneuf-du-Pape. He brought us to the region in 2019 and this year, arranged for multiple producers to send us their latest vintages for several articles on our site. We spent several months during the Croatian national lockdown, tasting through the latest vintages and writing them up.
You can click the links below to see the articles:
I Want To Break Free
Travel restrictions in Croatia started to loosen in the Spring. After being stuck in a small Zagreb apartment for over three months, it was time to get some much-needed fresh air. I arranged a stay in Istria, at the fabulous Villa Famiglia. Our friend Vedran of ChinChin joined us for the month.
#DaysOfIstria Day 22 at Villa Famiglia, Selina – Istria
A massive treat thanks to Milan Budinski, who…

Posted by Exotic Wine Travel on Wednesday, July 1, 2020
It was a hedonistic month of wine and food (especially fresh seafood). Our social media postings made quite a stir. We received constant requests from our friends to visit, both local and abroad. Friends from Zagreb, Switzerland, and even Greece joined us at some point during that month. I put on a few extra kilograms that I'm still trying to take off.
We took the opportunity to revive our Cracking Croatian Wine series on YouTube. During the month-long stay at the Villa Lavanda, we shot our fifth episode about Istria, Croatia. You can relive that entire month with us in the video above.
Book a stay at the luxurious Villa Famiglia HERE.
The Land of Diversity?
After the month in Istria, we returned to Zagreb for a laid back summer. I spent most of the summer tasting and writing up articles, especially a big report on wines from The Spanish Palate. In between tasting and typing, we both took the opportunity to take part in our third video with the Zagreb tourist board.
I found it funny that the casting company made an effort to hire people of different ethnicities. In today's world, it's more and more important to be inclusive and show diversity. However, Croatia is not the most diverse country in the world, so seeing Charine, myself, and a few other people of color in the video gave me a good laugh.
Beachside Bumming
Sometimes you need a helping hand.
Out of the blue, Mirena Bagur of Croatian Premium Wine reached out to us. We had met in person but only briefly. Without reservation, she offered her holiday home in Gradac, Croatia. During a time where I was floundering a bit, this was a huge respite.
We took the time to produce our 15th episode of Cracking Croatian Wine. This edition focused on the seaside region of Komarna. It's Croatia's newest appellation and is fully certified organic. The wineries are already crafting good wines and have the potential to push the boundaries of Plavac Mali and Pošip. Our video, Cracking Croatian Wine: Komarna became the most viewed video in our series and the second most viewed video on our channel overall.
The real highlight of the month was staying at the Villa Lavanda. Its patio faces the sea, which is only 10 meters (30 feet) away. Gradac is located on the Makarska Riviera and there are towering mountains behind the villa. The only comparable beachside location I've been to is Krabi, Thailand.
I treasured every morning coffee, every dip in the sea, and every sunset. It's a place with incredible energy and is very soul-soothing. I hope to bring my entire family there in the future to stay.
Book a beach holiday at the Villa Lavanda HERE.
Welcome to Patreon
As the Autumn rolled in, we headed back to Zagreb and I started our Patreon page. Patreon is a crowd-sourcing site based on the concept of Patronage. It's simple, artists create with the financial help of dedicated fans.
My goal was to create a community of wine lovers who drink adventurously. Through the support of our patrons, I can continue to produce these articles and videos on our YouTube channel. The community is small now but I aim to ramp it up in 2021. Check out the Exotic Wine Travel Patreon page by clicking the photo below.

Back to the Beach
Mirena was kind enough to let us come back and stay at the Villa Lavanda in the late Fall to early Winter. Her generosity deeply touched me. Gradac is a beachside, holiday town and during Summer the beach was full of buzz and noise from children playing in the water. During this period, the town was empty and we heard nothing but the waves every night. Soaking up the seaside air every night is an experience I'll take with me for the rest of my life.
In total, I spent three and a half months at the Villa Lavanda. It's the longest I've spent at a single residence over the last six years. To help repay Mirena's kindness, I did a few chores around the house. It gave me great pleasure to do simple things like trimming the hedges and sealing the shutters for the winter.
There aren't enough words to express my gratitude to Mirena Bagur!
 Book a beach holiday at the Villa Lavanda HERE.
Front porch is stained and sealed for the winter. I feel like I've stepped back in time to the days on the farm or…

Posted by Exotic Wine Travel on Saturday, December 5, 2020
Coravin: Our New Partner
During this time, we also became partners with Coravin. A wine access device that we love and have used for years. If you're not familiar, check out the video below. You can use our discount code CCROF4DGN5 for 10% off all Coravin systems and accessories (like refill capsules). It doesn't cost you anything extra, you get a discount, and it helps support our work.
Slovenian Wine Aplenty
I've am a huge fan of Slovenian wine and try to visit the country every year. This country may have the highest wine quality among the Ex-Yugoslavian countries. I wasn't able to visit this year. Instead, I'll be working on several articles about the best Slovenian wines I tasted in 2020.
The article was originally slated to be a medium-sized article but the response from producers was incredible. I had the chance to tastes the latest vintages and even make a few new discoveries. Stay tuned to our site for three upcoming articles on Slovenian wines. The first should be released in early 2021.
Looking Towards 2021
For me, last year wasn't all fire and brimstone. There were a few bright spots, including the Exotic Wine YouTube channel, which had its best year. Five years into the channel, it's still relatively small compared to bigger YouTubers out there.
I've posted videos every week for five years and there are some down periods where I think it's pointless and silly. There have been times where I thought about throwing in the towel. Every time I think about giving up, something pushes me to continue. YouTube sent this summary a few weeks ago and it just boggles my mind that people took nearly 350,000 minutes out of their day to watch – it's incredibly humbling.
This year, I will also become the main voice of Exotic Wine Travel. You will see reports and articles on this page but most of my focus will shift to YouTube. Please consider subscribing and I wish you and your family a safe and healthy holiday season. See you soon and let's raise a glass for a better 2021!
Another Zagreb Earthquake(s)
*Update Tuesday, 29 December 2020
Just a few days after I originally posted this, I was woken on Monday, 28 December at 6:30 am. There was a second earthquake at the same time as the one back in March. This Zagreb Earthquake measured at 5.2 on the Richter scale and didn't create much damage.
One day later, on 29 December a 6.3 magnitude earthquake rocked Zagreb. Originating in Sisak, around 50 kilometers away, there was extensive damage. I am fine, the building was shaking which was scary but no structural damage to my apartment. Let's hope that other in Zagreb and Sisak were as lucky. Let's move on to 2021!
You Might Also Enjoy:
2019 Rewine: Best Wine Memories 2019
2018 Rewind (video): Traveling the World for Food and Wine 2018 Rewind.
The finest selection of
wines available at:

Shipping is available EU-wide and to the UK.
************
    Do you want to try Croatian wines?    
If you're looking to savor the exquisite flavor of Croatian wines, look no further than wineandmore.com. With an abundance of options from different winemakers, it's easy to find exactly what your palate desires. Not sure which bottle is best for you? Try out one of their curated wine cases and discover the perfect vintage for any occasion!
************
Want to learn more about wine?
Are you ready to discover the wonderful world of wines? Come join us at wineandmore.com and let's explore the incredible selection of delicious wines together! We can't wait to share our passion for wine with you!
---
The opinions expressed in this article are unsolicited and have not been paid for in any way by governmental bodies, enterprises, or individuals. We do not sell editorial content as that would destroy the legitimacy of our reviews and the trust between Exotic Wine Travel and its readers. On occasion, we extend the option of purchasing the wines we review or/and the products we spotlight. Some of these product links are set up through affiliate programs, which means Exotic Wine Travel gets referral credits if you choose to purchase these items via the links we provide.