A Foodie's Guide To The Best Restaurants In Valencia
[vc_row][vc_column][vc_column_text]Valencia, the third-largest city in Spain, is an attraction for those searching for the perfect cuisine and dining experience. With its Mediterranean climate and beautiful, vibrant streets, this city has numerous restaurants offering exciting dishes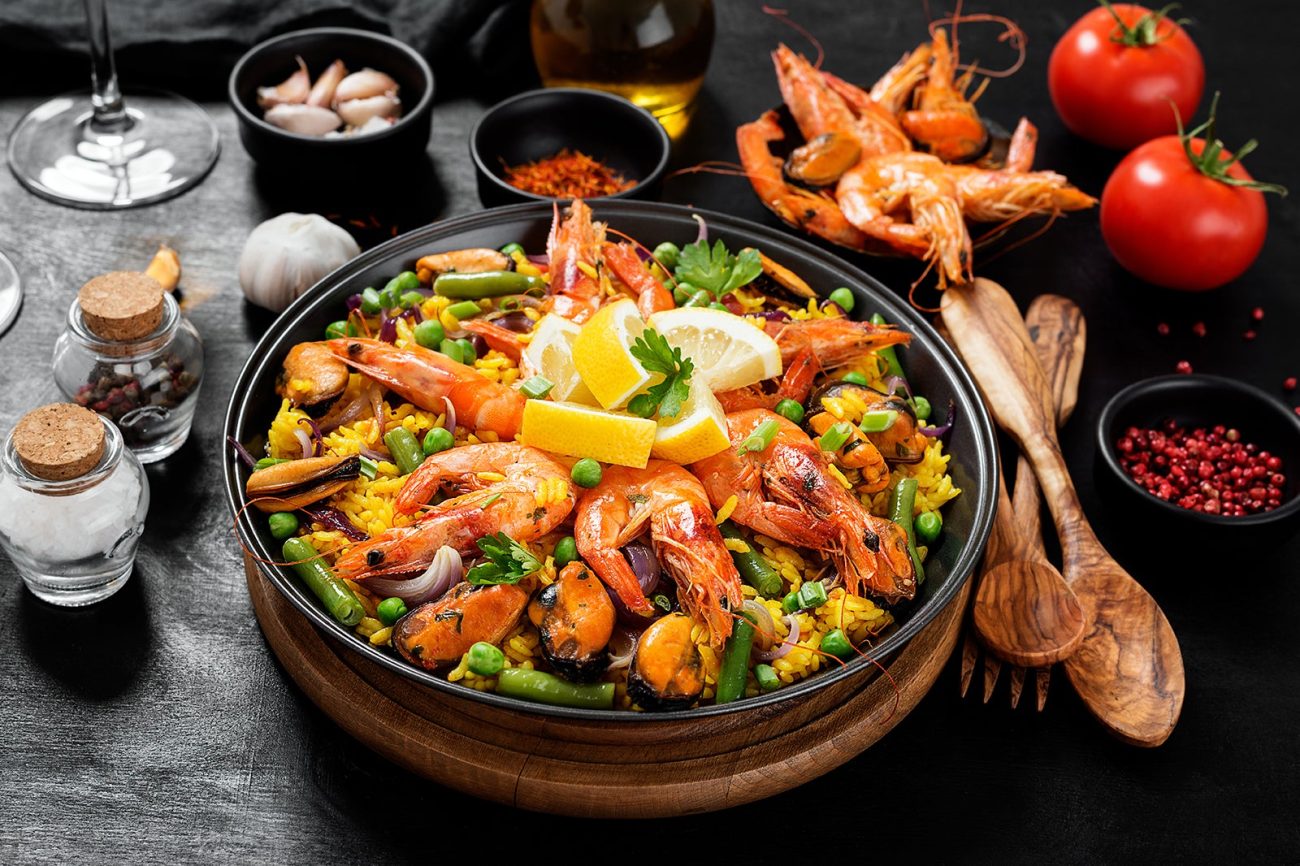 Valencia, the third-largest city in Spain, is an attraction for those searching for the perfect cuisine and dining experience. With its Mediterranean climate and beautiful, vibrant streets, this city has numerous restaurants offering exciting dishes and delightful dining spaces. This foodie guide will take you through Valencia's best restaurants!
Best restaurants in Valencia
Valencia, the birthplace of Paella and Spain's vibrant third-largest city, boasts an array of exquisite restaurants among the finest in the world. Prepare to embark on a culinary journey, indulging in traditional specialties and internationally-inspired gastronomic delights!
1. La Salita de Begoña Rodrigo
Located within Valencia's picturesque Ruzafa district, La Salita is a culinary gem that captures the essence of the city's rich history. Its well-preserved exterior is a time capsule, showcasing Valencia's past, while the interior is equally breathtaking.
The dining room features high ceilings, pristine eggshell white walls, and colorful tiles adorned with dried horticultural arrangements hanging from above. Chef Begoña Rodrigo's meticulous attention to presentation is evident in her technicolored dishes, skillfully juxtaposed against minimalistic white crockery.
The menu at La Salita is a global culinary journey with influences from various gastronomic traditions. Chef Rodrigo's creations celebrate flavors and textures from Korean-inspired parsnip carbonara with kimchi to Mexican-inspired 'taco' desserts.
But La Salita's culinary prowess doesn't end there. Every weekend, the restaurant transforms into L'Hort al Nú, where traditional Valencian fare takes center stage. Think croquetas, longaniza (cured local sausage), olives, and peppers, all expertly executed with the same focus and merit as their weekday counterpart.
What sets La Salita apart is not just its innovative cuisine but also its unique dining options.
In addition to the main dining room upstairs, the restaurant offers a beautiful garden for pre-dinner drinks, a bustling bar counter for those who enjoy watching the kitchen team at work, and a charming terrace where guests can savor the same delectable menu options or unwind with a post-dinner cocktail or digestif.
La Salita offers an unforgettable dining experience and presents a whole new culinary adventure, showcasing the versatility and creativity of Chef Begoña Rodrigo and her team. Whether you're a local or a visitor to Valencia, La Salita is a must-visit destination for a truly memorable dining experience!
2. El Poblet
In the heart of Valencia, a culinary gem has garnered praise and accolades for its innovative approach to local cuisine. This restaurant is a celebration of Valencian gastronomy with a modern twist, led by renowned chef Luis Valls, who has earned two Michelin stars for his culinary prowess.
The restaurant, originally named El Poblet, was founded by Quique Dacosta, a culinary maestro in his own right, as a homage to his own history. Under Luis Valls' leadership, the restaurant continues to pay tribute to the region's rich culinary heritage by using locally-sourced produce, especially from the beloved Albufera region.
Luis Valls is dedicated to creating a cuisine that reflects the flavors and textures of the Valencian pantry. His dishes perfectly blend tradition and innovation. Diners can expect bold flavors, exquisite textures, and top-quality products that highlight the richness of Valencian gastronomy.
One of the highlights of Luis Valls' cuisine is his modern take on cold cuts, which is sure to impress even the most discerning palates. His commitment to using local and seasonal ingredients is evident in every dish, as he strives to showcase the region's unique flavors in a creative and memorable way.
The restaurant offers tasting menus or à la carte options, allowing diners to choose their culinary adventure. And for wine lovers, the wine cellar boasts an impressive collection of great labels and an incredible selection of single malt whiskies to complement the meal.
Located in the heart of Valencia, this restaurant is a celebration of Valencian gastronomy and a testament to the culinary talents of Luis Valls.
His commitment to using locally-sourced produce, his innovative approach to traditional flavors, and his dedication to creating a unique dining experience have earned him two Michelin stars and a reputation as one of the top chefs in the region!
3. Ricard Camarena
Ricard Camarena, a renowned Valencian chef, has captured the hearts of food enthusiasts with his eponymous restaurant, awarded two Michelin stars. Nestled inside the Bombas Gens art gallery, a converted factory in the heart of Valencia, Ricard Camarena restaurant is a haven for art lovers and a culinary masterpiece that showcases creative, seasonal Mediterranean produce.
As you enter the restaurant, you are greeted by an open kitchen where the culinary magic happens. The designer tables, the stunning American walnut wood panels, and the exposed brick walls create an elegant and contemporary ambiance, setting the stage for an unforgettable dining experience.
Camarena's cuisine celebrates fresh, vibrant ingredients and beautiful presentation. He describes his approach as "creative without being strident, simple in appearance yet complicated in its preparation." The restaurant's commitment to local produce ensures a unique blend of distinctly Mediterranean flavors.
One of the restaurant's highlights is the tasting menu, which offers a selection of wines that perfectly complement the food. It's not uncommon to see Camarena himself attending to the tables, adding a personal touch to the dining experience.
Camarena's culinary creations are innovative, incorporating local ingredients unexpectedly. The tasting menu is a must-try for culinary enthusiasts looking to embark on a gastronomic adventure.
In conclusion, Ricard Camarena Restaurant is a true gem in Valencia's culinary scene. Camarena's commitment to local produce, creative flair, and attention to detail make this Michelin-starred restaurant a must-visit for anyone looking to embark on a culinary journey in Valencia!
4. La Taberna Casera
La Taberna Casera, a local Valencian restaurant, is renowned for its homemade artisan Sangria de Cava, a blend of natural ingredients combined with liqueur essences and cava, with a special touch of red wine.
Located in El Cabañal, one of the trendiest areas of Valencia, just a few meters from the beach and the seafront promenade, their menu showcases an array of uniquely Valencian appetizers and nine types of paella, including authentic versions with rabbit, snail, and chicken – a must-try being the classic Fideo Fino del Signoret made with pasta.
At the restaurant, you can taste the local cuisine and its culinary specialties, including rice dishes, fried food, seafood, and homemade tapas. Their menu offers a wide variety of dishes for all tastes. They also have a special menu for events if you decide to celebrate one there.
Enjoy generous, varied, and quality portions of Valencian cuisine. With 30 years of experience in the industry, they have renovated their establishment, making it spacious, and bright. Their service is friendly and welcoming, recommended by many!
5. Casa Carmela
Casa Carmela is a family restaurant serving authentic Valencian paella for almost 100 years. Passed down through four generations, this iconic eatery has become a culinary landmark, known for its traditional preparation methods and use of local, fresh ingredients.
Casa Carmela's history is intertwined with the family that founded it in 1922, Don José and Doña Carmen. What started as a humble shack has become a renowned restaurant known for its commitment to tradition, quality, and local raw materials. The legacy of this family is visible in every aspect of Casa Carmela, from the preparation methods to the flavors that are savored by diners.
At Casa Carmela, the art of making paella is a time-honored tradition. Following the steps passed down by their great-grandmother Carmen, the chefs at Casa Carmela use orange wood and the freshest ingredients from the earth to create a perfectly thin layer of rice with a smoky firewood taste characteristic of authentic Valencian paella.
The menu is defined by the products offered by the sea and the kitchen garden, with only the freshest fish and seafood sourced directly from the fish market. Dénia prawns, beach langoustine, Galician clams, Valencian clotxina (mussels), and beach tellinas (wedge clams) are some ingredients that go into Casa Carmela's paella.
The chicken, rabbit, and duck used in their dishes are sourced from a lifelong supplier's farmyard. The garrofó (white beans) and ferradura (green beans) used in their paellas are native varieties, adding to the authenticity of the flavors.
Authentic paella is often misunderstood, with many thinking of it as a quintessentially Spanish dish. However, it is a staple in Valencia's culinary culture. For those visiting Valencia, trying authentic paella is a must, and Casa Carmela is the perfect place to do so.
This family restaurant is situated in the heart of the Albufera region, where paella originated, and offers a truly immersive experience in Valencian culinary culture. In addition to paella, Casa Carmela also offers other brothy rice dishes, fresh fish, and lamb chops, providing a diverse menu for diners to enjoy.
With their century-old legacy of authentic Valencian paella, Casa Carmela remains a must-visit restaurant for those seeking a true taste of this iconic dish in its place of origin.
6. Copenhagen
For those looking for vegan-friendly dining options, look no further than Copenhagen, a Nordic-inspired vegan restaurant located in the heart of Ruzafa. Copenhagen offers a cozy atmosphere where you can enjoy a delightful culinary experience with various plant-based dishes.
The restaurant boasts a serene ambiance with its simple yet sophisticated decor, creating a serene oasis for diners to savor their meals. The sleek lines, natural materials, and minimalist aesthetics of Copenhagen's interior design will transport you to the Nordic regions, adding to the overall dining experience.
While Scandinavia inspires Copenhagen's design, its menu explores flavors from around the world. The restaurant takes pride in offering a diverse and exciting range of plant-based dishes that will please vegans and non-vegans alike.
One of the highlights of Copenhagen's menu is the Beyond Meat Burger, a juicy and flavorful plant-based burger that has gained popularity among vegans and meat-eaters alike. Made with Beyond Meat's innovative plant-based meat substitute, this burger is a true culinary masterpiece that perfectly balances taste and texture.
Served with a side of crispy fries and a dollop of homemade vegan mayo, the Beyond Meat Burger at Copenhagen is a must-try for any burger lover looking for a vegan twist on a classic favorite.
Another must-try dish in Copenhagen is the Black Forest Cake, a rich and indulgent dessert that will satisfy your sweet tooth. Made with layers of moist chocolate sponge cake, velvety chocolate mousse, and sweet cherry compote, this cake is a symphony of flavors and textures that will leave you craving more.
Topped with a generous sprinkle of cocoa powder and a cherry on top, the Black Forest Cake at Copenhagen is a true showstopper that will impress even the most discerning dessert connoisseurs.
In addition to its delectable menu, Copenhagen also offers a surprisingly good value lunch menu, making it an excellent option for a midday meal that won't break the bank. The restaurant also accommodates various dietary needs, including catering to coeliacs and other special dietary requirements.
In conclusion, Copenhagen is the place to be if you're searching for vegan-friendly options in Valencia that offer a unique blend of Scandinavian design and tantalizing flavors.
With its cozy atmosphere, diverse menu, and commitment to accommodating various dietary needs, Copenhagen is a haven for vegans and non-vegans alike who appreciate exceptional food and exquisite design.
7. Horchatería Santa Catalina
Located in the heart of Valencia's historic Barrio del Carmen, Horchatería Santa Catalina is a must-visit destination for those looking to sample the authentic flavors of this vibrant Spanish city.
Known for its traditional Valencian drink, horchata, and delectable treats like fartóns and churros, this charming cafe offers a taste of Valencia's culinary heritage in a cozy, inviting setting.
Horchata, a sweet and creamy beverage made from chufas, or tiger nuts, is a beloved local specialty enjoyed in Valencia for centuries. At Horchatería Santa Catalina, you can savor this refreshing drink, perfect for hot summer days, and pair it with a classic accompaniment – fartóns.
These long, finger-shaped pastries are lightly sweetened and are the perfect match for horchata, adding a delightful crunch and contrast of textures to the drink.
But that's not all that Horchatería Santa Catalina has to offer. For chocolate lovers, the cafe also serves a rich and velvety cup of hot chocolate, which can be paired with either churros or buñuelos, fried dough fritters. This decadent treat is perfect for cooler days or when you need a comforting pick-me-up.
In addition to its delectable offerings, Horchatería Santa Catalina is known for its stunning tile work. The shop's entrance, walls, and stairs are adorned with Manises tiles, a unique style of ceramic tile named after the nearby village of Manises, where it is produced. These colorful and intricate tiles add to the cafe's charm and create a visually mesmerizing atmosphere for visitors to enjoy.
So, whether you're a local or a tourist, a visit to Horchatería Santa Catalina is a must when in Valencia. With its authentic Valencian beverages, delicious pastries, and beautiful tile work, this cozy cafe offers a true taste of Valencia's culinary and cultural heritage.
Valencia's traditional must-try food
Valencia has a rich culinary heritage known for its traditional dishes. Here are some traditional Valencian foods and drinks that you simply cannot miss:
Paella: paella is a quintessential Valencian dish that should be at the top of your list. Look for restaurants that serve authentic Valencian paella, a rice-based dish that originated in Valencia and is made with saffron, vegetables, and meat or seafood. Paella typically includes chicken, rabbit, or seafood and is cooked perfectly in a traditional paella pan. The flavors and aromas of a well-prepared paella are simply irresistible, and trying an authentic Valencian paella is a must when visiting the city. But paella is just the tip of the iceberg regarding Valencian cuisine;
Arroz Negro: also known as "black rice," this dish gets its unique color from squid ink. It's a savory rice dish cooked with squid, seafood, and a touch of squid ink, giving it a distinctive flavor and appearance;
All i Pebre: this hearty fish stew is made with eel, potatoes, and paprika and is a traditional dish from the Albufera region near Valencia. It's a comforting and flavorful dish that will warm your soul;
Arroz a Banda: in the past, it was a dish prepared by fishermen on fishing boats using fish unsuitable for selling. The fish was cooked separately, and the rice was served on the side (a banda);
Arroz del Senyoret: a dish made by servants for the firstborn of an upper-class family, using boneless fish and shellfish without shells, tailored to their specific preferences. Both dishes are so similar today that the names are often used interchangeably on menus;
Esgarraet: this Valencian salad features roasted red peppers, salted codfish, and olives, all dressed with olive oil. It's a simple yet delicious dish that showcases the region's fresh and flavorful ingredients;
Horchata: don't miss the opportunity to try horchata while in Valencia. Made from ground almonds, sugar, and water, this refreshing drink is a local favorite, especially during the hot summer months. Chilled in tall glasses, horchata is slightly sweet and nutty and pairs perfectly with another Valencian specialty – fartons.;
Fartons: these finger-shaped pastries are a perfect accompaniment to horchata. They are typically soft and fluffy, with a hint of sweetness, and are often enjoyed as a morning or afternoon snack;
Agua de Valencia: this cocktail is a local specialty made with orange juice, cava (Spanish sparkling wine), vodka, and gin. It's a refreshing and boozy concoction that's perfect for celebrating;
Valencia's Michelin-Starred Restaurants
Valencia is home to several Michelin-starred restaurants, with Ricard Camarena being one of the most popular. This restaurant has held a Michelin star since 2012 and offers guests a unique and exciting dining experience. Other restaurants with Michelin stars in Valencia include:
Quique Dacosta,
BonAmb,
El Poblet,
Kaido Sushi Bar,
Lienzo,
Riff,
Fierro,
Sents,
Sucede,
Casa Manolo.
Valencia's food festivals
The city of Valencia hosts several food festivals throughout the year. One of the most notable food festivals is the La Tomatina, which takes place in the nearby town of Buñol. During this festival, participants throw tomatoes at each other in a friendly, food-filled battle.
Conclusion
Valencia, located on the picturesque Mediterranean coast of Spain, is a city that will captivate your senses with its diverse offerings. While there are numerous reasons to visit Spain's third-largest city, the incredible food in Valencia makes it a top European destination for foodies and travelers alike.
Valencia is also a city with a rich cultural heritage; its architecture and art are integral elements of its identity. Exploring the city's streets will take you on a journey through its history and culture, and the local cuisine is a significant part of this experience.
In fact, sampling Valencian food is considered one of the best things to do in Valencia, whether you're a first-time visitor or a returning traveler.
While you can opt for a food tour to discover Valencia's culinary offerings, you can easily embark on a self-guided culinary adventure. Valencia has something for everyone, from world-famous paella and an array of rice-based dishes to unique seafood delicacies and refreshing drinks.
*Please note that some links are set up through affiliate programs, meaning Wine travel gets referral credits if you purchase these items via our links at no additional cost to you.