Top 7 Must-Visit Santa Cruz Mountain Wineries
Located just a short distance from the bustling urban area of San Francisco, the Santa Cruz Mountains provide an escape and a chance to discover the many wineries nestled amongst the hills. These wineries offer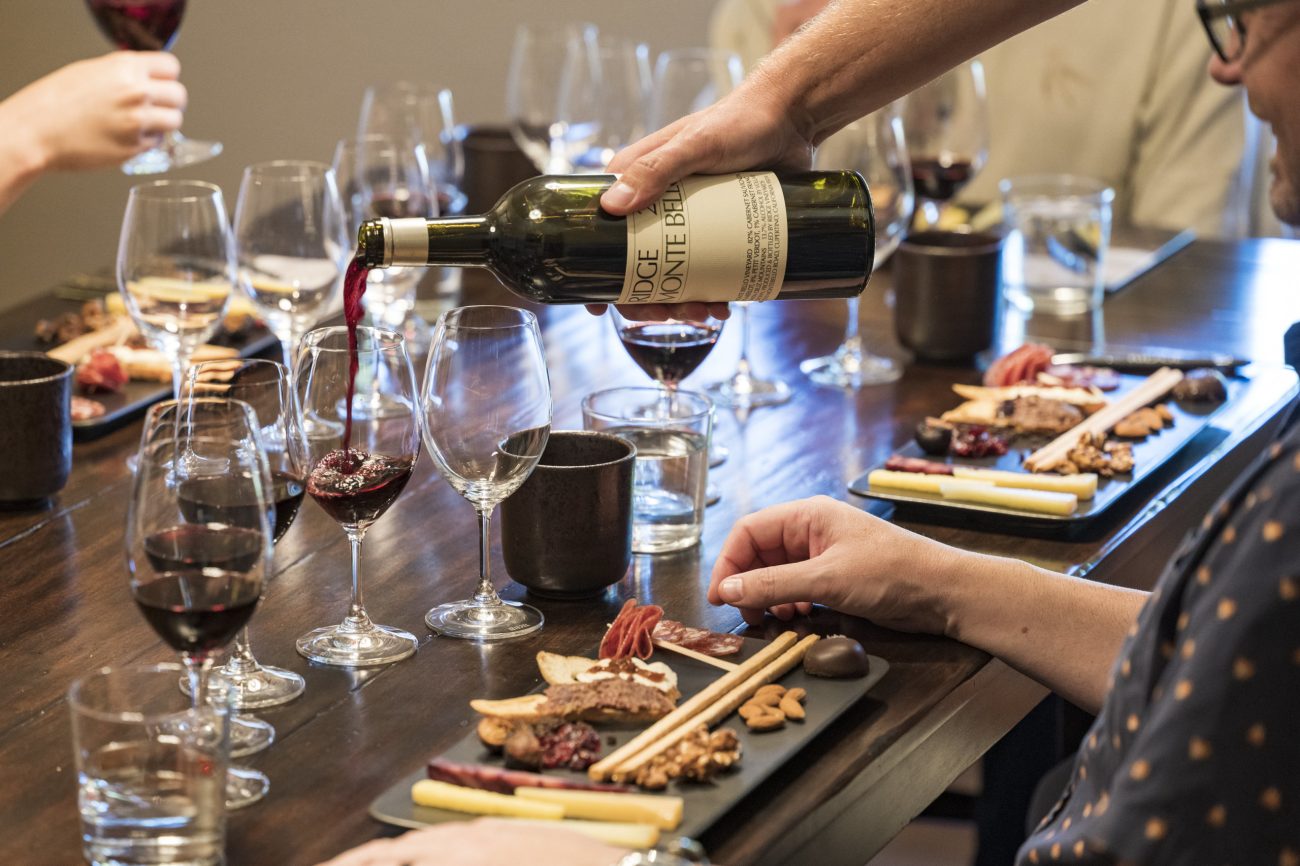 Located just a short distance from the bustling urban area of San Francisco, the Santa Cruz Mountains provide an escape and a chance to discover the many wineries nestled amongst the hills.
These wineries offer a taste of some of the best wines in California, with many of them being hidden gems and lesser-known to the world.
The History of Santa Cruz Mountain Winemaking
The story of wine in the Santa Cruz Mountains is a captivating tale that spans back to the 1860s when brothers George and John Jarvis laid the groundwork for vineyards in the region.
By the late 1880s, the mountains were adorned with over thirty wineries, attracting renowned pioneers of California winemaking like
Paul Masson,
Martin Ray, and
Charles Le Franc.
What sets the Santa Cruz Mountains apart is that it was the first American Viticulture Area (AVA) to be defined by a mountainous region in 1981, known as "America's Premier Mountain Appellation."
One momentous milestone for the Santa Cruz Mountain region was the 1971 Ridge Vineyards Monte Bello, a wine from the Santa Cruz Mountains that triumphed in the prestigious 30th anniversary Judgment of Paris tasting in 2006.
This triumph put the Santa Cruz Mountains on the map as a region producing world-class wines, solidifying its reputation as a rising star in the wine world.
Santa Cruz Mountain Mountain appellation
Nestled among three picturesque counties:
San Mateo,
Santa Clara, and
Santa Cruz,
this appellation spans across awe-inspiring mountainous terrain from coastal elevations of 400 feet to soaring summits reaching 3,200 feet and eastern slopes at 800 feet.
One of the most unique aspects of the Santa Cruz Mountains appellation is its microclimate, which is influenced by the Bay Area's cool Mediterranean climate.
Offering a mesmerizing tapestry of diversity that captivates the senses, mystical coastal fog blankets some areas while others bask in the sun's warm embrace on lush valley floors.
The cool ocean fog that blankets the evenings on the coastal side creates the perfect conditions for producing exquisite Pinot Noir and Chardonnay wines.
Meanwhile, the warmer temperatures on the eastern side during the growing season make it a haven for crafting some of the finest Cabernet Sauvignons. But the wine offerings here go beyond that, with Syrah, Petite Syrah, Zinfandel, and Merlot thriving in this region.
The area's geography is also influenced by its location along a tectonic plate boundary, creating diverse soil types and growing conditions.
The interplay of contrasting topography, diverse soils, ethereal fog patterns, and invigorating oceanic influences creates an extraordinary mosaic of micro-climates, each bestowing its unique character to the wines crafted here.
A sustainable approach to Winemaking
Many wineries in the Santa Cruz Mountains have adopted sustainable farming practices, reducing chemicals and adopting organic or biodynamic farming methods.
This approach aims to create a healthier environment for the vineyard and the surrounding ecosystem.
Wines produced using sustainable winemaking practices are developed with respect for the environment and have a unique, distinct flavor, reflecting the land and soil from which they are produced.
Top 7 must-visit Santa Cruz Mountain wineries
1. Ridge Vineyards
Nestled in the serene northern reaches of the Santa Cruz Mountains lies Monte Bello Estate, a true haven for wine enthusiasts seeking an extraordinary experience.
Ridge Vineyards, known for its cult following of the Monte Bello Cabernet Sauvignon, has been highly rated by wine critics for decades. Paul Draper, the winemaker at Ridge Vineyards, has been a driving force in the evolution of California wine.
Despite not having a formal education in enology or viticulture, Draper has been a trailblazer in the industry, always following his unique path.
Draper's philosophy of minimal intervention in the vineyard and cellar, advocating for naturally made wines, was ahead of its time and has become a trend in the industry today.
He has also been a proponent of vineyard-designated wines, capturing the distinct character of a particular place, as seen in Ridge's old-vine Geyserville and Lytton Springs Zinfandels from Sonoma County.
With picturesque vineyards steeped in rich history, the estate offers a unique opportunity to indulge in exceptional single-vineyard wines.
One of their most coveted experiences is the Private Library Tasting, where guests are treated to a seated tasting that unveils a fascinating comparison between current releases and older vintage wines.
Embark on a captivating journey through time as you witness how their wines evolve and develop their distinct flavors over the years.
Whether you're planning an intimate gathering or a larger event, the estate offers a variety of private tasting and event options tailored to your group size and preferences.
2. Mount Eden Vineyards
Perched 2,000 feet above sea level in the breathtaking Santa Cruz Mountains of California, Mount Eden Vineyards is a historic winery with a rich legacy of winemaking excellence.
Established in 1945 by Martin Ray, it is renowned as one of California's original boutique wineries, known for its flagship grapes of
Pinot Noir,
Chardonnay, and
Cabernet Sauvignon.
Winemaker and proprietor Jeffrey Patterson, who has been at Mount Eden since 1981, is deeply committed to sustainable farming practices and tends the vineyards with meticulous care and passion.
With their cool, exposed slopes and infertile shale soil, the vineyard holdings produce world-class wines highly regarded for their consistently high quality.
The estate's Pinot Noirs and Chardonnays are crisp and minerally, with a firm structure and underlying notes of fresh fruit.
The Cabernets are characteristic of a cool climate, with firm tannins and a tightly wound profile. All the wines benefit from additional aging in the bottle, a testament to Patterson's careful approach to tannin management.
The vineyards of Mount Eden, spanning about 40 acres at altitudes ranging from 1,600 to 2,000 feet, have the longest continuous history of growing Pinot Noir in the United States.
Nestled on a serene two-mile private road, the captivating Mount Eden beckons you to embark on an unforgettable wine-tasting journey. With a team dedicated to providing a personalized and unforgettable experience, tastings are available only by appointment.
Please note that walk-ins or groups larger than six cannot be accommodated, as their small and devoted staff ensures an intimate setting for our guests.
On weekdays, visitors can relish the flavors of three of our highly-rated wines while lounging on their terrace, taking in the awe-inspiring vistas of the Santa Clara Valley.
Immerse yourself in the enchantment of Mount Eden and allow us to create a wine-tasting experience that will leave you with cherished memories to last a lifetime.
3. Silver Mountain Vineyards
Silver Mountain Vineyards, known for their organically-grown and handcrafted wines, has been a beloved destination since 1979.
Located in the Santa Cruz Mountains at 2,100 feet, the winery offers stunning vistas of Monterey Bay and the redwood forest. With warm days and cool nights, the grapes result in maximized flavors.
The estate-certified organic vineyard Mount Eden clone
Chardonnay,
Pinot Noir, and
Merlot grapes.
In addition, they source Pinot Noir, Zinfandel, Cabernet Sauvignon, and Merlot grapes from dry-farmed, hillside vineyards to enhance their wine offerings further.
A visit to their rustic Summit Winery is worth the trip to enjoy breathtaking views and delicious wines against the stunning backdrop of the mountains and the ocean beyond.
4. Big Basin Vineyards
Big Basin Vineyards is nestled into a steep hillside that French immigrants planted with grapevines over a century ago. The estate and carefully selected partner vineyards are located in the breathtaking Santa Cruz and Gabilan Mountains, known for their exceptional grape-growing conditions.
Committed to organic farming, timing the harvests to capture the perfect balance of intensity and elegance, and practicing minimal-intervention winemaking.
They aim to produce authentic wines and express each vineyard's unique terroir and variety.
Their winemaking philosophy revolves around a deep respect for the unique characteristics of each vintage, vineyard, and varietal, working in harmony with Mother Nature.
With a focus on small production, they can meticulously attend to every vine, fermentation bin, and barrel, resulting in aromatic and ethereal wines that exhibit intensity and elegance.
Nestled close to Big Basin Redwoods and Castle Rock State Parks, the winery boasts an ideal location for wine tasting after a scenic hike on their patio, surrounded by vineyards and redwood forests.
Additionally, the winery is a perfect starting point for world-class road-biking routes along Big Basin Highway, offering visitors a memorable wine and adventure experience.
Guests are also welcome to bring their picnic to enjoy alongside their wines, adding to the overall enjoyment of the winery's serene atmosphere.
5. Windy Oaks Estate
Windy Oaks Estate, located in Corralitos, is a must-visit winery in the Santa Cruz Mountains. Founded in 1996 by Jim and Judy Schultz, this family-owned winery produces premium wines from carefully selected terroirs in Monterey and the Santa Cruz Mountains.
Situated on a stunning 30-acre property perched at 1000 feet elevation, the Schultz family runs Windy Oaks Estate, they are true wine lovers with extensive travel experience and a broad understanding of old and new-world winemaking techniques.
At Windy Oaks Estate, no compromises are made in producing their wines. They are aged on their lees in French Oak and bottled without fining or filtering.
The vineyard is meticulously maintained and follows environmentally sustainable organic farming methods whenever possible.
The tasting room at Windy Oaks Estate is laid back and inviting, with a lovely patio where visitors can spend an afternoon sipping wine while being entertained by the wild peacock that roams the property.
A visit to Windy Oaks Estate is a truly memorable experience, showcasing the unique and high-quality wines the Santa Cruz Mountains offer.
6. Partage Winery
Partage, meaning "to share" in French, is a boutique, family-owned vineyard owned and operated by Mark Bright, a sommelier, and restaurateur.
Inspired by his love for sharing wine with friends, Partage is located in the Santa Cruz Mountains, where Mark found micro-climates reminiscent of the great wine regions of France.
Intrigued by the diverse soil types and ocean-influenced climate, Mark carefully selects the most interesting plots in the Santa Cruz Mountains for his wines.
One such plot is Bald Mountain, a high-elevation site that produces lean and aromatic Chardonnay. The wine is aged in Burgundian barrels in the winery to maintain its fresh acidity.
Another vineyard site is Coast Grade, located closest to the ocean and characterized by its limestone-based soil. Here, Partage produces fruit-driven Pinot Noir with brilliant acidity.
In addition to the Santa Cruz Mountains, Partage also sources grapes from the Gabilan Mountains, known for their unique qualities.
Partage's winemaking focuses on single vineyard expressions and smaller production, ensuring that the purest and highest quality of the harvest is captured in each bottle.
7. Regale Winery and Vineyards
Regale Winery, is the place where Italian charm meets California sophistication in a truly captivating setting. As you step into lush garden vignettes inspired by the landscapes of Italy and the elegance of old-world villas, you'll feel transported to a world where time stands still.
The colorful fountains, heirloom roses, spiral herb garden, outdoor fireplaces, bocce ball court, and the traditional wood-fired oven will mesmerize you with their beauty.
One of the property's highlights is its carefully tended olive grove, where three varieties of olives are hand-picked and pressed to create their exquisite Estate Olive Oil.
The second-floor executive suite embodies old-world Tuscan charm, boasting a vaulted travertine ceiling, Italian fresco paintings, Venetian plaster, and ornate fireplaces.
The intimate dining room on the same floor exudes an authentic Tuscan atmosphere with its vaulted ceiling and Italian frescoes. It opens onto a heated, open-air terrace offering breathtaking coastal range views and formal gardens.
Conveniently located just ten miles from downtown Los Gatos, Regale Winery offers an authentic wine-country experience right in the foothills of Silicon Valley.
You don't need to travel overseas to indulge in the relaxed and sophisticated lifestyle surrounding wine production. From delicious wines to wood-fired pizzas, their vineyard and estate have everything you love about Wine Country.
Indulge in the beauty and charm of Regale Winery, where the magic of Italy meets the allure of California.
Tips when planning a visit to Santa Cruz wineries
We have fantastic tips for planning a delightful long weekend getaway to explore this charming wine region!
The most convenient option is to book a flight to San Jose International Airport so that you can start your trip without any hassle. But if you're up for an adventure, why not fly into San Francisco and rent a car to enjoy a scenic drive?
Reaching your destination is just one and a half hours south, with breathtaking views! Plus, you can find some amazing flight deals to both of these airports so that you can save some money for more wine tasting.
And that's not all! From cozy boutique hotels to upscale resorts, there's something for everyone. And when it comes to dining, you're in for a treat!
The wine country is known for its farm-to-table cuisine, with fresh, locally-sourced ingredients that will tantalize your taste buds.
Check out the latest flight deals to both airports for great savings.
To make your trip even more enjoyable, we have some fabulous hotel and restaurant recommendations for you towards the end of this travel guide. Get ready to embark on an unforgettable wine-country adventure!
To experience the diverse range of wineries in the region, indulge in the ultimate wine-tasting adventure with the Santa Cruz Mountains Wine Passport.
Unlock the treasures of this renowned wine region with exclusive access to over 35+ participating wineries, each offering its own distinctive tasting experiences and breathtaking views of the surrounding mountains.
Embark on a journey through stunning vineyards, delighting in a complimentary tasting flight at each winery and gaining access to exclusive events and promotions throughout the year.
On Celebration Days, Passport holders are warmly welcomed into participating wineries across the Santa Cruz Mountains. You can enjoy unique winery experiences such as special flights, live entertainment, food trucks, and more – making it the perfect time to explore the region.
The Santa Cruz Mountains Wine Passport is available online or at any participating winery, opening the doors to an unparalleled wine-tasting experience that will create memories to last a lifetime.
With such a diverse range of wineries, the program offers a chance to discover hidden gems and lesser-known wineries which might not be on the typical wine trail.
Conclusion
If you're a wine lover, you're in for a treat! California never fails to impress with its vast array of wines and diverse wine styles, and the often-overlooked Santa Cruz Mountain AVA has something for everyone to enjoy.
Imagine catching the waves at the picturesque Capitola Beach, setting sail on the majestic Monterey Bay, hiking through the enchanting redwood-covered mountains, or indulging in the exquisite wines grown in this region.
The Santa Cruz Mountains have established a reputation for producing some of California's most exceptional wines. Most small, family-owned boutique wineries have managed to maintain their authenticity and avoid commercialization.
The magic of the Santa Cruz Mountains lies in its diverse growing conditions influenced by the nearby ocean.
With vineyards reaching elevations of over 3,000 feet and coastal fog blanketing some areas while others bask in the sun's warm rays on valley floors, this region boasts a variety of micro-climates that create truly unique flavors in its wines.
The Santa Cruz Mountains are known for producing award-winning Pinot Noir, Chardonnay, and Cabernet Sauvignon.
Combining the mountain terroir, oceanic influence, and skilled winemaking techniques result in exceptional bottles that are a must-try for any wine enthusiast.
So, if you're looking for the best wineries in the Santa Cruz Mountains, your search ends here! Come and experience the magic of this golden stretch of paradise, sip on exquisite wines, and create memories that will last a lifetime.
Cheers to an unforgettable wine-tasting adventure!