Red Serbian Wines Revisited
Reading Time: [est_time] Our first stop to the Balkans four years ago was Serbia. We started our three-month romp through the peninsula in Serbia. Back then, our expectations of Serbian wines were low. The high quality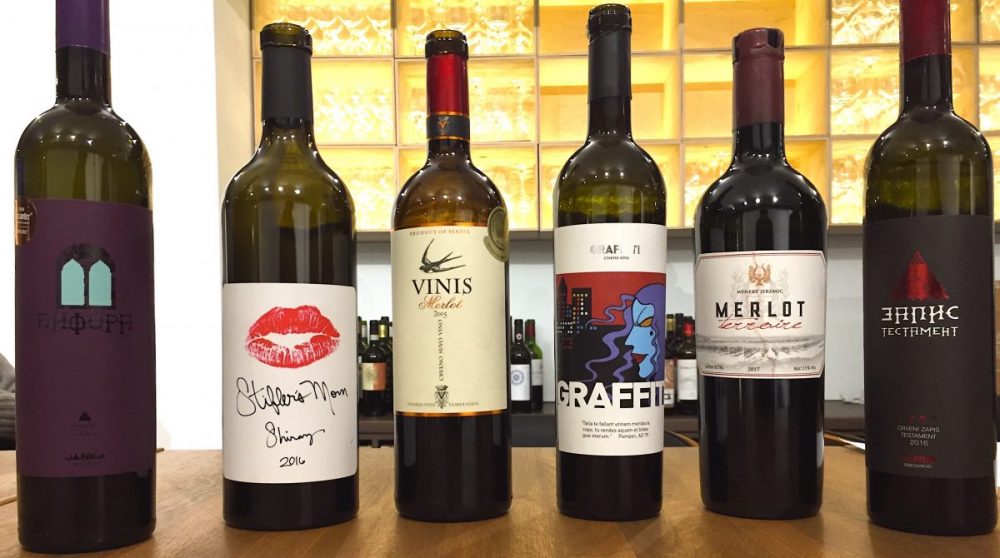 Reading Time: 3 minutes
Our first stop to the Balkans four years ago was Serbia. We started our three-month romp through the peninsula in Serbia. Back then, our expectations of Serbian wines were low. The high quality of the wines instantly impressed us.
The possibilities for Serbian wines are endless thanks to its wealth of microclimates. For now, top producers focus on rich, red wines (thanks to the demands of the domestic market). Couple the mild continental climate with local demand ensures the surprisingly high quality of red Serbian wines.
Big Red Serbian Wines
In my opinion, the best red Serbian wines are made from Bordeaux varieties or are 'Super Serbian' blends of Bordeaux grapes and Prokupac. There are some gorgeous, medium-bodied varietal Prokupac wines. However, most examples lack subtleties and layers to be truly great (although they make for phenomenal everyday wines). Several producers are giving Syrah a go with pleasant results.
The regions I prefer for red Serbian wines are Negotin, Šumadija, and Beograd for Bordeaux blends. The Župa Valley is located within the Tri Morave region and is the spiritual home of Prokupac and 'Super Serbian' blends. In the north, the hill of Fruška Gora in Srem starting to churn out some delicious reds (it's traditionally a white wine region). At the border with Hungary, Subotica has a number of producers working with the unique red grape Kadarka.
Red Serbian Wines Blind Tasted
Igor Luković, editor-in-chief of Vino & Fino put together a tasting of top-flight red Serbian wines. The eleven wines were all served blind. It gave me an opportunity to taste the latest vintages and get back up to speed with what's happening in Serbia. Below are my favorite wines from the tasting.
Wine Recommendations
You can find out more about our scoring system on the WINE RATING page.
Janko, Bifora 2016 – Beograd
The Janko, Bifora is a brand new wine in the portfolio. It's made from Syrah grown just east of Belgrade in the village of Smederevo. There's a lot of oak here but it works well with the dense fruit. Notes of blackberry, bacon fat, pepper, and oak. The tannins are fierce now but should soften and integrate well with time. Score: 89/100
Bjelica, Graffiti 2017 – Srem (Fruška Gora)
The Bjelica, Graffiti was the biggest surprise to me. It is a blend of Merlot and Marselan from Fruška Gora. I haven't been a big fan of past vintages, this is a big step up. The nose is pretty and refined with notes of violet, oak, red plum, and white pepper. It's full-bodied with plenty of plush fruit upfront. I'd like a tad more complexity but that should develop with bottle age. Long finish with fine tannins. Score: 90/100
Janko, Crveni Zapis Testament 2016 – Beograd
This vintage of Janko, Crveni Zapis Testament is made from 100% Merlot. I had this from the barrel years ago and am glad to see it's showing well from the bottle. This wine shows development so enjoy it now. Tomato leaf, blackberry, earth, and cedar notes. It's full, with rich black fruit and tangy acidity. Firm tannins just beg for food. Score: 90/100
Radovanović, Cabernet Sauvignon Reserve 2016 – Šumadija
The Radovanović, Cabernet Sauvignon Reserve is only made in good vintages. This is a relative value in the world of Cabernet Sauvignon. It's an earthy Cab with notes of capsicum, tobacco, black currant, and earth. The wine has a silky mouthfeel and feels very refined. Savory and long finish with fine tannin. Score: 91/100
Matalj, 'Kremen Kamen' Cabernet Sauvignon 2016 – Negotin
Find and buy Matalj wines here.
I've had every vintage of the Matalj, Kremen Kamen which is always enjoyable. Charine and I tasted this at the Balkans International Wine Competition in May 2019 and it showed great again blind. There's a lot of wood here but also a lot of tobacco, black olive, black cherry, and plum. Intense fruit with fine-grained tannins and a long finish. This wine has a future in the cellar. Score: 93/100
Temet, Tri Morave Crveno Reserva 2016 – Tri Morave
The Temet, Tri Morave Crveno Reserva is a brand new release from the winery. This wine received a gold medal in the 2019 Decanter World Wine Awards. It's made from Cabernet Franc and Prokupac. The wine is rich and savory with notes of blackberry, soy sauce, plum, and white pepper. There are many layers of complexity on the palate and the tannins are grippy. It would be interesting to see how this develops in the bottle over a few years. Score: 91+/100
Other wines tasted: Erdevik 'Stifler's Mom' Shiraz 2016, Vinis Merlot 2015, Tri Oraha NV, Braca Rajković '33' 2016
The finest selection of
available at:

Shipping is available EU-wide and to the UK.
************
    Do you want to try Serbian wines?    
If you want to savor the exquisite flavor of Serbian wines, look no further than wineandmore.com. With many options from different winemakers, it's easy to find exactly what your palate desires. Not sure which bottle is best for you? Try out one of their curated wine cases and discover the perfect vintage for any occasion!
************
Want to learn more about wine?
Are you ready to discover the wonderful world of wines? Come join us at wineandmore.com, and let's explore the incredible selection of delicious wines together! We can't wait to share our passion for wine with you!
You Might Also Enjoy:
---
Please note that the opinions expressed are our own and have not been paid for in any way. We do not sell editorial content as that would destroy the legitimacy of our reviews and the trust between Exotic Wine Travel and its readers. On occasion, we extend the option of purchasing the wines we review or/and the products we spotlight. Some of these product links are set up through affiliate programs, which means Exotic Wine Travel gets referral credits if you choose to purchase these items via the links we provide.