Top 7 Aspen Restaurants
Aspen in Colorado is renowned for its ski resorts and outdoor activities, but its culinary scene has been gaining recognition for years. The town offers a variety of must-visit restaurants, adding to its reputation as a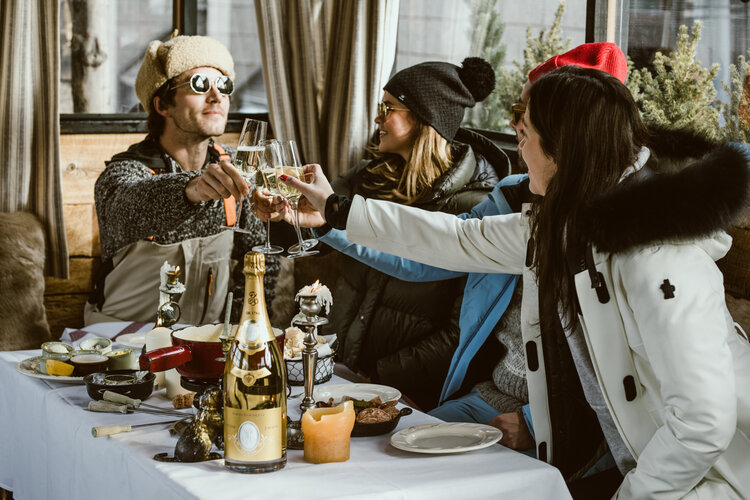 Aspen in Colorado is renowned for its ski resorts and outdoor activities, but its culinary scene has been gaining recognition for years.
The town offers a variety of must-visit restaurants, adding to its reputation as a destination for food lovers. As the restaurant options in Aspen have expanded and evolved, we're here to help you plan your next unforgettable gourmet experience. Uncover the top Aspen must-visit restaurants in this article!
Aspen top restaurants
1. Matsuhisa
Matsuhisa, a beloved dining spot in Aspen, offers a unique culinary experience with its fusion of Japanese cuisine and Latin American flavors. Owned by renowned celebrity chef Nobu Matsuhisa, this restaurant has been a longtime favorite among locals and visitors alike.
Housed in a charming 120-year-old Main Street Victorian house in downtown Aspen, Matsuhisa Aspen opened its doors in 1998, becoming the first Matsuhisa location outside Chef Nobu's original Beverly Hills restaurant.
Matsuhisa's smaller, more intimate, and upscale ambiance sets it apart from Nobu restaurants. However, blending Japanese and Latin American cuisine remains the same across all Matsuhisa restaurants.
The menu at Matsuhisa Aspen includes various gluten-free options, such as sea bass with dry miso. The cocktails are served atop a bar with a rustic charm, with salvaged wood that has been meticulously sanded and polished to a glossy finish.
The restaurant's standout dishes include delectable offerings like black cod with miso and jalapeno and yellowtail sashimi with jalapeno. In addition to its exquisite cuisine, Matsuhisa Aspen has an extensive sake and wine list, allowing guests to pair their meals with the perfect libation.
2. Meat & Cheese Restaurant and Farmshop
Meat & Cheese, located on Restaurant Row in Aspen, Colorado, is a unique dining experience that celebrates food prepared in home kitchens worldwide, following a style known as World Farmhouse.
Focusing on locally sourced, sustainably raised ingredients, the menu is inspired by culinary traditions from Asia, Europe, and the Americas, resulting in a diverse and eclectic offering meant for sharing. The chefs, much like farm families worldwide, follow the rhythm of seasons and create everything from scratch using traditional techniques. No part of world cuisine is off-limits at Meat & Cheese, as the menu evolves based on the daily availability and quality of ingredients.
For those seeking a more relaxed atmosphere, Meat & Cheese also features a retail shop offering a carefully curated selection of specialty foods and housewares. Their Farm Shop has been recognized by Financial Times as one of the Best 50 Food Shops in the World. It boasts Aspen's finest selection of specialty cheeses from America and around the globe, butchered meats from Western Colorado, charcuterie, fresh seafood, local produce, grab-and-go lunches, prepared foods like grass-fed meatballs and house-made marinara, soups, curries, and sweets.
Meat & Cheese is a destination where food, community, and sustainability unite. Whether you're looking for a unique dining experience or seeking specialty ingredients to elevate your home cooking, Meat & Cheese celebrates food culture that embraces the richness and diversity of culinary traditions worldwide.
3. Clark's Aspen
This outpost of an Austin-based oyster bar has become one of the best restaurants in town, offering a unique dining experience that combines fresh seafood with a touch of sophistication.
As you enter Clark's, the friendly and knowledgeable staff will guide you through the menu, which features a variety of seafood options and non-fish dishes for those who prefer something different.
The waiters take pride in explaining the distinct flavor profiles of Pacific and Atlantic oysters, and their enthusiasm is contagious. We recommend sharing an array of these delicacies, and don't forget to indulge in the complimentary table bread and butter, some of the best in town.
At Clark's, the popular lobster roll, mussels, and clams are always tempting options, but the day's fresh catch truly steals the show. Among the standout dishes, the redfish is exceptional, showcasing the restaurant's commitment to using high-quality ingredients and expert culinary techniques. Its unexpected attention to detail sets Clark's apart from other seafood joints. Despite its unassuming appearance as a dive bar, the flavors and presentation of the dishes reveal a level of thoughtfulness and creativity that elevates the dining experience to a whole new level.
In conclusion, Clark's is a must-visit if you find yourself in Aspen and crave exceptional seafood in a cozy yet refined setting. From indulging oysters to the exquisite fresh catch of the day, every dish is a testament to the restaurant's commitment to quality and flavor. Don't be fooled by its unassuming exterior – Clark's is a gem in the snow, offering a dining experience that is sure to delight!
4. French Alpine Bistro – Crêperie du Village
Step into French Alpine Bistro and be transported to a world of warmth and indulgence in a candlelit underground space that feels like it could be nestled in the snowy Alps. Owned and operated by the Austrian-born Karin Derly, this bistro perfectly blends French chic and rustic Alpine charm, creating an inviting and unforgettable ambiance.
The decor of French Alpine Bistro is a testament to Karin's keen eye for detail. With romantic candlelit nooks inside and cozy sheepskin-covered seating on the heated patio, guests can revel in the majestic views of Aspen's peaks while enjoying their meal. The dimly lit space creates an intimate and charming atmosphere. The bistro's decor, reminiscent of a classic Alpine chalet, transports guests to a world far away from the hustle and bustle of everyday life.
But it's not just the ambiance that makes French Alpine Bistro a must-visit destination. The menu is a true culinary delight, focusing on rich, warm, and indulgent dishes perfect for snowy Aspen evenings. The star of the show is undoubtedly the authentic fondue, made with a blend of Gruyère, Beaufort, and Comte cheeses, some of which are topped with fragrant black truffles.
In addition to the fondue, French Alpine Bistro offers a range of other delectable dishes that are perfect for warming up during winter. The foie gras is a decadent treat, while the French onion soup is a classic favorite. The crêpes, a staple of French cuisine, are a must-try, with their delicate, thin layers and delicious fillings. For those with heartier appetites, the menu also features dishes such as duck cassoulet, beef Bourguignon, raclette, Kaiser schnitzel, and rich potato gnocchi with the finest ingredients and prepared with care.
One of the highlights of dining at French Alpine Bistro is Karin and her team's warm and welcoming hospitality. With her Austrian background, Karin brings a genuine passion for hospitality to the bistro, ensuring that every guest feels welcomed and cared for. The attentive service and attention to detail are second to none, making the dining experience truly memorable.
As a result of its popularity, French Alpine Bistro tends to fill up quickly, so it's highly recommended to book well in advance to secure a table. But rest assured, the effort is well worth it for the experience that awaits. Whether you're a cheese lover, a fan of French cuisine, or simply looking for a unique and memorable dining experience, French Alpine Bistro is a destination that cannot be missed.
In conclusion, every aspect of the bistro is designed to transport guests to a world of warmth and culinary delight, from the cozy and romantic ambiance to the indulgent and delicious dishes. Under the care of Karin and her team, guests are treated to an unforgettable experience that will surely leave a lasting impression!
5. The Little Nell – Element 47
Aspen is renowned for its luxurious accommodations and breathtaking mountain views, and The Little Nell stands out as a premier destination for discerning travelers. Located at the base of Aspen Mountain, The Little Nell offers slope-side accommodation with ski-in and ski-out access to lifts, making it a haven for ski enthusiasts and nature lovers alike. One of the highlights of The Little Nell is its two award-winning restaurants, Element 47 being one of them. The name pays homage to Aspen's silver mining heritage and sets the tone for a truly exceptional dining experience.
Element 47 takes The Little Nell's fine-dining scene to new heights, focusing on regionally sourced meats, eggs, and dairy combined with local seasonal produce. Dishes such as venison or Wagyu beef tartare with matcha egg yolk jam and Loch Duart salmon with fennel confit showcase the culinary expertise and creativity of the restaurant's chefs. The restaurant's commitment to using locally sourced ingredients, including wagyu beef and house-made pasta, ensures that guests are treated to the region's freshest and most delicious flavors.
The ambiance at Element 47 is as exceptional as the cuisine. The restaurant exudes elegance and sophistic with ceiling-height glass cases displaying some of the rarest wines and original artwork by renowned artists such as Michelle Grabner, Cameron Martin, and Scott Reeder. The warm and welcoming atmosphere, described as "Aspen casual," invites guests to relax and savor their dining experience without the need for formal attire.
For wine enthusiasts, Element 47 offers a unique opportunity to indulge in an elevated wine experience. Private wine tastings, tailored to guests' preferences and hosted by the restaurant's sommeliers, provide a personalized journey through the world of wine. For a truly memorable experience, guests can reserve a private wine dinner with a customized menu and hand-selected wine pairings, including a consultation with the Wine Director and Executive Chef. These offerings showcase Element 47's commitment to redefining fine dining and creating unforgettable moments for its guests.
The Little Nell's commitment to providing exceptional dining experiences extends beyond Element 47. The Living Room, an extension of the restaurant, is a cozy space reminiscent of a private residence in the Alps. With comfortable furniture around a two-sided fireplace, it is the perfect spot to unwind with a glass of wine and sample the bar menu from Element 47.
At The Little Nell, the goal is to nourish every moment of a guest's stay, and the fine dining options are no exception. The Little Nell's team of world-renowned chefs, bartenders, and sommeliers ensure that every dining experience is artfully coordinated, providing a culinary journey that is truly unforgettable.
Whether it's a casual lunch with stunning mountain views, an intimate dinner at Element 47, or in-room dining, The Little Nell's restaurants offer an unparalleled dining experience in Aspen!
6. White House Tavern
Located on a prominent street corner in downtown Aspen, the White House Tavern is a gem that combines history, charm, and delectable cuisine. The site includes two historic buildings, a miner's cabin and an alley shed, with the miner's cabin dating back to 1883 and being a registered historic landmark in Aspen.
Upon stepping into the White House Tavern, guests are immediately enveloped in a warm and inviting atmosphere. The interior is adorned with wood paneling, interesting artwork, and an exhibition kitchen that adds a lively and convivial energy to the space. The tavern is known for its premium sandwiches, distinctive wines, beers, and cocktails, making it a popular spot for lunch or a low-key dinner.
The menu at the White House Tavern is centered around their signature sandwiches, which are generously portioned and packed with decadent ingredients. The crispy chicken sandwich served on a house-made torta, is a crowd favorite, boasting a perfectly fried chicken filling that is crispy on the outside and juicy on the inside. Other sandwich options include a mouthwatering French dip and a savory prime rib that regulars love. For those looking for lighter fare, the tavern also offers a variety of salads and bar snacks that are equally delicious.
The cozy, heated outdoor seating allows guests to enjoy the picturesque surroundings while indulging in their meals, creating a truly memorable dining experience. In addition to its culinary offerings, the White House Tavern takes pride in its carefully curated selection of wines, beers, and cocktails.
The White House Tavern has become a beloved spot for locals and visitors alike, with its combination of exceptional cuisine, historic ambiance, and warm hospitality. Whether you're looking for a satisfying meal, a relaxed drink, or a unique dining experience in downtown Aspen, the White House Tavern is a must-visit destination!
The future of Aspen's restaurant scene
Aspen's restaurant scene is thriving, with no signs of slowing down. Many existing restaurants in the area are expanding their offerings to cater to the growing demand from visitors and locals alike. One of the main draws of Aspen as a culinary destination is its unique location in the mountains, which offers delicious food and breathtaking scenery that enhances the overall dining experience.
With consumers' ever-evolving dining preferences and habits, the future of Aspen's restaurant scene will likely continue evolving. Restaurants must stay innovative, offering unique and visually appealing experiences that cater to the demands of the modern diner. As culinary tourism thrives, Aspen's restaurants must adapt and stay ahead to remain competitive in the ever-changing food and beverage industry. Whether expanding their menus, creating visually stunning dishes, or providing unique dining experiences that are shareable on social media, the future of Aspen's restaurant scene looks bright and promising.
Insider tips for eating in Aspen
In addition to the popular and well-known restaurants and bistros, we highly recommend venturing off the beaten path when planning a trip to Aspen. This picturesque mountain town has plenty of hidden gems waiting to be discovered, and exploring neighborhoods beyond the main tourist areas can lead to delightful culinary surprises.
While Aspen boasts a vibrant dining scene, it's worth noting that many of the restaurants can fill up quickly, especially during the peak season. To avoid disappointment, it's wise to make reservations and plan your meals accordingly.
But, as we said, don't let that discourage you from exploring lesser-known eateries and local favorites. Aspen has diverse culinary options, from trendy gastropubs to cozy cafes serving homemade delights. You might stumble upon a quaint family-owned restaurant in a quiet corner or a hidden speakeasy bar that will transport you back in time. Embrace the spirit of adventure and be open to trying new places, as you never know what culinary treasures you might uncover in this charming mountain town.
In addition to the culinary delights, Aspen's neighborhoods offer unique experiences worth exploring. From historic districts with Victorian-era homes to vibrant arts and cultural scenes, there's something for everyone beyond the main drag. Stroll through the streets lined with boutiques, galleries, and local shops, and immerse yourself in the local community. Strike up a conversation with the friendly locals, and you may uncover insider tips on where to find the best food in town.
With a sense of curiosity and a willingness to step off the beaten path, you'll be rewarded with unique culinary experiences and a deeper appreciation for the local culture!
Conclusion
In the heart of the Rocky Mountains, Aspen stands as America's most iconic ski town, drawing visitors from around the world year-round. While winter sees snow-sports enthusiasts flocking in to hit the slopes, summer lures others to the mountains for hiking, biking, and thrilling adventure tours.
Aspen's culinary scene has transformed remarkably, propelled by the town's unwavering commitment to sustainability and locally sourced ingredients. From high-end dining establishments to laid-back cafes, a gastronomic delight suits every palate in Aspen. The town boasts a vibrant and diverse culinary landscape that caters to all tastes and preferences.
With new restaurants on the horizon and existing ones expanding their offerings, there has never been a better time to explore Aspen's culinary scene. Locally-sourced ingredients take center stage in many of Aspen's restaurants, where farm-to-table concepts are celebrated, and diners can indulge in fresh, seasonal produce and locally-raised meats. The focus on sustainability and supporting local farmers and producers has not only elevated the quality of the food. Still, it has also created a unique and authentic dining experience for visitors.
Aspen's culinary scene offers diverse dining options, from upscale eateries helmed by renowned chefs to cozy cafes serving up hearty mountain fare. Foodies can savor exquisite dishes crafted from locally-sourced ingredients, including succulent Colorado lamb, organic vegetables, and foraged wild mushrooms. Many restaurants also offer extensive wine lists featuring vintages from local wineries worldwide, making Aspen a true paradise for wine lovers.
In addition to its exceptional food and wine offerings, Aspen boasts a vibrant and dynamic culinary culture that celebrates innovation and creativity. Chefs in Aspen are known for pushing the boundaries of traditional cuisine, incorporating global flavors and techniques into their dishes, resulting in unique and unforgettable culinary experiences. Visitors can indulge in multi-course tasting menus that showcase the culinary talents of Aspen's chefs or savor inventive cocktails crafted by skilled mixologists.
Aspen's culinary scene is not limited to just the winter months. During the summer, the town comes alive with outdoor dining options, where visitors can enjoy panoramic views of the mountains while savoring delectable meals. The warm weather also invites exploration of local farmers' markets and food festivals, where visitors can sample the region's freshest produce and artisanal products.
Embark on a culinary adventure in Aspen, where the fusion of nature's bounty and culinary expertise awaits your senses!