Exotic Wine Travel's 18 Wines of 2018
Reading Time: [est_time] What a year. 2018 marked our fourth year as location-independent entrepreneurs and our third year in the wine industry. While the first two years seemed like a constant struggle for acceptance into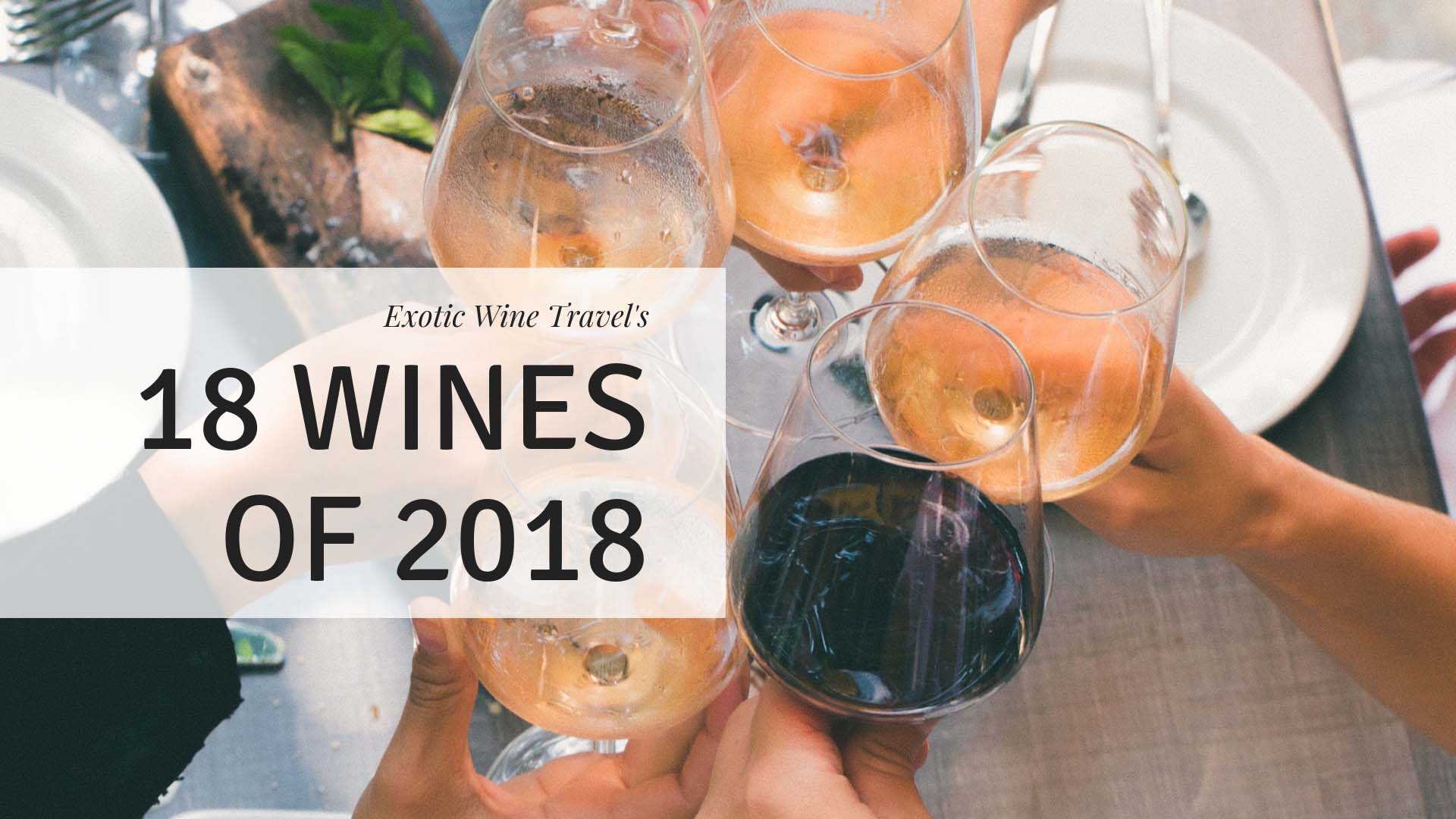 Reading Time: 15 minutes What a year. 2018 marked our fourth year as location-independent entrepreneurs and our third year in the wine industry. While the first two years seemed like a constant struggle for acceptance into this new world, 2018 was dancing to a different tune—we felt welcomed and appreciated for much of the year. Nearly half of the year was spent on press trips to wine regions in Croatia, France, Italy, Hungary, Slovenia, Slovakia, Bosnia-Herzegovina, Romania, and the USA. In addition to that, we also spent time in some of our favorite cities, New York and Hong Kong, before wrapping up the year in Singapore.
We tasted over 5,000 wines from 30 countries this year, and it was an arduous task to narrow the list to 18 wines. Our trip back to the USA alone could have filled this list with wines from Napa Valley and Santa Barbara County and other classics that we tasted in New York City. So here it is, Exotic Wine Travel's list of 18 memorable wines. As usual: while sensory merits are important, there are other factors that went into selecting these wines. Did the wine pique curiosity as well as satisfy it? Did it make us re-examine our assumptions and teach us something new? Did it humanize wine and mean something special to us? Ultimately, it's an imperfect methodology but good enough to get the gist of our year measured out in wines. There's a mix of classics and lesser-known wines on the list, which we hope reveals the ever-expanding choices that are available to wine lovers. We highly recommend you to seek out these wines and "drink adventurously" (our tagline). Note: The wines are listed in chronological order based on when we tasted them.
Mayacamas, Cabernet Sauvignon, Mt. Veeder – Napa Valley, 2004 (California, USA)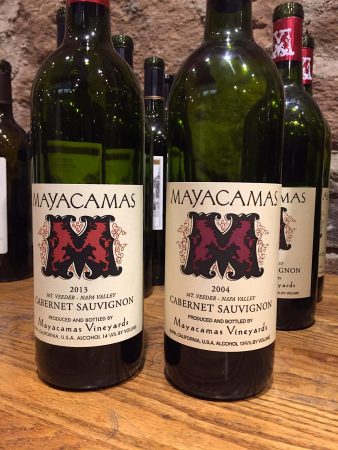 The first notable event we attended in 2018 was the Wine Writers Symposium at Meadowood in Napa Valley. It was an invite-only event that we both received fellowships to attend. We flew from Croatia to visit Matt's family in Michigan. After visiting the family, we drove 4,000 kilometers (2,400 miles) across the country to California—during the winter no less.
On the second day of the symposium, we attended the "Master tasting with Steven Spurrier and Friends", which featured current release and library wines from the Napa Valley producers that participated in the 1976 Judgement of Paris. During our tasting, we had several outstanding wines including a Heitz Martha's Vineyard Cabernet Sauvignon 1997, a Clos Du Val Cabernet Sauvignon Reserve 1979, and this Mayacamas Cabernet Sauvignon 2004. Why we love it: It was a tough choice to pick one 'best wine' from a strong 14-pour line-up. However, the 2004 Mayacamas Cabernet Sauvignon Mt. Veeder was unequivocally the top choice for Charine (Matt preferred the 1997 Heitz a little more because of the aged tobacco and menthol notes). Here's Charine's notes: "The 2004 Mayacamas Cabernet Sauvignon Mt. Veeder illustrates a vivid image of its birthplace—all the signs of mountaintop and fresh breeze! The fruit is exceptionally vibrant and fresh for its age, lined by freshly tilled soil and amber. The sure-footed finish is backed by long-drawn, sweet spice-tinted, fine-grained tannins."
Harlan Estate, Napa Valley, 2014 (California, USA)
After the Wine Writers Symposium, we attended several AVA tastings in Napa Valley. There are 16 AVAs (American Viticultural Areas) in Napa Valley, and each area produces distinctly different styles of wine. At the Oakville AVA tasting, there was no wine that we scored below 91 points. All the wines expressed ripe fruit flavors with a sense of freshness, rich texture, and a firm structure. Two wines that stood out above the rest were the 2014 Harlan Estate and 2014 Screaming Eagle, two of the most famous Napa cult wines. Why we love it: One taste of the 2014 Harlan Estate left us speechless. It's a magnificent wine, and it claims the highest score that we've ever published on this site (4.9/5 or 99/100). The wine glides across the tongue as if it's a ball of flavors giving the palate a deep-tissue massage. Everything is in place, in the right order and amount. Everything is complete.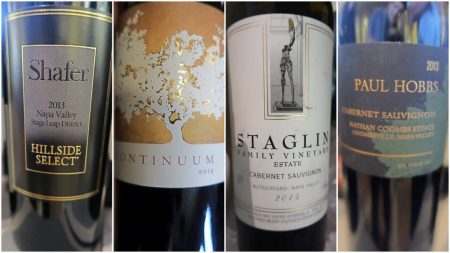 After the Wine Writers Symposium and AVA tastings, we attended the 2018 Premiere Napa Valley auction. It's an annual event where members of the Napa Valley Vintners auction off micro lots, between 60 to 240 bottles, of one-off creations that are still in the barrels. The money raised from the en primeur auction helps fund the operation of the Napa Valley Vintners, including the promotion and protection of Napa Valley. Prior to the wine futures auction, attendees had a chance to attend a walk-around tasting of barrel samples from the lots before bidding on them hours later and receiving them in a few years when they're bottled. We tasted through the lots in the morning and then went to lunch before the live auction started. One participant told us to get to the lunch venue as early as possible because the wine selection would be remarkable; we heeded his advice. Over lunch, we had four hedonistic Napa Cabernets in front of us: The Continuum 2014, Staglin Estate Cabernet Sauvignon 2014, Paul Hobbs Nathan Coomb's Vineyard Cabernet Sauvignon 2013, and this Shafer Hillside Select 2013.
Why we love it: The Shafer Hillside Select Cabernet Sauvignon 2013 surpasses the rest in this instance. It's nuanced, structured, generous in aromas, yet focussed and elegant on the palate.
The Ojai Vineyard, Syrah, John Sebastiano Vineyard – Santa Barbara County, 2014 (California, USA)
          View this post on Instagram                  

Second wine to be shortlisted for "@exoticwinetravel's 18 Wines of 2018". The Ojai's John Sebastiano Vineyard Syrah 2014 is ridiculously pretty. Pretty is such a vague descriptor but it's exactly how this wine makes me feel about it. There's something so ethereal and moment-perfect here. It's dangerously easy to drink now, and simultaneously, it hints at something I'm missing out with every sip. A suspense that there in no landing in sight, and in a few years, it might become so beautiful that I wouldn't recognize it. What's most important is it teaches me something new: a young Syrah can be elegant and drinkable yet show subtle power and massive potential to age. A young Syrah can be so harmonious that it can make the drinker feel like it's homecoming.
After our week in Napa Valley, we drove back to Michigan to shoot our series about the wines of Santa Barbara County. It's our favorite wine region in the USA, and we wrote an e-guide entitled Sipping Santa Barbara: Recommended Wines and Producers to help first-time visitors navigate the wine region. To support our efforts, producers had graciously sent us over 100 wines to use for our video series. The single-vineyard wines from John Sebastiano Vineyard are some of our favorites. The John Sebastiano Vineyard sits on the northeastern edge of the Sta. Rita Hills AVA, which is slightly warmer than other parts of Sta. Rita Hills. The vines are planted on steep hill slopes facing west and enjoy blustery winds from the Pacific Ocean. The soil contains clay-loam underlaid by limestone. The berries ripen relatively late here so the single-vineyard wines of John Sebastiano Vineyard tend to show marked concentration.
Why we love it: This is quite a benchmark of cool-climate Syrah. It's concentrated yet remains approachable and soft. Floral, savory, earthy, and fruity, we can't ask for more from a Syrah.
An Approach to Relaxation, Sucette, 2014 (Barossa Valley, Australia)
After a few weeks of shooting about Santa Barbara wines, we were on the road again. This time, we drove east from Michigan to New York, where we were scheduled to do a masterclass about Croatian wines. Along the way, we met up with our long-time virtual friend Drew DiMatteo and spent a couple of days with him in New Jersey and New York. Needless to say, many wines were shared and An Approach to Relaxation Sucette 2014 topped the list of memorable wines. Why we love it: Old-vine Grenache grown in sandy soil, plus vinified with some stem inclusion—that alone says a lot about this wine. It's light on the feet and color, yet it punches with surprising intensity. It's a wine that I won't mind wearing on my wrists and licking myself ever so occasionally. There's definitely deft winemaking (the makers are Richard Betts MS and Carla Rzeszewski) here as well.
Giacomo Conterno, Barolo Cascina Francia, 1998 (Piedmont, Italy)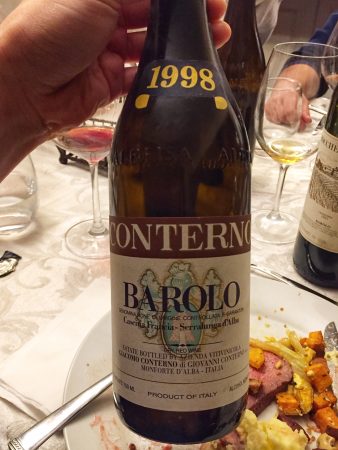 After our time in New Jersey, Drew came with us to New York. We had a special evening scheduled with another wine enthusiast that we had previously known only in the virtual world. Croat-born American Leopold Frokic invited us to his home. The evening started off with a line-up of Nebbiolos from Bartolo Mascarello, Brovia, GD Vajra, and Marcarini, and the standout wine was this Giacomo Conterno Barolo Cascina Francia 1998. Why we love it: Barolo and Barbaresco are near and dear to our hearts—they were wines that we discovered together at the beginning of our relationship seven years ago, and they were the first wine regions we visited when our full-time travel began in 2015. This was a wine that had eluded us until that night.
Philippe Pacalet, Cornas, 2015 (Rhône, France)
          View this post on Instagram                  

Many generalize Cornas wines as big, powerful, and hard. Philippe Pacalet's 2015 Cornas would crush that impression. It's extremely accessible at this young age. Violet, lavender, black fruit, purple fruit, red fruit… fruit city with small clouds of peppers over it and one-lane savory roads winding through it. The structure is beautiful. The balance is superb. A graceful and nuanced Cornas by this minimal-intervention wine producer more famous for his work in Burgundy than in Rhône. I love this wine and will drink it over and over again.
After New York, Drew wanted to show us more of the Philly's food and wine scene, so we hopped across the bridge for some Philly Cheesesteaks at John's Roast Pork and drinks at the Walnut Street Café. Walnut's sommelier Kaitlyn Caruke (named 'Best New Sommelier by Wine & Spirits Magazine in 2018) opened a bottle of Philippe Pascalet Cornas 2015. Why we love it: Matt loves Syrah; Charine loves Philippe Pacalet and Cornas but tends to find Philippe Pacalet to have severe bottle variation and Cornas to be too young for consumption. This is an all-stars-aligned Rhône red that's best when savored, not tasted.
Domaine Armand Rousseau Père & Fils, Ruchottes-Chambertin Grand Cru, Clos de Ruchottes, 2006 (Cote de Nuits, Burgundy, France)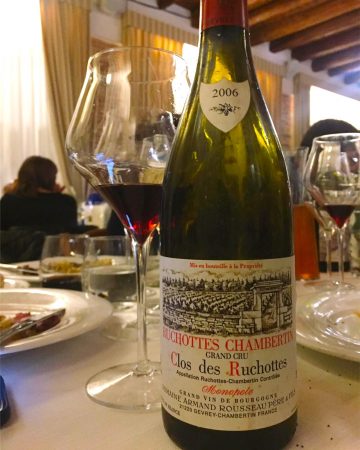 After our time in the USA, we returned to Europe to start a series of press trips. Charine was off to the VinNatur event in Vicenza, Italy. One night, the event organizer shared this bottle of Clos des Ruchottes with her. This wine had been on her vision board for several years. Why we love it: It was surreal to see this bottle walked out of the wishlist onto the dining table. Better yet, the wine was in its peak window. 2006 was not a great year for Clos des Ruchottes, but the wine had come around with sustained depth and poise.
Éric Texier, Châteauneuf-du-Pape, Vielles Vignes, 2015 (Rhône, France)
          View this post on Instagram                  

This is probably my favorite red at @vinnatur_org's #VillaFavorita2018. Éric Texier's Châteauneuf-du-Pape 2015 captures the intense purity of precious old-vine fruit in a bag of finesse. Native-yeast, whole-cluster fermentation with one-week maceration without punchdown (that lightness!). Aged in old oak barrels. Unfined and unfiltered wine. The early picking is quite apparent. No way, it's not green at all. The phenolic ripeness is perfect. It's the fresh acidity and splendid fresh fruit flavors that tell the details. This might be the most elegant and aromatic Châteauneuf-du-Pape I've ever tasted. Drink from 2020-2030.
At the three-day Villa Favorita event organized by VinNatur, Charine had a chance to discover many new wine producers. But the one that left the deepest impression was Éric Texier, whose wines we were already familiar with. It was Charine's first taste of his Châteauneuf-du-Pape. Why we love it: Charine appreciates every wine in Éric Texier's portfolio, including the basic 'Chat Fou', but his Châteauneuf-du-Pape was in a league of its own: it caused her to stop in awe, then compelled her to create quite a commotion because she couldn't contain my excitement. She has since become a vocal and enthusiastic supporter of Éric Texier.
Cave L'Étoile, Banyuls Grand Cru Cuvée Réservée, 1995 (Roussillon, France)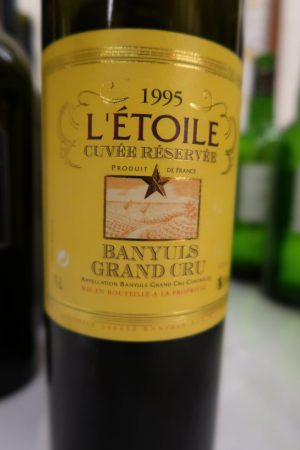 While Charine was enjoying the wonders of Vinnatur, Matt participated in Languedoc-Roussillon Week in the south of France. The week was jam-packed with tastings, workshops, field trips, and food. Matt tasted a number of delicious wines from many different appellations in Languedoc-Roussillon, but it was the fortified wines of Banyuls that captured his attention. One afternoon, we visited the steep terraces where those wines are born. What a site it was.
While Charine is in a never-ending love affair with Port, Matt was never into fortified wines until he met Banyuls. These wines are lower in alcohol (14.5%-16%) than Port and are a little easier to drink. The Cave L'Étoile Banyuls Grand Cru Cuvée Réservée 1995 was served during the last dinner of the the Languedoc-Roussillon trip. It was a special seven-course dinner featuring two fortified wines per course. This was the wine took nearly everyone's breath away.  Why we love it: This sweet wine is a smorgasbord of flavors. Think dried raspberries mixed with coffee, toffee, pepper, and leather flavors. If you like Port, it's time to give vintage Banyuls a try.
Clai, Bastovica, 2007 (Istria, Croatia)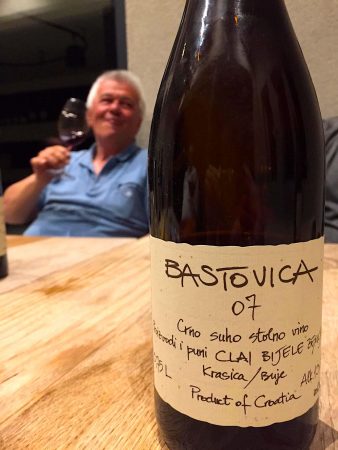 After the Languedoc-Roussillon trip and VinNatur event , we met back in Croatia and set out to shoot a 12-part video series, entitled Cracking Croatian Wine, to support our book of the same name. On the third day of our shoot, we arrived at Clai winery in the evening (click on the video below).
Giorgio Clai and his co-winemaker Dimitri Brečević were having drinks after a long day in the vineyards. We joined them and tasted through the new vintage. Giorgio's mood got progressively jovial as the evening darkened. He began pulling out archive wines from his small, personal stash (he drinks a lot of his own wine), including this Clai Bastovica Teran 2007. Why we love it: This wine isn't in production anymore as all the vines in the Bastovica vineyard have been pulled. So this is quite a unicorn wine, which—admittedly—makes it even more special. But it's not just merely novelty; the 2007 Clai Bastovica Teran had gained the necessary complexity through aging and it was showing great class that night. A sublime wine with larger-than-life quality that reminded us of the maker Giorgio Clai.
Kiridžija, Dingač, 2008 (Dalmatia, Croatia)
Our eighth episode of Cracking Croatian Wine focused on the wines of the Pelješac Peninsula. This slender piece of land is the spiritual home to Plavac Mali. The peninsula contains Croatia's first two appellations, Postup and Dingač.
One of Plavac Mali's old guards is Vedran Kiridžija, who produces about 15,000 bottles of wine (one-third are Dingač) in a humble cellar behind his house. When we stopped by to shoot our episode, Vedran was kind enough to share a bottle of Dingač from his favorite vintage, 2008. Why we love it: The wine had such a beautiful quiet intensity and harmony that we never thought we could find in Dingač. Who would have thought that the tannic monster Dingač has the ability to walk on tip-toe? Charine loved the wine so much that she teared up. We were also delighted that Vedran Kiridžija enjoyed the moment and the wine as much as we did.
          View this post on Instagram                  

During our visit in May, Vedran Kiridžija was very kind to open a bottle of Dingač from one of his ideal vintages (the other is 2012). This wine solidifies our unwavering loyalty to #kiridzija wines. The 2008 Kiridžija #Dingac is arguably (Matt might like Bura more) the best #PlavacMali wine we've tasted. The bouquet reminds me of a ripe Bordeaux. The palate is smooth and luscious like a well-aged Merlot. The flavor intensity is truly Dingač (because of the growing conditions, Dingač can contain up to 30% raisin-grapes), but there's a lot of freshness in this wine and the tannins are resolved! The finish is an eternal song. The wine can still go a bit of a distance but it's drinking well now at the beginning of its peak window. 🍷Would you like to learn more about our favorite producers of Plavac Mali, the peninsula of sun-soaked Pelješac, and the nearby UNESCO-recognized old town #Dubrovnik? ****Then check out the latest episode of #CrackingCroatianWine! LINK IN BIO.*** #croatia365 #croatianwine #winer #croatiafulloflife #dalmatia #winetrip #croatiatravel #travelandlife #winegram #croatiatrip
Château Montrose, Saint-Estèphe, 2008 (Bordeaux, France)
After wrapping up our Cracking Croatian Wine video series, we had an intense few months of travel and started the second half of the year with a trip to Puglia (Italy) to judge at Radici del Sud, then moved on to more press trips in Hungary and Romania, and then back to Italy to judge at the Cagliari International Wine & Food Festival. After Sardinia, we went on a two-week re-tour of the Slovak wine regions. After Slovakia, we settled down in Oradea, Romania where we visited a friend and caught up on desktop work. During our time in Oradea, our friend Șerban organized two blind tastings, mixing in Romanian wines with international wines. The first tasting had quite a few surprises in it, including several impressive Romanian wines, a Quintarelli Giuseppe Amarone Della Valpolicella 2003, and this Château Montrose 2008. On first taste, Charine immediately identified it as a classified Bordeaux. This was the first bottle that was finished that night—the most practical identifier of 'the best wine'. Why we love it: Château Montrose is one of Charine's all-time favorite Bordeaux as it's one of the most value-for-money cellar-worthy wines. This wine shows brightness and gossamer texture.
Crama Oprişor, Cabernet Sauvignon, 2011 (Oltenia, Romania)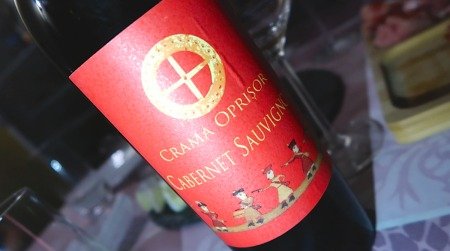 We did a second blind tasting in Oradea a few days later. Șerban mixed in lots of international wines including Rioja, Barolo, and Amarone. We brought along a Liber Pater 2009 (Bordeaux), which showed well. The most memorable wines were the Liber Pater, Château Porto Carras (Greece), and this lone Romanian wine in the flight.
Why we love it: The Crama Oprişor Cabernet Sauvignon 2011 changed our impressions of Romanian reds. We were in Romania three times in 2018 and tasted many wines from the top Romanian wine producers. In general, Romanian reds tend to be heavily extracted, finished with a landslide of oak. This wine is nothing of that sort; it's powerful yet elegant, and it sings Old-World restraint.
Château Pajzos, Tokaji Aszú 5 Puttonyos, 2006 (Tokaj, Hungary)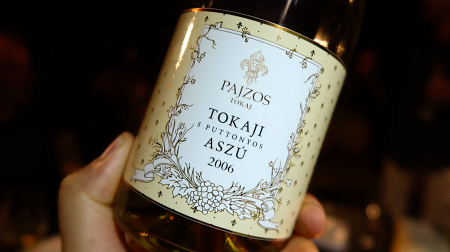 After Oradea, Romania, we went back to Hungary for the Hungarianwines.eu study trip, which covered four Hungarian regions in four days. The study trip was a prize we received for winning the Hungarian Web Wine Writing contest with first place in the category of red wine and runner-up in Hungarian food and wine pairing. We were joined on the trip by other winners of the contest and a group of Cava producers from Catalunya, Spain.
This trip marked our third visit to Tokaj in 2018. It's a region that fascinates us endlessly, and we're always happy to return to Tokaj. This time around, we visited Château Pajzos. The managing director of Château Pajzos, Laurent Comas, guided us through the old cellars and a tasting of current releases and archive wines. While the Château Pajzos Eszencia 2000 was ethereal, it was the Château Pajzos Tokaji Aszú 5 Puttonyos 2006 that unanimously impressed our whole group. Why we love it: The wine was beautiful: stewy notes with primary fruit dialed back; good balance of acid and sugar that paved the way for current drinkability. But what captivated us was the overall beauty of that moment: drinking the wine in the Tokaji cellar (drinking Tokaji wine in a traditional Tokaji cellar should be on the bucket list of every wine lover) with a group of like-minded people.
Mlečnik, Rebula, 2009 (Vipava, Slovenia)
Immediately after the Hungarian wine study trip, we had to attend another press trip in Slovenia. The schedule almost seemed improbable until a virtual friend came to our rescue—coincidently, Sašo Papp of Vinoo.co was attending the same wine event that we were attending in Hungary, and he graciously offered to drive us from the Etyek wine region in Hungary to Vipava Valley in Slovenia.
The Vipavska Rebula event was a sensory explosion. The press trip was sponsored by six quality-minded producers Burja, Batič, Slavček, Guerilla, Mlečnik, and Svetlik along with the Slovenian Tourist Board. We visited Mlečnik in 2017, so we were already familiar with their wines. However, nothing prepared us for the wines they pulled from the archive at the event. Valter Mlečnik and his son Klemen Mlečnik presented their Mlečnik Rebula 2009 and Mlečnik Ana Cuvée 2011. We sampled the Mlečnik Rebula 2009 twice during the trip. It was the best wine of the trip. Hold on, it was the best amber wine we tasted in 2018. Why we love it: Mlečnik Rebula 2009 is the epitome of harmony in a bottle. Nothing sticks out, nothing is left behind. It hits every point on the palate with concentration and focus. A true masterpiece. If this wine is indicative of where Vipavska Rebula (Rebula/Ribolla Gialla wine from Vipava Valley) is heading, then we are in for an enormous treat.
Ramos Pinto, Vintage Port, 1982 (Douro, Portugal)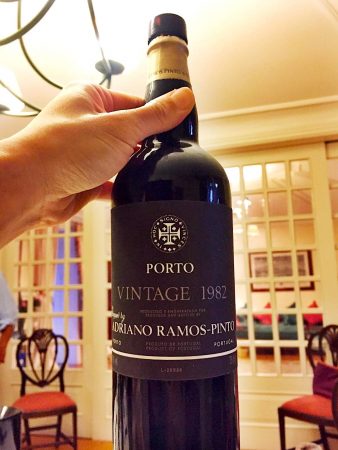 Shortly after our time in Slovenia, we were on the road again, this time to Portugal. The AEVP (Association of Port Wine Companies, also known as Caves do Vinho do Porto) had invited us to Port Wine Day and the declaration ceremony of the 2016 Vintage Port.
Charine is resolutely partial to Port because her first sip of wine at a tender age was a Tawny Port. We were assigned to visit and stay a night at Ramos Pinto in the Douro. Jorge Rosas, Export Director and heir of the family winery, took us through the Ramos Pinto portfolio including a few older vintage Ports. When Charine tasted the Ramos Pinto Vintage Port 1982, she instantly knew it would be on this list. Why we love it: It's Matt's birth year wine, so that gives it an extra sheen. Ramos Pinto Vintage Port 1982 has absolutely the most divine bouquet of walnut cookie and meringue. Medium-bodied palate with resolved tannins. The finish is so long that it can keep one company for the whole evening.
Argentiera, Bolgheri Superiore, 2015 (Tuscany, Italy)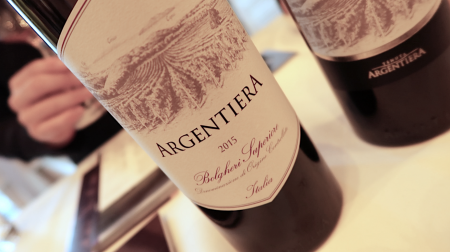 After Portugal, we returned to Croatia for a press tour to all four major wine regions, made a short trip to Vienna for the Orange Wine Festival 2018, and judged at the IWCB wine competition in Romania. As winter approached, we headed back to Charine's home country Singapore to escape the cold. Along the way, we made a convenient detour to Hong Kong, where we shared a number of memorable wines with our friends including a Ridge Monte Bello 1998 and a Bruno Giacosa Santo Stefano Barbaresco 2007. We also attended Pinot Palooza and James Suckling's Great Wines of Italy; the latter was where we tasted the final wine on our list. Why we love it: We tasted Argentiera Bolgheri Superiore 2015 next to Tenuta San Guido Sassicaia 2015. Wine Spectator named the Sassicaia 2015 the number one wine of the year; it's a stellar wine but the Argentiera is equally impressive and comes at a fraction of the price.
Honorable Mentions:
Bosnia-Herzegovina: Brkić Greda Žilavka 2015 (Mostar), Čitluk Blatina Grand Cru 2011 (Mostar), Nuić Trnjnak 2015 (Mostar) Croatia: Bire Grk Defora 2016 (Dalmatia), Krajančič Statute 2015 (Dalmatia), Benvenuti Muškat San Salvatore 2013 (Istria), Enjingi Venje Bijelo 1998 (Slavonia) France: Château Bel Air Marquis d'Aligre Margaux 2004 (Bordeaux), Château Smith Haut Lafitte Red 2005 (Bordeaux), Liber Pater 2009 (Bordeaux), Damoy Gevrey Chambertin Clos Tamisot 2014 (Burgundy), Tarlant Cuvee Louis NV (Champagne), Domaine Cazes Rivesaltes Cuvée Aimé Cazes 1978 (Roussillon) Greece: Château Porto Carras 2008 (Meliton Slopes), Markovitis Xinomavro 2012 (Naoussa) Hungary: Erzsebét Pince Tokaji Aszú 6 Puttonyos 2003 (Tokaj), Lenkey Úrágya Furmint 2006 (Tokaj), Oremus Tokaji Aszú 6 Puttonyos 1999 (Tokaj) Moldova: Chateau Vartely Ice Wine Riesling 2017  New Zealand: Craggy Range Aroha Te Muna 2016 (Martinborough) Portugal: Bulas Porto Colheita 1996, Churchill's Vintage Port 2016, Ramos Pinto 30 Year Old Tawny Port, Quinta do Vale Meão Vintage Port 2016, Quinta do Vallado Vintage Port 2016, Taylor Fladgate Quinta de Vargellas Vintage Port 2015, Vasques de Carvalho 30 Year Old Tawny Port, Vallado Vintage Port 2016, Vieira de Sousa Agua Alta Vintage Port 2016 Italy: Terlan Nova Domus Terlaner Riserva 2015 (Alto-Adige), Fratelli Serra Vernaccia di Oristano 2002 (Sardinia), Argiano Brunello di Montalcino 2013 (Tuscany), Fontodi Flaccianello della Pieve 2015 (Tuscany), Tenuta San Guido Sassicaia 2015 (Tuscany), Antinori Tignanello 2015 (Tuscany), Fontodi Vigna del Sorbo Chianti Classico Gran Selezione 2015 (Tuscany), Quintarelli Giuseppe Amarone Della Valpolicella 2003 (Veneto) Romania: Davino Flamboyant 2012 (Dealu Mare) Slovakia: J&J Ostrožović Tokajské Výber 6 Putñový 2003 (Tokaj), Organic Cuvée Marie Vallis Albus Exclusive Biele Suché 2015 (Strekov, Južnoslovenskà/South Slovakia) Slovenia: Batič Angel Pinela 2015 (Vipava Valley), Movia Veliko Rdeće 1998 (Goriška Brda) Spain: R. Lopez de Heredia Viña Tondonia Gran Reserva 1995 (Rioja), Remelluri Rioja Blanco 2012 (Rioja) USA: Christian Brothers Cabernet Sauvignon 1974 (Napa Valley), Cliff Lede Poetry 2005 (Napa Valley), Clos du Val Cabernet Sauvignon Reserve 1979 (Napa Valley), Heitz Martha's Vineyard Cabernet Sauvignon 1997 (Napa Valley), Schramsberg Reserve Late Disgorged 1997 (Napa Valley), VHR Vine Hill Ranch Cabernet Sauvignon Oakville 2015 (Napa Valley), Bonaccorsi Pinot Noir John Sebastiano Vineyard 2014 (Santa Barbara), Liquid Farm Golden Slope 2015 (Santa Barbara), Samsara Pinot Noir Las Hermanas 2013 (Santa Barbara), Ridge Monte Bello 1998 (Santa Cruz)  Dishes of the Year: Baby squid ink barley with sheep cheese (Hotel Ola, Croatia), Pag lamb on grill (Boškinac Restaurant, Croatia), pasta with blue crab from Croatia's Neretva river (Hotel Merlot, Croatia), fresh aoli with escargot from Vallée de l'Agly (Roussillon, France), Burrata cheese from Puglia (Italy), Pasticciotti (1489 Food Pop Gallipoli in Italy), raw seafood at Ristorante Al Pescatore (Bari, Puglia, Italy), Idrijski Žlikrofi (Gostilna pri Škafarju, Slovenia) Food and Wine Pairing of the Year: Meadowood Napa Valley's roasted squab with smooked cranberry, salted clementine and parsip paired with Chase Cellars 'Hayne Vineyard' Zinfandel 2015 (Napa Valley)–wine selected by Gillian Ballance MS Restaurant of the Year: Boškinac (Novalja, Pag Island, Croatia) Sommelier of the Year: Tihomir Purišić (Dubravkin Put Restaurant in Zagreb, Croatia) Wine Event of the Year: Premiere Napa Valley's Oakville AVA Tasting Winery Visit of the Year: Ramos Pinto (Douro, Portugal)
The finest selection of
wines available at:

Shipping is available EU-wide and to the UK.
************
    Do you want to try unique wines?
If you want to savor the exquisite flavor of unique wines, look no further than wineandmore.com. With many options from different winemakers, it's easy to find exactly what your palate desires. Not sure which bottle is best for you? Try out one of their curated wine cases and discover the perfect vintage for any occasion!
************
Want to learn more about wine?
Are you ready to discover the wonderful world of wines? Come join us at wineandmore.com, and let's explore the incredible selection of delicious wines together! We can't wait to share our passion for wine with you!
---
The opinions expressed are our own and have not been paid for in any way. We do not sell editorial content as that would destroy the legitimacy of our reviews and the trust between Exotic Wine Travel and its readers. On occasion, we extend the option of purchasing the wines we review or/and the products we spotlight. Some of these product links are set up through affiliate programs, which means Exotic Wine Travel gets referral credits if you choose to purchase these items via the links we provide.